Last year, just before nominees for the 84th Annual Academy Awards were announced, I posted a list ranking all of the 2011 films I had seen and linking to those that I had reviewed in full. While I didn't get much in the way of positive feedback,

returning to it a year later makes me glad I did took the time to do it. It stands as a nearly complete overview of 2011's cinematic offerings.

The Academy moved up their nominee announcement to January 10th this year. I had already started working on this by then, so their omissions and acknowledgements had no effect on my rankings, at least not for the 112 movies I had seen through then. I have since caught another 28 films, bringing me up to a total of 140 (141 if you count Titanic 3D, which I ranked, but did not number). Included in that sum is every Oscar-nominated English language narrative feature film, save for Skyfall. Considerably more prepared for Sunday's Oscar ceremony than any other one in the past, the only other glaring hole in my list is Amour, which I've resigned to catch on home video.

This article raises obvious questions: Why would you try to rank 140 films that are overwhelmingly dissimilar? Who does that?! I can think of many answers to the first of those, most significant among them being that this helps me to assess the range of quality that exists in contemporary films. It's easier to assign a 0-10 rating when both the best and worst films out there are clearly established.

It also lets you know exactly what I have seen, which is quite a bit more than what I have reviewed. Box Office Mojo lists 657 films with 2012 theatrical records. I would wager that few, if any, people have seen all 657 of those films (and there are many more exhibited films that simply didn't generate an official box office tally). It's unrealistic to do so, especially if you are outside of Los Angeles, where many of those films have had exclusive contractual qualifying engagements. Critics' standard, obligatory "Best" and "Worst" lists are a tad disingenuous in that regard, not to mention the fact that journalists don't have a great reason to select obscure barely released fare for either category. Apples and oranges are supposedly hard to compare and this list is more akin to ranking dozens of different kind of fruits belonging to a wide variety of species.

If nothing else, this list will stand for you and me as a resource documenting my initial reactions to 2012's films as a snapshot of my ever-evolving cinema tastes. I hope you enjoy it and, if not, I hope I enjoy it when I return to it somewhere down the line.

Here they are, the films of 2012 from worst to best:
140. Butter - This Butter's rotten to the core. Throw it away! Full Blu-ray + DVD Review
139. Freelancers - 50 Cent's ongoing acting career is one of cinema's greatest mysteries. Full Blu-ray Review
138. Branded - Muddled social commentary via trippy, crappy sci-fi. Full Blu-ray Review
137. The Dictator - Sacha Baron Cohen extends his streak of disappointing one-note vehicles. Full Blu-ray + DVD Review
136. The Lucky One - If you've seen one Nicholas Sparks movie, you've probably wasted a couple of hours on sentimental crap.
135. The Loved Ones - Australia makes torture porn too, I guess. Full Blu-ray + DVD Review
134. This Means War - Spy vs. spy action doesn't make a routine romantic comedy any less lame. Full Blu-ray + DVD Review
133. The Three Stooges - The Farrelly Brothers prove that some old things don't need an update. Full Blu-ray + DVD Review
132. Ghost Rider: Spirit of Vengeance - The sequel nobody wanted is even worse than the original nobody liked. Full Blu-ray Review
131. Lay the Favorite - There's a good reason you haven't heard of this gambling comedy. Full Blu-ray Review
130. The Woman in Black - More boring than it has any reason to be. Loud noises!
129. A Thousand Words - Does anyone really enjoy Eddie Murphy's comedies these days? Full Blu-ray Review
128. The Grey - We're not supposed to be cheering for the wolves, are we?
127. Joyful Noise - Banal outing meets one's low expectations.
126. Goon - Did everyone else see a different version of this vulgar hockey comedy that didn't suck?
125. Stolen - Nic Cage phones in this New Orleans kidnapping "thriller." Full Blu-ray Review
124. The Odd Life of Timothy Green - An offensively treacly and manipulative family film. Full Blu-ray + DVD Review
123. The Paperboy - Outlandish Southern drama misses its marks. Full Blu-ray Review
122. Project X - Found footage applied to out-of-control teen partying - how exciting!
121. Paranormal Activity 4 - ...And this series has officially worn out its welcome. Full Blu-ray + DVD Review
120. Holy Motors - Creative but meaningless absurdity, in varied vignettes. Full Blu-ray Review
119. Friends with Kids - Profanity and an unconventional premise aren't enough to make this any smarter than your standard formula romcom. Full Blu-ray Review
118. Celeste & Jesse Forever - Profanity and an unconventional premise aren't enough to make this any smarter than your standard formula romcom. Full Blu-ray Review
117. Rock of Ages - Broadway musicals and '80s hair band rock come together in a way that satisfies neither fan base. Full Blu-ray + DVD Review
116. Battleship - An old board game turned into a noisy alien would-be blockbuster. More watchable than the Transformers series, at least. Full Blu-ray + DVD Review
115. To Rome with Love - Woody Allen's ode to Rome is below his usual standards. Full Blu-ray Review
114. The Vow - Standard-issue February romance somewhat overcomes its ridiculous, sort of true premise. Full Blu-ray + DVD Review
113. Act of Valor - Perhaps more realistic than other Navy SEAL portrayals, but narratively threadbare.
112. Mirror Mirror - The more comedic of the year's two big Snow White movies mostly falls flat. Full Blu-ray + DVD Review
111. Sparkle - Rags to riches musical is much too familiar, even if you haven't seen the '70s movie it remakes. Full Blu-ray Review
110. Vamps - Glad to see Amy Heckerling working, but that is about all the joy this provides. Full Blu-ray Review
109. The Devil Inside - Deserves a little less ire than it drew, though it does fall apart in the end. Full Blu-ray Review
108. After Lucia - In Mexico's Foreign Language Film entry, poignant family drama gives way to relentless unpleasantness.
107. The Deep Blue Sea - Allow me to apologize for the film critics who may have led you to expect more from this lifeless love triangle.
106. The Apparition - Routine haunted house horror does little to distinguish itself. Full Blu-ray + DVD Review
105. Salmon Fishing in the Yemen - Since excluding animation, the Golden Globes' comedy/musical nominations have become a joke.
104. On the Road - It may be based on one of the defining works of a generation, but it's still just two hours of unlikable characters having sex and doing drugs.
103. Snow White and the Huntsman - Is it really that hard to find and sustain the appeal in one of the world's most famous fairy tales?
102. Anna Karenina - Presented here, the story feels shallow and no amount of visual creativity can change that.
101. Fat Kid Rules the World - This indie comedy has some flavor and heart, just not enough to offset its off-putting content. Full DVD Review
100. Hyde Park on Hudson - Mostly miscalculated awards bait underuses Bill Murray's ample talent.

99. Fun Size - This Halloween comedy has a good concept,

but its execution leaves much to be desired. Full Blu-ray Review

98. That's My Boy - Adam Sandler's raunchiest comedy to date is no better than the underwhelming standard fare he's been making of late. Full Blu-ray Review

98. Here Comes the Boom - A mild, harmless, and routine Kevin James vehicle. Full DVD Review

96. Tim and Eric's Billion Dollar Movie - It's unfortunate that two of television's funniest minds couldn't come up with something more than sporadically amusing. Full Blu-ray Review

95. Casa De Mi Padre - Kudos to Will Ferrell for trying something different. Too bad it's less diverting than virtually all of his English language comedy. Full Blu-ray Review

94. People Like Us - Mainstream indie family dramedy isn't nearly as cute or smart as it thinks it is. Full Blu-ray + DVD Review

93. For Greater Glory - Interesting forgotten chapter of history doesn't make for a very interesting film, while at-odds violence and religion keep many potential viewers away.

92. Diary of a Wimpy Kid: Dog Days - The series has mostly run its course, but kids could still do worse. Full Blu-ray + DVD Review

91. Wanderlust - A step down from David Wain and Paul Rudd's better collaborations, though it still has some funny moments.

90. Red Lights - Too dull and forgettable for the talent assembled. Full DVD Review

89. Think Like a Man - As good as a romantic comedy based on a Steve Harvey self-help relationship book can be. Full Blu-ray Review

88. Mansome - A good deal less effective than Morgan Spurlock's past documentaries, but somewhat entertaining.
87. John Carter - Though not worthy of scorn and derision, this space epic marks a mediocre live-action debut for Pixar's Andrew Stanton. Full Blu-ray + DVD Review
86. Red Tails - The rare non-Star Wars Lucasfilm production offers merely adequate historical drama.
85. The Watch - Underwhelming, especially considering the strong cast and high comedic potential.
84. Trouble with the Curve - Not a complete loss, just less than expected of a film boasting Clint Eastwood's un-retirement. Full Blu-ray + DVD Review
83. Thunderstruck - A textbook family film that finds slight success. Full Blu-ray + DVD Review
82. Seeking Justice - A serviceable second-class Nic Cage thriller. Full Blu-ray + DVD Review
81. Cloud Atlas - Super-ambitious mess only works part of the time and never as well as it wants to.
80. 5 Broken Cameras - Activist's home movies are duller and hazier than they ought to be.
79. Chronicle - Newly-gifted teens are an interesting subject for found footage treatment, until they are not. Full Blu-ray + DVD Review
78. Ted - Seth MacFarlane's television shtick makes for an occasionally diverting, never uproarious film.
77. The Campaign - The teaming of Will Ferrell and Zach Galifianakis should supply more than sporadic diversion. Full Blu-ray + DVD Review
76. The Words - Not as bad as its critical thrashing indicated, but not as good as it thinks it is. Full DVD Review
75. Take This Waltz - Personal and heartfelt one moment, phony and vapid the next.
74. Compliance - Promising start and strongly executed, but so very discomforting.
73. The Raven - An okay period mystery, though it falls short of its premise's potential. Full Blu-ray + DVD Review
72. Contraband - A bit better than expected for a January action film.
71. 21 Jump Street - Well-received action/comedy remake of serious TV crime drama has some laughs. Full DVD Review
70. Big Miracle - Actors with struggling film careers save whales in the way that you'd expect.
69. Safe House - Average standard action fare.
68. Rise of the Guardians - Though it aims for the artistry of recent DreamWorks 'toons, it lacks both the joy and excitement. Full Blu-ray + DVD Review
67. The Sessions - Well-acted sex drama elicits sympathy, but not much else.
66. Katy Perry: Part of Me - Eye-opening behind-the-scenes looks at fame and interesting backstory overshadow shallow, sugary pop music performance. Full Blu-ray + DVD Review
65. Sleepwalk with Me - A decent adaptation of a stand-up act, albeit one that's structurally lacking.
64. Hotel Transylvania - Standard-issue CG family comedy is a notch below the competition and bogged down by crass jokes and random 3D action. Full Blu-ray + DVD Review
63. Haywire - A well-crafted action thriller courtesy of the reliably engaging Steven Soderbergh.
62. The Possession - Standard horror hijinks are nonetheless capably presented. Full Blu-ray Review
61. The Invisible War - Filmically ordinary, this doc succeeds by shedding needed light on regrettable conspiracy.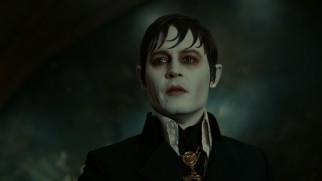 60. The Queen of Versailles - The recession's curbing of a wealthy family's excess makes for an intriguing documentary.
59. Arbitrage - Intelligent, timely drama nearly sizzles.
58. Journey 2: The Mysterious Island - Like its predecessor, it's more fun than it should be. Full Blu-ray + DVD Review
57. Damsels in Distress - Though not as clever as it thinks it is, Whit Stillman's quirky college comedy has its appeal.
56. Dark Shadows - While it falls apart in the end, Tim Burton's comic spirit serves this fairly well. Full Blu-ray + DVD Review
55. Les Misérables - Showy pop art has its merits, though fewer than it realizes.
54. Bully (PG-13 Version) - Calls attention to school bullying in a fitting fashion. Full Blu-ray + DVD Review
53. Pitch Perfect - A crowd-pleaser with just enough personality to enjoy.
52. 10 Years - A pleasant if unexceptional surprise. Full Blu-ray Review
51. Hitchcock - Though it falls short of the high expectations it inspires, there are still some things to like here. Full Film Review
50. Dr. Seuss' The Lorax - Another Dr. Seuss book gets questionably expanded, but at least the flavor and music overshadow the preachy social commentary. Full Blu-ray + DVD Review
49. The Hobbit: An Unexpected Journey - Enough entertainment value to overlook the slow, bloated design. Full Blu-ray + DVD Review
48. The Five-Year Engagement - Standard Apatow production has more heart, humor, and value than your typical romantic comedy.
47. Ruby Sparks - Enough creativity to distinguish this from the countless other indie romances.
Full Blu-ray + DVD Review
46. The Amazing Spider-Man - Fine but nothing new, this fails to live up to Sam Raimi's trilogy or blaze its own trail. Full Blu-ray + DVD Review
45. Madagascar 3: Europe's Most Wanted - One of the year's biggest surprises, this thoughtful adventure is a huge improvement over its middling predecessors. Full Blu-ray + DVD Review
44. Jiro Dreams of Sushi - A nice look at a life devoted to a very specific culinary passion.
43. Head Games - Explores contact sports' effects on the human brain in a way that grabs and holds your attention.
42. Premium Rush - What could have been a feature-length gimmick keeps us engaged thanks in no small part to the strong lead actors. Full Blu-ray Review
41. The Impossible - A gruesome yet memorable account of one family's fight to survive the massive 2004 tsunami.
40. Bernie - Richard Linklater's darkly comedic, documentary-like presentation serves this arresting small town true crime story well.
39. Bad 25 - A comprehensive celebration of one of pop music's landmark albums and the artist who made it.
38. Chimpanzee - Nature buffs will scoff and the general public might shrug, but Disneynature's narrative-driven doc is full of charm.
Full Blu-ray + DVD Review
37. This Is 40 - Judd Apatow is really content to make the same movie again and again, but that movie has got a lot more humor and heart to it than most.
36. Seven Psychopaths - Clever, fun, funny meta crime comedy. Full DVD Review
35. Men in Black 3 - Not as good as the original, but much better than the sequel, this installment wins you over after a rough start. Full Blu-ray + DVD Review
34. The Best Exotic Marigold Hotel - This ensemble geriatric British comedy makes an easy but agreeable bid for your heart.
33. Safety Not Guaranteed - Time travel meets offbeat indie comedy in an appealing way. Full Blu-ray Review
32. Samsara - Ron Fricke's varied and oft-poignant images speak for themselves.
31. ParaNorman - Creative enough, though a bit overdone.
30. How to Survive a Plague - Like a real life, non-musical Rent, this captivating documentary thoroughly covers the AIDS epidemic at ground zero.
29. The Hole - Gremlins director Joe Dante has still got it. Full Blu-ray + DVD Review
28. Searching for Sugar Man - Arrives late and with a selective and gimmicky design, but the great story and musician at its center are easy to love. Full Blu-ray + DVD Review
27. The Secret World of Arrietty - Up to the high standards of Hayao Miyazaki, who co-wrote but did not direct this adaptation of Mary Norton's The Borrowers. Full Blu-ray + DVD Review
26. Looper - Familiar but fun time travel action. Full Blu-ray Review
25. Frankenweenie - Although it loses its way, Tim Burton's old live-action short makes for a rather enjoyable stop motion feature film. Full Blu-ray + DVD Review
24. Beasts of the Southern Wild - Outside-the-box storytelling offers an appealing alternative to traditional mainstream fare. Full Blu-ray + DVD Review
23. The Cabin in the Woods - Clever meta twists on immortal horror movie conventions. Full Blu-ray Review
22. Lincoln - It's disappointing that a great actor portraying a great President doesn't add up to something more interesting in the hands of a director who has long specialized in entertainment. Full Blu-ray + DVD Review
21. Jeff, Who Lives at Home - Budget may be the greatest area of growth for the Duplass Brothers, but their distinct offbeat style largely works. Full Blu-ray Review
20. The Avengers - This dream team of Marvel superheroes excels to a greater degree than most of the characters' standalone films.
19. Robot & Frank - An old thief losing his mind and his overly loyal robot companion make for a winning combination. Full DVD Review
18. Lawless - Strong acting and atmosphere distinguish this Prohibition Era drama. Full Blu-ray + DVD Review
17. Flight - Robert Zemeckis' return to live-action with this mature, thought-provoking drama is just what we and he needed. Full Blu-ray + DVD Review
16. Prometheus - Ridley Scott's return to the world of his career-launching Alien makes for thoughtful, sumptuous sci-fi, the backlash to which I don't understand.
15. Life of Pi - A spiritually open-minded Indian teenager and a feisty tiger make a sea shipwreck most enjoyable. Full Film Review
14. The Other Dream Team - The 1992 Olympics' Lithuanian basketball team makes for a compelling documentary. Full DVD Review
13. The Perks of Being a Wallflower - A sincere and inspired take on the high school experience.
Titanic (3D reissue) - Cheesy, but powerful, with fascinating history supplying much needed assistance to James Cameron's imagination. Full Blu-ray Review
12. Brave - Even one of Pixar's lesser efforts is still more magical than the vast majority of modern cinema. Full Blu-ray + DVD Review
11. The Master - Paul Thomas Anderson challenges viewers with his potent, cinematic character study. Full Blu-ray + DVD Review
10. The Pirates! Band of Misfits - More of Aardman's purely entertaining stop motion. Full Blu-ray + DVD Review
9. Django Unchained - Sharp writing and dynamic cinema, but the over-the-top finale cheapens it somewhat. Full Film Review
8. Moonrise Kingdom - Not sure what people saw here that they've missed in Wes Anderson's previous films, but this lives up to his high standards.
7. The Hunger Games - Highly enjoyable confluence of style and substance, art and commerce is full of intriguing ideas, characters, and settings. Full Blu-ray Review
6. The Imposter - The year's best documentary has fascinating characters and a gripping story that rival the best of scripted thrillers. Full DVD Review
5. Wreck-It Ralph - A step outside Disney Animation's comfort zone yields Pixar-type creativity and entertainment levels. Full Blu-ray + DVD Review
4. The Dark Knight Rises - A satisfying conclusion to Christopher Nolan's rich, epic trilogy. Full Blu-ray + DVD Review
3. Argo - Engrossing, historical love letter to cinema is a bit Hollywood at times, but delightful nonetheless. Full Blu-ray + DVD Review
2. Silver Linings Playbook - This funny and heartfelt film reiterates that David O. Russell has the secret to capturing authentic human emotion on screen. Full Blu-ray + DVD Review
1. Zero Dark Thirty - Riveting docudrama proves that The Hurt Locker was no fluke for director Kathryn Bigelow and screenwriter Mark Boal. Full DVD Review