The last two films of writer-director-producer Paul Thomas Anderson have come at a rate of just one release every five years. That makes Anderson the least productive of America's elite filmmakers, but his pace clearly isn't due to laziness or lack of ideas. No, Anderson prefers to put a lot more time and thought into his every film than just about all of his predecessors and contemporaries.

The Master follows in the footsteps of 2007's There Will Be Blood, creating another intricate, fascinating original universe inspired by history.

Set primarily in 1950, The Master centers on Freddie Quell (Joaquin Phoenix), a veteran seaman of World War II. Full of sexual thoughts, nervous laughter, and toxic homemade drinks concocted with ingredients like paint thinner, Freddie drifts from place to place and job to job, always finding a source for his potent, unique blends. We see him work as a department store photographer and a farm laborer. Each stint ends with messy confrontation.

Then, Freddie's wanderings lead to a boat party he absent-mindedly crashes. The boat is commanded by Lancaster Dodd (Philip Seymour Hoffman), a charismatic author, preacher, scientist, theoretical philosopher, and "hopelessly inquisitive man", whose followers address him as Master. Dodd is skeptical of his trespasser, whom he labels a "scoundrel", but appreciative of his unique brews and allows Freddie not only to stay onboard but to attend his daughter's wedding.

Dodd and Freddie establish a friendship and a kind of partnership, as the drifter submits himself to "informal processing", a line of intense questioning that Dodd is developing for "The Cause", a quasi-religious movement not easily defined. While subplots emerge -- Dodd is arrested for some financial misdeeds, Freddie longs for the love he let slip away -- the film's primary interest lies in the complicated relationship of the two disparate men.
Much was made prior to The Master's release of the parallels between Hoffman's character and Scientology founder L. Ron Hubbard. Anderson denied the connection, though eventually confessed it was an inspiration. Since Scientology is a touchy subject, whose reputation varies from one of Hollywood's favorite religions to a dangerous and powerful cult, it seemed a given that Anderson's latest film would be a tad controversial. In fact, its thinly-veiled subject matter would not incite much controversy, for it is not so much an indictment of Scientology as it is a fictional character study that touches on comparable methods and influences.
Of greater interest and concern was the challenging and polarizing presentation. Critics loved the film, kicking off the fall season with heaps of praise barely surpassed by any of the year's subsequent acclaimed dramas. The public seemed less enamored, with its record-setting limited opening weekend debut giving way to a modest expansion that failed to gain much traction. I'll never forget my first-hand exposure to the divisive nature at my sparsely-attended theatrical viewing when an old man, who had entered the theater about thirty minutes late, loudly declared at the start of the end credits, "That was the strangest movie I've ever seen... and the worst movie I've ever seen", before some younger moviegoers considerately contested his pan.
This is the kind of bold, literate film that online people should love; yet the average user rating on IMDb has already dropped to 7.5 and seems destined to soon dip below Punch-Drunk Love and Hard Eight to become the lowest-rated feature in Anderson's deservedly revered canon. Those familiar with the director know that he makes challenging fare that not everyone will appreciate. Accessibility is not a goal for Anderson and even his best-regarded works have scenes you'd be embarrassed to watch with company.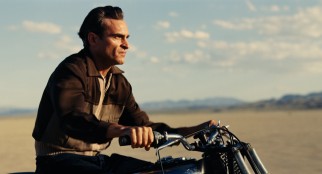 The Master does ask you to endure a descent into madness, treating an undiagnosed case of post-traumatic stress disorder as well as alcoholism and some rage issues with a maddening series of mental exercises. Anderson engages the viewer, but doesn't spoon-feed them clear answers or underline his points. The reality of certain surreal scenes is left to your judgment and open to interpretation. None of that allows you to overlook the film's wealth of ideas, countless compelling moments, rich personalities, and cinematic expertise.
On the technical side, Anderson is as skilled as any living director. His deft, spectacular cinematography yields innumerable striking compositions and distinct, intriguing musical choices. But all of that mastery is applied to serve multi-faceted characters and story, which unfold with boldness and unpredictability.
While you can easily make a case for The Master being nominated in virtually every Oscar category (especially directing, original screenplay, cinematography, editing, original score and the expanded Best Picture), it was shut out of all but three acting categories. That is a rare feat unlikely to be repeated anytime soon with Best Picture now supporting up to ten nominees. It is a clear testament to the fact that Anderson draws amazing performances from his casts. It helps that the director can seemingly get any actor he sees fit (who else could use Adam Sandler and Daniel Day-Lewis as successive leading men?).
Joaquin Phoenix is a real revelation here. I remember disliking him the first few years I knew who he was (from Gladiator to The Village), then being won over by his Oscar-worthy turn in Walk the Line (which lost that award to Hoffman's Truman Capote).

Phoenix reaches new depths with his frightening screen presence. The fully committed performance presents a remarkably convincing mess, for which Phoenix's recent past of sideshow retirement hoax and disregarded mockumentary seem to have prepared him. Phoenix gives almost a dangerous amount of himself, showcasing a gaunt physique, awkward posture, patches of white hair, an unhealthy look, and prominently turning his cleft lip into a cock-eyed snarl of a wily grin. To me, it is the most powerful acting of 2012 and far more of a surprise than Daniel Day-Lewis transforming himself into a magnetic Abraham Lincoln. I suspect that if Phoenix's own disparaging remarks about the Oscars didn't turn voters away, questions of his sanity and its potential exploitation may have. Nonetheless, I'm glad he was nominated, even if he clearly stands to lose.

Hoffman, who could have easily been classified as a co-lead, is plenty effective too as the prim and pretentious seducer, who exhibits his own outbursts in the face of skepticism. Making his fifth appearance in Anderson's six films, he is an old pro who could pull off this interesting material in his sleep but remains wide awake here. Nominated for her fourth Supporting Actress Oscar in nine years, Amy Adams is becoming an Academy Awards fixture, with good reason. As Dodd's pregnant wife Peggy, she does not get to do all that much (though she still seems to claim more screentime than two of her category's fellow nominees), but does manage to further demonstrates her impressive range, while meeting the film's needs.

The Master excels with a good amount of dark comedy, from delightfully awkward beats to the unlikeliest and most successful of fart jokes. One of Anderson's great gifts is to balance this tremendous artistry with sheer entertainment value. You can both dissect his films in an academic setting and casually quote them among friends.

Five days after it is likely to lose on all three of its Oscar bids, The Master hits home video from The Weinstein Company partner Anchor Bay Entertainment, who releases it in a single-disc DVD and the two-disc Blu-ray combo pack (whose artful packaging deliberately downplays the inclusion of DVD and downloadable digital copy) reviewed here.
Blu-ray & DVD Details

1.85:1 Widescreen
5.1 DTS-HD MA (English)
Subtitles: English for Hearing Impaired, Spanish
Not Closed Captioned; Extras Subtitled in English
Release Date: February 26, 2013
Two single-sided, dual-layered discs (1 BD-50 & 1 DVD-9)
Suggested Retail Price: $39.99
Blue Keepcase
Also available as standalone DVD ($29.98 SRP) and on Amazon Instant Video
VIDEO and AUDIO
The Master marks Paul Thomas Anderson's first film in the 1.85:1 aspect ratio and his first without Robert Elswit directing the photography. Anderson and his Romanian DP, Mihai Malaimare Jr., shot most of the film on 65mm, the first narrative feature to use that format in over fifteen years. That decision probably contributes to the Blu-ray's dazzling picture quality. This is some of the best 1080p video I've ever seen. The element is so sharp, clean, and detailed, allowing you to marvel at the countless potent images. The 5.1 DTS-HD master audio is equally delightful, enveloping you throughout with precise sound design. You'll even notice details like Hoffman's lips making noise before or after delivering a line in a desert scene.
BONUS FEATURES, MENUS, PACKAGING and DESIGN

Like his films, Anderson's DVDs (or, in this case, Blu-rays) have a distinct sensibility to them. That sensibility is part-Criterion Collection, part-eccentric. Clearly, the movie is supposed to speak for itself, as Anderson extends his streak of not doing audio commentaries (after providing them on his first two films).

But that doesn't mean the director can't share some pertinent and entertaining bonus material alongside it, while getting the studios to make certain concessions to him (like forgoing other films' trailers and relegating the disc's distributor logos to the end of movie playback).

The Blu-ray includes four extras, half of them presented in high definition. First up is "Back Beyond" (19:59), a collection of deleted scenes and snippets set to music by Jonny Greenwood. It's good material edited together in a way with occasionally video/audio disconnect that makes it feel like a long, strange trailer. The bits include further discussion of "time holes", another sexual partner for Freddie, a conversation between Freddie and Dodd's son-in-law (Rami Malek) elsewhere hinted at, another scene featuring the scarcely used Laura Dern, more to The Master's legend, and a look at the "Casper" cartoons we merely hear Freddie watching in a theater. The reel closes with some outtakes of Hoffman and Anderson repeatedly cracking up on a moment.

Next, we get nine trailers and teasers (16:26). That's nine more than the typical Weinstein disc provides, plus these understated previews are unconventionally enticing with their discordant score, inclusion of quite a bit of footage unused in the final film, and promotion of specific screenings.

"Unguided Message" (7:59, SD) is a windowboxed behind-the-scenes look at production. Quite literally "behind the scenes", as the video makes us feel like a wandering set visitor with a walkie-talkie, seeing not much of interest, but getting to roam the varied workspaces.
Finally, we get Let There Be Light (58:06, SD), John Huston's 1946 U.S. Army documentary about depressed and traumatized WWII veterans that proved to be a heavy influence on The Master. This black and white film, which emphasizes its candor in an opening scroll, is a most relevant inclusion that is gripping in its own right,

even without its occasional alignment with Anderson's film and with its hypnosis treatment being as questionable as The Master's methods. Its picture is aged and there is a brief audio dropout, but that's not unexpected for something that is elsewhere advertised as being "suppressed by the United States Government for over 30 years."

Identical to the one sold on its own, the DVD here includes all the bonus features except Let There Be Light. It's filled close to capacity, so the omission is less about short-shrifting the DVD consumer than keeping the feature film most presentable.

The lone static, silent menu of each disc features nothing more than a portrait of Freddie Quell on what looks like parchment. The Blu-ray neither supports bookmarks nor resumes playback, which seems especially unfortunate with the film broken into just eight chapters. At least, nothing plays before the menu loads. Approximate runtimes are supplied for the extras, as is a "Play All" listing. Lacking dub options, the Set Up menu does include Criterion-esque color bars.

Two noteworthy inserts are found within the standard Blu-ray case. The first supplies directions and a unique code for downloading your complimentary iTunes digital copy of the film (apparently Anchor Bay is the latest studio to switch to downloads from a DVD-ROM). The second is a wonderful postcard featuring a lovely black and white publicity photo of Lancaster Dodd, the back of which provides a brief, eccentric biography and indicates where to place a stamp. Of course, you wouldn't dare mail out such a frame-worthy treasure! The thoughtful packaging even includes reversible cover artwork, should you want a grainy shot of each leading man to stand as the case's front and back instead of the Rorschach-like default design.
CLOSING THOUGHTS
The Master will absolutely not be everyone's cup of tea, but I enjoyed it quite a bit. While some will find the content off-putting or difficult, an open-minded viewer is sure to appreciate the originality and substance that pervade the film, manifesting in magnificent performances, a story that resonates, and unparalleled technical splendor.
Lending itself to repeat viewings, the film would warrant consideration on its own, but earns a stronger recommendation when receiving a release showing the deliberate effort and thought of a Paul Thomas Anderson disc. Weinstein/Anchor Bay's combo pack delivers a fantastic feature presentation, top-notch packaging, and a compelling collection of unorthodox extras. That helps it stand out, much like the film does when compared to contemporary cinema at large, most of which it bests both in terms of creativity and entertainment.
Support this site when you buy The Master now from Amazon.com:
Blu-ray + DVD + Digital Copy / DVD / Instant Video