While the soft R rating has virtually disappeared and PG-13 becomes increasingly tolerant of questionable content, family films today are in many ways the tamest they've been since the 1950s.

In that sense, Fun Size, the first PG-13 U.S. theatrical release in the 17-year history of Nickelodeon Movies, is a departure, harking back to the 1980s, when even after PG-13 was introduced, edgy material found its way into films aimed primarily at the young. Fun Size restores some of the edge, including the profanity and sexual content that have been altogether absent from Nickelodeon's past films, television programming, and limited competition in the genre.

That's not a move that will please parent watchdog groups and it's not one that did any good at the box office, where this Halloween comedy's $9.4 million haul made it by far the year's lowest-grossing release in over 3,000 theaters. Still, many current teens will find this a truer representation of their experiences than the squeaky clean song and dance of the High School Musical films, while the presence of groping, reckless behavior, same sex parents, and streaking will raise some eyebrows.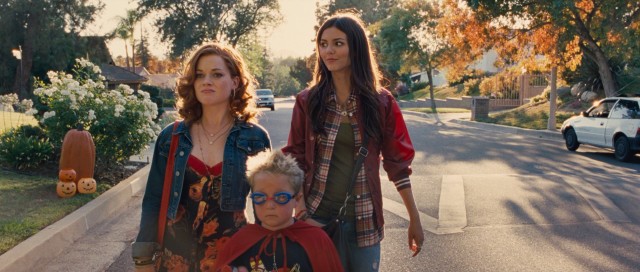 Fun Size applies the night on the town approach to Cleveland high school teenagers and a younger sibling. The closest model might be Adventures in Babysitting, though there's much less danger and the only thing that gets shot is a piece of chicken. Wren DeSantis (Victoria Justice, Nick's "Victorious") and her best friend April ("Suburgatory"'s Jane Levy) are looking forward to spending Halloween at the happening party of dreamy musician and potential love interest Aaron Riley (Thomas McDonnell). But, at the last minute, Wren's recently-widowed mother (Chelsea Handler) opts to go out and whoop it up with her 26-year-old boyfriend Keevin (Josh Pence). That leaves Wren with trick-or-treat duty, having to accompany her chubby, silent young brother Albert (Jackson Nicoll).
Dressed in a Spider-Man costume with one arm chopped off at the elbow, manga enthusiast and candy connoisseur Albert soon goes missing. Wren and April team up with Debate Team nerds Roosevelt (the suddenly ubiquitous Thomas Mann) and Peng (Osric Chau) to find the missing boy. Albert meanwhile has adventures of his own as he joins convenience store clerk Fuzzy (Thomas Middleditch) on a mission to win back his lost love.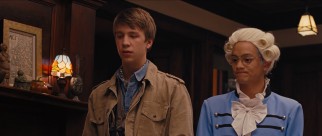 Fun Size has a great idea at its foundation. Halloween is a big day and bigger night to many kids well into their teen years, yet cinematic depictions of the holiday have largely either been horrific or incidental. This film tries to find the humor in a series of remarkable and embarrassing situations. Unfortunately, the execution is poor and there are few laughs to be had, most of them the random, unexpected, and soon forgotten kind.

A visit to IMDb confirms what you already know. Writer Max Werner ("The Colbert Report") and director Josh Schwartz (a creator of "The O.C.", "Chuck", and "Gossip Girl") are entirely new to film.

You spot the inexperience in the structural weaknesses and post-production fixes. For instance, an uncouth villain played by an uncredited Johnny Knoxville makes a clearly ADRed comment about Pepto Bismol to clarify an upcoming shot in which he is seen consuming what could be any pink liquid. In addition, Fun Size uses voiceover to slip some substance in, getting dramatic largely out of nowhere to ground the night of rambunctiousness.

I'm clearly not the audience for this film, but then the pitiful ticket sales showed there might not have been one. In fact, there just seems to be a disconnect. I would guess that the average Nickelodeon viewer is about 11 years old, whereas this movie will play best with those around 15-16. To adults, a few years doesn't mean anything, but in those adolescent years of development, they're huge. The younger sect probably prefers the TV-G version of life presented to them on shows like "iCarly", while real teenagers are unlikely to be caught watching such fare without a younger sibling around.

That the cast is played by actual teenagers (centered on the dramatically challenged Justice) and some barely in their twenties instead of older actors who only pass as teens to those years removed from high school underscores the film's target and its limited appeal for adult audiences, who can easily enjoy films like Mean Girls and Superbad. That also means that this film misses the critical impressionable undiscerning demographic with whom this could have become a Halloween tradition. For an example of that, look at Hocus Pocus, the Disney comedy celebrating its 20th anniversary this year. It's not a great film and yet it is beloved by those who first caught it before puberty and well before adult cynicism set in. Generally, you're less adoring and nostalgic for the movies that reached you as a teen than those of your childhood years. While Fun Size could be revered enough to put up healthy sales numbers in a new format in 2032 (as Hocus Pocus did on Blu-ray last fall), it doesn't seem likely that the public's aversion and negative sentiment gives way to annual broadcasts and the future successor of dedicated Tumblr pages.

Though holiday movies are the few that still take a full year to journey from theaters to disc, Nickelodeon and parent company Paramount won't allow Fun Size to become even more forgotten out of deference to its setting. It hits DVD and Blu-ray next Tuesday, the latter rather surprisingly not a combo pack, one of the few recent Paramount theatrical releases (and one of the only family-oriented films from any studio but Summit/Lionsgate) not treated to a multi-disc, multi-format set.
Blu-ray Disc Details

2.40:1 Widescreen
5.1 DTS-HD MA (English), Dolby Digital 5.1 (French, Spanish, Portuguese, English DVS)
Subtitles: English, French, Spanish, Portuguese; Film-only: English for Hearing Impaired
Not Closed Captioned; Most Extras Subtitled
Release Date: February 19, 2013
Single-sided, dual-layered disc (BD-50)
Suggested Retail Price: $39.99
Blue Eco-Friendly Keepcase
Also available on DVD ($29.99 SRP)
VIDEO and AUDIO
Fun Size boasts excellent picture and sound quality in high definition. The Blu-ray's 2.40:1 transfer is clean, sharp, detailed, and vibrant. The 5.1 DTS-HD master audio mix is lively, crisp, and consistent. The movie is treated to four alternate soundtracks that should cover virtually every North American viewer, while it and most of its bonus features are also subtitled in all the same ways (aside from the DVS track, for obvious reasons).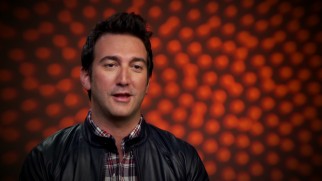 BONUS FEATURES, MENUS, PACKAGING and DESIGN

Not so surprisingly,

Fun Size gets a fairly modest collection of bonus features, all of which the BD presents in full HD.

The featurette "Unwrapped: The Making of Fun Size" (8:45) gathers comments from cast and crew, along with some looks at the spirited summer 2011 shoot in Cleveland.

"Jackson Nicoll - Trouble Sized!" (4:56) celebrates the film's youngest cast member with on-set footage and remarks from his co-stars and director.

A gag reel (3:59) serves up a routine, slightly amusing collection of outtakes, setting them to Carly Rae Jepsen's end credits song.

Watch a clip from "Unwrapped: The Making of Fun Size":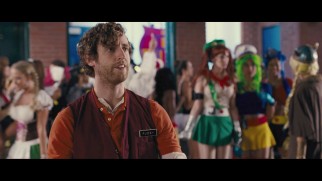 Four deleted scenes (5:33) include an alternate opening among its disposable moments.
The music video for Carly Rae Jepsen's "This Kiss" (3:56) finds the "Call Me Maybe" singer performing at a decidedly not Halloween gathering with some costume changes and nary a clip from the film.
You don't land one of the year's hottest artists and then not get a bonus feature about the bonus feature. Thus, we get a making-of for the "This Kiss" video (2:32). Jepsen briefly discusses the video's concept, while the video's director Justin Francis opens up about the excitement of working with her.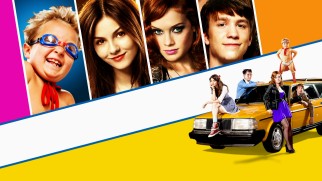 Fun Size's trailer is not included, nor does the disc attempt to stream any others,

as Paramount Blu-rays typically do.

The final extra, unmentioned on case save for a rear cover shrinkwrap sticker, is found inside the unslipcovered eco-friendly keepcase: an insert with directions and a unique code for accessing the downloadable digital copy and UltraViolet stream included for free with a purchase of this disc.

The static menu plays "This Kiss" over character shots resembling those of the cover art. The disc doesn't resume playback, but does support bookmarks.
CLOSING THOUGHTS
The world really could have used a good Halloween comedy film, so it's unfortunate that Fun Size can't fill the void. Most of the concept's promise goes unrealized in this episodic, rarely funny outing, which still isn't bad enough to have flopped as grandly as it did. I'm sure there is an audience out there -- those in between Nick original programming and fare like Project X -- that will enjoy this movie. Those young teenagers will just have to find it and give it a chance as they did not in theaters.
Paramount's Blu-ray probably ought to have been a combo pack, but it otherwise satisfies with its terrific feature presentation and decent handful of fitting bonuses.
Support this site when you buy Fun Size now from Amazon.com:
Blu-ray + Digital Copy + UltraViolet / DVD