Until my review copy arrived, I was under the impression that The Vow was a Nicholas Sparks adaptation. It made sense. Rachel McAdams and Channing Tatum had each starred in one of Sparks' two biggest hits, The Notebook and Dear John, respectively.

And befitting its mid-February theatrical release, The Vow was a romantic drama, a genre Sparks has pretty much cornered with his mushy Southeastern tales of love young and old and death unexpected. It turns out The Vow is based on the next best thing to Nicholas Sparks: true events.

Paige (McAdams) and Leo (Tatum) are a happily married artsy couple living in Chicago. One snowy night while pulled over, they are rear ended by a truck. Paige is hurled through the car's windshield. Miraculously, the traumatic accident leaves just a slight scar, resembling a scratch, on her cheek. But the episode does cause some brain damage, erasing the last five years' worth of memories. The last thing Paige can recall is asking about toasted ravioli at Romano's Macaroni Grill. Back then, she was a law student engaged to her boyfriend Jeremy (Scott Speedman).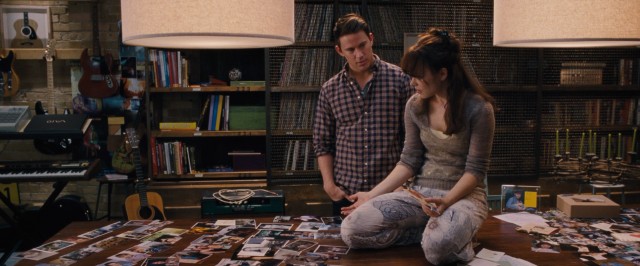 With flashbacks and some hunky narration regarding "moments of impact", Leo fills us in on some of the experiences now missing in Paige's mind. Four years ago, they met as art school students (Paige had dropped out of law school). They fell in love, with Paige moving in and eventually marrying Leo in an unsanctioned museum wedding with a smattering of their large circle of hipster friends.
Now, Paige can remember everything up through five years ago, including the parents (Sam Neill and Jessica Lange) from whom she has been mysteriously estranged, her now-engaged younger sister (Jessica McNamee), and high school friends from her suburban hometown. It's all quite frustrating for Leo, whose love for his wife is hardly reciprocated in strained conversations and awkward distance.
Paige can't remember anything about her successful career as a sculptor, let alone her education. And the time Leo's needed to take off to care for her is threatening the stability of his newly-opened recording studio, just as the hospital bills are piling up. He wants his old soulmate back, but she is reluctant to be more than an acquaintance. Furthermore, Paige's ex is hanging around with open eyes and her parents clearly disapprove of her marriage. What's a boy in love supposed to do?
If not based on an actual case, the premise of The Vow would seem very dubious from a medical point of view. Instead, it makes for a nearly clever conceit, less heady than Eternal Sunshine of the Spotless Mind and less goofy than 50 First Dates, but along the same lines of both. What if a problematic memory suddenly stood in the way of love? The execution is pretty routine. The film doesn't take itself too seriously, skewing just a tad more to drama than comedy (and being more tolerable on account of that).
If you were to tell me six years ago that the star of Step Up would have a prosperous film career, I never would have believed you. And yet, here we are in 2012, and Channing Tatum has two of the year's top grossing films (in this and 21 Jump Street), with two more wide releases to come at the end of next month, one of which (Steven Soderbergh's Magic Mike) is based on his life.

I can't say the success has been well-earned; aside from the solid numbers on Step Up and Dear John, there hasn't been much to justify him as leading man material. But he's delivered audiences this year and in two very different kinds of movies.

The Vow became the first film of 2012 to pass the $100 million mark domestically. Though it has since fallen to sixth for the year, it remains one of the genre's biggest hits of all time and by far the top-earning and best-attended in the 13-year history of Sony subsidiary Screen Gems (blowing away the former #1, Dear John). It's easy to chalk up some of the business to timing. Young couples need something to do, especially around Valentine's Day, and "dinner and a movie" remains a popular itinerary. As tempting as The Phantom Menace in 3D, Journey 2: The Mysterious Island, and Safe House may have been, The Vow seems to have won the date demographic and thus pushed ahead of that competition. By the time Valentine's Day night, which gave it the 17th biggest non-opening Tuesday in box office history (landing it among Twilight and Lord of the Rings episodes), had passed, The Vow had pulled in over $56 million (an admirable finish line for most romance films) in just five days.

Timing and profitability would be the areas in which the film is easiest to praise. As a piece of storytelling, well, it manages to pull off its ludicrous plot fairly nicely, mostly avoiding mawkishness and cloyingness. It even manages -- gasp -- to be a bit cute on occasion, as intended. But like most romantic cinema, this still relies on tired old formula, the destination inevitable and every obstacle (from condescending parent to handsome romantic rival) familiarly surmountable. It may get by without regularly producing winces, but it eventually must undo itself with questionable actions and the unenviable task of trying to dance around expectations while still leaving viewers fulfilled.

For his part, Tatum enunciates well enough and dials down the machismo with more than one feminine sweater. This sort of thing seems to be the comfort zone for McAdams, even following a year of blockbusting Sherlock Holmes mystery and an Oscar-winning Woody Allen comic fantasy. She is just fine, delivering the kind of performance one expects from someone seasoned enough to be at ease and not hungry enough to have to make a name for herself. The two have modest chemistry together at best, but then that is just as much as the film's screenplay seems to want. Everyone else in the cast fits their role adequately as well (welcome back, Sam Neill!), staying visible and in some semblance of demand without surprising.

Seemingly timed to another romance-friendly holiday (though one which most of the movie's biggest, i.e. youngest, fans won't themselves be celebrating), The Vow hits home video next week, in a single-disc DVD and this review's subject, a two-disc Blu-ray + DVD + UltraViolet combo pack.
Blu-ray & DVD Details

2.40:1 Widescreen (DVD Anamorphic)
Blu-ray: 5.1 DTS-HD MA (English, French), Dolby Digital 5.1 (Spanish, English DVS)
DVD: Dolby Digital 5.1 (English, French, Spanish, Descriptive Video Service)
Subtitles: English, English SDH, Chinese Traditional, French, Korean, Spanish
Not Closed Captioned; Extras Subtitled in English, Chinese, and Spanish
Release Date: May 8, 2012
Two single-sided, dual-layered discs (BD-50 & DVD-9)
Suggested Retail Price: $40.99
Blue Keepcase with Side Snap in Cardboard Slipcover
Also available in standalone standalone DVD ($30.99 SRP) and on Amazon Instant Video
VIDEO and AUDIO
The Vow upholds Sony's usual high picture and sound standards, delivering sharp, clean 2.40:1 picture and crisp, clear 5.1 DTS-HD master audio sound. This may not be a film people turn to for technical excellence, but you do find that here with nary a shortcoming. In sampling, the DVD looked and sound great by the lower standards of anamorphic standard definition video and Dolby Digital 5.1 sound.
BONUS FEATURES, MENUS, PACKAGING and DESIGN

Extras begin with an unexpectedly very good solo audio commentary by director Michael Sucsy. Sucsy (who does not pronounce his surname as you'd hope) covers the ordinary bases but with greater interest and candor than usual. That makes his screen-specific remarks on studio objections, test screening reactions, the casting process, script concerns, production, wigs, deliberate inaccuracies, and aspects pulled from real life (his, not that of the real couple this was based on) quite compelling.

I chalk the passion up to lack of experience and jading; prior to this, Sucsy only helmed HBO's Grey Gardens. It's unfortunate that few will listen to this track, because it proves to both listeners and filmmakers that even stupid movies can inspire engaging commentaries with the right attitude and openness.

Four deleted scenes (5:56, HD) give us more of Leo and Paige as a happy couple, more of Leo's hipster friends, more of Jessica Lange, and more bleeped profanity. It's worth seeing, especially for Lange fans who get so little of her in the actual film.

Three ordinary HD featurettes are exclusive to Blu-ray. "'Til Death Do They Part" (8:15) is a general making-of piece, touching on the story, director, and filming with some comments from crew, cast, and medical authorities. "Profiles of Love: Paige and Leo" (9:59) considers the central romance, lead actors, and their characters with more of the same standard ingredients: B-roll, film clips, and talking head remarks. "Trying to Remember" (10:10) explores retrograde amnesia, both with regard to the plot it drives and the real medical condition itself.
Finally, there is the inevitable gag reel (3:10, SD), which serves up missteps, verbal fumbles, prop struggles, a lot of bleeped profanity, and fart machine fun. Channing Tatum fans will be sad not to get the racy prank the commentary recalls him playing on Rachel McAdams in his nude scene.
Gladly, the DVD here is the same as the one sold on its own and thus contains the gag reel, deleted scenes, and audio commentary. It's way under DVD-9 capacity, so the featurettes could have fit, but then there'd be less incentive to get the combo pack.
The Blu-ray and DVD open with a Blu-ray promo and trailers for Salmon Fishing in the Yemen, Tonight You're Mine, and The Artist. The Previews menus hold those trailers along with ones for Damsels in Distress and The Woman in Black.
The scored menu pulls clips from Paige's timeline of photos. Being a Sony disc, the Blu-ray supports bookmarks and flawlessly resumes playback of everything. Surprisingly but meaninglessly, the disc goes without BD-Live features.
The full-color Blu-ray and silver DVD claim opposite sides of a standard Blu-ray case, which is topped by a plain cardboard slipcover. Three inserts cover the DVD: a unique redemption code and general directions for accessing the included UltraViolet stream of the film, your Sony Rewards code (part of a booklet advertising the book and other Sony products), and finally a PIN entitling you to 5 free song downloads at SonyMusicPass.com, an especially nice touch for those whose public libraries do not participate with Freegal and give you a few free downloads from the same limited Sony catalog every week.
CLOSING THOUGHTS
The Vow bests plenty of modern romance films unfunny and mushy, but not enough to qualify as an enjoyable time. It is hindered both by the confines of genre conventions and the dumb turns it must take for its story to work.
Sony's combo pack delivers a first-rate hi-def presentation and a decent collection of extras highlighted by the unusually earnest audio commentary. It's equally easy to find better and worse ways to spend two hours than watching this. If you're not a sucker for romantic movies or the two leads, you'll be fine skipping this.
Buy The Vow from Amazon.com: Blu-ray + DVD + UltraViolet / DVD / Instant Video