Christopher Nolan's three Batman films have made an indelible mark on 21st century cinema. While the superhero movie would be flourishing with or without them, Nolan's trilogy has expanded and elevated the genre

while redefining the word "crowd-pleaser." Winning near-universal critical acclaim and grossing over $2 billion worldwide, this franchise seems to have had as much impact as any centered on a single character. Nolan updated Batman's mythology, made us all forget about Tim Burton and Joel Schumacher's takes on the material, and revealed that thematically and visually dark urban crime films could be blockbusters as big as any.

There is no question that The Dark Knight Rises, the third and final film in this series, had the highest expectations for Nolan to meet. Batman Begins (2005) was a reboot no one would mistake for a sequel to Schumacher's laughable Batman & Robin (1997). Well received by critics, it was a slight underperformer at the box office. On video, its legend grew and The Dark Knight was already shaping up to be one of 2008's most anticipated films when Heath Ledger's death made it much more than that. That sequel lived up to its considerable hype, becoming the second highest-grossing film ever domestically, claiming the #3 rank among all films on the Internet Movie Database (trailing only The Shawshank Redemption and The Godfather), and almost single-handedly causing the Academy Awards to expand their Best Picture field so that a snub like its could no longer occur.

Talk about a tough act to follow. If anyone could, it was Nolan, who since The Dark Knight had made Inception, a heady original thriller that nearly grossed another billion, claimed that 3rd rank on IMDb (which it held for a month), and earned that Best Picture nomination in the first post-expansion Oscars. All but two of Nolan's earliest films easily rank among the IMDb's Top 250, a feat that places him on par with Martin Scorsese, Steven Spielberg, and Billy Wilder, and only trailing Alfred Hitchcock and Stanley Kubrick. That stat mildly overestimates Nolan's worth in the history of film, but it also establishes him as this generation's most widely admired filmmaker, a director as reliable both commercially and critically as any working today.

News on this project was not the most encouraging. First, there was the selection of Anne Hathaway as Catwoman, which upheld the series' tradition of questionably casting the leading lady. Then, there was the decision to make the villain Bane, an unfamiliar strongman who had briefly featured as a henchman in Batman & Robin. Obviously, you couldn't recast Joker, but there were far more obvious and promising candidates in the over 70-year comic book history of the Caped Crusader.
Such fears prove to be unwarranted, though. Nolan not only knows what he's doing, but he also clearly loves it. That mix ensures this career-making enterprise ends on a strong note for the director/producer/co-writer and the many respected actors at his disposal.
Picking up eight years after The Dark Knight, this film finds billionaire Bruce Wayne (Christian Bale) has retired both from his secret life of crime fighting and from Gotham City's social scene. He has become a recluse, injured by his heroics, inaccessible to many beyond his loyal butler Alfred (Michael Caine), noticeably thinner and unshaven. As per the Batman's wishes, Gotham believes the mysterious vigilante is responsible for the death of the city's admired district attorney Harvey Dent, whose swift physical and moral decline remains a well-kept secret.
Bruce Wayne comes out of hiding after Selina Kyle (Hathaway), a young woman working as a maid, makes off with his late mother's pearls. There are, however, far more pressing matters than Kyle's flirtatious theft. The imposing, bald, masked international warlord Bane (Tom Hardy) has taken to Gotham's sewers and is planning a revolution with his well-stocked army. Bane's plot is thoroughly conceived and multi-faceted. It includes bankrupting Wayne in an attack on the stock exchange, laying a beating on Batman and exiling him to the soul-crushing torture of a prison where escape seems possible but almost never is.
While a battered Wayne tries to master his only way of escape, his Gotham lies in ruins. Bane and his army have risen to the surface and overthrown the authority. Now, they are wielding a nuclear weapon with a 6-mile blast radius, the core reactor taken from a sustainable energy source that Wayne's company had quietly been developing with guidance of board member Miranda Tate (Marion Cotillard).
As in the two predecessors, the conflict of The Dark Knight Rises is more cunning, complex, and realistic than standard bad guy world domination plans. This finale's doomsday scenario offers a mix of psychological and guerilla warfare that seems to play upon some contemporary public sentiment. As Bane declares his plot a liberation meant to return Gotham City to its people, the rhetoric sounds a bit like a declaration of war on the resented 1%, a kind of malicious and forceful variation on the Occupy movement. At the same time, laying siege to a city has its own connotations and may remind, much like Batman Begins, of modern-day terrorism and 9/11. Such material may tempt some to find political meaning or an agenda in the film, but clearly this is no allegory. That there are ties to real world fears and tragedies only add relevance. For Nolan, entertainment need not be escapism. Much power is gained by Gotham City feeling like a reflection of civilization and not some fantasy world where one rich, athletic, technologically-equipped individual is guaranteed to swoop in and save the day.

This conclusion may not completely satisfy every fan of this epic series, but it made mincemeat of my misgivings and fully won me over. Rises is not as breathtakingly outstanding as its immediate predecessor, but few films are and it is certainly in the same league. Some of the 2008 installment's power came from the element of surprise.

There was nothing in Begins to suggest a sequel of Dark Knight's design and superior quality. This time around, greatness is expected and, though it is supplied, we aren't taken to new heights. Still, the altitude is just perfect and beyond what most cinema, let alone comic book superhero movies, ever reach.

Nolan and his brother/co-writer Jonathan deserve ample credit for making all three of these movies both distinctive and connected. Rises is full of callbacks, and surprisingly more to the first movies than its beloved sequel. The impeccable continuity and symmetry illustrate the passion and thought with which these films are made. With the breathing room afforded by a substantial but not excessive 155-minute pre-credits runtime, this outing has time to give good material to all of the large cast, from the returning fixtures like Commissioner Gordon (Gary Oldman) and Lucius Fox (Morgan Freeman) to the new roles filled by three Inception cast members (including a fine Joseph Gordon-Levitt, whose prominence raises some well-founded suspicions).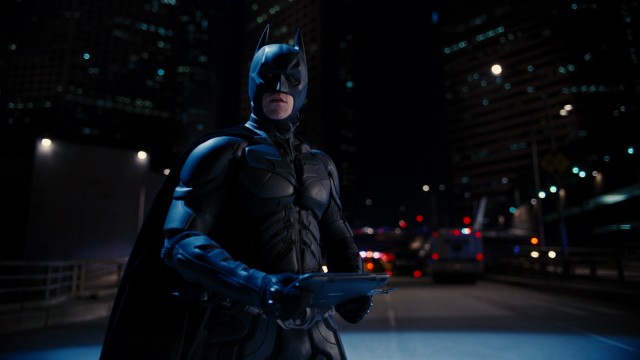 This is a high caliber production on every level. It really delivers everything: believable visual effects, fittingly huge sets, skillful cinematography and editing, a constantly empowering Hans Zimmer score and top-notch writing and acting. That it is a Batman movie seems to stand in the way of it receiving the acknowledgement it deserves. Try to imagine a film of this scope and excellence with any other subject matter (admittedly, that isn't easy to do). Now, try to imagine such a film being uncertain to be recognized in every major award category. Pundits have largely discounted this film's chances for an Oscar nomination for Best Picture even though that category can support up to ten films.
The experts are almost always right, too. History is on their side, with big budget action-packed films like Star Wars, Avatar, and District 9 standing as three anomalies among the many historical dramas, romances, and epics. What a number of those lack and Dark Knight Rises does not is fun. It isn't the campy KAPOW! fun of the 1960s Batman television show, the Prince-dancing Joker fun of Burton's Batman, or the agreeable generally more upbeat fun of Marvel Comics' contemporary film adventures. But it is great fun all the same that soars on the appeal of characters, story, and details of this delicious, textured universe that Nolan has developed over the past seven years. This film doesn't need Oscar wins or box office records. The high quality itself is enough to ensure that people will still be remembering and enjoying it many years from now.
Warner brings The Dark Knight Rises to home video today in a single-disc DVD and the three-disc Blu-ray + DVD + UltraViolet combo pack reviewed here. The film is also available in a reasonably-priced trilogy collection in a 3-disc DVD and a 5-disc Blu-ray. Finally, there is a Limited Edition gift set version of the 1-movie, 3-disc combo pack with a Bat Cowl that is apparently already tough to find.
Watch clips from The Dark Knight Rises:

Blu-ray & DVD Details

1.78:1-2.40:1 Widescreen; DVD: 2.40:1 Anamorphic
Blu-ray: 5.1 DTS-HD MA (English), Dolby Digital 5.1 (Portuguese); DVD: Dolby Digital 5.1 (English); Both: Dolby Digital 5.1 (French, Spanish), Dolby Surround 2.0 (English)
Subtitles: English for Hearing Impaired, French, Spanish; Blu-ray only: Portuguese
Not Closed Captioned; Extras Subtitled
Release Date: December 4, 2012 / Suggested Retail Price: $35.99
Three single-sided discs (1 BD-50, 1 BD-25 & 1 DVD-9)
Blue Keepcase with Lenticular Cardboard Slipcover
Also available as standalone DVD ($28.98 SRP), Limited Edition Combo Pack with Bat Cowl, on Amazon Instant Video
and in Dark Knight Trilogy Giftset: Blu-ray ($52.99 SRP), DVD ($38.99 SRP)
VIDEO and AUDIO
Like The Dark Knight, The Dark Knight Rises alternates between the 1.78:1 and 2.40:1 aspect ratios on Blu-ray. The narrower ratio is employed on scenes shot with IMAX cameras to utilize the higher resolution of that format, sometimes to great effect. The dimensional changes take a little getting used to. Sometimes they occur multiple times within the same scene. Though still less than half the film, they definitely are employed with greater frequency than on the last movie, with many establishing second unit shots and significant action moments going with the screen-filling 16:9 now more commonly used for television than feature films. I don't have a problem with the decision to vary dimensions, though others may wish the BD just stuck with the wider ratio of standard theatrical engagements. Like last movie, the DVD does just that.
The Blu-ray's picture quality is, unsurprisingly, a delight. The video is dark but great, and troubled by nothing worse than a few shots looking slightly soft, probably a reflection of how they were shot. The 5.1 DTS-HD master audio is highly potent as well. This is a mix with kick. It's big on bass and on Hans Zimmer's powerhouse score. Occasionally, it seems to get a tad too loud and have you reaching for the remote. Most of the time, though, it is just right, with all the elements staying crisp and audible.
BONUS FEATURES, MENUS, PACKAGING and DESIGN

The only bonus feature on the Blu-ray's movie disc is not really on that disc. It is "Explore Gotham: Second Screen." You download a free app to your Apple mobile phone or tablet and can then sync it to the film for an enhanced playback mode. Kind of cool if your idea of cool is watching a movie with a phone or tablet in your hand. I actually don't have either of those things, so I couldn't tell you about the exclusive content you'll unlock with this. I would guess it's the usual fare: fun facts, storyboards, behind-the-scenes images and shorts, etc.

I'm not crazy about extras that require you to rewatch the movie, but I'd much prefer one of Warner's Maximum Movie Modes to this. It's pretty surprising that an MMM or even just an audio commentary isn't offered on this set. What's especially annoying is that there are some making-of videos, (very cool) character documents, time-lapse set construction photography, vehicle blueprints, artwork, and animations included on the disc... you just can't access them without Second Screen (or digging around on a BD-ROM drive).

The bonus Blu-ray's extras begin with "The Batmobile" (58:17), a documentary devoted to Batman's car. In chronological order, it covers the design and evolution of Batman's vehicle in the DC comic books, the early film serials, the 1960s TV show, the cartoons, and all eight movies, with input from various individuals of importance, including Christopher Nolan, Joel Schumacher, Adam West, the TV Batmobile's customizer George Barris, Tim Burton (in seemingly old footage), Batman historians, crew members, stuntmen, comic book artists, Comic-Con attendees, and ventriloquist/Batmobile owner Jeff Dunham. You wouldn't expect a car worthy of an hour of your time, but this winning inclusive piece proves otherwise.

Next comes Ending the Knight, whose Rises-specific extras are divided into three sections.
Production supplies twelve short featurettes (resembling Focus Points from Maximum Movie Modes) on scenes and settings. "The Prologue: High-Altitude Hijacking" (7:52) details the challenges of filming the breathtaking airborne opening with a mix of techniques. "Return to the Batcave" (3:37) gives us a look at the design of Bruce Wayne's hideout. "Beneath Gotham" (2:34) explores the creation of the sewer sets that Bane and his army call home. "The Bat" (11:08) discusses Batman's new flying vehicle and making it look and sound real yet fantastical.
"Batman vs. Bane" (6:07) deconstructs the first of the film's two mano-a-mano fights. "Armory Accepted" (3:19) explains how a miniature model helped realize an ambitious drop effect. "Gameday Destruction" (6:44) illustrates how the football stadium was filled and the two teams cast and costumed. "Demolishing a City Street" (4:15) documents what is involved in achieving that desired practical effect.
"The Pit" (3:04) considers the architecture and production design of the exotic underground prison. "The Chant" (5:19) reveals how composer Hans Zimmer transformed extras' chanting into the film's music. "The War on Wall Street" (6:40) takes us behind the scenes of the film's biggest battle. "Race to the Reactor" (7:52) dissects the production of the climax set piece.
Characters devotes a slightly longer featurette to each of the three personalities given the most screentime in the film. "The Journey of Bruce Wayne" (8:53) ruminates on the hero's progression and how it finds him here. "Gotham's Reckoning" (10:05) weighs in on establishing Bane's look, demeanor, and sound. "A Girl's Gotta Eat" (9:26) turns our attention to Selina Kyle and this film's atypical depiction of her.
Reflection holds two final featurettes. "Shadows & Light in Large Format" (5:37) addresses the use of IMAX cameras on scenes of little or no dialogue. "The End of a Legend" (9:04) closes the book with a large number of personnel sharing general thoughts on this film and the entire trilogy.
The Trailer Archives gives us four theatrical trailers for The Dark Knight Rises (8:35) in full HD and Dolby Digital 5.1.

Such a welcome section is uncharacteristic for Warner and these previews tastefully establish this as the end of the trilogy and a must-see movie.

Another sweet anomaly, a Print Campaign Art Gallery shows off 31 images of the film's poster and other advertising artwork.

The same DVD sold on its own, the third disc includes a single extra in the character featurette "The Journey of Bruce Wayne."

The DVD opens with ads for UltraViolet and Injustice: Gods Among Us. The Blu-rays do not.

On both formats, the scored main menu simply fades in and out 2.40:1 clips from the film, which might not seem like much, but remember that this is the studio that usually just recycles poster art (incidentally, that is what the bonus BD does, with a brief excerpt of score). The DVD's submenus (which include a scene selection one) even use publicity art instead of the homemade-looking plain blue screens Warner favors for the format these days.

The three discs get a standard Blu-ray case with the two BDs sharing a swinging tray. Inside, an insert promotes and explains the Dark Knight Rises FX app and a second supplies your code and directions for accessing the UltraViolet. Outside, the case is topped by a lenticular-faced cardboard slipcover, whose artwork is identical to the cover below but differs from the DVD version.
CLOSING THOUGHTS
The Dark Knight Rises is, without a doubt, one of the best films of 2012 and a close second to its predecessor both in the franchise and in Nolan's rich résumé. This is the satisfying ending the trilogy deserved and it cements the series as one of cinema's greatest.
A movie this good would have sold just fine in a vanilla disc like Avatar's first release. But Warner shows this blockbuster and its fans more respect than that, with a solid bonus disc complementing a dynamite feature presentation. It's a must-own set.
Support this site and great cinema when you buy The Dark Knight Rises now from Amazon.com:
Blu-ray + DVD + UV • DVD + UV • Blu-ray Trilogy Giftset • DVD Trilogy Giftset • Instant Video