Few would dispute that Walt Disney Animation Studios is the best active studio to not yet have won the Academy Award for Best Animated Feature. Disney's dominance in feature animation began at the format's inception, 1937's blockbuster Snow White and the Seven Dwarfs.

The company experienced highs and lows in the decades that followed, enduring a labor strike, World War II, and the death of Walt Disney with only as much reinvention as needed. They faced almost nothing in the way of competition.

Starting in the 1960s, there'd be other theatrical animated films here and there: Yellow Submarine, A Boy Named Charlie Brown, Charlotte's Web. None of them were from companies with a plan or a chance to topple Disney or take a real bite out of their formidable business model. Competition increased in the 1980s, with the rise of movies adapted from TV series and the establishment of a production company by Disney expatriate Don Bluth. But both Disney's struggles and other animation houses' success proved to be rather short-lived. The creative and commercial gap between the Mouse and everyone else in feature animation grew in the 1990s, until Pixar came along and would change the game.

With the advent of CG animation, the marketplace expanded to its current crowded state where a number of major competitors stake out and claim the most historically potent weekends years in advance as part of their play for a chunk of the more lucrative than ever animated family film business. From 1937 through 1994, Disney was the undisputed king of feature animation. But since the Best Animated Feature Oscar was introduced beginning with 2001's crop, Disney has not led the industry, instead being one of a few major players and having to weather some storms to even get there.

Though healthy competition should inspire quality (and for the most part, it gladly has), Disney animation fans know the studio has had to overcome some dark times in recent years. There were box office failures, there were creative failures, there was the decision to do away with decades of tradition to make movies more like other studios' profitable works. While those providing the minor but increasing anti-Pixar sentiment might only begrudgingly admit it now, Disney Animation's course appears to have been corrected following Disney's 2006 purchase of Pixar and promotion of John Lasseter to chief creative officer. Since then, Disney's oldest traditions have been lovingly resurrected and extended. Even computer animated comedic adventure doesn't seem the daunting and derivative task it did on Chicken Little. The quality of Disney's output has been trending upward and with Wreck-It Ralph, the 52nd entry in the studio's storied canon, it seems to be at its highest point since the late '90s, considered the absolute cut-off of Disney's animation renaissance.
Wreck-It Ralph (voiced by John C. Reilly) is the villain of Fix-It Felix Jr., an 8-bit video game that has spent thirty years at Litwak's Arcade. Those thirty years have seen Ralph wrecking an apartment building window by window until hero Felix (Jack McBrayer) and his golden hammer can make the necessary repairs. It's not a very complex concept and it's not a very fulfilling existence, as Ralph spends his nights alone on a mountain of bricks while the other characters in the game socialize in Nicetown's main complex. The game's thirtieth anniversary prompts Ralph to attend Bad-Anon, a support group for depressed video game villains, for the first time. Despite the encouragement offered there, crashing Felix and friend's party and making a mess of their offensive anniversary cake set the wheels in motion for Ralph to do some risky game-hopping.
All of the games at Litwak's are connected by power cords and a hub known as Game Central Station. Ralph makes it his mission to win a medal, something he thinks he can do in Hero's Duty, a dark, violent, state-of-the-art first-person sci-fi military shooter game. His effort to secure some glory leads to him crash-landing in Sugar Rush, a game that consists of go-kart races in colorful worlds made of candy. There, Ralph makes the acquaintanceship of Vanellope von Schweetz (Sarah Silverman), a bratty young outcast prone to momentary glitches. While Ralph and Vanellope work together in an effort to give each their first taste of victory, the other arcade characters worry that Ralph is "going Turbo" and following in the footsteps of an infamous rebel whose actions led to beloved games being put out of commission.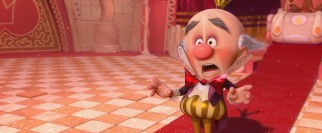 Boasting a wealth of visual and scriptural imagination, Wreck-It Ralph easily emerges as one of Disney's most creative and original animated features of all time. Maybe that doesn't say much, because the Disney tradition has very much been about putting charming and distinctive twists on well-known fairy tales and novels. But compared to the studio's most recent comedy-driven outings based on original ideas, Bolt and Lilo & Stitch, Ralph delivers more substance and satisfaction. Ralph clearly doesn't fit the timeless Disney mold of magic, romance, and transformation, but it also doesn't feel uncharacteristic or like a betrayal.

It leans heavily on the same principles (story, characters, settings) that have defined nearly all of Disney's successes from the early days of Pinocchio through late 20th century hits like The Lion King. The old question that both motivated and stifled the company after the loss of its namesake -- "What would Walt do?" -- cannot easily be answered by this film.

But Walt has been gone for almost sixty years and while it's important to hang on to many of his core values (e.g. making films not just for children but the child in all of us), Disney Animation would be doomed relying only on films bearing resemblance to those Walt made. Recent efforts like Tangled, The Princess and the Frog, and Winnie the Pooh have turned out quite all right, but Ralph is even better, despite blazing trails more resemblant of Pixar and DreamWorks than of classic Disney.

The film isn't perfect. Some will be put off by the reliance on bathroom humor, which no doubt contributes to the mild PG rating. I was more troubled by an excess of product placement, which is mostly presented in story-complementing jokes, albeit some of the movie's flattest. There is also the fact that the principal voice cast is largely comprised of television actors whose personality molds the characters, a design that may invite DreamWorks comparisons, but also resembles The Emperor's New Groove in that regard. None of these prove to be major concerns on a film so full of wit and splendor and so admirably steeped in the video game culture it celebrates with cameos and nods.
If you're wondering why Wreck-It Ralph doesn't look, sound or feel like other recent Disney films, obvious answers to that seem to lie in the film's credits. Director Rich Moore is new to theatrical animation, his twenty-five years of experience being in television cartoons like "The Simpsons", "Futurama", and "The Critic." The six individuals with whom Moore shares writing credit are from similarly diverse backgrounds. The independent Ed Helms comedy Cedar Rapids is the only well-known work of story/screenwriter Phil Johnston. Third story man Jim Reardon has a filmography that extends all the way back to Moore's "Mighty Mouse, the New Adventures" and also includes "The Simpsons" and WALL•E.

Fellow screenwriter Jennifer Lee is an altogether novice who is writing and co-directing Disney's 2013 animated feature Frozen. Even star John C. Reilly snags an "additional story material" credit, bringing much of his distinctive lovable lug persona with which he has fueled everything from Paul Thomas Anderson dramas to Will Ferrell buddy comedies to his own brilliant Adult Swim series. That creative personnel, never before tested on such a venue, imbues Wreck-It Ralph with freshness and unpredictability. These aren't old pros going through second-nature motions or refusing to budge from a conventional three-act structure. The result is a disarming blend of comedy and fantasy with real heart and emotion.

In some ways, this is the most Pixary film since Toy Story 3, the finale to that outstanding trilogy whose secret world design is an unmistakable influence here. I'm fine pretending that Pixar's first outright miss, Cars 2, never happened. Last year's film, Brave, was very good, but kind of different and not quite up to the studio's high standard taken for granted through TS3. That seemed to pave the way for this to be Disney's year to claim the Animated Feature Oscar and not just through its association with Pixar.

By most regards, Ralph was better received by critics and moviegoers than Brave. The two shared the category with three stop-motion films -- Tim Burton's Frankenweenie, Aardman's The Pirates! Band of Misfits, and Laika's ParaNorman -- that floundered at the box office. In past years, when Pixar's superiority has been in the slightest doubt, the Oscar went to another studio (Shrek over Monsters, Inc. in 2001, Happy Feet over Cars in 2006). But Brave pulled out the victory this year, one of last week's bigger surprises for pundits like me who saw this as Disney's year deservedly. Assuming Pixar's annual output returns to the high critical acclaim and public favor it maintained for an unprecedented period and that other studios like DreamWorks, Aardman, and whoever will have Henry Selick continue to take strides and earn notice, this Oscar may very well continue to elude Disney, whose chances were never before as good as they were this year.

Oscar or not, the industry and the general public has noticed the delightful Wreck-It Ralph as another key piece of evidence for Disney Animation's reascent and ongoing artistic and commercial relevance.

Watch a clip from Wreck-It Ralph:

Blu-ray 3D, Blu-ray & DVD Details

2.39:1 Widescreen (DVD Anamorphic)
Blu-ray: 7.1 DTS-HD MA (English), Dolby Digital 5.1 (French, Spanish), Dolby Surround 2.0 (Descriptive Service)
DVD: Dolby Digital 5.1 (English, Spanish), Dolby Surround 2.0 (Descriptive Service)
Subtitles: English, English for Hearing Impaired, Spanish; BD-only: French
Extras Subtitled; DVD Closed Captioned
Suggested Retail Price: $49.99 / Release Date: March 5, 2013
Four single-sided discs (2 BD-50s, 1 DVD-9 & 1 DVD-5 DVD-ROM)
Blue Keepcase in Lenticular Cardboard Slipcover
Also available in Blu-ray + DVD ($39.99 SRP), standalone DVD ($29.99 SRP) and on Amazon Instant Video and Amazon Instant Video HD
VIDEO and AUDIO
Unsurprisingly, Wreck-It Ralph boasts spectacular picture and sound on Blu-ray. The 2.40:1 video shows off the vibrant and vivacious animation with delightful detail and clarity. The 7.1 DTS-HD master audio is every bit as much of a treat, engulfing you with enjoyable sound design befitting the varied settings. As Disney does, selecting the Spanish language activates customized animation featuring the Spanish versions of word-based onscreen graphics, even subtle ones.
BONUS FEATURES, MENUS, PACKAGING and DESIGN

The Blu-ray's all-HD extras begin with Disney's Paperman (6:34), the winner of the 2012 Best Animated Short Oscar that played before Wreck-It Ralph in theaters.

It tells the story of an office worker who uses paper airplanes to try to reconnect with the woman he sort of met in a brief chance encounter on a train platform that morning. Artistic, moving, and a worthy winner, this medium-mixing black and white cartoon is nicely presented, with 7.1 DTS-HD master audio showing off its effective music and sound design.

Next comes "Bit by Bit: Creating the Worlds of Wreck-It Ralph" (16:40). This Pixar-esque making-of featurette gathers insight into the design and animation of the film's four distinct universes. Director Phil Moore and numerous other key crew members discuss the project's evolution (having to be redone after Felix was conceived as the hero), cinematic and architectural influences, and John Lasseter's input. It stops short of the voice cast, whose impact on the film is clearly felt, but otherwise covers good ground.
Four deleted/alternate scenes (14:28) are presented with an introduction by director Phil Moore. Mostly appearing in simply-animated rough story reel format, these include a deleted character who shares a jail cell with Ralph and later reunites with him in a shallow beach paradise, and a scene in which Felix, Vanellope, and Ralph voice their dreams before falling asleep. The scenes can also be viewed with audio commentary by Moore and writers Jim Reardon and Phil Johnston, which adds a minute of runtime and explains the cuts.
In the vein of Pixar's convincing, faux Lots-o-Huggin' Bear commercial, Four awesome Video Game Commercials (2:39) created for the film are kindly preserved. Running roughly 30 seconds each, they include a 1982 ad for Fix-It Felix Jr., a 1997 ad for Sugar Rush Speedway, a modern promotion for Hero's Duty, and a spot for a Fix-It Felix Jr. hammer. The only thing missing is Wreck-It Ralph's good standard theatrical trailer that employed Talking Heads and Flo Rida.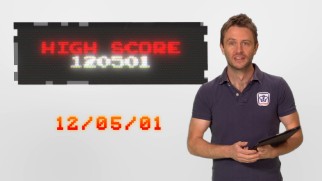 Last but not least, the Blu-rays are equipped with Disney Intermission, which livens up pausing of the movie with "The Gamer's Guide to Wreck-It Ralph". Unlike other applications of this feature, found on The Muppets, Peter Pan, and The Tigger Movie, this is essentially a featurette (9:23) you'll want to watch in full (9:43).

It consists of many short segments, selected at random, that point out some of the video game and Disney references hidden within the film. It's cool information, presented in fun fashion by its host, geek icon Chris Hardwick (with tablet in hand and undersized U.S. Chess polo shirt on body), but there also should have been the option to just watch it through once from the menu.

Because Disney is among the studios still believing that withholding bonus features is more likely to encourage Blu-ray purchases than discourage DVD ones, the DVD here disappointingly only offers Paperman in the way of bonus features, despite ample space to include more. The Blu-ray 3D, meanwhile, supplies Paperman in 3D. Typical for the studio, the digital copy DVD-ROM holds the movie in three different formats, Windows Media in two different resolutions and iTunes in one.

The discs open with trailers for Monsters University, The Little Mermaid 3D, and Planes. The Sneak Peeks listing repeats those, followed by ads for Disney Movie Rewards, "Gravity Falls", Disney Parks, Radio Disney, Mulan Blu-ray, Who Framed Roger Rabbit: 25th Anniversary Edition Blu-ray, Super Buddies, and Return to Never Land.

The menu cleverly resembles the Fix-It Felix Jr. game. As usual for Disney, the Blu-rays don't resume playback or support bookmarks, but do remember where you left off if your movie viewing was unfinished.

The standard Blu-ray case stacks two discs (all plainly-labeled save for the Blu-ray 3D) on either side. Topped by a nice holographic, lenticular-faced, embossed, gold-bordered slipcover, the case holds a booklet of ads and a Disney Movie Rewards pamphlet that includes a sweepstakes and an offer to download the soundtrack for just $5.25.
CLOSING THOUGHTS
Funny, smart, and extremely entertaining, Wreck-It Ralph is the best film from Disney Animation in a long time and among the best of all of 2012 cinema. The dazzling feature presentation of Disney's Blu-ray 3D combo pack does not disappoint in any way. The extras may leave fans wanting a little more (the lack of an audio commentary and any kind of game is somewhat surprising), but the hour of supplements is great company you're sure to enjoy. In short, this set is easy to recommend, though the 2-disc combo pack will do just fine if you're not into 3D and digital copies. As long as you have a Blu-ray player, this is one to pick up.
Support this site and great cinema when you buy Wreck-It Ralph now from Amazon.com:
Blu-ray 3D + Blu-ray + DVD + DC / Blu-ray + DVD / DVD / Instant Video / Instant Video HD