DVDizzy.com | DVD and Blu-ray Reviews | New and Upcoming DVD & Blu-ray Schedule | Upcoming Cover Art | Search This Site


This Means War: Blu-ray + DVD + Digital Copy Review
This Means War

Theatrical Release: February 17, 2012 / Running Time: 98 Minutes (Theatrical Cut), 104 Minutes (Director's Cut) / Rating: PG-13 (Theatrical Cut), Unrated (Director's Cut) / Songs List

Director: McG / Writers: Timothy Dowling (story & screenplay), Simon Kinberg (screenplay), Marcus Gautesen (story)

Cast: Reese Witherspoon (Lauren Scott), Chris Pine (FDR Foster), Tom Hardy (Tuck), Til Schweiger (Karl Heinrich), Chelsea Handler (Trish), John Paul Ruttan (Joe), Abigail Leigh Spencer (Katie), Angela Bassett (Collins), Rosemary Harris (Nana Foster), George Touliatos (Grandpa Foster), Clint Carleton (Jonas Heinrich), Warren Christie (Steve), Leela Savasta (Kelly), Natassia Malthe (Xenia), Daren A. Herbert (Agent Bothwick), Kevin O'Grady (Agent Boyles), Jesse Reid (Agent Dickerman), Viv Leacock (Agent Dowling), Jenny Slate (Emily)
Buy This Means War from Amazon.com: Blu-ray + DVD + Digital Copy • DVD • Instant Video
Romantic comedy crosses with spy action in This Means War, a film that forms a love triangle out of two CIA operatives and the civilian object of their affections.
Covert agents FDR (Star Trek's Chris Pine) and Tuck (Inception's Tom Hardy) are work partners and longtime best friends. They take both of those positions seriously. Their calling remains secret to everyone in their personal lives, as they pose as a travel agent and cruise ship captain even to British expatriate Tuck's ex-wife (Abigail Spencer) and young son (John Paul Ruttan).
Through an online dating site, Tuck meets perky product researcher Lauren Scott (Reese Witherspoon) and the two begin dating. Meanwhile, hanging nearby as a cellular wing man, wealthy American playboy FDR picks up a quick-witted blonde at a video store, who he eventually gets to go out with him.

What a coincidence: it is the same woman, a fact that the best buds discover in synchronized computer screen reveals.

Neither truly wants to let Lauren get away, so they lay some ground rules. They'll both continue to see her and not let on that they know about one another, allowing her to choose the better man. Though they agree to play clean, what good are intelligence agents without a bit of interference? Both FDR and Tuck dedicate considerable manpower and top-of-the-line government surveillance technology to observing one another's techniques and progress. The eavesdropping proceeds even when Lauren is confiding in her best friend Trish (an out-of-place and unfunny Chelsea Handler), who encourages her to swing for the fences with each handsome beau.

Occasionally, FDR and Tuck also have real work to do. The film opens with a mission atop a skyscraper in which the agents try to thwart a pair of Eastern European criminal siblings, one of whom (Til Schweiger) gets away. That plot is put on hold until an actiony climax is needed to endanger Lauren and get her to make a choice.
It is tough to believe that This Means War held any appeal on paper. But the story by Timothy Dowling (Role Models, Just Go With It) and novice Marcus Gautesen was allowed to proceed into a full-fledged screenplay credited to Dowling and seasoned Brit Simon Kinberg (Mr. and Mrs. Smith, Sherlock Holmes). That was approved with a fairly substantial budget of $65 million and two evidently in-demand leading men (who got the parts after James Franco declined and Bradley Cooper dropped out).

All of this fell into the hands of McG, the one-named director behind both Charlie's Angels movies and Terminator Salvation.

McG is one of those directors that people like to rag on. His succinct name alone suggests a Brett Ratner-sized ego to cushion the online blows. Having not seen any of his four prior theatrical credits, I didn't have an opinion on him coming in, but after This Means War, I'm in no hurry to catch up. This is a really bad film; not funny as a comedy, not compelling as a romance, and not to be taken seriously as an espionage thriller. It strikes out on all three of those fronts, making it relatively painful in its entirety. At least it is brisk.

There is nary a laugh to be had and nary an interest to take in the chemistry-free love triangle, all three corners of which are equally dislikable from the two-timing Lauren to her privacy-invading suitors. I don't think I would have thought any less of the film if all three of its leads went careening off an unfinished bridge as their vehicle does in the high-octane closing moments. That would have at least been surprising, daring, and, in a perverse way, entertaining, three adjectives that cannot be applied to the film as it is.

I guess This exists as date night fodder, its Valentine's Day sneak peek and subsequent release promising some hunks and romance for the ladies and a bit of shoot-'em-up and bromance for the men. There must be some drawing power in those base generalizations. And based on the $55 M domestic and $151 M worldwide grosses, plenty of young couples must have agreed to see this. Based on the respectable (soon to drop) 6.4 average IMDb user rating, a decent percentage of moviegoers must have come away reasonably happy too. But your standards will have to be low and your viewing history limited to find This fun, creative, or satisfying.

As if the theatrical cut wasn't brutal enough, This Means War's Blu-ray adds an unrated extended cut into the mix. There is some reason for this to exist, because the MPAA initially gave the film an R rating. Although Fox appealed it, editing was required to overturn in favor of a more commercial PG-13. The extended cut runs 6 minutes and 28 seconds longer than the theatrical equivalent. It doesn't seem to really add any R-rated material, instead adding alternate opening titles and some odds and ends throughout. One of the biggest gains is a gag in which Tuck casts a fake family to pose as his, only to have FDR hijack it (with the likes of David Koechner and Bridesmaids' Rebel Wilson). As is usually the case with alternate cuts, this one doesn't make the movie significantly better or worse.
Blu-ray & DVD Details

2.40:1 Widescreen (DVD Anamorphic)
BD: 5.1 DTS-HD MA (English), Dolby Digital 5.1 (Spanish, French, Portuguese, Czech, Hungarian, Polish, Turkish)
DVD: Dolby Digital 5.1 (English, Descriptive Video), Dolby Surround 2.0 (French, Spanish)
Subtitles: English for Hearing Impaired, Spanish, French, Portuguese, Czech, Hungarian, Polish, Turkish
DVD Closed Captioned; Some Video Extras Subtitled in Foreign Languages
Release Date: May 22, 2012 / Suggested Retail Price: $39.99
Two single-sided, dual-layered discs (BD-50 & DVD-9) / Blue Eco-Friendly Keepcase
Also available on DVD ($29.98 SRP) and Amazon Instant Video
VIDEO and AUDIO
An early shopping scene in This Means War looked off, but that proved to be an isolated incident in the Blu-ray's appropriately sharp, clean 2.40:1 widescreen presentation. Meanwhile, the opening gives the impression that this is a movie that will be loaded with gunfire from all directions, but that also proves not to be true, as the 5.1 DTS-HD mix more often showcases familiar and overplayed songs.
This Means War is bizarrely loaded with foreign language options, boasting eight dubs and a whopping 26 subtitle streams (including the default "none", which translates the movie's rare bit of foreign dialogue). The case doesn't mention them and my player couldn't even identify most of the languages, but I think just about everything spoken today is covered besides Klingon.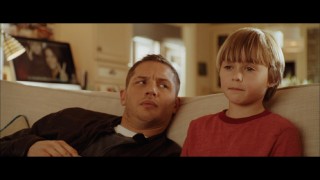 BONUS FEATURES, MENUS, PACKAGING and DESIGN
Besides the multiple cuts, the Blu-ray provides a handful of extras, all in HD.
"Bachelorette Party" (4:18) is a short epilogue aspiring to Bridesmaids-type comedy. It gathers Lauren and her girlfriends (including Handler's frequent guest turned fellow divisive NBC sitcom star Whitney Cummings) for some bawdy behavior and confessional comments. It's even worse than the movie and the volume levels are annoyingly inconsistent.
Six deleted scenes (15:41) fill in unnecessary blanks and spend more time with all of the leading characters. They include Tuck being parental with his son, Tuck pranking FDR with his ex-girlfriends intruding upon his date, and Lauren freaking out over having to choose. They are presented with flowing, optional McG commentary.
Next, we get three alternate endings (6:55). One changes the climax, one changes Lauren's selection, and the third has a bit of a laugh (and probably would have been the most fitting). In optional commentary, McG explains what they were going for and why he ultimately didn't go with them.
An "Uncensored Gag Reel" (3:59) serves up a lot of laughter and just a tiny bit of profanity.

An "Alternate Opening Concept" (8:53) treats us to an ambitious start in a mix of storyboards and previsualization CGI with optional McG audio commentary shedding light on it.

Unmentioned on the case and buried on the menu is an audio commentary by McG on the extended version of the film, which he considers a director's cut. He talks without lull on such topics as the MPAA battles (as a reflection of the "prudish state of America today"), Reese Witherspoon's legs and butt, Tom Hardy's smile, his taste for the coloring of heightened reality, his cinematic influences,

Chelsea Handler's "bifurcating personality" and the importance of her "editorializing the human condition", unexpected screening reactions, the film's jokes, and actors' physical changes in reshoots. The director's personality is just as abrasive as you'd expect of someone named McG, but at least he keeps this interesting.

This Means War's original theatrical trailer (1:39) is appropriately included.

The Blu-ray opens with a teaser with historical value, the one promoting the recently (and stupidly) retitled Neighborhood Watch followed by an ad for "The Blu-ray Experience" (seemingly supplanting Fox's standard digital copy bit), and a trailer for The Three Stooges. The Sneak Peek submenu allows individual and group access to the same three ads plus one for "Homeland": The Complete First Season.

A "Live Extras" section grants access to more streamable and downloadable Fox movie trailers, Blu-ray bonus feature excerpts, and a few exclusive shorts (like the Chipmunks getting immortalized on Hollywood Boulevard).
This Means War's standalone DVD includes McG's audio commentary, some deleted scenes, and two of the alternate endings. None of that makes this combo pack's DVD, which only presents the movie in DVD-Video and in transferrable digital copies. In both of those formats, only the theatrical cut is offered.
The menu plays a fast-paced montage of clips in moving rectangles accompanied by score and red lines. The Blu-ray supports bookmarks and (slowly) resumes playback.
The two discs claim opposite sides of a standard eco-friendly Blu-ray case, which goes without a slipcover but does provide an insert with your digital copy code and directions.
CLOSING THOUGHTS
Fox has put together a fine Blu-ray combo pack for This Means War, but from concept to execution this romantic spy comedy is a dud.
Buy This Means War from Amazon.com: Blu-ray + DVD + Digital Copy / DVD / Instant Video


Related Reviews:
New: The Vow • Chronicle • The Secret World of Arrietty • Hondo
Spies: Knight and Day • Body of Lies • Mission: Impossible - Ghost Protocol • Get Smart • Salt
Reese Witherspoon: How Do You Know • Four Christmases • A Far Off Place
Chris Pine: Unstoppable • Blind Dating • The Princess Diaries 2: Royal Engagement
Written by Simon Kinberg: Sherlock Holmes • Jumper
Romance and Action: To Catch a Thief • The Tourist • The Bounty Hunter • Next
This Means War Songs List: "Shake It, Shake It", "Soft Bossa", "Leave It to Me", Mr. Lonesome & The Bluebelles - "Just for You", Joe Jackson - "Look Sharp!", The Lions - "New Girl", Greg Holden - "The Song I Wrote for You", "Flower Duet Ver. 1", Explosions in the Sky - "Human Qualities", The 2 Live Crew - "Me So Horny", The DNC - "Unstoppable (feat. Yoni)", Slightly Stoopid - "2AM", Montell Jordan - "This Is How We Do It", Beastie Boys - "Sabotage", Torpedotrickser - "What I Got (Remix of 'Now I've Got a Woman')", Southpaw Swagger - "It Ain't Over", The Heavy - "How You Like Me Now?", Hot Toothpaste - "Snap My Bands", "See Ya' Round", "Rose's Theme", Sade - "Smooth Operator", Kram - "Good Love", Willowz - "Repetition"
DVDizzy.com | DVD and Blu-ray Reviews | New and Upcoming DVD & Blu-ray Schedule | Upcoming Cover Art | Search This Site
Search This Site:
DVDizzy.com Top Stories:
Reviewed May 23, 2012.


Text copyright 2012 DVDizzy.com. Images copyright 2012 20th Century Fox, Overbrook Entertainment, Robert Simonds Company, and Fox Home Entertainment.
Unauthorized reproduction prohibited.