After a shaky start and years of struggling, The Weinstein Company seems to have found some commercial stability to go with the award season prominence its founders have recently recreated from their Miramax heyday. Three of the studio's films will get plenty of exposure on Sunday night's Oscar telecast, two of them already clear-cut hits.

Even something that looked destined to flop like their sci-fi animated comedy Escape from Planet Earth is faring surprisingly well at the box office. But no studio is immune to failure; you might just have to look a little harder to find it.

Sure, The Master lost money and, though modestly priced, Killing Them Softly is one of the biggest financial misfires of Brad Pitt's long fruitful career. But the studio's biggest bombs aren't in plain sight. They fall under the name RADiUS-TWC, a specialty label that Weinstein introduced last year. The first films released under the banner arrived in fall and any promise seen in the respectable debut performance of the Bridesmaids-esque comedy Bachelorette (which grossed half a million dollars in just 60 theaters) seemed to quickly vanish with each subsequent release earning just a fraction of that in limited release while also available on demand and via Amazon Instant Video. Star power or no star power, niche genre or standard indie dramedy, the RADiUS releases have landed with a thud from critics and moviegoers alike.

The biggest thud to date seems to belong to Lay the Favorite, a film whose budget IMDb estimates to be $26.4 million and whose box office tally from 61 theaters in its only weekend of tracking was a pitiful $20,998. That's not a typo; the movie was $2 shy of grossing $21 thousand. Its $344 per theater haul was less than what Diary of a Wimpy Kid: Dog Days was averaging in its nineteenth week in release. In the grand scheme of the business, such a showing is disastrous, but not extremely unusual.

What makes it more unusual is that Lay the Favorite is not the work of fringe filmmakers or fresh out of film school novices. It boasts talent on both sides of the camera. It stars Rebecca Hall, the English film actress whose stock has risen in American films like The Town, Vicky Cristina Barcelona, and Frost/Nixon and who will next be seen in a prominent Iron Man 3 role. Taking top billing is Bruce Willis, who may not be the marquee star he was in the '90s but had a nice rebound year in hits as varied as Looper, Moonrise Kingdom, and The Expendables 2. There's also popular funnyman Vince Vaughn and Oscar-winning actress Catherine Zeta-Jones. The director's chair would be filled by Stephen Frears, the Oscar-nominated director of films like The Queen and Dangerous Liaisons. The script is attributed to D.V. DeVincentis, the longtime pal of John Cusack who penned two of the actor's most highly-regarded vehicles in Grosse Pointe Blank and the Frears-directed High Fidelity.

One wonders how such accomplished filmmakers could assemble for something that seems like such an obvious non-starter. It's conceivable that Frears was eager to reunite with DeVincentis and the actors followed with trust in that pairing. Did nobody read the script before signing on? Perhaps Justin Timberlake did, since IMDb's trivia page said he was considered for Vaughn's role.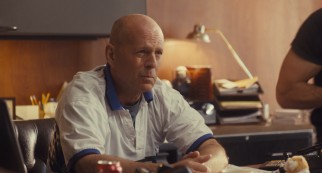 Lay the Favorite is based on the true story Beth Raymer told in her 2010 book subtitled "A Memoir of Gambling." Beth (Rebecca Hall) is a private dancer in Tallahassee, Florida, which you would think is code for "stripper" or "prostitute" but from the glimpses we see involves her dancing in her underwear at the houses of sketchy clientele. Fearing her safety in that line of work, Beth announces on a whim her desire to move to Las Vegas and become a cocktail waitress. Her father (Corbin Bernsen in a cameo that seems intended to be more) surprisingly supports that decision wholeheartedly.
Out in the desert city, Beth somehow acquires friends with inconsistent twangs, one of whom (a barely recognizable Laura Prepon of "That '70s Show", who nonchalantly bares her breasts for rooftop sunbathing) refers her to Dink of Dink Inc. Dink (Bruce Willis, often pairing shorts and high socks) is not a bookie, which is illegal even in Las Vegas. He is simply a sports gambler who makes his money by "laying the favorite", a seemingly complicated process involving point spreads and big money bets that the movie doesn't really explain to us, nor does Dink to Beth. But the insecure Beth, who is good with numbers and can instantly alphabetize the letters in any long word you give her, takes a job placing bets and proves good at it. Dink quickly comes to think of her as a good luck charm. Dink's wife Tulip (Zeta-Jones), whom he considers a jinx based on the instant losses her presence yields, views Beth as a threat. Quite rightfully so, too, as the young girl who dresses in tank tops and short shorts gets close and comfortable to Dink, with no objections from him.
In a melodramatic moment of random hysterics, Tulip convinces Dink to fire Beth. Beth soon finds a decent and handsome journalist Jeremy (Joshua Jackson), with whom she moves to New York. There, she finds work with Dink's associate Troy "Rosie" Roseland (Vince Vaughn, supplying another spotty accent), whose bookmaking business is altogether illegal. Knowing both the racket and the risks, Beth begins placing bets for people and even moves to Curacao, where gambling is legal but she is unhappy. Before she knows it, her central New York bettor (John Carroll Lynch) becomes uncooperative after his hot streak ends and dangerous legal consequences seem likely for both her and Jeremy.
Raymer's confessional inspires a good deal of skepticism. This Southern naοf somehow just strolls right into a Las Vegas gambling operation, receiving immediate trust and wealth. That she doesn't come across very well in her advances on this married (happily or not) middle-aged man suggests an even more destructive truth.

The heartless way she strings along Jeremy into a life of felony and reckless way she reinvents and relocates herself border on sociopathy. The movie doesn't paint her in those strokes, instead turning her into some good-hearted heroine who simply makes some bad choices. But it's not a character you really sympathize with as she tries to avoid jail time.

If you know Hall from her smarter other films, you'll recognize her effective acting here. She makes for a completely convincing naοve ditz. It's not a great performance or character, but Hall still has the benefit of general anonymity, which allows her to come away from this unscathed. As the face of this film, Willis cannot help but bear the brunt of public blame, even if his adequate turn is the best he can do with such inane material. Willis perhaps should get ahold of Vince Vaughn's agent and find out how he managed to keep his name and likeness completely off the cover, the top credits, and all marketing materials. Vaughn's name appeared on one poster design, but that was it, as his involvement is otherwise unadvertised. I suspect that was by his choice and not the studio being hesitant to be associated with one of the stars of The Watch.

Lay the Favorite is painfully unfunny, making it easy to spot the places where laughs didn't come, assuming that theaters even had enough people in attendance to sustain comfortable laughter. The film gives Beth such a blatant set-up for a fall, as not a character shows any good sense in their behavior. Meanwhile, it all comes down to one big, convenient bet, a basketball game between "New Jersey" and "Los Angeles" (it's easy to figure out which leagues didn't allow their trademarks to be used here) in which you're sure to spot an astonishing number of inaccuracies in just a few seconds of game footage.

With a lowly 4.7 user rating on IMDb and an atrocious two-star rating on Amazon, where the vast majority of films get between 3½ and 4 stars from customers taking the time to write a free review for the e-tailer, Lay the Favorite is a movie that will not please many. I'm surprised that 20% of Rotten Tomatoes reviews gave it fresh ratings (this is the rare panned movie where fewer users approve than critics). Now, three months after its ignoble theatrical performance, Lay the Favorite hits DVD and Blu-ray on March 5th from Weinstein home video partner Anchor Bay Entertainment.

Speaking of Weinstein, they can only accept so much blame for the movie's failings. IMDb's trivia page reveals that they acquired rights to the film for just $2 million, making their losses relatively small compared to the many other companies that gambled on this dog.
Blu-ray Disc Details

1.85:1 Widescreen
5.1 DTS-HD MA (English)
Subtitles: English for Hearing Impaired, Spanish
Not Closed Captioned; Extras Subtitled in English
Release Date: March 5, 2013
Single-sided, single-layered disc (BD-25)
Suggested Retail Price: $29.99
Blue Eco-Friendly Keepcase
Also available on DVD ($24.98 SRP) and Amazon Instant Video
VIDEO and AUDIO
Well, at least the Blu-ray's picture and sound cannot be faulted. The 1.85:1 transfer is sharp, vibrant, and spotless. The 5.1 DTS-HD master audio is crisp, consistent, and lively enough. English SDH and Spanish subtitles are supplied, with the former also offered on bonus features.
BONUS FEATURES, MENUS, PACKAGING and DESIGN

Clearly an instance where it made sense to cut losses, the Blu-ray includes just eleven deleted scenes (7:41) in the way of bonus features. Nothing momentous, they consist of short exchanges,

many by telephone, with no bearing on the film at large. They do include additional appearances by Joel Murray, Corbin Bernsen, and Wendell Pierce, who are each in the film rather briefly for their respective statures.

The disc opens with trailers for fellow RADiUS-TCW films The Details, Bachelorette, and Butter. None of these are accessible from the menu and Lay the Favorite's own trailer is not included.

The menu loops a standard montage of screen-filling clips. The disc does not support bookmarks or resuming, an area where Weinstein's disc-authoring skills stand to improve. The eco-friendly keepcase is joined by neither insert nor slipcover.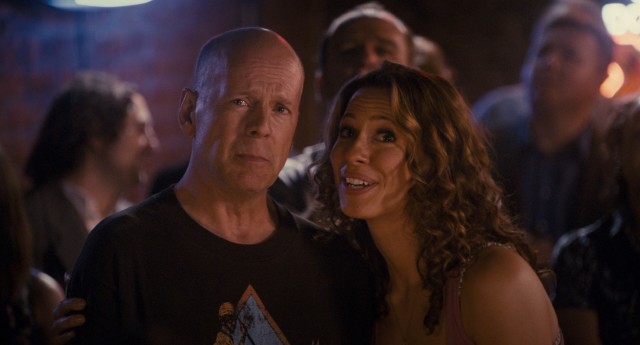 CLOSING THOUGHTS
Lay the Favorite is one of those rare surprises where actors and filmmakers who aren't hard up for work come together and make something terrible. Maybe "terrible" is too harsh, because that might imply some camp value that this lacks. Though watchable, this gambling comedy is unfunny and dumb. The Blu-ray offers an untroubled presentation of the film with only an unremarkable batch of deleted scenes for company. Big Lots, make some room in your $3 bins for this one!
Buy Lay the Favorite from Amazon.com: Blu-ray / DVD / Instant Video