DVDizzy.com | DVD and Blu-ray Reviews | New and Upcoming DVD & Blu-ray Schedule | Upcoming Cover Art | Search This Site
Searching for Sugar Man Blu-ray Review
Searching for Sugar Man

US Theatrical Release: July 27, 2012 / Running Time: 86 Minutes / Rating: PG-13

Writer/Director: Malik Bendjelloul

Interview Subjects: Stephen "Sugar" Segerman, Dennis Coffey, Mike Theodore, Dan DiMaggio, Jerome Ferretti, Steve Rowland, Willem Mφller, Craig Bartholomew-Strydom, Ilse Assmann, Steve M. Harris, Robbie Mann, Clarence Avant, Eva Rodriguez, Sixto Rodriguez, Regan Rodriguez, Sandra Rodriguez-Kennedy, Rick Emmerson, Rian Malan
Buy Searching for Sugar Man from Amazon.com: Blu-ray • DVD • Instant Video
In the early 1970s, the folk musican Rodriguez had a short, unsuccessful career in his native United States of America. He released two albums, neither of which sold well,

and was then dropped by Sussex Records, who soon and unceremoniously took his work out of circulation. Rodriguez's career as a professional musician was effectively over, but his story didn't end there.

Shortly after, Rodriguez's music made its way to South Africa, believed to have been brought back by a worldly young couple, whose friends all wanted their own copies of the albums. That must have been a very influential couple, because Rodriguez would come to be one of the most popular performers on the nation's radio waves. In South Africa, Rodriguez was bigger than Elvis Presley and the Rolling Stones. During Apartheid, the flow of people and culture into South Africa was limited. But Rodriguez had gotten through. One of his songs was banned by censors, who defaced the record where the offending track resided. Most of the rest resonated with the segregated nation's people.
Rodriguez was an international music star and one believed to be just as dead as Jimi Hendrix. The widely-spread legend was that Rodriguez had performed a dramatic public suicide, offing himself during a concert. No one questioned, therefore, why the music stopped. And no one had any kind of information on the young man who had provided it in the first place. Royalties were paid to publishers, but apparently no one noticed the evident demand for Rodriguez or his unusual popularity in one single foreign territory.
The Oscar-nominated documentary Searching for Sugar Man covers this bizarre story and lives up to its title by following through on a couple of South African fans' efforts to discover what became of this artist, declared the poet of his generation and likened to Bob Dylan (a comparison Rodriguez's extensively sampled library proves to be less than absurd). The way that Swedish director Malik Bendjelloul frames his film, a major breakthrough occurs halfway. Revealing it may very well constitute a spoiler, so feel free to skip ahead to Closing Thoughts, for there is no way to effectively and thoroughly review this film while concealing that surprise.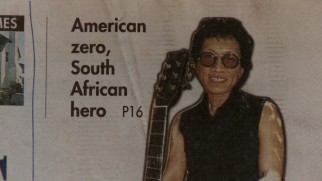 The film could have just as accurately been titled Finding Sugar Man, because Sixto Rodriguez is indeed alive and well.

Shockingly, he knew nothing of his international fame until 1997, when one of his grown-up daughters responded to an online post inquiring into the singer/guitarist. Rodriguez remains in the same Detroit neighborhood in which he was first discovered, where he has made his modest living as a demolition worker. It is obvious that he had not seen any money from his popularity in South Africa, where he is estimated to have sold 500,000 records (which works out to 1% of the nation's current population). Clarence Avant, the founder of Sussex Records and one of eighteen interview subjects, is coy and visibly agitated when questioned about how the trail of royalties could have stopped short of its intended recipient.

Rodriguez himself doesn't seem fazed in the slightest by going a quarter of a century unaware of his international following and uncompensated for the music they revered. And though your heart aches to see this aging former artist still living in the same modest home and still working in unskilled labor, he gets his happy ending by performing, starting in March 1998, a number of shows to sold-out crowds in South Africa. Footage of these concerts captures the electricity of these events: a beloved musician, long thought dead, resurrected before an adoring audience he never knew he had. Nonetheless, more than 30 shows later, Rodriguez still works in demolition, having shared his proceeds with friends and family in need.

It seems all too perfect that his far-fetched story would come to an end in 1997, when the Internet became a household staple. The ensuing Information Age makes such a scenario difficult to fathom: an artist remaining unaware of a distant warm reception, that audience mistakenly accepting as fact a tragic death that never occurred. While celebrities are still falsely killed off on a regular basis, knowing your way around the Internet makes it easy to debunk unsubstantiated rumors usually within mere minutes. For misinformation to pervade for decades seems inconceivable.

Searching for Sugar Man depicts Rodriguez as many things: an overlooked genius, a victim of sketchy accounting practices and an uncaring industry, a cultural icon denied the wealth and recognition that's supposed to come with it. In short, Rodriguez is a humble hero, one who is clearly not turning the spotlight on himself and not terribly comfortable with the process of being celebrated, but deserving of such acknowledgment all the same.
Blu-ray Disc Details

1.78:1 Widescreen
5.1 DTS-HD MA (English)
Subtitles: English, English for Hearing Impaired, French
Not Closed Captioned; Extras Not Subtitled or Captioned
Release Date: January 22, 2013
Single-sided, dual-layered disc (BD-50)
Suggested Retail Price: $35.99
Blue Keepcase with Side Snap
Also available on DVD ($30.99 SRP) and Amazon Instant Video
VIDEO and AUDIO
Like most Sony Blu-rays, this one looks and sounds terrific. Though visually varied (it even includes some original animation), Searching for Sugar Man relies heavily on tasteful newly-shot footage, which boasts admirable sharpness and clarity in 1080p. Even archive footage, more photographs than video, holds up. The 5.1 DTS-HD master audio mix meanwhile commendably distributes the film's near-constant stream of Rodriguez songs.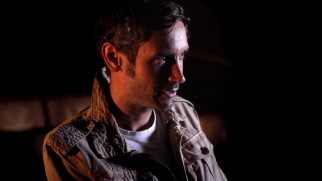 BONUS FEATURES, MENUS, PACKAGING and DESIGN

The Blu-ray's bonuses start with an audio commentary by director Malik Bendjelloul and Rodriguez himself. Bendjelloul does most of the talking, discussing filming permissions and such. It's a nice commentary to get, but much less exciting than you'd expect.

There's just a passing mention of Rodriguez's turn of the '80s Australian tours the film neglects to acknowledge, although Rodriguez does correct one of the film's errors.

On the video side, where all supplements are presented in HD, things begin with "Making Sugar Man" (30:48), a solid documentary on the feature documentary's creation. Bendjelloul explains how the film came to be made and in the way that it was, with Rodriguez's involvement. It includes some fun behind-the-scenes material all the way through the film's premiere.

"An Evening with Malik Bendjelloul and Rodriguez" (10:43) preserves the filmmaker and his subject's appearance at the film's 2012 Tribeca Film Festival premiere. After Rodriguez performs "Inner City Blues", the two answer varied audience member questions.

The extras conclude with Searching for Sugar Man's two-minute theatrical trailer.

"Previews" repeats all the promos with which the disc opens, advertising Blu-ray Disc, Robot & Frank, Neil Young Journeys, Celeste & Jesse Forever, Rust and Bone, and Smashed.

Utilizing Rodriguez's Cold Fact crystal ball album art as a loading icon, the Blu-ray's menu makes use of black & white clips and photos while "Can't Get Away" plays. The disc gladly supports bookmarks and also resumes playback even after being ejected from your player (at least on a Sony player).

The side-snapped keepcase, whose "100% audiences liked it" claim has already been invalidated by Rotten Tomatoes readers, features artwork on both sides, while an insert advertises other Sony music documentary Blu-rays and the film's official soundtrack.

Sent along with this review Blu-ray, that 14-song soundtrack
declares itself the definitive collection of Rodriguez music. Of course, you can buy it, knowing that Rodriguez will get the royalties he deserves.
CLOSING THOUGHTS

Searching for Sugar Man is an interesting and inspiring documentary worthy of the widespread acclaim and Oscar nomination it has received. It can be questioned, because it is laid out deceptively, selective in documenting Rodriguez's career, and seems to have arrived nearly fifteen years after it should have. Still, appealingly and effectively presented, this bizarre tale should charm viewers for a long time to come.

Sony's Blu-ray is everything it should be, providing a terrific feature presentation and a great collection of bonus features. Check it out!

Buy Searching for Sugar Man from Amazon.com: Blu-ray / DVD / Instant Video


Related Reviews:
Musician Documentaries: Jimi Hendrix: Guitar Hero • Elvis: That's the Way It Is • Beats, Rhymes & Life: The Travels of A Tribe Called Quest
2012 Documentaries: The Imposter • The Other Dream Team • Chimpanzee | South Africa: Invictus • District 9 • Tsotsi
New: Branded • Seal Team Six: The Raid on Osama Bin Laden • Life's Too Short: The Complete First Season • Chris Hardwick: Mandroid

DVDizzy.com | DVD and Blu-ray Reviews | New and Upcoming DVD & Blu-ray Schedule | Upcoming Cover Art | Search This Site

DVDizzy.com Top Stories:


Reviewed January 22, 2013.



Text copyright 2013 DVDizzy.com. Images copyright 2012 Sony Pictures Classics, Red Box Films, Passion Pictures, Canfield Pictures, The Documentary Company,
and 2013 Sony Pictures Home Entertainment. Unauthorized reproduction prohibited.