DVDizzy.com | Blu-ray and DVD Reviews | New and Upcoming DVD & Blu-ray Schedule | Upcoming Cover Art | Search This Site
Madagascar 3: Europe's Most Wanted Blu-ray + DVD + Digital Copy + Rainbow Wig Review
Madagascar 3: Europe's Most Wanted

Theatrical Release: June 8, 2012 / Running Time: 93 Minutes / Rating: PG / Songs List

Directors: Eric Darnell, Conrad Vernon, Tom McGrath / Writers: Eric Darnell, Noah Baumbach

Voice Cast: Ben Stiller (Alex), Chris Rock (Marty), David Schwimmer (Melman), Jada Pinkett Smith (Gloria), Sacha Baron Cohen (Julien), Cedric the Entertainer (Maurice), Andy Richter (Mort), Tom McGrath (Skipper, First Policeman), Frances McDormand (Captain Chantel DuBois), Jessica Chastain (Gia), Bryan Cranston (Vitaly), Martin Short (Stefano), Chris Miller (Kowalski), Christopher Knights (Private), Conrad Vernon (Mason, Second Policeman), Vinnie Jones (Freddie the Dog), Steve Jones (Jonesy the Dog), Nick Fletcher (Frankie the Dog), Paz Vega (Horses), Frank Welker (Sonya)
Buy Madagascar 3: Europe's Most Wanted from Amazon.com:
Blu-ray + DVD + Digital Copy + Rainbow Wig • Blu-ray 3D + Blu-ray + DVD + Digital Copy • DVD • Instant Video
DreamWorks Animation did not invent the sequel, but they did make it their specialty. The moment the studio realized it had a really big hit in Shrek, they greenlit a sequel. The moment they recognized the enormous success of Shrek 2, still domestically the highest-grossing animated film ever, DreamWorks placed absolute faith in follow-ups.

While Pixar preached originality and Disney's cheap sequels went straight to video, DreamWorks had witnessed firsthand the impact that a well-timed theatrical sequel could have. And thus any film that passed or neared the $200 million mark domestically was fair game to add a "2", a "3", or even a "4" to the title.

For years, DreamWorks' belief in the format seemed appropriate from at least a short-term business point of view. Shrek the Third wasn't as big as its predecessor, but it was still wildly profitable. Madagascar: Escape 2 Africa barely dipped below its predecessor at home and offered steep gains overseas. The success wasn't out of the ordinary. Blue Sky found healthy returns on their Ice Age installments. Fox saw encouraging growth on Alvin and the Chipmunks: The Squeakquel. Even the right entirely live-action sequel could clean up at the box office, as Disney's Pirates of the Caribbean and National Treasure episodes proved.

Then, 2010 seemed to change the rules of the game. The same summer that saw Toy Story 3 join the billion dollar worldwide club saw Shrek Forever After setting a series low. The following year brought audience drops to seemingly surefire franchises: Kung Fu Panda 2 and Cars 2 both declined from their predecessors. The fourth Pirates movie was also easily the least-attended in the lot. Chipwrecked ranked last in that franchise. Happy Feet Two completely bombed, earning a fraction of the first's take. Suddenly, the family sequel and especially the animated sequel that was believed to be impervious to economic recession and escalating ticket prices was no longer a sure thing.

A month before Shrek Forever After opened, DreamWorks Animation stock reached an all-time high of $42.66 per share. Following the film's tepid reception, that price plummeted and it currently stands in the $19 range. That is concrete evidence that DreamWorks' sequel-reliant business model isn't as strong as it was thought to be just a few years ago. But, since animated movies take years to make, DreamWorks has a slate that includes three sequels and one spin-off through 2016.

Fortunately for DreamWorks and their recently-announced new distributor 20th Century Fox, not every sequel is succumbing to this trend. For proof of that, you need look no further than Madagascar 3: Europe's Most Wanted, which boasted series bests across the board and became DreamWorks' third film outside the Shrek franchise to cross the $200 M mark domestically.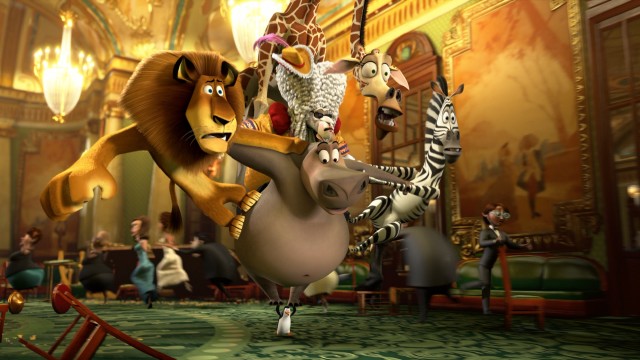 I'll admit that Europe's Most Wanted struck me far in advance as a wildly unnecessary movie and one that DreamWorks was likely to regret making in the industry's changing climate. The original Madagascar, released Memorial Day Weekend 2005 and easily becoming the company's biggest non-Shrek hit, was reasonably diverting. Its sequel, 2008's Escape 2 Africa, was not. With few exceptions, film series do not get better as they progress, so the prospects of a third entry being remotely palatable seemed slim. Not helping matters was the fact that, as the subtitle suggested, this would pander to Europe in much the same way that Cars 2 did, a transparent business move acknowledging the growing importance of foreign markets on the bottom line.
Those fears prove to be misguided, as Madagascar 3 is a surprising and unmistakable improvement over its two predecessors.
When we last saw our four animal leads, lion Alex (voiced by Ben Stiller), zebra Marty (Chris Rock), giraffe Melman (David Schwimmer), and hippo Gloria (Jada Pinkett Smith), they had made peace with living in Africa, a far cry from their former home, the Central Park Zoo. That peace and Alex's relatives have been forgotten here; the lion is still homesick and, thoughtful though it may be, the dirt scale model of Manhattan his friends make for him is no substitute for the real thing.
Worrying that the penguins aren't really coming back for them as planned, Alex and the others decide to go to them, staging a covert mission to reunite at a casino in Monte Carlo. That plan goes awry, as does the group's getaway from a newly-introduced villain, Chantal DuBois (Frances McDormand), a devilish French animal control captain determined to feed her taxidermy fetish with a stuffed lion's head on her wall. The thought of such a kill motivates DuBois, triggering her cat-like hunting instincts.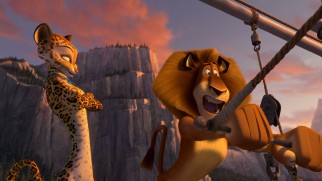 The lead animals and their slapsticky peripheral entourage of penguins and lemurs find safety in the train of a circus that they proceed to buy. The international troupe includes Vitaly (Bryan Cranston), a Russian tiger with a wounded past; Gia (Jessica Chastain), a friendly Italian jaguar who warms to Alex; Stefano (Martin Short), a fun-loving Italian sea lion; and Sonya (Frank Welker), a nonverbal bear in a tutu who catches the eye of the rhythmic King Julien (Sacha Baron Cohen). The Americans pretend they too are circus performers, concocting stories about their glorious stunts. Not only do these lies bring them further away from DuBois (or so they think), they also put them on a course to return home, for the circus has scheduled performances in Rome and London, the latter of which they expect to be their meal ticket to New York.

Madagascar 3 breathes new life into a series that had already shown creative fatigue, offering the most dramatic improvement in a second sequel that I can think of since maybe The Good, The Bad and The Ugly. The writing here resembles Pixar quality, but not at the cost of the franchise's signature unhinged comedy style.

It seems easy to assign some credit to Noah Baumbach, the auteur of distinctive, intellectual indie dramedies (like The Squid and the Whale and Greenberg) and co-scribe to Wes Anderson on Fantastic Mr. Fox. Madagascar 3's screenplay is attributed to newcomer Baumbach and Eric Darnell, a writer/director on all three.

This installment doesn't throw everything out the window. It is still marked by jokes clearly delineated for parents and kids. It remains full of influences, references, and pop culture, including popular vintage and contemporary tunes and even some familiar classical musical cues. Those are all hallmarks of the DreamWorks Animation brand, which in some ways Madagascar has most represented as fairly harmless family entertainment that doesn't quite have the value of the Shrek and Kung Fu Panda films. At least, it didn't until this one raised the bar to new heights.
Madagascar 3 manages to smoothly identify stakes and motivations while getting a chance to explore them at length. There is emotional weight and meaning. Alex opens the film with a Woody-type nightmare of abandonment. Vitaly has his own Lots-O-Huggin' Bear-like backstory. (Despite those parallels, there isn't much to accuse this of being derivative of the Toy Story movies.) None of it encroaches upon the fun. You still get inspired action sequences cleverly staged and random song and dance. For instance, having already added to Italy's ruins, Sonya the bear trades her tiny unicycle in for a Ducati. And Marty's improvised Afro Circus song has already been repeated by countless child viewers.
Whether the young notice or not, animation is among the areas where this film improves the series. While maintaining the highly stylized character design and traditional cartoony squash and stretch movements, Madagascar 3 takes impressive strides on subjects like water, fur, lighting, shading, colors, and environments. The original film is only seven years old and yet, I suspect comparing it to this yields an effect comparable to examining the old pioneer Toy Story next to much more visually sophisticated Toy Story 3.
Like virtually every family of the past few years, Madagascar 3 is released to home video in a combo pack supplying Blu-ray, DVD, and digital copy. For one of the final releases under their distribution deal, DreamWorks and Paramount give even more incentive for families to purchase this film this way. The 2-disc combo pack also includes Marty's Rainbow Wig for ages 3 and up!
Blu-ray 3D, Blu-ray & DVD Details

1.78:1 Widescreen (DVD Anamorphic)
Blu-ray: 7.1 Dolby TrueHD (English), Dolby Digital 5.1 (French, Spanish, English DVS)
DVD: Dolby Digital 5.1 (English, French, Spanish, English DVS), Dolby Surround (English)
Subtitles: English, French, Spanish; BD Movie-only: English for Hearing Impaired
DVD Movie & Extras Closed Captioned; Most Extras Subtitled
Release Date: October 16, 2012
Suggested Retail Price: $39.99
Two single-sided, dual-layered discs (BD-50 & DVD-9)
Blue Keepcase in Cardboard Slipcover
Also available as standalone DVD ($29.98 SRP), Blu-ray 3D + Blu-ray + DVD + Digital Copy ($54.99 SRP), and on Amazon Instant Video
VIDEO and AUDIO
Madagascar 3's Blu-ray delivers breathtaking 1.78:1 picture and powerhouse 7.1 Dolby TrueHD sound. Transferring the movie from DreamWorks' computers to this disc gives us an essentially flawless hi-def presentation that is nothing short of a visual and aural feast.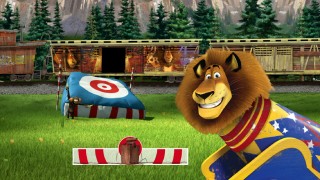 BONUS FEATURES, MENUS, PACKAGING and DESIGN

The all-HD extras are given the title "High Flying Fun" and divided into two groups.

The first three fall under the heading Blu-ray Exclusives and are, naturally, withheld from the DVD.

The game "Get Them to the Train" has you pick the character matching the art on a train car and then shooting them in using a target and timing. The three levels, picking the same characters every time,

are quickly and easily finished, then you're treated to a brief Afro Circus dance scene clip.

"The Animators' Corner" is an enhanced playback mode, which frequently plays relevant crew interviews, storyboards, concept art, early stage animation, reference video, and behind-the-scenes footage in a quarter-screen picture-in-picture window over the film. On occasion, it simply provides video or audio of directors Conrad Vernon, Eric Darnell, and Tom McGrath's screen-specific commentary, which is available on its own in full. It's good content not hindered by any technical difficulties.

A "Trivia Track" frequently drops fun facts pertaining to what's onscreen. They range from the technical stats to recurring story ideas in the series to explaining references. No minute of the film seems to pass without at least two or three pop-ups. While most of what is shared you either know or don't need to, it's a fun thing to pair with the commentary (but not the Animators' Corner) on a repeat viewing.

The remaining plain old Special Features begin with "Big Top Cast" (13:38), a typical promotional voice cast featurette. It provides the usual mix of recording session footage, actor remarks on their characters, and filmmaker remarks on the actors. The piece discusses returning actors, before moving to accent-adopting newcomers Bryan Cranston, Jessica Chastain, Martin Short, and, unseen save for headshot, Frances McDormand.

Watch a clip from "Big Top Cast":


Three deleted scenes (6:18) are presented in a mix of story reel and test animation with director introductions. Melman tries to find his circus act (an extension of an existing bit), DuBois figures out the gang is New York-bound, and DuBois beats up a snake to get the poisonous venom for her killer dart.

"Mad Music Mash-Up" (1:00) strings together clips from the movie to the closing "Afro Circus" remix. The film's original trailers should have joined this promo.
"Ringmasters" (15:27) gives us a behind-the-scenes look at a single day of the film's production. Directors Conrad Vernon, Eric Darnell, and Tom McGrath show us around the Glendale campus where various departments are working on various parts of the film. We see a storyboard review over video, animation checks, lunch, a test of a real banana gun, filming of live-action animator reference, and recording scratch dialogue and Martin Short pick-ups. It's an inspired variation on the standard making-of featurette.

The "Madagascar 3 Roundtable" (3:48) puts the four lead voice actors -- Ben Stiller, Chris Rock, David Schwimmer, and Jada Pinkett Smith -- together on a circus-themed set to discuss their experiences (well, all but Pinkett Smith, who curiously doesn't get to say anything) on the series, with some clips from their recording sessions.

It's short and their perspective is limited, but it's still a nice and atypical piece.

A Filmmakers' audio commentary gives us the full remarks of directors Conrad Vernon, Eric Darnell, and Tom McGrath, without the Animators' Corner video enhancements and detours. The speakers engage with consistent conversation, addressing what went into visuals, cartoon physics, Noah Baumbach's script contributions, the voice cast and their improvisations, edits made along the way, computer rendering times, and 3D moments. It's an enjoyable listen that sheds plenty of light on the film's many small touches.

Strangely, DreamWorks here forgoes the all-new short film we've come to expect from them. The other standard, the World of DreamWorks Animation section, has vanished, although some music videos that would have been there end up among Previews.

The Blu-ray and DVD open with trailers for Rise of the Guardians, "Dragons: Riders of Berk", DreamWorks' How to Train Your Dragon Live Spectacular, and Kung Fu Panda Holiday. The "Previews" section provides direct access to these as well as franchise-arranged promos for JumpStart: Madagascar, How to Train Your Dragon (a "Fly High" music video), DreamWorks' Dragons: Gift of the Night Fury, Kung Fu Panda ("Kung Fu Fighting" music video made of KFP2 clips), "Kung Fu Panda: Legends of Awesomeness", and the Madagascar 3 video game.
The menu's vague "Sneak Peek" listing is an in-depth look at the How to Train Your Dragon Live Spectacular world tour (20:23). Host Riley Miner (the young actor who plays Hiccup), director Nigel Jamieson, DreamWorks CEO Jeffrey Katzenberg, and assorted crew members discuss this unique traveling show, of which we get performance and behind-the-scenes clips. DreamWorks knows how to use their home video releases as a venue for promotion that doesn't feel like advertising.

Identical to the one sold on its own, this combo pack's DVD includes "Big Top Cast", the three deleted scenes, the "Mad Music Mash-Up" video, the audio commentary, the Dragon Spectacular sneak peek and the previews. It lacks the trivia track, the Animators' Corner mode, the train game, the substantial "Ringmasters" featurette, and the voice cast roundtable. A number of those items should have been easy to adapt for DVD and would have been more appropriate here than the 30+ minutes of company promotions.

The DVD does have one exclusive: DVD-ROM printables. These include 3 character coloring pages, 3 mazes, 3 "Connect the Dots" activities, 3 pairs of "Spot the Differences" images, pencil toppers for each of the 4 leads,

a rainbow wig cut-out to tape to a mirror, 2 pages of 16 small character cards for a simple memory matching game, and the 45 pages (plus one guide) you'll need to create a life-size poster. You can read into this as an extension of DreamWorks' partnership with HP, or you could just enjoy the free content (expensive printer ink not included).

The menu plays colorful circus clips from the London performance to the end credits' new instrumental remix of "I Like to Move It." Like most Paramount BDs, this one is unable to resume playback, but it does let you place bookmarks on the film. On both formats, menu inactivity prompts playback of the film.

Marty's Rainbow Wig is housed in its own Blu-ray sized box that is stacked up next to the combo pack's case, which is topped by a standard slipcover and includes a booklet of ads and your unique code for both an UltraViolet stream and digital copy download. Said to "fit most kids", the multi-colored wig is vacuum-sealed in plastic. I'm glad to say it fit both a grown-up kid, albeit a little snugly and incompletely. It's obviously not the highest quality, but what a clever freebie to include. I'd be shocked if it didn't increase sales over the wig-less editions and comparable DreamWorks combo packs.
CLOSING THOUGHTS
Greatly exceeding expectations, Madagascar 3 brings style and substance to what had been DreamWorks' flimsiest franchise. This sequel succeeds where its two predecessors did not, going beyond broad animal comedy in an international adventure that includes emotion alongside entertainment. It's another sign that the studio known for somewhat crass commercial works continues to mature and narrow the gap between them and Pixar.
This Blu-ray combo pack complements the spectacular feature presentation with a wealth of substantial extras. There's no all-new short, sadly, but that may be all this valuable, versatile set leaves to be desired. Entering, I had strong doubts that this franchise had anything left in it worthy of anyone's time. This fun film proves it does, ranking among the stronger half of the studio's rapidly-growing, often-improving library.
Support this site when you buy Madagascar 3 now from Amazon.com:
Blu-ray + DVD + DC + Rainbow Wig / Blu-ray 3D + Blu-ray + DVD + DC / DVD / Instant Video


Related Reviews:
New: The Santa Clause: The Complete 3-Movie Collection (Blu-ray) • Dark Shadows • Pete's Dragon (Blu-ray + DVD) • Rock of Ages
Madagascar 2: Escape 2 Africa • The Penguins of Madagascar: I Was a Penguin Zombie
DreamWorks Animation: Kung Fu Panda 2 • Scared Shrekless • Megamind • Bee Movie • Puss in Boots • Kung Fu Panda
Animated Threequels: Shrek the Third • Toy Story 3 • Ice Age: Dawn of the Dinosaurs • Alvin and the Chipmunks: Chipwrecked
2012 Family Films: Dr. Seuss' The Lorax • The Pirates! Band of Misfits • The Secret World of Arrietty • The Three Stooges
Co-Written by Noah Baumbach: Fantastic Mr. Fox | The Voice Cast of Madagascar 3: Hugo • Night at the Museum
Kindred Productions: Dumbo • Cars 2 • The Wild • Toby Tyler, or Ten Weeks with a Circus • A Bug's Life • Ratatouille
Madagascar 3: Europe's Most Wanted Songs List (in order of use): Julien - "Gonna Make You Sweat (Everybody Dance Now)", Julien - "Wannabe", "What's New Pussycat", Captain Chantel DuBois - "Non Je Ne Regrette Bien", Journey - "Any Way You Want It", Cast - "New York, New York", Julien - "Hot in Herre", The Capitols - "Cool Jerk", Yolanda Be Cool & Dcup - "We No Speak Americano", Enya - "Watermark", "La Donna E Mobile Canzone from Rigoletto", Marty - "Afro Circus", Andrea Bocelli - "Con Te Partiro", "Sabre Dance", "Pomp and Circumstance", "Born Free", Peter Asher - "Love Always Comes As a Surprise", Katy Perry - "Firework", Chris Rock and Sacha Baron Cohen - "Afro Circus"/"I Like to Move It"
DVDizzy.com | DVD and Blu-ray Reviews | New and Upcoming DVD & Blu-ray Schedule | Upcoming Cover Art | Search This Site
Search This Site:
DVDizzy.com Top Stories:
Reviewed October 12, 2012.


Text copyright 2012 DVDizzy.com. Images copyright 2012 DreamWorks Animation SKG, Paramount Pictures, DreamWorks Animation SKG Home Entertainment, Paramount Home Entertainment.
Unauthorized reproduction prohibited.