Martin McDonagh made a name for himself on the Oscar-nominated, Golden Globe-winning 2008 crime comedy In Bruges,

a film about two Irish hitmen laying low in a Belgian city. McDonagh's follow-up, Seven Psychopaths, offers a similar blend of violence, laughs, and Colin Farrell speaking in his native accent.

Farrell plays Martin Faranan, an alcoholic Irish screenwriter in Los Angeles who is struggling to get going on a screenplay titled Seven Psychopaths. His best friend Billy Bickle (Sam Rockwell) wants in on the writing and has some ideas for potential subjects. Not one to shy from speaking his mind, Billy makes his living as part of a dog kidnapping ("borrowing") scam. He steals dogs, leaving his cravat-wearing business partner Hans (Christopher Walken) to respond to the corresponding "Missing Dog" notice and "reluctantly" collect an often generous reward.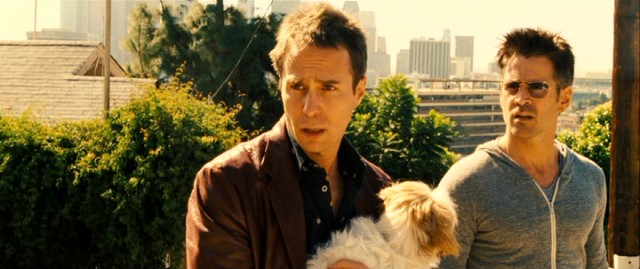 While Billy tries to help Martin hash out characters, placing a classified ad inviting the unstable to respond, he and Hans make the mistake of taking Bonny, the beloved Shih Tzu of brutal gangster Charlie Costello (Woody Harrelson). Costello uses his muscle to find and kill the men who took his treasured dog. By extension, Martin is placed in danger's path and about to discover some surprising things about Billy and Hans.
Along the way, we hear the stories of invented psychopaths, like a Vietnamese man in priest garments (Long Nguyen) still bitter over the war, a Quaker (a silent, powerful Harry Dean Stanton) who isn't about to let his daughter's repentant killer rest easy, and a couple of serial killer killers.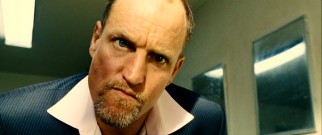 Like In Bruges, Seven Psychopaths is inventive, funny, dark, unflinching, and unpredictable. This film even adds a layer of enjoyment to its distinctive, flavorful dialogue, as characters, including a screenwriter named Martin, write their own backstories and endings, sparking fanciful flashbacks and fantasy sequences.

The meta design is creative and fun without being conceited. The narrative is jumpy but not distractingly so. The personalities and exchanges are colorful but grounded. The film even plays its self-referentiality to nice effect, humorously acknowledging (though not correcting) McDonagh's inability to write anything of substance for the film's few female characters.

McDonagh couldn't ask for a cast better tailored to his strengths and all four of the leads given pre-title billing have fun with their parts. Rockwell sinks his teeth into the flashiest role. Harrelson makes a convincing unhinged villain. Walken is his reliable self, injecting strange pronunciations and awkward pauses into the film's most sympathetic character. Meanwhile, Farrell plays the straight man holding it all together without disappearing as a boring cipher.

Like the director's previous film, Seven Psychopaths even manages to slip in some substantial thoughts on the afterlife into the proceedings, a topic in which McDonagh isn't ashamed to confess an interest. The film also packs in some unexpected cameos; not the "Oh, wow, I can't believe McDonagh got them!" type, but more the "I didn't know they were in this", a thought that passes quickly, as do the actors' appearances.

Though Seven Psychopaths got strong reviews, some original screenplay awards buzz, and a reasonably wide release in nearly 1,500 theaters, it became the latest release to cast doubt on the business model of acquisition distributor CBS Films, grossing $15 million on a $15 million budget and therefore falling well short of profitability when costs are considered. The movie didn't do all that much better in McDonagh's native United Kingdom or in other parts of the world represented by the international cast (which includes, but only barely, Australia's Abbie Cornish and French-Ukrainian Bond girl Olga Kurylenko).

Watch a mash-up of Seven Psychopaths clips:

DVD Details

2.40:1 Anamorphic Widescreen
Dolby Digital 5.1 (English)
Subtitles: English, English for Hearing Impaired, Spanish
Not Closed Captioned; Extras Subtitled in English
Release Date: January 29, 2013
Suggested Retail Price: $30.99
Single-sided, dual-layered disc (DVD-9)
Black Keepcase
Also available on Blu-ray Disc ($35.99 SRP)
VIDEO and AUDIO
Seven Psychopaths' 2.40:1 anamorphic widescreen presentation is fine by DVD standards. If like me, though, you are accustomed to Blu-ray viewing, you'll immediately notice that this isn't as sharp, vibrant, and detailed. Still, the element stays clean and untroubled. The Dolby Digital 5.1 soundtrack is also satisfactory, but it too lacks the punch of a less compressed high-def format.
BONUS FEATURES, MENUS, PACKAGING and DESIGN

The DVD lacks deleted scenes and audio commentary,

opting to include only six promotional shorts.

"Martin McDonagh's Seven Psychopaths" (2:33) is an overview of the film collecting thoughts from cast and writer/director McDonagh and some on set tomfoolery.

"Colin Farrell is Marty" (1:27) and "Woody Harrelson is Charlie" (1:25) define two of the lead characters, with the former strangely bleeping profanity.

"Crazy Locations" (2:11) lets crew member discuss the varied Los Angeles sites featured in the film.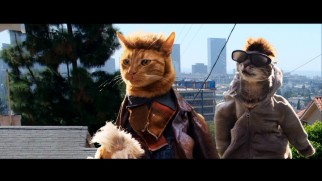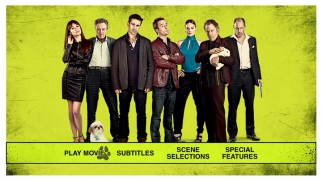 For many, the standout extra will be "Seven Psychocats" (1:33), which recreates censored scenes from the trailer with cats in wigs and costumes. It's as good as it sounds.

I say this should be a new standard inclusion.

Finally, "Layers" (1:07) makes a little song out of the film's profane dialogue.

The disc opens with an UltraViolet promo and a trailer for the airplane thriller 7500. To them, the Previews menu adds trailers for CBS Films' Faster and The Mechanic. Seven Psychopaths' own trailer is sadly not included.

The basic static, silent menus recycle theatrical poster art with its wildly inaccurate count of the titular psychopaths. Inside the black keepcase, we find inserts with codes for Sony Rewards and Sony's standard-issue UltraViolet stream.
CLOSING THOUGHTS
Seven Psychopaths might not be quite on the same level as In Bruges, but it offers comparable fun with colorful writing, a sharp plot, strong performances, appealing flavor, technical sheen, and plenty of humor. If you enjoyed Martin McDonagh's first film, this is definitely one to see. Likewise, if you enjoyed this, see In Bruges too.
The DVD is underwhelmingly light on extras, but has a few unusual diversions to complement the adequate feature presentation.
Buy Seven Psychopaths from Amazon.com: DVD / Blu-ray