Joe Dante got his start in the 1970s at the so-called Roger Corman Film School,

which saw him helming Hollywood Boulevard and Piranha, as well as conceiving and helping out on Rock 'n' Roll High School. Dante became a director to watch in the 1980s, first on his own (The Howling) and then in collaborating with Steven Spielberg, who would produce his fantastical comedies Gremlins and Innerspace. Dante and Spielberg shared a thematic sensibility that shaped the face of 1980s family cinema and they would work together on such things as Twilight Zone: The Movie, the anthology TV series "Amazing Stories", and Gremlins 2: The New Batch.

The 1990s moved Spielberg away from genre thrills (though he would still helm one of the decade's biggest blockbusters in Jurassic Park) and towards more prestige-minded pictures like Schindler's List, Amistad, and Saving Private Ryan. Dante, on the other hand, remained a fan of what he knew. His tastes for 1950s B-movies and kid-friendly sci-fi and horror continued to show in output such as "Eerie Indiana" and Matinee. Dante got his biggest forum in ages in 1998's Small Soldiers, one of the first projects of Spielberg's DreamWorks Studios. Like Gremlins crossed with Toy Story, the satirical PG-13 family comedy wasn't the big summer hit it was supposed to be. His next studio film was Looney Tunes: Back in Action, a major flop for Warner Bros. in the fall of 2003.

Dante has been scarce since then. Spielberg has moved further away from their shared brand of entertainment and not looked back from his still relevant course of Oscar bait and expensive crowd-pleasers. And Dante has gone to television, accepting the obscurity that his spirited body of work proves he doesn't deserve.

The Hole represents Dante's first theatrical effort since the Looney Tunes fiasco, although its limited domestic release perhaps doesn't even qualify it as that. Making international film festival circuits back in the fall of 2009, The Hole went to theaters in various foreign territories in 2010 and 2011. In the United States, however, it had just two notable festival screenings to its name before it took to Los Angeles' Downtown Independent last Friday for a one-week 3D theatrical engagement. This PG-13 horror film came to DVD and a Blu-ray + DVD Combo Pack yesterday in just the standard two dimensions from a small company called Big Air Studios.
The film opens with nurse Susan Thompson (Meet the Parents' Teri Polo) and her sons, disagreeable teen Dane (Chris Massoglia) and loner younger brother Lucas (Nathan Gamble), moving from Brooklyn to the small town of Bensonville, Oregon. Despite Mom's encouragement, the two boys aren't enjoying each other's company and Dane is down on the latest of the family's many relocations.
But one summer day, Dane and Lucas together uncover a heavily padlocked door on their basement floor. They break it open to find -- you guessed it -- a hole. A deep one containing blackness as far as the eye can see. For all they know, it's bottomless, or at least that is how it seems when they explore it with rope, fishing wire, and a Cartman doll. When informed of this discovery, Julie (Music and Lyrics' Haley Bennett), the friendly teenage girl next door, shares the brothers' interest and curiosity. Those feelings grow along with the hole's mysteries, as things begin moving around and tapping into the kids' worst fears.
Like so many young film protagonists, these three adventurers keep their finding secret, from Dane and Lucas' Mom and nearly anyone else. It's their hole and the horrors it holds are for them to figure out and combat. In the end, the hole leads to a dark yet real place, which doesn't feel especially appropriate or fulfilling. Still, it is more creative and compelling than generic supernatural threats.
It is nice to get a new Joe Dante movie and to find that the director has not lost his touch. Vacancy and Vacancy 2: The First Cut scribe Mark L. Smith couldn't have gotten a director better suited to his screenplay. It's been a while, but Dante hasn't outgrown creepy little things coming to life, a requisite appearance by Dick Miller,

and "Eerie Indiana"-type phenomena that keep youngsters up at night.

Dante's spotty commercial track record may have scared away major distributors from acquiring this unpredictable $12 million 3D production, but that doesn't have any bearing on him adding to his reputation for reliably frightening fun.

Chris Massoglia, who made this shortly after starring in the flop adaptation Cirque du Freak: The Vampire's Assistant, kind of resembles a young Michael Shannon, only without any of the intensity. He is a little too casual for the lead role that links him to the likes of Omri Katz and Zach Galligan. Slightly better are young Nathan Gamble, who you might recognize as Lt. Gordon's son in The Dark Knight, and Haley Bennett, who will be appearing in one of Terrence Malick's unprecedentedly numerous upcoming films, an untitled drama set against the Austin, Texas music scene with big name actors and not yet any negative buzz.

Beyond the cast's youthful appearances, there are a few minor opportunities to recognize the film's delay: an early joke about Jonas Brothers CDs feels dated now in two obvious ways. In addition, "Glee"'s Chord Overstreet is the lowest-billed of the on-screen talent and not out of any special distinction; he's basically unrecognizable in four distant shots amounting to a grand total of 13 seconds runtime.
Blu-ray & DVD Details

1.85:1 Widescreen (DVD Anamorphic)
Blu-ray: 5.1 DTS-HD MA (English); DVD: Dolby Digital 5.1 (English)
Subtitles: Spanish; BD-only: English for Hearing Impaired
DVD Closed Captioned; Extras Not Subtitled
Release Date: October 2, 2012
Suggested Retail Price: $20.99
Two single-sided, single-layered discs (BD-25 & DVD-5)
Blue Eco-Friendly Keepcase with Cardboard Slipcover
Also available as standalone DVD ($14.99 SRP) and Amazon Instant Video
VIDEO and AUDIO
The Hole looks terrific on Blu-ray. The 1.85:1 presentation is clean and vivid. Detail is good and aside from a tiny bit of digital video grain, the element is spotless. The disc's 5.1 DTS-HD master audio mix showcases some truly cool sound design, exploring the entire field for some potent directional effects. The DVD also looked good in sampling.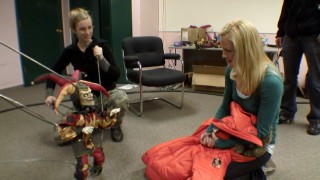 BONUS FEATURES, MENUS, PACKAGING and DESIGN

Both the Blu-ray and DVD contains five short extras, all of which are presented in high definition on the BD.

First up, two topical shorts supply clips, cast/crew comments, and some behind-the-scenes footage. "The Keeper of The Hole" (3:21) looks at Bruce Dern's role as Creepy Carl.

"Family Matters" (4:29) considers the relationships within the Thompson family and with their neighbor.

"Gateway to Hell: The Making of The Hole" (11:39) is a standard featurette which relays the plot, spoils several key sequences, and passes praise around to the leading actors and creative crew.

"A Peek Inside The Hole" (4:47) shows us how puppets, production design, prosthetics, and visual effects were put to use on this film.

Finally, we get a slideshow of movie and production stills (1:51) set to music.

The Blu-ray's menu plays clips inside the hole. That disc supports bookmarks and kindly resumes playback too. Not that that spares you much delay; no trailers for The Hole or anything else are included there. By contrast, the DVD opens with a trailer for The Forger, which also alone plays from its menu's "Trailers" listing. Its menus are silent and static, placing character stills inside the hole.

The eco-friendly Blu-ray case is topped by a reflective cardboard slipcover but joined by no inserts.
CLOSING THOUGHTS
Joe Dante has no difficulty recreating the appealing feel of his best-known works, with The Hole being another one of his signature unnerving yet fun family films. It is a shame that this fine effort is now reduced to anonymity in the States. It is well worth your time if you are in the mood for fun house-type horror resembling that of the 1980s, the kind that kids can watch without being traumatized but is also smart and fun enough to keep adults entertained.
Big Air's Blu-ray release is routine but good and some will no doubt appreciate that it offers the flexibility of a combo pack at a very reasonable price. Do check out this movie!
Buy The Hole from Amazon.com: Blu-ray + DVD / DVD / Instant Video