DVDizzy.com | DVD and Blu-ray Reviews | New and Upcoming DVD & Blu-ray Schedule | Upcoming Cover Art | Search This Site
Celeste & Jesse Forever Blu-ray Review
Celeste & Jesse Forever

Theatrical Release: August 3, 2012 / Running Time: 92 Minutes / Rating: R

Director: Lee Toland Krieger / Writers: Rashida Jones, Will McCormack

Cast: Rashida Jones (Celeste Martin), Andy Samberg (Jesse Mordecai Abrams), Chris Messina (Paul), Ari Graynor (Beth), Eric Christian Olsen (Steve Tucker), Will McCormack (Skillz), Rebecca Dayan (Veronica), Rich Sommer (Max), Matthew Del Negro (Nick Moran), Rafi Gavron (Rupert), Elijah Wood (Scott), Emma Roberts (Riley Banks), Rob Huebel (Business Man), Chris Pine (Rory Shenandoah), Chris D'Elia (Snow White)
Buy Celeste & Jesse Forever from Amazon.com: Blu-ray • DVD • Instant Video
When transitioning from television comedy to film, the most logical vehicle is a big mainstream comedy with sitcomish sensibilities. Many actors, from Tom Hanks to Tina Fey, have had success on that route. Recently, though, the trend has been to move from high-profile network visibility to small independent films in which actors are creatively involved. Zach Braff famously pulled that off with Garden State, but has struggled since. "How I Met Your Mother" star Josh Radnor has followed in Braff's footsteps on two scarcely-seen indies. John Krasinski ("The Office") has tried his hand at both big romantic comedies and smaller, more respectable fare.
"Parks and Recreation" actress Rashida Jones and recent "Saturday Night Live" alumnus Andy Samberg have entered the mainstream scene with turns in films like I Love You, Man, The Social Network and Friends with Benefits. Now, they presumably cut their quotes and dial down their commercial ambitions in Celeste & Jesse Forever, an independent romantic dramedy that marks Jones' writing debut. She executive produced and wrote this film with fellow actor Will McCormack, who also holds a supporting role.
Celeste (Jones) and Jesse (Samberg) are introduced to us as an extremely close, comfortable, and comedically compatible couple. Here's the twist: they're actually separated and have been for some time. Still, they adopt the same German accent while looking over a shared restaurant menu and together masturbate a tiny tube of lip balm without a second thought. They even still live, not together, but in tremendous proximity, with unemployed Jesse still occupying the guest house of trend forecaster and newly-published author Celeste.
The unusual arrangement confuses and bothers their closest friends (Ari Graynor and Eric Christian Olsen). And it means different things to them, with Jesse biding his time until Celeste falls for him again, and Celeste merely valuing their long, special kinship. Doubt is cast on the nature of their relationship and the possibility of being more than just best friends when Jesse learns that recent one-night stand Veronica (Rebecca Dayan) is pregnant with his child. Jesse intends to try to make it work out with Veronica, to Celeste's increasing disappointment.
Like most independent films, this one deserves credit for exploring conflict that isn't overly familiar and obviously fictional. Celeste & Jesse embraces real life messiness and in a fairly mature fashion. The big downside is that these characters are unlikable. Their interactions regularly feel scripted and artificial.

You don't care if either of them obtains happiness. The comedy isn't funny. The drama isn't so poignant. And the film still relies so heavily on conventions, like best friends and co-workers who exist merely for leads to be able to voice their feelings. You might be able to overlook any one of those shortcomings, but the grand sum proves pretty fatal when attached to self-involved Angelinos who use drugs recreationally and shield themselves in irony.

Somehow, though takes its issues seriously and seems likely to forgo a happy ending, the movie manages to be just as shallow and contrived as the most formulaic of romantic comedies. There's more profanity and masturbation, fewer one-liners and wisecracks. Nonetheless, the movie has the feel of something that wants to be grown-up and edgy without the believability and naturalism. For every moment that feels authentic, like an amusing scene of late-night IKEA furniture assembly frustration, there are two that feel contrived, many of them involving Celeste's work with a gay boss (Elijah Wood) and a pop starlet (Emma Roberts) who's not as shallow as she seems.

Jones and Samberg deserve credit for challenging themselves, putting themselves out there, and trying to repair the romantic comedy in fitting ways. The effort just does not evoke, provoke, or entertain as intended.
Blu-ray Disc Details

2.40:1 Widescreen
5.1 DTS-HD MA (English)
Subtitles: English, English for Hearing Impaired, French
Not Closed Captioned; Extras Subtitled in English
Release Date: February 5, 2013
Single-sided, dual-layered disc (BD-50)
Suggested Retail Price: $35.99
Blue Keepcase with Side Snap
Also available on DVD ($30.99 SRP) and Amazon Instant Video
VIDEO and AUDIO
This may be a low-budget film, but it looks every bit as terrific as a brand new tentpole in Sony's first-rate Blu-ray transfer. The 2.40:1 visuals remain sharp, clean, and well-defined, while dialogue stays crisp and carefully-chosen (on a budget) music lively in the 5.1 DTS-HD master audio soundtrack.
BONUS FEATURES, MENUS, PACKAGING and DESIGN

Celeste & Jesse's hearty slate of Blu-ray extras kicks off with two audio commentaries. First comes one by Rashida Jones and Andy Samberg, who quickly establish a silly tone. It's better for that, as the leads are candid, sarcastic, superficial, and never dull.

They favor spontaneous and amusing reflection to technical shop talk.

The second commentary assembles Jones, her co-writer Will McCormack, and director Lee Toland Krueger. Naturally, they deal more with the filmmaking side, detailing the fast, frugal production thoroughly and earnestly, but not humorlessly. Among other things, they discuss filming locations, edits, music, and audience reactions.

The all-HD video extras begin with "The Making of Celeste & Jesse Forever" (13:51), which gathers thoughtful remarks from cast and crew members on the film's subject matter and authenticity.

"On the Red Carpet: Premiere and Q & A" (14:08) shares footage with us from the film's June 2012 premiere at the LA Film Festival. After discussing the movie on the red carpet, Krueger and the principal cast answer audience questions, with Samberg lightening the mood some.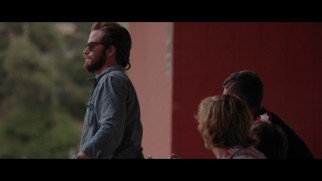 "Chris Pine Outtakes" (1:13) gives us some unused bits from the Star Trek actor's brief, bearded cameo.

Three brief deleted scenes (2:57) present jokes that have no bearing on the final film, but give us a little more insight into Celeste's character.

One of them features "Mad Men"'s Vincent Kartheiser as a pot-dealing vegan.

Celeste & Jesse's theatrical trailer (2:13) is fittingly preserved.

Finally, "Previews" Give us the same promos with which the disc opens, advertising Blu-ray, Searching for Sugar Man, Rust and Bone, Smashed, Chicken with Plums, and Seven Psychopaths.

The menu gives photos and clips of Celeste and Jesse a light blue tint. Being a Sony BD, this supports bookmarks, resumes playback, and implements pop-ups without limitations.

Inside the side-snapped blue keepcase, we find reverse side artwork, but no inserts, meaning no UltraViolet stream or Sony Rewards points are provided on this title. Apparently, the studio does not extend those standard inclusions to Sony Pictures Classics titles.
CLOSING THOUGHTS
Celeste & Jesse Forever proves that a good independent movie does more than just go against the Hollywood grain on a low budget. Though its efforts to deviate from formula are admirable, this messy romantic comedy falls short, never winning your enjoyment or approval. Those who disagree will be satisfied by Sony's Blu-ray, which more than meets expectations with its flawless feature presentation, two audio commentaries, and additional extras of substance.
Buy Jesse & Celeste Forever from Amazon.com: Blu-ray / DVD / Instant Video


Related Reviews:
Jones & Samberg: I Love You, Man | Rashida Jones: Our Idiot Brother • The Big Year • The Muppets
Andy Samberg: That's My Boy • Hotel Transylvania • Portlandia: Season Two • The Sarah Silverman Program: Season 3
Chris Messina: Away We Go • Ruby Sparks • Like Crazy • Julie & Julia • Greenberg | Will McCormack: Dirt: The Complete First Season
Ari Graynor: 10 Years • The Sitter • Youth in Revolt • Whip It | Eric Christian Olsen: License to Wed • The Back-up Plan
New: Here Comes the Boom • Robot & Frank • Seven Psychopaths • Searching for Sugar Man • To Rome with Love
Friends with Kids • happythankyoumoreplease • Going the Distance • Four Weddings and a Funeral • Scott Pilgrim vs. the World • Blue Valentine

DVDizzy.com | DVD and Blu-ray Reviews | New and Upcoming DVD & Blu-ray Schedule | Upcoming Cover Art | Search This Site

DVDizzy.com Top Stories:


Reviewed February 4, 2013.



Text copyright 2013 DVDizzy.com. Images copyright 2012 Sony Pictures Classics, Envision Media Arts, Team Todd,
and 2013 Sony Pictures Home Entertainment. Unauthorized reproduction prohibited.