DVDizzy.com | DVD and Blu-ray Reviews | New and Upcoming DVD & Blu-ray Schedule | Upcoming Cover Art | Search This Site
Friends with Kids Blu-ray Disc Review
Friends with Kids

Theatrical Release: March 9, 2012 / Running Time: 107 Minutes / Rating: R

Writer/Director: Jennifer Westfeldt

Cast: Adam Scott (Jason Fryman), Jennifer Westfeldt (Julie Keller), Jon Hamm (Ben), Kristen Wiig (Missy), Maya Rudolph (Leslie), Chris O'Dowd (Alex), Megan Fox (Mary Jane), Edward Burns (Kurt), Lee Bryant (Elaine Keller), Kelly Bishop (Marcy Fryman), Cotter Smith (Phil Fryman), Ilana Levine (Mom in Restaurant), Brian D'Arcy James (Husband in Restaurant), John Lutz (Jason's Colleague at Work), Derek Cecil (Pete), Rolbert Halpern (Cole), Daniel Halpern (Cole)
Buy Friends with Kids from Amazon.com: Blu-ray • DVD • Instant Video
Rarely do you find more than a couple of actors from any one movie reuniting in another from a different writer, director, and studio. But that's certainly what happened here; four cast members from last year's Oscar-nominated chick flick blockbuster Bridesmaids

apparently had so much fun making that movie that they all just stayed together and made Friends with Kids afterwards.

Bridesmaids aligned past and present "Saturday Night Live" comediennes with Judd Apatow's hit factory, which gave it a decent-sized budget and comedy credibility. Friends with Kids is something quite different, the directorial debut and highest-profile work to date of Jennifer Westfeldt, the writer, producer, and star of Kissing Jessica Stein and Ira & Abby. Westfeldt may be more famous these days as the life partner of "Mad Men" star Jon Hamm, one of the four Bridesmaids spillovers who you suspect helped attract talent and financing.

Though it looks like a reunion and television ads played up the unusual connection, Friends with Kids is definitely not a sequel to Bridesmaids in even a thematic way. Sure, both are R-rated comedies that follow adult women into life change, but that is where the similarities end. Friends is no crowd-pleaser and the $7.3 million it grossed in theaters must feel like found money to Lionsgate, a studio whose notion of theatrical star power extends little further than Tyler Perry and Jason Statham.
The Bridesmaids foursome -- Kristen Wiig, Maya Rudolph, Chris O'Dowd (uncomfortably adopting an American accent), and Hamm -- comprise the supporting cast. Your first impression may be that the title is referring to these two married couples (Wiig and Hamm, Rudolph and O'Dowd), who become parents early on to the chagrin of longtime best friends Julie Keller (Westfeldt) and Jason Fryman (Adam Scott). But it is Julie and Jason, inseparable yet platonic pals, with whom we spend the most time.
And it is they who come up with the idea of having a child together, to get in under her biological clock, spare themselves an inevitable messy divorce, and clear the path for each to find their one true love. The idea makes sense to the two thirtysomethings and the film does a decent job of selling us on the idea too. Determined to split parental responsibilities, Julie and Jason put themselves through an awkward sexual encounter, apparently the only one needed, and sure enough, to the chagrin of their friends, they each emerge as unencumbered single parents.
While the film could have explored this idea in a witty and adult way, it makes clear early on that it'd rather adhere to romantic comedy convention. All it takes is a prominent linger on Jason's face and we become absolutely certain where this film is headed, knowing that it will take essentially its entirety to get there. That unmistakable foreknowledge drains the potential from the seemingly perfect relationships Julie and Jason effortlessly stumble into, she with a great guy (Edward Burns) and he with a young Broadway dancer (Megan Fox) who satisfies his big bust fetish.
You soon realize that Friends doesn't think much of your intelligence levels, as it puts you through these predictable paces with a minimal of on-point humor. Westfeldt's writing is hollow and obnoxious, peppered with digs at religion and Republicans (we're still talking about the 2004 presidential election!) and dumb anatomical humor. Being one and the same, the leading lady, sole writer, and director

should all be serving the film with a singular vision, but Westfeldt feels lacking on all fronts, despite the professional trust that the clout assembled here indicates.

Despite its distasteful design, I am reluctant to criticize Friends with Kids too harshly. After all, as a film for adults, it belongs to an unfortunately underpopulated class. It doesn't necessarily serve that audience well, but it at least deals with ideas that clearly and directly pertain to the human experience (how many other of this year's movies can you attribute that to with a straight face?).

Also, Adam Scott pours his heart into his performance, the first top-billed one of his career. It is tough to believe that the actor who got his start as Cory Matthews' substitute bully on "Boy Meets World" turns 40 next spring. He has enjoyed a resurgence in recent years. Turning up in any comedy show or movie that will have him (most memorably as the antagonistic third sibling of Step Brothers), it's been easy to take him for granted. Here, the "Parks and Recreation" actor proves he can summon real chops when needed and the movie is much more sufferable as a result. With the Bridesmaids gang disappearing regularly and resurfacing only to challenge our leads, the film belongs to Scott and Westfeldt and he does his best to keep it afloat in spite of unavoidable, telegraphed turns.
Blu-ray Disc Details

1.78.1 Widescreen
5.1 DTS-HD MA (English)
Subtitles: English, English for Hearing Impaired, Spanish
Not Closed Captioned; Extras Not Subtitled
Release Date: July 17, 2012
Single-sided, dual-layered disc (BD-50)
Suggested Retail Price: $39.99
Blue Eco-Friendly Keepcase
Also available on DVD ($27.98 SRP) and Amazon Instant Video
VIDEO and AUDIO
Lionsgate's Blu-ray presentation is far lighter on problems than the film's structure. The 1.78:1 picture is just about perfect, boasting bright, warm, clean visuals with no discernible drawbacks. The 5.1 DTS-HD master audio is commendable as well, although its untroubled mix doesn't draw much notice.
BONUS FEATURES, MENUS, PACKAGING and DESIGN

Extras begin with an audio commentary by Jennifer Westfeldt, her fellow producer Jon Hamm, and director of photography William Rexer. Unfolding with no lulls, their talk has the excitement of first-time filmmakers.

They share a lot of specifics regarding stolen shots, challenging scenes, and various production obstacles. In that sense, it will probably be best enjoyed by aspiring directors. They also name-drop, slightly tongue in cheek, New York institutions that helped them out.

"Making Friends with Kids" (8:10) lets Westfeldt and her castmates weigh in on the real life issues that inspire or shape the film then move to discussing production itself, none altogether resisting sarcasm.

"Ad-Libs & Bloopers" (11:55) are divided between "Fun with Actors" and "Fun with Kids." The former shows us bloopers, improvisations, and behind-the-scenes, while the latter showcases the unpredictability and uncooperativeness of very young actors.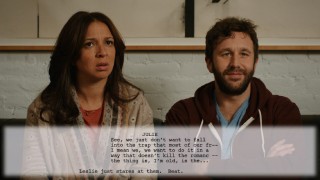 "Scene 42: Anatomy of a Gag" (5:06) scrolls up excerpts of the script as they play out in the scene and follows through as the actors add unscripted bits and brainstorm. It is also presented with audio commentary by Westfeldt, Hamm, and Rexer.
"MJ Rocks at Video Games" (3:49) shows us Megan Fox is a real gamer, as she is the one guiding Adam Scott through playing of an unseen Gears of War. It too is offered with audio commentary.
Eight deleted scenes (8:17) offer unseen interactions, nothing too ground-breaking and nothing worth elongating the film for, but worth seeing nonetheless.
"Also from Lionsgate" repeats the same reel of trailers with which the disc opens, for One for the Money, What to Expect When You're Expecting, Casa De Mi Padre, Girl in Progress, and The Switch. Friends with Kids' own trailer is not included.
The Blu-ray's ordinary menu plays scored clips over a New York skyline. The disc kindly supports both bookmarks and resuming. The eco-friendly keepcase is joined by neither insert nor slipcover.
CLOSING THOUGHTS
Give Friends with Kids credit for being an adult comedy with real world relevance, but not too much credit, because it ends up being as stupid and predictable as any romantic comedy. Despite a solid premise, Jennifer Westfeldt's film is abrasive and underwhelming. Lionsgate's Blu-ray satisfies with its strong feature presentation and comprehensive collection of extras. While it's not a disc I can recommend, those who liked the film or suspect they will have little reason to hesitate picking this up.
Buy Friends with Kids from Amazon.com: Blu-ray / DVD / Instant Video


Related Reviews:
New to Blu-ray: Casa De Mi Padre • Down by Law • Dirty Pretty Things • Newsies • Ransom
Adam Scott: Our Idiot Brother • Step Brothers • Piranha • Boy Meets World: The Complete Third Season
Maya Rudolph: Away We Go | Chris O'Dowd: Dinner for Schmucks • Gulliver's Travels
Kristen Wiig: Extract • Adventureland • Whip It • Ghost Town • Date Night
Megan Fox: Passion Play • Transformers • Confessions of a Teenage Drama Queen • Jennifer's Body
Knocked Up • When Harry Met Sally... • The Switch • Life As We Know It • The Kids Are All Right • Please Give • Young Adult
Friends with Kids Songs List: Regina Spektor - "Hotel Song", Wilco - "A Shot in the Arm", "All the Places", Willie Nelson - "The Party's Over", "Happy Birthday to You", Oliver Butler and Fergus Williams - "Losing Control", Clovers - "Sugar Way", The 88 - "It's a Lot", Brian Newman, Alex Smith, Paul Francis, and Steve Whipple - "Angelica", Jenny Lewis with the Watson Twins - "You Are What You Love", Richard Freitas - "Don't Cha", Bryan Wells - "Seattle", Lyle Lovett - "Make It Happy", "Django Festival", Rosemary Clooney - "I've Got My Love to Keep Me Warm", Ella Fitzgerald & Louis Armstrong - "I've Got My Love to Keep Me Warm", Balmorhea - "Baleen Morning", Adam Saunders and Mark Cousins - "Wartime Romance", Bobby Summerfield and Matt McGuire - "Closing Time", Tom Hockenberry - "M-O-M", Wilco - "Solitaire", Dead Heart Bloom - "Someday Soon Our Time Will Come", James Brown - "Sweet Little Baby", The 88 - "Waiting for the Next Drug", The 88 - "Coming Home"
DVDizzy.com | DVD and Blu-ray Reviews | New and Upcoming DVD & Blu-ray Schedule | Upcoming Cover Art | Search This Site
Search This Site:
DVDizzy.com Top Stories:
Reviewed July 21, 2012.


Text copyright 2012 DVDizzy.com. Images copyright 2012 Lionsgate, Roadside Attractions, Red Granite, Points West Pictures, and Locomotive Productions.
Unauthorized reproduction prohibited.