DVDizzy.com | DVD and Blu-ray Reviews | New and Upcoming DVD & Blu-ray Schedule | Upcoming Cover Art | Search This Site
That's My Boy Blu-ray Review
That's My Boy

Theatrical Release: June 15, 2012 / Running Time: 116 Minutes / Rating: R / Songs List

Director: Sean Anders / Writer: David Caspe

Cast: Adam Sandler (Donny Berger), Andy Samberg (Todd Peterson/Han Solo Berger), Leighton Meester (Jamie Martin), Vanilla Ice (Himself), James Caan (Father McNally), Milo Ventimiglia (Chad Martin), Blake Clark (Gerald Martin), Meagen Fay (Helen Martin), Tony Orlando (Steve Spirou), Will Forte (Phil), Rachel Dratch (Phil's Wife), Nick Swardson (Kenny), Peggy Stewart (Grandma Delores Spinou), Luenell (Champale), Ciara (Brie), Ana Gasteyer (Mrs. Ravensdale), Eva Amurri Martino (Miss Mary Beth McGarricle), Justin Weaver (Young Donny Berger), Susan Sarandon (Miss Mary Beth McGarricle - present day), Todd Bridges (Himself), Dan Patrick (Randall Morgan), Rex Ryan (Jim Nance), Jackie Sandler (Masseuse), Erin Andrews (Randall Morgan's Receptionist), Peter Dante (Dante Spirou), Rao Rampilla (Convenience Store Owner), Alan Thicke (TV Version Donny's Dad), Ian Ziering (TV Version Donny), Abdoulaye N'Gom (Father Shakalu), Baron Davis (Gym Coach), Brad Grunberg (Tubby Tuke), Dennis Dugan (School Janitor), Nancy Zee (Maid), Koji Kataoka (Butler)
Buy That's My Boy from Amazon.com: Blu-ray • DVD • Instant Video
Over the past fifteen years, the American public has sent a loud and crystal-clear message to Adam Sandler. They like it when he does his thing and they're not all that interested when he does something else. His thing, of course, is making PG-13 comedies to entertain the masses. Once kind of violent, occasionally sweet, and always a little crude, Sandler's signature vehicles, unmistakably written for him by his friends and sometimes himself, have regularly crossed the $100 million mark domestically since The Waterboy did it in 1998. Just about every time that Sandler has tried to branch out and do something different, from more dramatic fare to animation, that work has sputtered at the box office.

Critics, who certainly do not like it when Sandler does his thing, have praised his collaborations with auteurs like Paul Thomas Anderson (Punch-Drunk Love), Judd Apatow (Funny People), and Mike Binder (Reign Over Me). But the numbers have shown there is a modest market for the comedian venturing outside his distinct comfort zone.

A Columbia Pictures Sandler comedy has been something of a staple of the summer movie season since Big Daddy earned him career best totals back in 1999. But this year's release was different and the public let everyone know by making it Sandler's lowest-grossing live-action vehicle since assuming superstardom. That's My Boy bears the familiar Happy Madison Productions logo. But it also carries an R rating, which his wide releases almost never have. It also sees Sandler's regular director Dennis Dugan sitting this one out, for Sex Drive's Sean Anders to take the helm. And neither Sandler nor his usual scribes Tim Herlihy and Robert Smigel take a writing credit here; that goes solely to David Caspe, creator of ABC's "Happy Endings." Though uncredited, the Role Models and Wanderlust team of David Wain and Ken Marino was said to have performed rewrites as well.

All of that could have inspired some hope in those who have written Sandler off as too predictable and no longer funny. Instead, both they and the Sandman's reliable fanbase seem to have stayed far, far away to make this one of the biggest bombs of the summer with measly grosses of $37 M domestically and $19 M overseas. Plus, the reviews were still overwhelmingly negative, if slightly less so than last year's Sandler trifecta of Just Go With It, Zookeeper, and Jack and Jill.
Sandler playing the father of Andy Samberg seems like inspired casting, until you realize that a mere twelve years separate the two "Saturday Night Live" alumni. That's My Boy has a way around that, opening in 1984 with a 7th grade version of Sandler (Justin Weaver) hitting on his becoming math teacher (Eva Amurri Martino). Try though it does, the film cannot make statutory woman-on-boy rape funny. It does, at least, explain that small age difference and how Donny Berger (Sandler) got to be such a mess. An instant hero to his classmates for nailing the hot teacher, Donny is thrust to celebrity status, hanging with the two Coreys and having Ian Ziering play him (and Alan Thicke, his father) in a widely-viewed made-for-TV movie.
Donny's claim to fame can only take him so far, though. In the present day, he's a broke, beer-swilling Bostonian who is about to do prison time if he can't pay the IRS the $43,000 he owes in negligent back taxes. The ne'er-do-well loudmouth hasn't seen his casually-parented son Han Solo (Samberg) since "Hansie" turned eighteen. As luck would have it, Donny discovers that Han Solo, who has renamed himself Todd Peterson and rewritten his life story to make him an orphan, is due to get married this weekend. The occasion is both an opportunity to reconnect with Todd and a chance to avoid jail. A smarmy television personality (Dan Patrick) agrees to pay Donny $50 thousand for a taped family reunion at Mom's women's prison.
There is little evidence of Todd's unfit upbringing. A successful and rising hedge fund manager, the repressed young man is set to marry into the respectable family of his pretty young bride Jamie (Leighton Meester) with an upscale Cape Cod wedding hosted by Todd's wealthy boss (singer Tony Orlando in some outside-the-box casting). That is not a scene in which the strip club-frequenting Donny fits, but it's one he joins, with Todd and him improvising an implausible life-saving event to explain their close and long kinship.
As you can imagine, both chaos and some long overdue father-son bonding ensue, with a number of twists and turns threatening the two men's relationship and the planned ceremony.
That's My Boy is not the typical Sandler comedy; you can easily imagine the script falling into the hands of another actor.

In other ways, however, it does have the makings of a Happy Madison production, with buddies like Nick Swardson and Peter Dante in small roles and a soundtrack comprised of hair band tunes from Sandler's indelible formative years. The prominent latter element can at least be explained by the 1980s being Donny's development-arresting glory days.

In one way, this returns Sandler to his more highly regarded early films in that it lets him develop a bold personality and not just a sarcastic everyman. Donny Berger can be compared to classic Sandler men-children like Billy Madison, Little Nicky, and The Waterboy's Bobby Boucher. But whereas those infantile heroes were sweet and generally harmless, Donny seems capable of real damage and believable psychological scars. There's nothing cute about a middle-aged man filling tissues to pictures of a grandmother approaching ninety (Peggy Stewart, an actress whose filmography dates all the way back to 1937).

Still, I would be lying if I said the movie wasn't funny now and then. Complementing their similar career trajectories and looks, Sandler and Samberg are on the same wavelength. Their chemistry of contrasts generates occasional laughs. Sandler is at a point where seemingly no actor can resist joining in his lucrative larks. Among the more accomplished to do so here are James Caan as an Irish priest and Susan Sarandon (Amurri Martino's mother) as the imprisoned present-day version of Todd's mother. Both are game, with Caan's scenes being a highlight of the film. Even better is Vanilla Ice, who is gift-wrapped the juicy role of himself, an ice rink concession stand worker who still parties hard with his boy Donny. Also accepting, with a sense of humor, exposure out of his usual reach is Todd Bridges.

That's My Boy might have been more enjoyable in the days before a targeted MPAA rating was decided in advance. These days, a comedy film with any commercial value can't narrowly accept an R rating. It's got to earn it with boundary-pushing recklessness. Some of this movie's crudeness is forced, its bodily gags and vulgarities certain to draw a reaction from audiences, but not one of laughter. The movie doesn't go so far that its redemption plot cannot be taken seriously, but at 116 minutes, it runs a lot longer than expected or needed and some trims of the less funny gross-out material would have certainly sharpened it.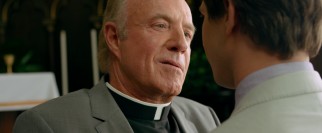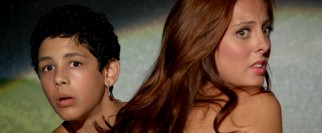 As is, the movie looked terrible and its reception reflected that between the bombing and an IMDb rating that plunged to the 3.0 range. Now is a chance for people, especially those who prefer the old Sandler to the Grown Ups one, to find out it's not as bad as it looked. It's still a flawed film unlikely to crack many favorites lists. But I can easily think of two recent Sandler vehicles I liked less than this and, if you've seen them all, I'm sure you can too.
Whether because of the R-rating or the feeble theatrical performance, Sony skips a combo pack for That's My Boy, releasing it as a single-disc DVD and a single-disc Blu-ray, each equipped with UltraViolet.
As for the limited wiggle room that the public has given Sandler, his and Samberg's latest collaboration, the animated family horror comedy Hotel Transylvania, grossed more in its opening weekend than That's My Boy made in its entirety. While they probably can't take too much credit for that, it's something.
Blu-ray Disc Details

2.40:1 Widescreen
5.1 DTS-HD MA (English), Dolby Digital 5.1 (French, Descriptive Video Service)
Subtitles: English, English for Hearing Impaired, French, Spanish
Not Closed Captioned; Extras Subtitled in English
Release Date: October 16, 2012
Suggested Retail Price: $14.99 (Reduced from $35.99)
Single-sided, dual-layered disc (BD-50)
Blue Keepcase with Side Snap
Also available on DVD ($30.99 $9.99 SRP) and Instant Video
VIDEO and AUDIO
The 2.40:1 widescreen Blu-ray presentation of That's My Boy is, to quote the Happy Madison logo, "terrific." Sony puts out some of the best-looking new film transfers and this flawless disc upholds that tradition. The 5.1 DTS-HD master audio also delights with crisp, clear dialogue and clear, solid dispensement of tunes from Sandler's beloved late '70s, early '80s era.
BONUS FEATURES, MENUS, PACKAGING and DESIGN

The average collection of all-HD extras begins with a gag reel (6:07),

which amuses with the laughs, goofs, and behind-the-scenes jocularity you expect.

Five deleted scenes (13:55) show us more of the shambles of grown-up Donny's life (getting fired from his hot tub salesman job, calling old talk show hosts) and a better look at the Ian Ziering/Alan Thicke 1980s movie of the week, in addition to extending two surviving scenes.

"Who Are All These People?" (10:51) celebrates the cast of That's My Boy, spending moments on set with supporting players and Samberg.

"Greetings from Cape Cod" (6:47) continues a thread from the film by letting crew and cast members do their best "Wassup." Spiced up by just a few creative variations and Andy Samberg's resistance to partake, the joke loses its meaning after a couple of minutes, but at least it's funny in the film.
"Classy Rick's Bacon and Leggs" (5:49) takes us inside the film's strip club, with cast members discussing the experience and Luenell practicing for her role.
Digging around the disc's files, I found a deleted scene (1:07) contrasting Donny's unseen father with a good one (played by Sandler pal Jonathan Loughran). If this is an Easter egg, I have no idea how to find it without a BD-ROM.
The disc opens with trailers for Men in Black 3, Total Recall, and The Amazing Spider-Man. The Previews section holds those and trailers for Looper and Safety Not Guaranteed. That's My Boy's own off-putting trailer is not included.
The scored menu plays black & white clips and moves color ones across the screen. Par for a Sony BD, this one supports bookmarks and resumes playback. Why can't every other studio's discs do the same?
The side-snapped keepcase displays artwork on the cover's reverse in addition to holding inserts with your UltraViolet and Sony Rewards codes.
CLOSING THOUGHTS

Adam Sandler's raunchiest film to date is not one of his best, but That's My Boy has enough funny moments to wield some cult film potential following its poor theatrical reception.

Those who have grown tired of Sandler's standard efforts and miss the outrageousness of his earlier movies form the demographic most likely to be won over by this. Even they are more apt to like than love this sloppy, overlong, excessively crude father/son tale.

Sony's Blu-ray serves up a flawless feature presentation plus nearly an hour of extras. Perhaps I've been spoiled, but in my eyes that adds up to an average disc of a below average movie. Depending on your tolerance for vulgar humor, it might be worth a viewing, although it can't be a high priority addition to your Sandler collection.

Buy That's My Boy from Amazon.com: Blu-ray / DVD / Instant Video


Related Reviews:
Adam Sandler: Grown Ups • Jack and Jill • Just Go With It • Funny People • Bedtime Stories • Zookeeper
Andy Samberg: I Love You, Man • Portlandia: Season Two • Cloudy with a Chance of Meatballs
Leighton Meester: The Roommate • Monte Carlo • Going the Distance • Date Night
James Caan: Elf • Bottle Rocket • Misery • Middle Men • Get Smart • The Godfather
New: All in the Family: The Complete Series • Jeff Dunham: Minding the Monsters • Dark Shadows • Rock of Ages
Bad Teacher • Strange Wilderness • Semi-Pro • Kickin' It Old Skool
The Hangover • Hot Tub Time Machine • I Love You Phillip Morris • The Fighter • The Dictator

That's My Boy Songs List: Def Leppard - "Rock of Ages", KISS - "I Was Made for Lovin' You", Van Halen - "And the Cradle Will Rock", The Cult - "She Sells Sanctuary", Rush - "Limelight", Mφtley Crόe - "Looks That Kill", El Camino - "Lawd Have Mercy", "Frankenstein", Ratt - "Round and Round", Chinatown - "Drive Me Crazy", "(You've Got It) The Right Stuff", Metallica - "Whiplash", Frank Sinatra - "Nothing But the Best", Father Times - "Stepping in My Adidas", Far East Movement Featuring Stereotypes - "Girls on the Dance Floor", The Genders - "Stick to My Guns", Jailhouse - "Long Way Up", Foreigner - "Urgent", Van Halen - "Dance the Night Away", Tom Petty & The Heartbreakers - "American Girl", Kim Carnes - "Bette Davis Eyes", The Replacements - "Unsatisfied", The After After Hours featuring Charles Small - "Sunny Side Up", Van Halen - "Ice Cream Man", Meat Loaf - "Everything Louder Than Everything Else", Vanilla Ice - "Ice Ice Baby", Argent - "Hold Your Head Up", Tesla - "Love Song"

DVDizzy.com | DVD and Blu-ray Reviews | New and Upcoming DVD & Blu-ray Schedule | Upcoming Cover Art | Search This Site

DVDizzy.com Top Stories:


Reviewed October 5, 2012.



Text copyright 2012 DVDizzy.com. Images copyright 2012 Columbia Pictures, Happy Madison Productions, and Sony Pictures Home Entertainment.
Unauthorized reproduction prohibited.