DVDizzy.com | Pixar & Other Theatrical Animation | Reviews | DVD & Blu-ray Schedule | Upcoming Cover Art | Search
Pixar on DVD: Toy Story • A Bug's Life • Toy Story 2 • Monsters, Inc. • Finding Nemo • The Incredibles • Cars • Ratatouille • WALL•E • Up • Toy Story 3 • Cars 2 • Brave

Pixar on Blu-ray: Toy Story • A Bug's Life • Toy Story 2 • Monsters, Inc. • The Incredibles • Cars • Ratatouille • WALL•E • Up • Toy Story 3 • Cars 2 • Brave
Brave: 5-Disc Ultimate Collector's Edition (Blu-ray + Blu-ray 3D + DVD + Digital Copy) Review
Brave

Theatrical Release: June 22, 2012 / Running Time: 94 Minutes / Rating: PG / Songs List

Directors: Mark Andrews, Brenda Chapman; Steve Purcell (co-director) / Writers: Brenda Chapman (story & screenplay); Mark Andrews, Steve Purcell, Irene Mecchi (screenplay)

Voice Cast: Kelly Macdonald (Merida), Billy Connolly (King Fergus), Emma Thompson (Queen Elinor), Julie Walters (The Witch), Robbie Coltrane (Lord Dingwall), Kevin McKidd (Lord MacGuffin, Young MacGuffin), Craig Ferguson (Lord Macintosh), Sally Kinghorn (Maudie), Eilidh Fraser (Maudie), Peigi Barker (Young Merida), Steven Cree (Young Macintosh), Steve Purcell (The Crow), Callum O'Neill (Wee Dingwall), Patrick Doyle (Martin), John Ratzenberger (Gordon)
Buy Brave from Amazon.com: Blu-ray 3D + Blu-ray + DVD + Digital Copy • Blu-ray + DVD • DVD
The Pixar summer movie has become one of the few constants in an ever-changing industry. Since deciding that the bustling warm season was best for them, Pixar has released a new film every June, save for one that opened three days before it. The films have generally won rave reviews and the Best Animated Feature Oscar, while displaying something of an upward box office trend.

Last year's Cars 2 derailed that streak as the company's first feature not given instant "masterpiece" status, first completely overlooked by the Academy Awards, and first to gross less than $200 million domestically since the 1990s. That curious sequel, seemingly the principled studio's unprecedented succumbing to commercial temptation, was a minor blemish on Pixar's long impeccable track record. It did little to temper the sky high expectations with which the newest Pixar film has regularly been met.

The thirteenth entry in the feature canon and the studio's first original movie in three years, Brave stood out from past Pixar works in a number of ways. Here was a film marketed as more of an adventure than comedy. It was also a fantasy and not in the same sense as the Toy Story and Monsters, Inc. films, but the sword and sorcery kind. Humans were front and center as was a very real setting of the Scottish Highlands around 1,000 years ago. Brave gave us our first true female Pixar protagonist in the fiery redheaded princess Merida.

It also gave us our first female Pixar director in Brenda Chapman, a story and storyboard veteran of the '90s Disney Renaissance who helmed DreamWorks' The Prince of Egypt and alone conceived Brave with the title The Bear and the Bow. Chapman would not get to see the film come to fruition, with creative differences bumping her from the project and giving One Man Band's Mark Andrews his first feature directing job. Chapman would retain a directing credit (albeit a secondary one) and stay at Pixar until the film's release, but she has since left to become a consultant to Lucasfilm Animation, a job which last month's industry-shaking acquisition put back in the Disney family.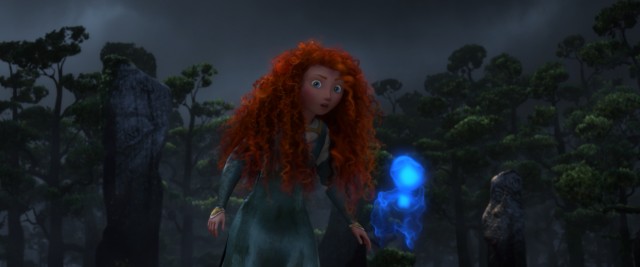 Hardly evoking Pixar's colorful past triumphs, Brave more quickly calls to mind two of the biggest modern hits from DreamWorks and Disney in How to Train Your Dragon and Tangled, respectively. Like those widely embraced films, it has an accessible past setting with fantastic adventure and family drama in the foreground. Storywise, it is strikingly reminiscent of Disney's Brother Bear, to the point where one wonders how such a similar tale of transformation and perspective-based betterment could move ahead within just a few years.
The eldest child and only daughter of King Fergus (voiced by Billy Connolly) and Queen Elinor (Emma Thompson), Merida (Kelly Macdonald) isn't all that crazy about her life as a princess. Elinor has very rigid instructions for how a princess is to behave and the restrictions stifle the adventuresome Merida, who can't seem to do any right by her mother. The proverbial back-breaking straw comes when Merida is to have first-born sons from three other clans compete for her hand in marriage. Merida picks her beloved archery as the means of competition, then proceeds to make a mockery of the ceremony by showing up all three of her unappealing suitors (a cocky blue-painted man, an awkward weakling, and an unintelligible big guy) with her superior bow and arrow skills.
Scolded by her mother and instructed to uphold tradition, Merida instead follows the will-o'-the-wisps, a trail of glowing blue lights that leads her to the workshop of a woodcarver/witch (Julie Walters). Merida gets the witch to reluctantly give her a spell that will change her stubborn mother and allow Merida to have a say in her own life. A single bite of a cursed cake does have a quick effect on Elinor and Merida discovers she has only to the second sunrise to make things right or risk losing her mother as she knows her.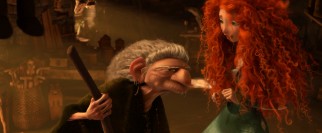 A lot of the early scenes of Brave do little more than showcase Scottish customs set to bagpipe score. There is a good amount of physical comedy in such sequences, generating a light tone to seemingly contrast with what is to come. What is to come isn't all that dark, adventurous or weighty.

The movie improves once its story is spelled out, although the mother-daughter journey of discovery isn't terribly imaginative or original. There are none of those emotional gut-punches that melted the hearts of even jaded adults watching Up and Toy Story 3. There isn't the arresting wonderment of dazzling scenes from Monsters, Inc. and Finding Nemo. There is just a thoughtful and moderately touching tale of family and free will. It's a typical course for a somewhat typical independent heroine, which is a bit less than you crave from Pixar's foray into period storytelling and princess fairy tales.

Even a step down from their usual mastery, Pixar's storytelling, characterization, and animation elevate the film enough to avoid disappointment. Despite treading similar ground two years after them and offering nothing specific to rival their animal cuteness and Broadway-style songs, Brave somehow manages to be a more satisfying experience than both Dragon and Tangled. It is a lean tale, short on characters and set pieces. There are just four roles with any influence on the story and one of them only has a single scene as flesh and blood. Unlike the typical Pixar outing, Brave doesn't really grab your attention with memorable, poignant, or funny moments. It doesn't suffer from any glaring missteps. It just kind of moves along through its necessary beats, remaining agreeable to the eye, ear, heart, and head without making an indelible mark on any of them.

It's easy to appreciate Brave after Cars 2 (which, it must be said, any other studio would have been proud to make), but I wonder how much of a disappointment it might have felt coming on the heels of WALL•E, Up, and Toy Story 3. It's unrealistic to expect a studio to conjure magical entertainment for the ages on a yearly basis, but aside from Cars 2 and Ratatouille, Pixar has always managed to do just that. As a result, making simply a very good movie does feel a tad uncharacteristic and unfortunate.

While it seems extremely premature to dwell on Pixar's imperfection, nothing we've seen from Monsters University (which very well may be nothing at all from the final film) suggests it is a sequel worth making. That college prequel looks just as at odds with its workplace predecessor as a certain international spy mystery was to a small-town drama. And while one expects the second Monsters to do good business and not be as creatively underwhelming as Pixar's lone misfire, there is more of interest and more at stake on the following year's project, an original Bob Peterson-directed film currently titled The Good Dinosaur.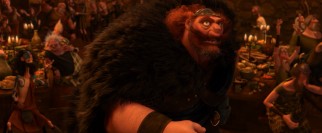 In its reception, Brave seemed largely unfazed by the significant personnel change. While its critical approval ratings were not up to Pixar's lofty usual levels, they were decidedly favorable, cementing Cars 2's reputation as an anomaly. Furthermore, the public embraced Brave wholeheartedly, attesting to the studio's powerful reputation. The $236 million domestic gross makes Brave both the year's top-grossing original film and top-grossing animated film, handily besting such proven franchises as Madagascar and Ice Age. With just seven weeks left to 2012, it seems unlikely to relinquish either title.
Remaining more in question is whether Brave can start a new winning streak for Pixar in the Animated Feature Oscar category, after Cars 2's non-nomination stopped the prior one at a remarkable four consecutive wins. This has been a competitive year for animation both in volume and in acclaim. Frankenweenie, ParaNorman, Wreck-It Ralph, and The Pirates! Band of Misfits all got higher ratings at Rotten Tomatoes. At this point, though a nomination seems very likely, a win is anything but guaranteed and Pixar's history of victories could even work against them. Not very encouraging is the fact that Disney isn't even asking award voters to consider Brave for Best Picture, a category that virtually all films position themselves for, even if only as a formality. The fact that Pixar has twice cracked the field for the top prize since it expanded from five nominees should have made Brave at least a longshot contender. (Its reviews and public estimation are a heck of a lot better than last year's Extremely Loud & Incredibly Close, for instance.) Instead, it is no-shot contender for Best Picture with probably limited Academy Award prospects beyond that.
Keeping with Pixar traditions, Brave hits home video this week in the early stretch of the holiday retail season. It is sold as a single-disc DVD, a three-disc (2 Blu-ray, 1 DVD) combo pack, and, the subject of this review, a 5-disc Ultimate Collector's Edition that adds Blu-ray 3D and digital copy discs to the other three. Like other Pixar movies tailored for 3D, this one shuns gimmickry, using the format instead to emphasize different planes of depth.
Blu-ray 3D, Blu-ray & DVD Details

2.39:1 Widescreen (DVD Anamorphic)
Blu-ray: Dolby TrueHD 7.1 (English), Dolby Digital 5.1 (French, Spanish), Dolby Surround (English, Descriptive Service)
DVD: Dolby Digital 5.1 (English, French, Spanish), Dolby Surround (English, DVS)
Subtitles: English, English for Hearing Impaired, French, Spanish
Extras Subtitled; DVD Closed Captioned
Suggested Retail Price: $49.99 / Release Date: November 13, 2012
Five single-sided discs (2 BD-50s, 1 BD-25, 1 DVD-9 & 1 DVD-5 DVD-ROM)
Thick Blue Keepcase in Lenticular Cardboard Slipcover
Also available in Blu-ray + DVD ($39.99 SRP) and standalone DVD ($29.99 SRP)
VIDEO and AUDIO
It practically goes without saying that Brave offers dazzling picture and sound, especially on Blu-ray. This film serves up more natural settings than any of Pixar's previous. Scotland is practically a lead character. Its assortment of greens and occasionally overcast skies yield distinctive visuals, which are presented with ideal sharpness, vibrancy, and detail. The default Dolby TrueHD 7.1 soundtrack is as lively as any, serving up much atmosphere and directional effects with stunning clarity, not to mention crisp, perfectly synched dialogue. Being disappointed by the film on a technical level seems most unlikely.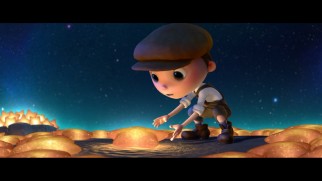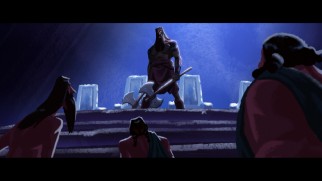 BONUS FEATURES, MENUS, PACKAGING and DESIGN
Extras on the first Blu-ray disc begin with two short films. La Luna (6:57), Brave's Oscar-nominated theatrical company, tells the story of a boy, his father, and grandfather taking a small boat, then a long ladder up to the moon, where they perform some star maintenance. It's creative, but it is designed to move you and it simply didn't do much for me on that front.
Less remarkable is The Legend of Mordu (6:51), a new short created for this release. The Witch (Julie Walters) elaborates some on a story from the film about a king and his four sons, illustrated in limited 2D animation. It feels like Pixar knew they needed to ready a new short for this disc and didn't have anything worthwhile or enough time to produce their stunning signature three-dimensional imagery.
Nine extras fall under the heading Behind the Scenes.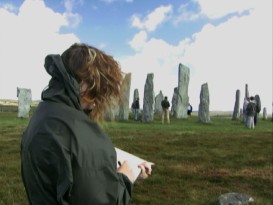 "Brave Old World" (12:35) documents the filmmakers' research trip to Scotland with crew reflections. A lot of the nature footage has direct counterparts in the film. We get a good sense of how the landscape and people influenced the film.
"Merida & Elinor" (8:24) considers the relationship and characters at the heart of the film, paying notice to everything from character design to clothing to voice performances to personality.
"Bears" (6:10) gathers artist remarks on the realistic depiction of an animal that has long featured in cartoons, focusing on the specific visual qualities and mannerisms of the film's adult bear characters. "Brawl in the Hall" (5:29) discusses staging and choreographing fight scenes. "Wonder Moss" (2:45) explains (sort of) how mathematics helped create the moss and other nature elements.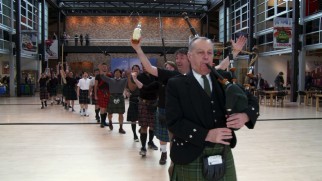 "Magic" (7:06) discusses how the movie incorporated fantastical elements like the wisps and witch. "Clan Pixar" (4:46) shows us how the crew blew off the steam of production demands with Scottish recreation with haggis, Kilt Fridays, and bagpipe processions.

"Once Upon a Scene" (7:47) gives us a sampling of deleted scenes with animated story sketches and commentary by story supervisor Brian Larsen.

Four extended scenes are presented with introductions and follow-ups by director Mark Andrews but no "Play All" option. They play with a scissors graphic illustrating what unusually mostly fully-animated shots were cut.

Though the brisk runtime couldn't have been a consideration, nothing essential is lost, but those fully rendered moments are still obviously interesting enough to warrant seeing. Altogether, the content runs 13 minutes and 34 seconds.

An audio commentary features director Mark Andrews, co-director Steve Purcell, story supervisor Brian Larsen and editor Nick Smith. Right off the bat, it seems absurd not to include Chapman, who conceived the story out of her relationship with her daughter and directed it for a good portion of production. From pitched studio logo alterations to unrealized tags, the conversation flows freely and sheds light on numerous story and scene changes that took shape during the film's years in the making. As you would expect, there is nary a word on Chapman's replacement, let alone anything juicy that could shed light on the thus far secret specifics. We do, however, gain insight into various developments, like the fact that two-thirds of the movie was originally going to take place in winter snow.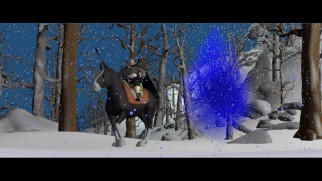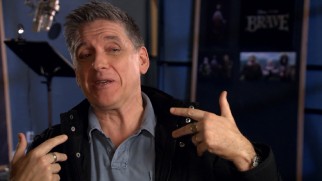 Barely warranting a second disc, the light bonus Blu-ray adds around 35 minutes of video plus an extensive art gallery.
First up come two additional deletions introduced by Andrews. "Fergus & Mor'du: An Alternate Opening" (2:40) gives us an extended version of a scene glimpsed in the movie that was meant to open it. "Fallen Warriors" (2:08) shows us shots that were (or were nearly) completed but cut from the film. It's a nice way to salvage the considerable work that went into these, so it's kind of surprising no other Pixar movie has thought to do something like this.
"Dirty Hairy People" (3:33) discusses how the medieval Scotland setting manifested in the look of characters down to details like unhygienic teeth and stained clothing. The fun "It is English...Sort of" (3:50) sheds light on some of the Scottish expressions and dialects worked into the film. It offers looks at recording sessions and thoughts from the voice actors and filmmakers.
"Angus" (3:25) turns our attention to Merida's horse, with animators describing his features and footage showing the real horses observed for this. "The Tapestry" (3:56) considers the look and significance of the family illustration, letting us in on fabric challenges and physical tests.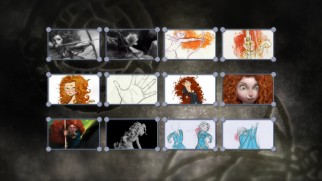 Promotional Pieces serves up "Wee Bits of Animation" (3:40), multi-purpose character moments, some of them addressing and playing with the camera.
Short shorts of unclear intent and origin follow. "Relics" (1:09) lets the suitors' fathers present relics of meaning to their clans. "Clan Dun Broch" (1:10) finds Fergus teaching Merida on their clan over spirited friendly swordfight. "Launch" (0:29), a short in which Merida teaches her triplet brothers how to shoot an arrow. "Flying Guts Theater" (0:59) has Elinor narrate and the triplets performing the story of how Fergus won her hand in feats of strength.
The section wraps up with US (2:30), Japanese (2:23), and UK (1:49) theatrical trailers for the film that interestingly reflect their audiences (the UK one drops voice cast names, the Japanese plays up this relationship with nature that doesn't really feature in the film). Once again, a "Play All" option is missed.
Finally, the Art Gallery divides 471 images into the following five categories: Characters (178 stills), Color Keys (95 stills), Development Art (96), Environment (65), and Graphics (37). Utilizing Blu-ray technology, the section allows you to navigate the contents quickly and in multiple views, designate favorites, assign 1-5 star ratings, and turn accompanying score excerpts on or off. It's a perfect presentation of good content.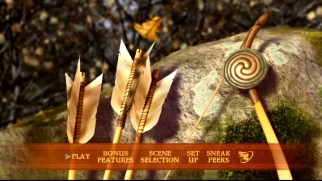 The bonus Blu-ray also turns up two Easter eggs: the tongue-in-cheek "Renaissance Animation Man" (1:30) celebrates director Mark Andrews,

while "Wee Gaffes" (1:08) shows off computer animation goofs.

The Blu-ray 3D's only extra is La Luna in 3D, an appropriate inclusion. Sadly shorn of most supplements, the DVD (identical to the one sold on its own) offers only the audio commentary and two shorts in the way of extras. Typical for a Disney release, the digital copy DVD-ROM offers the film in two Windows Media and one iTunes format.

The feature discs open with trailers for Monsters University, Planes, and Peter Pan: Diamond Edition. The Sneak Peeks listing repeats them, then adds promos for Disney Movie Rewards, Adventures by Disney, "Sofia the First", the Brave video game, and Finding Nemo.

Leaves fall around a rock where Merida's bow and arrows are rested on the tasteful, scored main menu. The bonus Blu-ray has them fall over Elinor's crown. The Blu-rays do not resume playback or support bookmarks, though the movie disc is able to remember where you left off if you didn't finish the film.

The five discs are held in a thick Blu-ray case fitted with two swinging trays and topped by a sturdy lenticular cardboard slipcover. An insert supplies your Disney Movie Rewards/Digital Copy code and another booklet advertises a variety of products from Disney and promotional partners.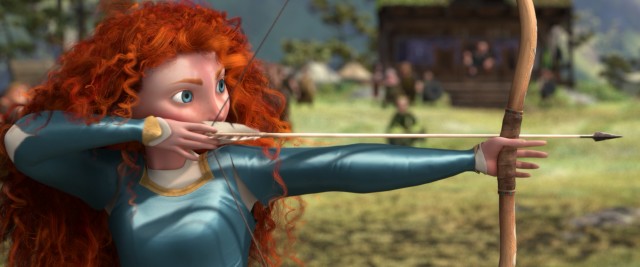 CLOSING THOUGHTS
It's impossible for our view of Brave not to be colored by Pixar's high standards of excellence. This isn't as wonderful as most of the studio's past films. Compared to contemporary cinema at large, though, this is superior entertainment. Brave doesn't reinvent the wheel or clearly blow away the better work of other animation studios, but it's still a fun, nice-looking, heartwarming adventure with plenty to like. Few films from this year are as enjoyable.
The 5-disc Ultimate Collector's Edition combo pack delivers unsurprisingly top-notch picture and sound plus a good collection of bonus features. The extras are neither as exhaustive nor as entertaining as those found on the best Pixar sets, but the movie is one to own nonetheless. If you're not into Blu-ray 3D or digital copies, then you'll obviously be better served by the 3-disc Blu-ray + DVD combo pack that includes everything else for just a few dollars more than the featherweight DVD on its own.
Support this site when you buy Brave now from Amazon.com:
Blu-ray 3D + Blu-ray + DVD + Digital Copy / Blu-ray + DVD / DVD


Related Reviews:
New: Pixar Short Films Collection, Volume 2 • Arthur Christmas • DreamWorks Holiday Classics • The Muppet Christmas Carol
Written by Brenda Chapman: The Lion King • Beauty and the Beast | Written by Mark Andrews: John Carter • One Man Band
Up • Toy Story • Toy Story 2 • Toy Story 3 • Monsters, Inc. • The Incredibles
Ratatouille • WALL•E • Cars • Cars 2 • A Bug's Life • Finding Nemo
Tangled • Brother Bear • Winnie the Pooh • The Princess Bride • Pete's Dragon • John Carter • Sleeping Beauty

The Brave Voice Cast: Harry Potter and the Deathly Hallows, Part 2 • Muppet Treasure Island
Europe: Braveheart • Greyfriars Bobby • Darby O'Gill and the Little People • The 39 Steps • The Water Horse
2012 Animation: The Pirates! Band of Misfits • Madagascar 3: Europe's Most Wanted • Dr. Seuss' The Lorax • Secret of the Wings
Brave Songs List: Emma Thompson and Peigi Baker - "Noble Maiden Fair", Julie Fowlis - "Touch the Sky", Julie Fowlis - "Into the Open Air", Billy Connolly & Cast - "Song of Mor'du", Birdy [with Mumford & Sons] - "Learn Me Right"
DVDizzy.com | Pixar & Other Theatrical Animation | Reviews | DVD & Blu-ray Schedule | Upcoming Cover Art | Search
DVDizzy.com Top Stories:
Reviewed November 12, 2012.