DVDizzy.com | DVD and Blu-ray Reviews | New and Upcoming DVD & Blu-ray Schedule | Upcoming Cover Art | Search This Site
Safety Not Guaranteed Blu-ray Review
Safety Not Guaranteed

Theatrical Release: June 8, 2012 / Running Time: 86 Minutes / Rating: R

Director: Colin Trevorrow / Writer: Derek Connolly / Songs List

Cast: Aubrey Plaza (Darius Britt), Mark Duplass (Kenneth Calloway), Jake Johnson (Jeff Schwensen), Karan Soni (Arnau), Jenica Bergere (Liz McHollis), Kristen Bell (Belinda St. Sing), Jeff Garlin (Mr. Britt), Mary Lynn Rajskub (Bridget), William Hall, Jr. (Shannon), Tony Doupé (Smith), Xola Malik (Jones)
Buy Safety Not Guaranteed from Amazon.com: Blu-ray • DVD • Instant Video
So many movies have explored the perks and paradoxes of time travel. The independent film Safety Not Guaranteed devotes much of its runtime to the topic from a realistic perspective. That is to say that although minds as brilliant as Einstein have given serious thought to the subject, there is no science or evidence to support the ability to travel through time.

It's a romantic notion loaded with storytelling potential, but it just isn't practical. If anyone from any point in the future has traveled back in time, we obviously haven't found out about it. Taken for granted, these facts might not lend to a feature film, but they do lay a sturdy foundation for this thoughtful and substantial offbeat comedy.

An editor (Mary Jane Rajskub) at a Seattle magazine taking story ideas approves a pitch by Jeff (Jake Johnson, "New Girl") based on an unusual classified ad that is seeking a partner with whom to return to the past. Jeff and the two interns he picks -- the wry Darius (Aubrey Plaza, "Parks and Recreation") and the nerdy Arnau (Karan Soni) -- hit the road for a trip to Ocean View, Washington, where they stake out the post office to find the person who placed the ad. Their search leads them to Kenneth Calloway (Mark Duplass), about the kind of guy you'd expect to advertise a time travel mission. A grocery store stocker, Kenneth is odd, friendless, full of ideas, and seemingly quite paranoid. While he dismisses Jeff's half-hearted application, Kenneth takes Darius more seriously, slowly easing her through his clearance procedures.

The film's focus is divided more smoothly than it ought to be. On the one hand, you have Darius spending time with Kenneth and being prepped on his obviously ludicrous but very much sincere plan to journey back to 2001 to save the life of his one true love. On the other, Jeff is doing some time travel of his own, by reconnecting with a high school girlfriend (Jenica Bergere) he hasn't seen in many a year. Also keeping with the theme, Jeff encourages the extremely shy Arnau to sew some age-appropriate wild oats.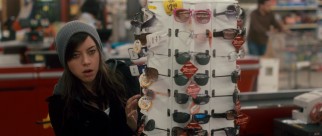 It's never clear how Safety will see its premise through or if it even will see it through instead of taking the undoubtedly tempting open-ended approach that mainstream cinema generally avoids. We learn that Jeff isn't being entirely honest in his disclosures, but doubt remains as to whether he's nuts or truly onto something extraordinary. There is enough to suggest he's at least not altogether delusional.

There is much to like in this film, the feature debut of both director Colin Trevorrow and writer Derek Connolly. It's funny in that quirky hipster way, but even as long stretches pass without a laugh, you remain fixated on the line-treading story and rich, layered characters.

The treatment is human and untidy, existing on the cusp of science fiction but with a distinctly indie comedy sensibility (one with which Duplass and his brother, both executive producers here, are familiar as writers/directors). It's as if Napoleon Dynamite narrowed in to focus purely on Kip's time machine and Uncle Rico's nostalgia.

Lacking outrageous antics, a bestselling source, huge laughs, action, visual effects, and convention, a film like this is naturally relegated to limited release. Safety fared pretty well there this summer, grossing over $4 million while remaining in fewer than 200 theaters. That made it easily the second least disappointing performance of distributor FilmDistrict's first two years in business. The young studio, who acquired Safety at Sundance (where it won the Waldo Salt Screenwriting Award), sees home video partner Sony bring the film to DVD and Blu-ray at the end of this month.
Blu-ray Disc Details

2.40:1 Widescreen
5.1 DTS-HD MA (English)
Subtitles: English, English for Hearing Impaired
Not Closed Captioned; Extras Subtitled in English
Release Date: October 30, 2012
Single-sided, single-layered disc (BD-25)
Suggested Retail Price: $26.99 (Reduced from $40.99)
Blue Keepcase with Side Snap
Also available on DVD ($29.99 SRP $19.99 SRP) and Amazon Instant Video
VIDEO and AUDIO
Safety Not Guaranteed was made for just $750,000 and you can kind of tell it not by its accomplished cast, but by its none too impressive digital video. Per Sony's high standards, the 2.40:1 transfer is clean and sharp, but the filmmaking methods lower the ceiling on how good the movie looks. The 5.1 DTS-HD master audio is fine, standing out mostly from the music it regularly provides and for the heightened volume of its climax.
BONUS FEATURES, MENUS, PACKAGING and DESIGN

On both DVD and Blu-ray, Safety Not Guaranteed is joined by just two listed items.

"A Movie Making Mission" (15:16) collects comments from the cast and director Colin Trevorrow and shares some behind-the-scenes production footage. It touches on specific scenes and the time machine's design,

showing more thought than many making-of featurettes.

"The Ad Behind the Movie" (2:19) explains the origin of the real classified ad that apparently inspired the film, with its writer John Silveira describing it as the opening of an unfinished science fiction novel he started writing in the 1980s and discussing the response it has gotten since being published in a 1997 issue of Backwoods Home Magazine.

An Easter egg (1:35) finds the cast talking about what era they would like to travel to.

"Previews" repeats the same five ads with which the disc opens: a general Sony Blu-ray Disc promo followed by full trailers for Looper, Robot & Frank, Playing for Keeps, and Now Is Good. Safety Not Guaranteed's own trailer is sadly absent, making this one of few recent Sony discs to exclude it.

The clever menu plays film clips and animated graphics on torn paper with a red circle cursor in front of a classified ads section. Like other Sony BDs, this one supports bookmarks and resumes playback of anything without difficulty.

The side-snapped keepcase displays reverse cover artwork inside. It also holds an insert with a code and directions for the complimentary UltraViolet stream included with this purchase.
CLOSING THOUGHTS
Safety Not Guaranteed is light on bonus features and plagued by kind of unsightly digital video. Still, as one of the most charming and arresting films of the year thus far, it is well worth seeing.
Support this site when you buy Safety Not Guaranteed now from Amazon.com:
Blu-ray / DVD / Instant Video


Related Reviews:
Directed by Colin Trevorrow: Jurassic World
New: Check It Out with Dr. Steve Brule: Seasons 1 & 2 • The Hole • Everybody's Fine • The Cabin in the Woods
Aubrey Plaza: Funny People • Scott Pilgrim vs. the World • Portlandia: Season 1 | Mark Duplass: The League: Season One • Greenberg
Jake Johnson: 21 Jump Street • No Strings Attached | Mary Lynn Rajskub: Road Trip | Kristen Bell: You Again
Jeff, Who Lives at Home • Cyrus • Terri • Win Win • Gentlemen Broncos • Our Idiot Brother • Youth in Revolt
The Station Agent • Young Adult • Adventureland • A Serious Man • Cedar Rapids • The Foot Fist Way • Bottle Rocket

Safety Not Guaranteed Songs List: Guster - "Architects and Engineers", Summer Fiction - "She's Bound to Get Hurt", The Arctic Monkeys - "Brick by Brick", Mark Duplass - "Big Machine", Tramps & Thieves - "The World Is Waiting", Hoppin' Haole Brothers - "Litterbox Beach", Hearts on Fire - "Hard on Your Man", Wye Oak - "Civilian", Ryan Miller - "Big Machine"

DVDizzy.com | DVD and Blu-ray Reviews | New and Upcoming DVD & Blu-ray Schedule | Upcoming Cover Art | Search This Site

DVDizzy.com Top Stories:


Reviewed October 21, 2012.



Text copyright 2012 DVDizzy.com. Images copyright 2012 FilmDistrict, Big Beach, and Sony Pictures Home Entertainment.
Unauthorized reproduction prohibited.