For millions of people, the prospect of journeying back to the Shire, Rivendell, and other locations with the director, screenwriters, and seven principal cast members of The Lord of the Rings films would have been plenty exciting in itself.

For Peter Jackson, though, getting just one movie out of the 300-page novel J.R.R. Tolkien wrote before penning his widely adored trilogy must have seemed anticlimactic. And so, the movie is not The Hobbit, but The Hobbit: An Unexpected Journey, the first installment in another epic trilogy scheduled to unfold annually.

To many, especially the cynical, it seems a bit preposterous for Jackson, having turned each of the 400-700 page Rings novels into roughly 3-hour films, to generate three more such films from the shorter and simpler children's book that came first. But, as the final chapters of Harry Potter and the Twilight Saga have proved, why make one movie when you can make two and double your profits? Jackson's only taking that philosophy one step further and as a filmmaker with a taste for long runtimes, he must relish the chance to appease Tolkien fans who want every page of the text translated to the big screen.

The effects of the decision to split the average-sized novel into three long movies are glaring. An Unexpected Journey is slow and, for long stretches, short on action. It has ample time to flesh out backstories, indulge in prolonged comedy sequences, and linger on the interesting faces of its large cast. Much of that cast is new. Ian McKellen prominently reprises the most beloved role of his career as the wizard Gandalf. Frodo (Elijah Wood) and the aged Bilbo Baggins (Ian Holm) appear in an inviting and suitable prologue. Saruman (Christopher Lee) and Galadriel (Cate Blanchett) are added to a scene between Gandalf and Elrond (Hugo Weaving), seemingly to enforce the idea of this as a prequel trilogy. And Andy Serkis (who makes his second unit directing debut) steps back once more into the motion capture suit to digitally portray the schizophrenic Gollum, who features at length in a late and arresting battle of riddles.
Those familiar faces are sure to feature prominently in the marketing, but the movie belongs to the young Bilbo Baggins (Martin Freeman) and the thirteen dwarves who crash his home one night for an unplanned feast. Gandalf has slyly marked Bilbo's door and thus the hairy, eccentric dwarves show up uninvited with few manners and considerable appetites. Gandalf and the gang wish for Bilbo to join them on an adventure, his tiny Hobbit dimensions making him, they insist, well-suited to being the burglar they need. The specifics of the quest matter more to the dwarves, and especially their brooding leader Thorin (Richard Armitage), than to the filmmakers. It essentially is another epic mission with an underqualified young hobbit at its center, this time the mild-mannered Bilbo who maintained a peripheral and avuncular presence in the Rings trilogy.
It's clearly a stretch for The Hobbit to fit the epic mold that Jackson and New Line Cinema have nearly three billion reasons to believe that moviegoers want. Almost a full decade has passed since The Return of the King concluded the trilogy to record returns and a staggering eleven Academy Award wins. That time has done nothing to change the public and critical perception of those three films as instant masterpieces. A couple of Christopher Nolan thrillers have bumped them down some notches, but all three Rings movies currently still rank among IMDb's Top 20 by average user rating.
The original three Star Wars episodes stood as the most obvious comparison for Jackson's trilogy, whose classic literary origins helped them be taken more seriously. That makes it tempting to draw parallels between this Hobbit trilogy and George Lucas' millennial Star Wars prequels. Not as much time has passed, but you still find a director who has somewhat struggled outside of his signature franchise returning to the well with a lighter, more family-friendly tale.
An Unexpected Journey avoided The Phantom Menace-type maligning, with Jackson having a beloved novel to help meet expectations not nearly as tall. In the ten years since Rings,

cynicism seems to have grown exponentially, especially online, where fans and haters from all over the world congregate to determine the worth of a film, and certainly a big budget 4,000-theater holiday season fantasy film. Not exactly loved by critics, Unexpected at least did not strike out with the public to the extent of many highly-anticipated films (e.g. Prometheus and many reboots). Prior to opening anywhere, the film earned a 9.0 IMDb rating from over 11,000 hopeful users. Like most, that rating has come down, its current 8.2 in a different league than the previous trilogy, but still good enough to easily crack the Top 250 and best all but a handful of last year's films (including The Dark Knight Rises, Django Unchained, and The Avengers).

I quite liked Fellowship of the Ring in theaters, but with no prior knowledge or appreciation of the books, I came to be underwhelmed by that franchise, finding disconnect between my moderate enjoyment and the near-unanimous praise they received. I could only take so many battles between good and evil before wishing there was more to the series. I do not dislike the films. I've just found it incredibly easy not to care about them. I know they're there and that many people love them, but I've found other modern fantasy film franchises much more investable.

As such, I appreciate that Hobbit differs from Rings. The similarities between the two series are countless and once again, you're dealing with a large, oft-endangered cast with funny names and appearances treading from one vast site to another while being pursued by an assortment of deadly beasts. But even with composer Howard Shore mostly recycling his memorable themes, it isn't enough to spark a bothersome case of déjà vu or to introduce insurmountable tedium in the first three hours. There are two more long movies for that.

An Unexpected Journey is somewhat slight and quite drawn out. A largely meaningless prologue runs for 9 minutes. It takes nearly 40 to simply establish the premise. Things don't really start to click until somewhere around the two-hour mark. For nearly two hours, we get a few diverting moments and a lot that feel inessential: singing, banter, comedy bits, invented links to the Rings trilogy. Jackson's blatant aversion to tautly-edited storytelling shows obvious passion for the material, but the cumbersome approach makes it tough to share that passion.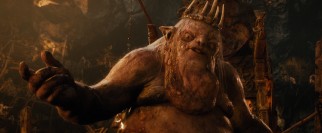 Probably the best thing about the film is that Martin Freeman makes for a funny and likable leading man. That is no surprise over a decade after the UK version of "The Office" made him known and seven years after The Hitchhiker's Guide to the Galaxy gave him his last really big movie role. Freeman injects Bilbo with more than just fear, which already distinguishes him from Frodo and ups the stakes here. One hopes this series leads to more of a career than Rings gave the less charismatic Elijah Wood.
Home video technology cannot yet reproduce the 48 frames per second rate in which Jackson chose to shoot the film and exhibit it in sufficiently equipped theaters. The plain old standard 24 frames per second suits the film much better, allowing it to shed the oddly bright, occasionally jerky BBC miniseries look that plagued it in the High Frame Rate 3D presentations. Only in a few brief shots did I see anything resembling the decidedly uncinematic designs of my HFR screening.
Despite the premium prices of 3D and nearly a decade of inflation, An Unexpected Journey still grossed less than each of the Rings films did domestically. This trilogy-launching installment crept past the $300 million mark in late February, 67 days into its North America run. It has added just $2 M to that milestone, but strong international performances helped this become the fifteenth film to join the $1 billion worldwide gross club. While wrapping up its release in second, Unexpected hits home video in a 2-disc Special Edition DVD, a 3-disc Blu-ray combo pack, and a 4-disc Blu-ray 3D combo pack. Warner sent the middle of those three sets for review.
Watch clips from The Hobbit: An Unexpected Journey:

Blu-ray & DVD Details

2.40:1 Widescreen (DVD Anamorphic)
Blu-ray: 7.1 DTS-HD MA (English), Dolby Digital 5.1 (French, Spanish, Portuguese)
DVD: Dolby Digital 5.1 (English); Both: Dolby Digital 5.1 (French, Spanish)
Subtitles: English for Hearing Impaired, French, Spanish; Blu-ray only: Portuguese
Not Closed Captioned; Extras Subtitled
Release Date: March 19, 2013 / Suggested Retail Price: $35.99
Three single-sided discs (1 BD-50, 1 BD-25 & 1 DVD-9)
Blue Keepcase with Embossed Cardboard Slipcover
Also available as Two-Disc Special Edition DVD ($28.98 SRP), Blu-ray 3D + Blu-ray + DVD ($44.95 SRP), on Amazon Instant Video
VIDEO and AUDIO
With the drawbacks of 48 fps a non-issue here, The Hobbit: An Unexpected Journey boasts perfect picture and terrific sound on Blu-ray. The former is in the 2.40:1 aspect ratio, while the latter is encoded in 7.1 DTS-HD master audio. Each of the two senses is treated to dynamic benchmark quality here, leaving nothing to be desired.
BONUS FEATURES, MENUS, PACKAGING and DESIGN

On Blu-ray and DVD, the nearly 3-hour film gets an entire dual-layered disc to itself for optimal presentation. With no feature playback enhancements offered, all extras are therefore found on a bonus disc, which presents them in HD.

Despite a disc count Warner now reserves only for their biggest new films, Unexpected does not have an overwhelming number of bonus features, especially for those who have anticipated the film's release online and long in advance.

First up comes the short "New Zealand: Home of Middle-Earth" (6:35), which discusses the scenic locations that again lent themselves to visualizing Tolkien's writings.

Next, there are ten video blogs (2:07:07) spanning from the start of production in April 2011 to the film's Wellington world premiere in December 2012. While it's nice to have these released to disc in HD, fans interested in them have probably already seen them all. Naturally, it is good but casual behind-the-scenes content, including set tours, rehearsals, cast and crew interviews, training, B-roll, and looks at the various technical departments' work. Highlights include a playful bit at the UK's Pinewood Studios, set visits from John Rhys-Davies and Orlando Bloom, a piece on 3D, HFR and 5K camera technology, wistful Elijah Wood reflections, and a cast trailer tour and red carpet excitement.
Six Unexpected Journey theatrical trailers (16:16) are preserved with Dolby Digital 5.1 sound. They're all fairly standard epic previews (and therefore, though appreciated, won't be very striking until movie marketing changes), although I remain amused that the marketing department saw the dwarves singing as the central image of the first trailer.

We also get short trailers (2:05) for each of the following video games The Hobbit: Kingdoms of Middle-Earth, Guardians of Middle-Earth, and Lego The Lord of the Rings

The combo pack's third disc appropriately appears to be simply the first disc of the film's Two-Disc Special Edition DVD, which though void of extras, is still filled close to DVD-9 capacity.

The Hobbit is one of the few movies big enough to get Warner to budge from their simple poster art recycling menu model for all but the bonus Blu-ray. The Blu-ray and DVD loop a short montage set to the dwarves' song. The DVD's secondary screens even use maps for backdrops, rather than the studio's recent preferred gradient. The Blu-ray does not support bookmarks, but the movie disc does kindly resume unfinished playback.

The three plainly-labeled discs share a standard-sized Blu-ray case with swinging tray. It is topped by an embossed slipcover and fitted with an insert supplying your unique UltraViolet code, which you'll also need to access the exclusive live Peter Jackson-hosted worldwide sneak peek of The Hobbit: The Desolation of Smaug occurring online next Sunday afternoon, March 24th, an event also deemed worthy of a slipcover sticker.
CLOSING THOUGHTS

Far from unexpected, the first entry to Peter Jackson's needlessly elongated Hobbit franchise overcomes a shaky start to end up reasonably sound and always watchable entertainment. You can't help but feel that the film suffers on account of the director's trademark resistance to leanness

and on these expansive plans to live up to the Lord of the Rings series. Still, the foundation is sturdy enough and the technical side competent enough to make this a pretty painless journey.

Warner's Blu-ray provides a technical feast and a nice supply of bonus features. Obviously, the Rings films lead us to strongly suspect that we'll soon get more substantial editions, wielding extended cuts, multiple audio commentaries, enhanced playback modes, and even more making-of extras. In fact, it'd be pretty surprising not to get a more comprehensive edition in time for Desolation of Smaug's December theatrical opening. That premium edition may be a better value, but this will suffice for the typical viewer, the film already long enough and its company adequately insightful. While the film may not be a journey you are itching to take again and again, this is nonetheless a combo pack that's tempting to own.

Support this site when you buy The Hobbit: An Unexpected Journey now from Amazon.com:
Blu-ray + DVD • 2-Disc DVD • Blu-ray 3D + Blu-ray + DVD • Instant Video