DVDizzy.com | DVD and Blu-ray Reviews | New and Upcoming DVD & Blu-ray Schedule | Upcoming Cover Art | Search This Site
Think Like a Man Blu-ray Review
Think Like a Man

Theatrical Release: April 20, 2012 / Running Time: 122 Minutes / Rating: PG-13 / Songs List

Director: Tim Story / Writers: Keith Merryman, David A. Newman (screenplay); Steve Harvey (book Act Like a Lady, Think Like a Man)

Cast: Michael Ealy (Dominic), Jerry Ferrara (Jeremy Kern), Meagan Good (Mya), Regina Hall (Candace Hall), Kevin Hart (Cedric), Taraji P. Henson (Lauren Harris), Terrence J (Michael Hanover/Atwater), Jenifer Lewis (Loretta), Romany Malco (Zeke Freeman), Gary Owen (Bennett), Gabrielle Union (Kristen), La La Anthony (Sonia), Chris Brown (Alex), Wendy Williams (Gail), Sherri Shepherd (Vicki), Caleel Harris (Duke Hall), Arielle Kebbel (Gina), Steve Harvey (Himself), J. Anthony Brown (Deacon Johnson), Tommy Miles (Dominique), Sharon Brathwaite-Sanders (Nija), Angela Gibbs (Candace's Mom), Tony Rock (Xavier), J.B. Smoove (Bartender), Morris Chestnut (James Merrill - uncredited) / As Themselves: Ron Artest, Matt Barnes, Shannon Brown, Rasual Butler, Darren Collison, Lisa Leslie
Buy Think Like a Man from Amazon.com: Blu-ray • DVD / The Book by Steve Harvey
Best known for starring in millennial sitcom "The Steve Harvey Show", Steve Harvey has now twice tasted feature film success in unconventional ways. Harvey's first theatrical triumph came as the top-billed act of the 2000 Spike Lee-directed stand-up documentary The Original Kings of Comedy. Then, this spring, after twelve years of sporadic supporting roles in such films as You Got Served and Johnson Family Vacation,

Harvey saw his best-selling self-help book Act Like a Lady, Think Like a Man become a substantial box office hit just prior to the start of the summer movie season.

Harvey is an executive producer and he plays himself in talk show interviews sprinkled throughout, but Think Like a Man belongs to others as well, including Friends with Benefits writers Keith Merryman and David A. Newman, Barbershop director Tim Story, and a large, talented ensemble cast composed primarily of African-American actors.

Think Like a Man makes the unusual choice to feature its source text as a plot device and essentially a lead character. Harvey's relationship advice, candidly sharing the male perspective with a female audience, catches the attentions of a number of attractive single black women, each of whom finds a different part of the book applicable to her current love life.
Tired of insignificant one-night stands with nobodies, Mya (Meagan Good) challenges herself to withstand ninety days of abstinence, which Harvey has modeled after the Ford Motor Company's 90-day probation period preceding employee benefits. Mya's decision to keep her "cookie" in the "cookie jar" has ramifications for smooth-talking player Zeke (Romany Malco), who pursues her.
Meanwhile, Michael (BET host Terrence J) starts dating single mother Candace (Regina Hall) and their relationship is good until she discovers that he's a Mama's boy who makes perhaps a bit much time for his affectionate mother (Jenifer Lewis).
Successful career woman Lauren (The Curious Case of Benjamin Button's Taraji P. Henson), the youngest COO of a Fortune 500 company, thinks her high standards are met by Dominic (Michael Ealy), but he's less a rising chef and more a newly-unemployed valet driver with dreams.
The oldest of the film's focal relationships finds Kristen (Gabrielle Union) turning her commitment-phobic long-term beau Jeremy (Jerry Ferrara, "Entourage") from a boy to a man by redecorating their pad and encouraging him to find a more substantial job.
Rounding out the ensemble is Cedric (Kevin Hart), a fast-talking, free-loading new divorcι who, to everyone's amusement, is a little too determined to get over his ex-wife.
Turning a self-help book into a narrative comedy film is no easy task.

The margin of error can be huge, as evidenced by He's Just Not That Into You and even just the horrifying trailers for What to Expect When You're Expecting. Merryman and Newman, however, treat Harvey's guide not as gospel truth but as a springboard for relationship exploration and one that seems to yield more problems than solutions. And really, what makes Steve Harvey a dating expert: taking listener calls on a nationally syndicated radio show?

Merryman and Newman's script has enough wit to fuel the cast's creative juices and director Story, picking up his first theatrical credit since helming the two Fantastic Four movies, clearly has the sense to let actors like Hart and Malco improvise as they see fit. The good-natured comedy makes the potentially treacly self-betterment material a lot easier to take. The personnel here doesn't run the wild gamut from broad comedy to teary sentimentality that is favored by Tyler Perry, whose work is the subject of two amusing jokes.

The film does a good job of establishing characters efficiently, which is important when juggling a cast of this size. It opens with some prehistoric animation, while narration by Hart introduces the different types of men and establishes the light, playful tone that will feature throughout. Like every romantic comedy, Think is predictable, but it nonetheless stays diverting, no couple or plot line dragging down the others. Even the casting of Chris Brown is almost forgivable, based on his sparse usage and appropriate dirtbag role.

Recent years have reinforced that there is a ceiling to how much films with predominantly black casts can earn, with most grossing close to $40 million, no matter how much or little star power they wield. The one exception has been Tyler Perry, whose more comedic films have passed the $50 million mark and even rose as high as $90 M with his drag act Madea in a title role. Well, Think Like a Man has not only shattered its perceived limits, but it's also bested all thirteen of Perry's films at the box office with its potent off-season domestic total of $91.5 M. A sequel is already being developed by Merryman and Newman.

Four months since opening at #1, Think Like a Man hits DVD and Blu-ray on Tuesday from Sony Pictures Home Entertainment. Watch clips from Think Like a Man: "I'm ready for the tour" • New couch • "Chirp chirp girl
Blu-ray Disc Details

2.39:1 Widescreen
5.1 DTS-HD MA (English), Dolby Digital 5.1 (French, Spanish, Thai, Descriptive Video Service)
Subtitles: English, English SDH, Chinese, French, Indonesian, Korean, Spanish, Thai
Not Closed Captioned; Extras Subtitled in English, Chinese, Korean, Spanish, and Thai
Release Date: August 28, 2012
Suggested Retail Price: $35.99
Single-sided, dual-layered disc (BD-50)
Blue Keepcase with Side Snap
Also available on DVD ($30.99 SRP))
VIDEO and AUDIO
Sony discs usually feature killer presentations and this film's modest $12 million budget doesn't result in a Blu-ray less than perfect. The 2.39:1 picture is always clean, clear, sharp, and vibrant. The 5.1 DTS-HD master audio is also up to the task, giving dialogue clarity and weight in addition to distributing a lot of music without drowning out the other elements.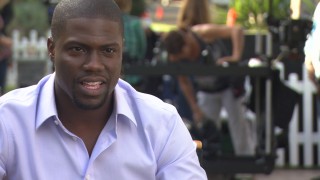 BONUS FEATURES, MENUS, PACKAGING and DESIGN
The Blu-ray's average, all-HD supply of extras begins with six short deleted scenes (6:32). They include brief moments between the couples, another 'he said, she said' crosscut, and a J.B. Smoove bartending rant. None of them are essential, especially for a comedy that already runs two hours.
A gag reel (5:38) preserves Kevin Hart and J.B. Smoove improvisations along with the usual goofs and giggles.
The remaining four featurettes are exclusive to Blu-ray.
"The Guy Code" (6:41) discusses Steve Harvey's book, with cast and crew commenting on both its secret-spilling content and warm reception.
"Men vs. Women" (11:28) looks at the film's characters, spending a couple of minutes on each lead actor and their role.
"He Said, She Said" (5:20) allows cast members to weigh in on the differences in relationship advice given by the sexes.

"Comedy Behind the Scenes" (6:49) shows us some

of the fun had on set with actors talking about themselves and one another with plenty of sarcasm and distraction.

The disc opens with a Sony Entertainment Network ad followed by trailers for The Amazing Spider-Man, Sparkle, and The Words. The trailers are also available from a Previews menu along with ones for Men in Black 3 and Looper. Think Like a Man's own trailer is not included.

The menu displays clips, stills, and poster pages amidst a rotation of blue and white rectangles. Being a Sony BD, this kindly resumes playback and supports bookmarks.

Two inserts are housed within the side-snapped keepcase, which uses its translucency to display numerous other cast photos: a unique code for redeeming an UltraViolet stream of the film and a booklet that will net you Sony Movie Rewards credit and five free song downloads from Sony Music Pass.
CLOSING THOUGHTS
A two-hour ensemble romantic comedy adapted from a self-help book by Steve Harvey sounds like the worst movie ever, but Think Like a Man manages to be fairly painless and fun. While it doesn't offer anything new on the never-ending battle of the sexes, the characters, arcs, and jokes hold your attention and keep you entertained enough.
Most will consider this at most a one-time viewing, but Sony's Blu-ray should please anyone wanting to go back for seconds, with its first-rate presentation, okay 40 minutes of extras, and UltraViolet access.
Buy Think Like a Man from Amazon.com: Blu-ray / DVD / The Book by Steve Harvey


Related Reviews:
New: Freelancers • Friends with Kids • Let It Shine • Pocahontas • The Royal Tenenbaums
He's Just Not That Into You • Why Did I Get Married Too • New York, I Love You • Crazy, Stupid, Love. • Hall Pass
Meagan Good: Jumping the Broom | Regina Hall & Kevin Hart: Death at a Funeral (2010)
Michael Ealy: For Colored Girls • Margaret | Gabrielle Union: FlashForward: The Complete Series • 10 Things I Hate About You
Taraji P. Henson: The Curious Case of Benjamin Button • The Karate Kid (2010) | Romany Malco: Blades of Glory • The Love Guru
Directed by Tim Story: Fantastic Four • Fantastic Four: Rise of the Silver Surfer
Think Like a Man Songs List: James Brown - "It's a Man's Man's Man's World", Christopher Lennertz - "It's a Man's Man's Man's World", "Horizons", Jennifer Hudson and Ne-Yo - "Think Like a Man", "You Dropped a Bomb on Me", Destiny's Child - "Survivor", "Heartbreak", "Just for You", Al Green - "I Can't Get Next to You", Gloria Estefan - "Conga", Ciara - "How We Do It", John Legend - "Tonight (Best You've Ever Had)", Earth, Wind & Fire - "Sing a Song", Earth, Wind & Fire - "That's the Way of the World", Faze-O - "Ridin' High", Jodeci - "Cry for You", Pop Wansel - "What Did I Miss", Ne-Yo - "Sexy Love", Sebastian - "Love in Motion", Sebastian featuring Mayer Hawthorne - "Love in Motion", Marcus Miller - "Rooftop Love", Ne-Yo - "Slow Down", "Options", S.o.u.n.d.Z. - "That Booty", Jennifer O'Connor - "You Come Around", Luther Vandross - "Never Too Much", Barry White - "Never Gonna Give You Up", Marcus Miller - "TW Jazz", Bruno Mars - "Talking to the Moon", Theophilus London - "I Stand Alone", Gary Clark, Jr. - "Bright Lights", Johnta Austin and Harmony "H Money" Samuels - "We're Not Gonna Make It", "Jack and Ali", Anthony Hamilton - "Woo", Marcus Miller - "Reverie", Little Dragon - "Ritual Union"

Buy Think Like a Man: Music From & Inspired by the Film from Amazon.com: Soundtrack CD • MP3 Download
DVDizzy.com | DVD and Blu-ray Reviews | New and Upcoming DVD & Blu-ray Schedule | Upcoming Cover Art | Search This Site
Search This Site:
DVDizzy.com Top Stories:
Reviewed August 24, 2012.


Text copyright 2012 DVDizzy.com. Images copyright 2012 Screen Gems, Rainforest Films, and Sony Pictures Home Entertainment.
Unauthorized reproduction prohibited.