Dark Shadows is the eighth film on which Johnny Depp and director Tim Burton have collaborated. It feels like there have been more than that, perhaps because Burton has only directed fifteen films overall and the last five have each cast Depp in a leading role. Dark Shadows has the unmistakable look of a Depp/Burton film with its macabre atmosphere and emphasis on production design.

One easily-missed odd trait of this movie is that it adapts the 1966-1971 ABC gothic soap opera of the same name. While that is a most unusual origin, Burton and his writers aren't too concerned with staying true to and honoring the source material. They're more interested in having a good time with a mix of comedy and horror meant to play to the masses.

An 18th century prologue follows young Barnabas Collins and his family to Maine, where they prosper in the fishing town that comes to take its name, Collinsport, from them. As a young man living in the mansion Collinwood, Barnabas (Depp) picks the wrong maid to spurn in Angelique (Eva Green), a witch who coordinates the death of his love and turns Barnabas into a vampire to suffer for all eternity. After spending nearly two hundred years of that eternity chained up in a coffin and buried deep in the ground, Barnabas is unearthed by a construction crew in the fall of 1972.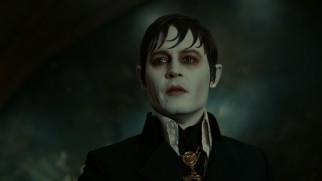 He finds Collinwood to be a mere dusty shadow of itself, housing just a few dysfunctional descendants,

including matriarch Elizabeth (Michelle Pfeiffer, reuniting with Burton twenty years after Batman Returns), her angsty teenage daughter Carolyn (Chloλ Grace Moretz), challenging young nephew David (Gulliver McGrath), and his widowed screw-up father Roger (Jonny Lee Miller). Also calling the mansion home are David's psychiatrist Dr. Hoffman (Helena Bonham Carter), a drunk caretaker (Jackie Earle Haley), and newly-hired governess Victoria Winters (Bella Heathcote), to whom Barnabas is drawn for her striking resemblance to his lost love.

The family's status and luster have faded, its fishing empire reduced to a struggling canning factory while its chief competitor, Angelbay, flourishes. Angelbay is run by Angie Bouchard, the same woman who cursed Barnabas in the late 1700s and hasn't aged a day since. She still burns for him, even in vampire form, while the many decades spent confined in captivity have heightened his disdain for her.

Burton leans more heavily on humor than horror here, playing the film's premise for all its comic worth. Barnabas is a classic fish out of water, unfamiliar with headlights, the golden arches of McDonald's, television, and The Carpenters. Dark Shadows is very much both an ode to and send-up of the 1970s, although the era is run through Burton's gothic filter, tinting it an always overcast gray. The period's music, from T. Rex to Barry White (a slight cheat) to Donovan, features prominently and Alice Cooper shows up to play himself forty years ago. That all adds some unexpected but not unwelcome flavor to the Addams Family-style hijinks you anticipate, while establishing this as less an homage and more of a spoof of the ABC soap opera.

As Land of the Lost proved, that approach can ruffle fans' feathers, but though regarded as a cult favorite and twice tapped for primetime revival (a 12-episode NBC run in 1991, a 2004 pilot on WB), the original "Dark Shadows", with its 1,225-episode run of daily broadcasts, seems pretty obscure to anyone not old enough to remember watching television in 1971. Those 45 and up and those who have taken to the show on video or DVD may well object to Burton's comic treatment of it, but this is hardly the first time he's trampled on ground considered sacred.
When adjusted for inflation, the film's $80 million domestic gross puts it at the shallow end of Burton's filmography and certainly beneath Warner's hopes for a $150 M-budgeted summer season release (foreign markets responded much more strongly with a gross of $159 M and very much still counting). And yet, in entertainment value, this seems a step up from some of the director's recent efforts and from some of Depp's work for others.
Depp's antihero is appealing and different; though he relies on a single joke of temporal relocation, it's a good one, which repeatedly yields amusement out of the cultural and lingual distance. The 1970s Collinses are well cast, allowing their personalities to instantly be known and appreciated. The film is not without some missteps: there is a Barnabas-Angelique sex scene clumsily played for laughs and the actiony climax is a little bit of a mess. But it remains coherent and not overdone, two qualities you expect to be out of reach nowadays for such a big, suitably-themed Burton project. It may help some that the director resists the urge to cast his partner and muse Bonham Carter as leading lady; with her slightly wild look, Green is a good fit for Angelique and her chemistry with Depp prevents this from feeling like just another Tim Burton movie.
Well in time for the Halloween season, Dark Shadows hits home video on Tuesday in Warner's standard offerings of a single-disc DVD, single-disc Blu-ray, and two-disc Blu-ray + DVD, all three of which arrive with UltraViolet streams.
Watch clips from Dark Shadows:

Blu-ray & DVD Details

1.78:1 Widescreen (DVD Anamorphic)
Blu-ray: 5.1 DTS-HD MA (English), Dolby Digital 5.1 (French, Spanish, Portuguese)
DVD: Dolby Digital 5.1 (English, French, Spanish)
Subtitles: English SDH, French, Spanish; BD-only: Portuguese
Not Closed Captioned; Extras Subtitled
Release Date: October 2, 2012
Suggested Retail Price: $35.99
Two single-sided, dual-layered discs (BD-50 & DVD-9)
Blue Eco-Friendly Keepcase with Lenticular Cardboard Slipcover
Also available as standalone DVD ($28.98 SRP),
movie-only Blu-ray ($29.98 SRP), and Amazon Instant Video
VIDEO and AUDIO
Made by one of the few big directors still preferring a narrower frame, Dark Shadows is presented in 1.78:1, approximating the aspect ratio of its theatrical exhibitions. That allows it to utilize every one of Blu-ray's available pixels. The results are very good, displaying Burton's vision precisely with some grain, soft focus, deliberate lighting, and heavily stylized colors. The 5.1 DTS-HD master audio is also lively, dealing out a good deal of atmosphere and directional effects with good levels and perfect clarity.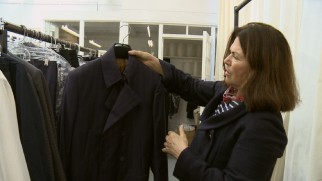 BONUS FEATURES, MENUS, PACKAGING and DESIGN

Dark Shadows is treated to Maximum Movie Mode, which enhances playback of the film with picture-in-picture interviews and behind-the-scenes footage. Unlike some other Warner Blu-rays equipped with this feature, this one does not extend the film's runtime (though optional detours can) or get hosted by someone involved with the production.

The interviews include the entire principal cast, Tim Burton, writer Seth-Grahame Smith, producers Richard D. Zanuck, David Kennedy, and Graham King, and an assortment of important crew members, including editor Chris Lebeznon, production designer Rick Heinrichs, costume designer Colleen Atwood, stunt coordinator Eunice Huthart, and composer Danny Elfman.

Occupying much but not all of the film's 113-minute runtime, this feature even embraces the TV series on which this is based, displaying clips and including remarks from the daughters of creator Dan Curtis and original cast members (who make cameos in the ball scene). Annoyingly, the alternated audio sources result in fluctuating volume levels. Still, it's illuminating content presented compellingly.

The mode's Focus Points, the sampled aforementioned detours, can also be viewed on their own. The nine shorts delve into a specific aspect of production.

"Becoming Barnabas" (5:23) covers developing the lead character, from Depp's performance to his look. "Welcome to Collinsport!" (4:26) celebrates the locations born out of the film's ambitious set design. "The Collinses: Every Family Has Its Demons" (6:49) examines the cast around Johnny Depp, taking a moment to explore each of their characters.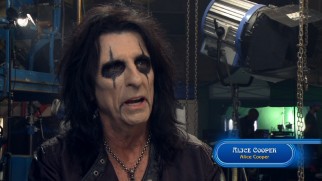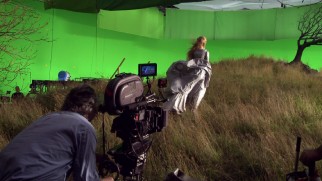 "Reliving a Decade" (4:54) considers the 1970s period setting with reflections on the era and thoughts on production design. "Angelique: A Witch Scorned" (2:58) focuses on the film's villain, with Eva Green and Depp commenting on their dynamic. "Alice Cooper Rocks Collinsport!" (2:25) discusses the singer's appearance in the film.
"Dark Shadowy Secrets" (3:53) addresses the film's visual effects, from green screen work to practical pyrotechnics. "A Melee of Monstrous Proportions" (3:59) breaks down the film's "battle royale" finale and the stunts it required. Finally, "Dark Shadows: The Legend Bites Back" (2:05) reflects on the project in general terms as a piece of horror, with input from cameo-making Christopher Lee.
Beyond that, we find just five short, interesting deleted scenes (5:39, HD). Each conversation connects characters who otherwise mostly don't share private moments onscreen.
Happily, the DVD is the same one sold on its own. Unhappily, it includes just a single one of the Blu-ray's extras. Randomly, that one is the longest focus point "The Collinses: Every Family Has Its Demons" (6:49). I'm sure the typical DVD viewer would have rather gotten deleted scenes than this featurette, but then I'm sure they'd have rather gotten the deleted scenes and all the focus points, as the vastly under capacity DVD no doubt could have allowed.

Warner and other studios continue to treat the still handily preferred home video format as a second-class product, a fact that the public has got to notice and dislike.

It's too bad that Warner couldn't have licensed a complete episode of ABC's "Dark Shadows", perhaps the one that introduced Barnabas Collins and made the show more popular. At least the show is easy to find on DVD from MPI (and not just in this $600 SRP 131-disc set) and its feature adaptations are coming soon to Blu-ray from Warner.

The Blu-ray opens with a Blu-ray 3D promo and a trailer for Thunderstruck. The DVD opens with a Blu-ray promo, trailers for The Great Gatsby (which doesn't reflect its delay to next summer), Rock of Ages, Thunderstruck, The Dark Knight Rises, and an anti-smoking ad. Customary for Warner, Dark Shadows' own trailer is sadly absent from both discs here.

The basic menu plays a bit of Danny Elfman score over a poster design. The Blu-ray includes thumbnail images and runtimes for the Focus Points. The DVD's secondary menus are humorously devoid of background artwork, like some kind of homemade 1990s DVD-R. Though the Blu-ray does not support bookmarks, it does one better by resuming playback, but only if you were watching the movie and didn't finish.

The eco-friendly keepcase is topped by a lenticular-faced slipcover of the same cover artwork. Though it doesn't really do anything but convey depth, it looks nice. The lone insert supplies directions and your unique code for accessing the complimentary UltraViolet stream.
CLOSING THOUGHTS
While Tim Burton's movies are always worth a look, Dark Shadows is a little more fun than usual. Ironically one of the director's lighter films, this gothic comedy amuses consistently without quite adding up to something altogether satisfying. In the grand scheme of contemporary big budget cinema, though, it is more entertaining and stylish than many efforts.
Warner's Blu-ray combo pack offers a fine feature presentation, a solid Maximum Movie Mode with good focus points and a handful of deleted scenes on top. Add all that to the set's standard versatility, supplying the film in three formats, and a list price beneath most of the competition, and you wind up with a good value and an admirable release of this film.
Buy Dark Shadows from Amazon.com: Blu-ray + DVD / DVD / Movie-Only Blu-ray / Instant Video