One surefire way for me to care about a movie is to have Robert De Niro in the cast. De Niro hasn't starred in a great movie since Meet the Parents back in 2000. Since the volume of his output this century greatly exceeds that of last, nearly half of his filmography falls into a period that doesn't produce much more than apathy. Still, he gave us nearly thirty years of fine film acting before his legacy started to diminish and anyone who can claim that is guaranteed to have my attention for life. Though it is dwindling, I always hold some hope that De Niro's next film will be the one to restore his reputation for great projects and screen presence.
It's tough to pin many expectations on Red Lights, a thriller released in just eighteen North American theaters this summer. But it does boast a promising cast and hails from Rodrigo Cortés, the director of 2010's solid Hitchcockian claustrophobic flick Buried, so anything's possible.
As has often been the case of late, De Niro takes a supporting role here with an "and" credit. The foreground is occupied by a pair of professional skeptics. Dr. Margaret Matheson (Sigourney Weaver) and her assistant Dr. Thomas Buckley (Cillian Murphy) are devoting their lives to exposing the frauds who are posing as psychic mediums.

Wise to the tricks of the trade and to the easily overlooked explanations for so-called phenomena, Matheson and Buckley have uncovered charlatans again and again.

Matheson is especially devout in her non-believer status and she has been keeping her son on life support for years out of the assumption there's nothing beyond this world. She has yet to see a paranormal act that she cannot debunk with science and common sense.

De Niro plays Simon Silver, a famous blind psychic who went into retirement thirty years ago after his biggest detractor suspiciously dropped dead at a performance. Silver's return attracts nationwide interest and his shows sell out as quickly as he can schedule them. Silver has resisted subjecting his powers to scrutiny from scientific organizations and, holding personal bitterness against him, Matheson has avoided investigating him. The young Buckley, however, is determined to figure out the true nature of this celebrity personality and his impenetrable supposed gifts.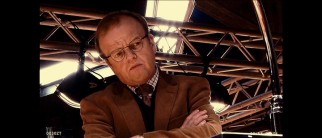 Red Lights takes the position opposite just about every other Hollywood film dealing with the paranormal. Thrillers are always trying to sell us on the supernatural and the unexplained. In contrast, this movie claims that it's all bogus and unsupported by close evaluation. That isn't the sturdiest foundation for unsettling the viewer, but Cortés' film looks to engage you intellectually instead of prescribing the standard treatment of jump scares and law-defying phenomena. By doing that, it lowers the probability and heightens the impact of something genuinely extraordinary, as it toys with the prospect of Silver being legitimately gifted.
There is a twist ending that is not easily foreseen and not easily processed, though it seems somewhat inspired. Unfortunately, the film is a little too dull to provoke much of any reaction. Its interesting ideas and original perspective place it above conventional paranormal horror, but it is so clinical and cynical that the viewer isn't likely to be more than reasonably engaged.
Not long after its limited theatrical run, Red Lights hits DVD and Blu-ray combo pack on October 2nd from Millennium Entertainment.
DVD Details

2.35:1 Anamorphic Widescreen
Dolby Digital 5.1 (English), Dolby Stereo 2.0 (English)
Subtitles: English for Hearing Impaired, Spanish
Closed Captioned; Spanish Extras Subtitled in English
Release Date: October 2, 2012
Single-sided, dual-layered disc (DVD-9)
Suggested Retail Price: $28.99
Black Keepcase in Book-Like Cardboard Slipcover
Also available on Blu-ray ($29.99 SRP) and Amazon Instant Video
VIDEO and AUDIO
Red Lights doesn't look all that great in the DVD's 2.35:1 anamorphic widescreen presentation. The picture is kind of murky and the dark, muted, often gray visuals don't boast much life or sharpness. Likewise, the Dolby Digital 5.1 soundtrack is serviceable, but unremarkable. The lackluster transfer may be hindered in part by the inclusion of digital copy on this very disc, taking away space that could have been allocated for the DVD's feature presentation.
BONUS FEATURES, MENUS, PACKAGING and DESIGN
The DVD includes a handful of standard extras, but no audio commentary or deleted scenes. The supplements suffer from routine independent movie making-of problems: inconsistent volume levels and misjudged title cards. At least they have been edited, albeit rather ungracefully.
"Cast Interviews" (11:38) gathers thoughts on the film, the characters, the director, production in Barcelona, and the paranormal from Sigourney Weaver, Cillian Murphy, Robert De Niro, and Elizabeth Olsen (who has a supporting role as a student/Murphy love interest).
"Director's Interview" (5:41) lets Rodrigo Cortés speak in English about his film, its themes, the characters and cast, and his preference for physical horror over supernatural, using Poltergeist as an example.
"Making of Red Lights" (10:41) shares production footage, select comments from Cortés and the cast from their previously discussed interviews, and a few remarks from Spanish crew members (which are translated in subtitles).

"Behind the Scenes" (1:58) offers B-roll clips from the filming of three scenes that show Cortés directing in two languages.

Finally, there is the aforementioned digital copy, which the disc itself and a dedicated menu page refer you on how to transfer. A file on the disc is the quickest and easiest way for customers to get a digital copy and this one doesn't even bother with a unique redemption code for unlocking it.

However, when the file is included on the same DVD holding the movie, the DVD presentation can suffer and seems to do so here. In fairness, though, this under 1 GB MP3 file means less than the multiple available gigabytes the disc doesn't bother to use.

The disc opens with trailers for The Babymakers, Intruders, and The Paperboy. The Previews menu supplies access to each of those, as well as the Red Lights theatrical trailer (2:29).

The main menu rearranges cover elements, using three rectangles to play clips.

The uncut Eco-Box keepcase is topped by a multi-textured cardboard slipcover whose front opens to reveal two pages of star photos and taglines. There is no insert, with the disc art itself directing you to a website to redeem the complimentary digital copy included with your purchase.
CLOSING THOUGHTS
Red Lights does nothing to reverse Robert De Niro's career spiral and also sets back writer/director Rodrigo Cortés after the good marks that Buried earned him. Still, it's an okay thriller that at least takes a different approach to the supernatural element that pervades genre films.
With its standard extras and unspectacular feature presentation, Millennium's DVD is slightly less average than the film it holds. Only a strong appreciation for the cast or the paranormal will make it worth your while to check this out.
Buy Red Lights from Amazon.com: DVD + Digital Copy / Blu-ray / Instant Video