In 1911, after years of sporadic work and underemployment, pencil sharpener wholesaler Edgar Rice Burroughs tried his hand at fiction. His first effort, a pulp story titled Under the Moons of Mars, was serialized the following year in All-Story Magazine. Before 1912 was finished, Burroughs had given All-Story another work called Tarzan of the Apes.

Each of these tales would soon be published in novel form and inspire one of the most popular literary series of their time.

Everyone knows of Tarzan, if not from Burroughs' 24 stories, then from the countless movies, television series, and comic strips born out of them. The other series, identified by their common setting of Barsoom (Burroughs' name for Mars), has grown less familiar with time. The 11-volume franchise concluded in the early 1940s and has hardly existed since, aside from a short-lived newspaper strip and the occasional comic book. While those in the know have credited Burroughs' Barsoom adventures as seminal science fiction that has influenced everything from Flash Gordon and Buck Rogers to Star Wars and Avatar, the film world had never been able to make a straight adaptation take flight.

Looney Tunes director Bob Clampett tried first, getting Burroughs' permission to write an original animated film in the 1930s. Clampett put together test footage employing rotoscope of an athlete's motions, but negative reactions from film exhibitors caused MGM to scrap the project, allowing Walt Disney's Snow White and the Seven Dwarfs to instead become America's first animated feature. Walt's namesake studio acquired the series' film rights in the late-1980s, seeing blockbuster potential in the material as a Tom Cruise vehicle. It didn't happen and the rights expired.

In the early 2000s, Paramount and Columbia Pictures entered into a bidding war for those rights, with Paramount winning. In 2004, Robert Rodriguez signed on to the project as director, intending to shoot on an all-digital stage as he had done for Sin City. The crediting issue on Sin City that led Rodriguez to resign from the Directors Guild of America also required Paramount to find a new guild director. The job bounced to Sky Captain and the World of Tomorrow's Kerry Conran and then to Jon Favreau, who wished to stay faithful to the text and rely primarily on practical effects. More interested in a Star Trek reboot, Paramount let the rights expire in 2006, with Favreau moving on to helm Iron Man.

Back at Disney, a key member of the brain trust at the recently-acquired Pixar Animation Studios expressed interest in making the movie. Andrew Stanton, a writer on Pixar's first five hit films, the director of the biggest of those hits (Finding Nemo) and a Burroughs fan from childhood, successfully pitched the project at Disney, which would become his live-action directing debut. Although prior to 2003, the Disney brand had been limited to family films rated G and PG, the hugely profitable Pirates of the Caribbean series had opened the studio's eyes both to PG-13 fare and tentpole live-action filmmaking. After seventy years of giving studios pause, John Carter of Mars would finally become a reality with a massive production budget of $250 million.
Adapted from Burroughs' first Barsoom book (A Princess of Mars), John Carter (as the film would ultimately be called) opens with narration shattering our misconceptions about Mars. To its inhabitants, who are numerous, the red planet is called Barsoom. We are to head there shortly, but first in 1881 New York, a young man named Edgar Rice Burroughs (Daryl Sabara) receives a telegram to meet with a lawyer. Edgar is to single-handedly inherit the rich estate of his uncle John Carter, who has died suddenly and prematurely. Much comes from that unexpected bequeathal, but what immediately leaps out is Carter's hand-written memoir addressed to Edgar.
Those writings take us back to the Arizona territory in 1868. Virginian John Carter (Taylor Kitsch) was a decorated captain of the Confederate Army. Now, he is something of a joke, consumed with finding a cave fabled to be full of gold. Hired by the Calvary to be an Apache interpreter, a position he wholeheartedly resists, Carter winds up taking shelter and spotting the legendary cave. Inside, he encounters a man with a glowing object in his hand and before we know it, our protagonist has been whisked away to Earth's neighbor.
In Barsoom, the laws of gravity hold a looser grip on Carter, as he is able to leap dozens of feet high and easily throw rocks very far. The scruffy soldier encounters and catches the attention of a tall, green, four-armed alien race known as the Tharks. Their Jeddak (leader) Tars Tarkas (voiced and mocap-performed by Willem Dafoe) takes special notice of their prisoner, who is unlike any other race known on Barsoom and could be of value in the destructive, ongoing war between two of the planet's cities.
Carter gets swept up in that war alongside Dejah Thoris (Lynn Collins), the red humanoid princess of Helium who is being forced into a political marriage as a potential end to the thousand-year war. Love, peril, and scientific discovery ensue.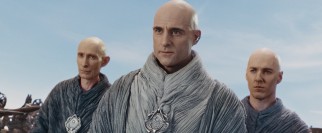 By far the most talked about aspect of John Carter has been its disastrous box office performance. If we can set that aside for a moment and pretend we don't have hindsight, it is still incredibly easy to understand why studios and executives were hesitant to film this series. Filled with characters and place names that are an obstacle to every tongue, this is a dense, complex story that is more likely to leave your head dizzy than your senses dazzled. Then again, couldn't one easily say the same thing about the highest-grossing film of all time, James Cameron's Avatar? On the page, names like Neytiri and Tsu'tey and the Na'vi alien race complete with its own language had to seem counter to commercial instincts. And yet Cameron, whose storytelling has always been visceral and easy to digest, unearthed the world's first $2 billion-grossing film. Undoubtedly, that success, earned with a massive budget of $237 million, laid a template for Carter to follow.

Unfortunately, though Stanton seemed as deserving of rampant studio confidence as virtually any modern filmmaker, John Carter does not provide the exhilarating experience its costs and the books' modest but still passionate fanbase suggested it should. The film is well-made, but very tough to warm to. The many elements required of any huge spectacle production of this size -- action, characters, romance, conflict, visuals, humor, and design -- all leave something to be desired.

There definitely is some substance and intrigue to the plot and thought to the execution, but the film just can't seem to make it all come to life in meaningful ways.

As WALL•E made clear, Stanton has terrific visual acumen. Atmosphere ranks highly among this film's greatest strengths. And yet for production costs that only three films have ever officially exceeded, some of the visual effects seem lacking. Most are plenty impressive, but when you're talking about a quarter of a billion dollars, and $13 M more than Avatar, you expect pure, perfect brilliance all of the time. The vast Utah vistas that comprise Barsoom somewhat impress more than the various digital creations that inhabit it. Certainly, there is nary a sequence that takes your breath away, something that should be a given considering the legacy and expense. Then again, the two most recent times that more than $200 M was spent on a live-action Disney film, the results were equally underwhelming (Pirates of the Caribbean: At World's End and The Chronicles of Narnia: Prince Caspian).
Maybe it's unfair to demand magic of a film whose budget is comparable to the gross domestic product of the Federated States of Micronesia, but if you're spending that much, you've really got to deliver something special to expect to earn it all back and more. Being reasonably diverting, as John Carter is, simply does not cut it. Reasonably diverting does not contribute to all those ancillary markets that are of interest to studios on tentpole releases: the merchandise and brand presence. An okay time does not produce zealous fandom or real sequel demand. The source of John Carter may have inspired some of the biggest properties in cinema history in the marketing-cited Star Wars and Avatar, but this filming doesn't deliver the same thrills. Even if the scenery and story were more compelling, the lack of charisma, personality, and humanity would keep this from reaching the same heights.
Little remains to be said about the film's flopping. Grossing a pitiful $72.7 M domestically and $282.4 M worldwide, John Carter was attributed with a loss of $200 million by Disney. Though the company's stock price has been on a steady incline, as studio entertainment represents a small slice of the corporation's activity, the anemic showing did seem to cost Rich Ross his position as studio chief, following a short and remarkably uneventful tenure. It is now easy to see John Carter as a costly gamble, one whose underperformance was foreshadowed in the slightly smaller failings of 2010's slightly less expensive but thematically kindred Prince of Persia: The Sands of Time. John Carter's underperformance was nothing compared to the film Disney released a year earlier; Mars Needs Moms (whose epic shortcomings supposedly played a part in Carter's title losing the "of Mars") grossed just $39 M on a $150 M budget. But people could hardly care enough about that (incidentally, perfectly adequate) film to relish its losses. Carter has some high-profile targets to place blame on. Most obvious among them: Stanton, who will almost certainly return to Pixar humbled, and Kitsch, whose big screen leading man opportunities are sure to dry up after this and the mega bomb Battleship.
Employing the same timing they used on their last hit March theatrical release (2010's billion-dollar-grossing Alice in Wonderland), Disney brought John Carter to home video this week, just three months after it opened in theaters. It is available as a single-disc DVD, the two-disc Blu-ray + DVD we review here, and a four-disc Blu-ray 3D + Blu-ray + DVD + Digital Copy combo pack.
Watch a scene from John Carter:

Blu-ray & DVD Details

2.40:1 Widescreen (DVD Anamorphic)
Blu-ray: 7.1 DTS-HD MA (English), Dolby Digital 5.1 (French, Spanish)
DVD: Dolby Digital 5.1 (English, French, Spanish)
Subtitles: English for Hearing Impaired, French, Spanish
Extras Subtitled; DVD Movie and Extras Closed Captioned
Release Date: June 5, 2012
Suggested Retail Price: $39.99
Two single-sided discs (BD-50 & DVD-9)
Blue Keepcase with Side Snap in Embossed Holographic Cardboard Slipcover
Also available as standalone DVD ($29.99 SRP), Blu-ray 3D Combo ($49.99 SRP), and Amazon Instant Video
VIDEO and AUDIO
Despite its shortcomings, John Carter is pretty flawless from a purely technical point of view. The Blu-ray's 2.40:1 transfer shows off the benefits of 1080p with its sharp, vibrant, and stunning imagery. The 7.1 DTS-HD master audio is equally commendable, delivering a very active soundtrack in a potent and pleasing way. This may not be a film you'd watch again and again, but it might just be a good one to use to show off your home theater to someone, if you are the kind of person who does that sort of thing.
BONUS FEATURES, MENUS, PACKAGING and DESIGN

The extras begin with Disney Second Screen, a feature that places concept art, storyboards, trivia, deleted scenes, actor bios, script pages, prop documents, and other behind-the-scenes photos and videos on your iPad or computer while the movie plays. Though I can appreciate the intent, I'm not sold on the format. It's a fairly arduous experience and one almost certain to pose you some technical difficulties.

Perusing the content at your own pace seems preferable to having to keep worrying about syncing and to have the movie line up perfectly with what you're looking at. Even then, you've got to wonder how much of this content is stuff you really want and need to see. Would you spend over two hours looking at a comparably-equipped official movie website?

On your player, the feature opens with a 40-second Andrew Stanton introduction. On your computer, Second Screen also allows you to see an extended version of "360 Degrees of John Carter" (43:15), should you want to watch it in a 512 x 288 pixel Flash video on your computer, instead of in HD on your television. You can also browse John Carter's journal with Carter's notes and drawings of the different people and places he encounters on Barsoom, with Kitsch supplying some voiceover. Again, this is good content, but you'll have to be pretty enamored with the film to bother exploring it.

Back on the first screen, "100 Years in the Making" (10:43) considers Edgar Rice Burroughs' entry into fiction writing (with an actor reading his autobiographical writings) as well as this film's journey to be made. Stanton shares his history with the books, while others including co-screenwriter Michael Chabon, astrophysicist Dr. Neil Degrasse Tyson, and Jon Favreau also weigh in on the Barsoom stories.
Ten deleted scenes (19:02) are presented in a mix of incomplete states, with primitive visual effects (or drawn stand-ins) and unreplaced green screen and performance capture actors. They include an alternate opening in Helium, a scene of Ned (Edgar Rice Burroughs) at college (with Jonathan Hyde as his professor), and extended battles. Stanton introduces the lot and also offers optional audio commentary explaining the deletions.
The Blu-ray version of "360 Degrees of John Carter" (34:32) is plenty substantial. It gives us a single March 2010 day in the production from virtually all angles: extras, make-up department, craft services, visual effects supervisor, stunt coordinator, swordmaster, and the principal crew and cast (minus Kitsch, who gets a rare day off). It's a winning approach, which distinguishes this from slicker making-of featurettes and gives us a better idea of what the filmmaking process was like here and how it differed from Stanton's animation experiences.
"Barsoom Bloopers" (1:57) are a lot like bloopers here on Jasoom, except these goofs feature a lot of green screen and some stilted performers.

Last but not least comes an audio commentary by Andrew Stanton and producers Jim Morris and Lindsey Collins. It is a spirited chat which covers a bit of the same ground but in a more casual and conversational way.

Among the topics touched upon are casting, animation, location filming, making alien characters discernible, streamlining the story, and creative challenges. Their evident passion and cinematic knowledge make this an easier listen than you might suspect, although the remarks about potential sequel elements may cause you to cringe.

And that's it, save for standard disclaimers and a digital copy promo (which doesn't exactly apply here, but the Blu-ray here is the same as in the 4-disc combo pack which does offer that).

Only two of the Blu-ray's extras make it to the DVD: "100 Years in the Making" and the audio commentary. It's a shame how studios have devalued the still widely preferred home video format in the past few years, but hopefully you've made peace with that as I have.

The Blu-ray and DVD open with ads for Disney Studio All Access, The Avengers, and Frankenweenie. The menus' Sneak Peeks listing repeats those and adds promos for Disney Movie Rewards and "Castle": The Complete Fourth Season. John Carter's own trailers and TV spots are sadly absent here, for they would have made an interesting case study of a major marketing mishap.

On both formats, the menu shows us the end credits' backdrop, bundles of John Carter's Barsoom notes and drawings. As usual for Disney, the Blu-ray remembers where unfinished movie playback left off, but doesn't allow you to set bookmarks or resume without subjecting you to all the disc-loading material.

The side-snapped standard Blu-ray places the two plainly-labeled discs on opposite sides with a Disney Movie Rewards booklet atop the DVD. Naturally, a holographic, embossed cardboard slipcover is included.
CLOSING THOUGHTS
The source text behind John Carter is old and influential enough to make this movie essential science fiction viewing. With that said, all the history and false starts do not strengthen this adventure or remove the adaptation doubts expressed over the years. Carter has some strong ideas, mostly sterling visuals, and epic atmosphere, but they do not add up to a fully satisfying whole.
Disney's Blu-ray serves up a flawless feature presentation and most will find the ample bonus features more than sufficient company. If the film were better, this would be a no-brainer recommendation, but as is, I can only recommend a viewing, which you shouldn't be too reluctant to give it.
Support this site when you buy John Carter now from Amazon.com:
Blu-ray + DVD / Blu-ray 3D + Blu-ray + DVD + Digital Copy / DVD / Instant Video