Movie fans should be acquainted with Illumination Entertainment by now. The Universal-based animation studio has released three major motion pictures over the past three years. They grabbed everyone's attention in 2010 when their debut effort, the supervillain comedy Despicable Me,

won acclaim, passed the $250 million mark domestically and earned well over $500 million worldwide. The company's second release, 2011's live-action/CGI hybrid Easter tale Hop, drew cooler reactions and more grounded ticket sales, ending up profitable but not especially beloved. Last March, Illumination rebounded with the all-animated Dr. Seuss adaptation The Lorax.

Blue Sky Studios made one of their best films in 2008's Horton Hears a Who!, a colorful adventure sprung from a 72-page Seuss book. Illumination's founder Chris Meledandri knew that; Horton was the last executive producer credit he took over at Fox's Ice Age factory. Thus, these were familiar waters: so rarely do big animated family films misfire commercially that padding Seuss' 45-page Lorax to feature length was guaranteed healthy returns especially on Illumination's modest budgets, which kept this production to a reported $70 million, less than half the price tag on this summer's DreamWorks and Pixar releases.
The Lorax is set in a dystopic utopia. In the colorful, artificial, insulated town of Thneedville, residents sing and dance about recklessly dumping chemicals and swimming in water that makes them glow. The opening musical number makes clear the in-your-face environmentalism that is to come, which is perhaps no surprise from the super-conglomerate that hosts a "green week" of television every November and regularly touts minimizing the carbon footprint of their films.
In the present day, scooter-riding teenager Ted (voiced by Zac Efron) dreams of wooing the girl next door Audrey (Taylor Swift). When she longs for a real tree, something that hasn't grown in Thneedville for as long as anyone can remember, he sets out to get some information, making a long trek beyond the city limits to consult an odd recluse named the Once-ler. Speaking through a boarded-up window and on his terms, the Once-ler (Ed Helms) shares his story, one of greater interest to the film.
As a young man, the Once-ler leaves his family's unsupportive home to be an inventor and a salesman. He finds success with the Thneed, a multi-use product made from tufts of foliage from the candy-colored Truffula trees. The first time the Once-ler chops down a tree, he summons the titular creature, the short, mustachioed orange guy who speaks for the trees (in the suitable natural voice of Danny DeVito). The Lorax tries to rid the forest of the Once-ler, but instead circumstances create a bond between them and the various woodland creatures who rely on the trees.
Commercial greed (or more accurately, short-sightedness) ultimately does in the forest, as the Once-ler's relatives, resurfacing in his life with dollar signs in their eyes, become his business partners and hatch the nonsensical idea to chop down full trees to save time and increase revenue. Before long, every Truffula has been chopped down, summoning the Lorax and all the bears elsewhere while putting Thneedville on its way to being a town of electric trees run by a CEO whose billion-dollar idea is selling cans of fresh air to a population plagued by pollution.
It seems as though Meledandri's vision for his studio is to basically become a lot like Blue Sky, only more formidable commercially. Young Illumination has now crossed the $200 million mark domestically twice in just three tries, including both of its all-animated ones. That is no small feat. In their productive 14-year existence, DreamWorks Animation has only passed that threshold with non-sequels three times. Blue Sky has come close with two Ice Age sequels, but never surpassed $200 M in North America (their uninspired efforts are inexplicably a lot more popular outside the US).

At former market dominator Disney, Tangled's narrow eclipse of the $200 M mark was the first since the studio's 1990s heyday (which, adjusting for inflation, was obviously a lot more significant than comparable current grosses). Clearly still the industry's king by the numbers, Pixar almost always passes $200 M, Cars 2's narrow miss being the only exception since 1998.

Illumination has lots of different models of success to aim for and they seem to be most taken with their founder's former home and DreamWorks. There are fewer cultural references and adult gags here, but we find the same broad mix of comedy and sentiment. (And the same appreciation for sequels, judging from the totally unnecessary Despicable Me 2 scheduled to hit theaters next summer.) Commerce has long come before art at DreamWorks, and Illumination's priorities seem to be the same.

It must be noted that with The Lorax, Illumination takes large strides in the animation department, its grander visuals, aided by Seuss' bold and iconic blueprint, a considerable improvement over the chilly Despicable Me designs and not quite seamless Hop CG elements. Comically, though, the studio still has yet to tickle my funny bone. Gags like fish who sing like the Chipmunks (an obvious successor to Despicable's minions and Hop's chicks) strike me more as obnoxious than amusing, and that'd be true even if they weren't la-la-la-ing the "Mission: Impossible" theme music. Likewise, will anyone find Ted's stereotypical Jewish mother funny?
The Lorax's unorthodox structure is quite interesting. Placing the Once-ler and Lorax's story inside contemporary framework allows the film to remain true to Seuss' work while expanding it to feature length. The teen romance, whose characters take their appellations from Seuss' birth name and his widow/executive producer Audrey Geisel, makes the film's 40-year-old story more palpable and its voice cast a little more hip. Perhaps inevitably, though, it is the adapted core that has the most resonance and least heavy-handedness.
Like every animated tentpole these days, The Lorax is offered in 3D ("Tree-D" according to marketing material puns), a format it takes advantage of with some gimmickry, flinging objects at you and letting drool drops fall in your direction. The colorful settings of Thneedville and the Truffula forest lend themselves to more subtle applications of depth effects, though ones you can easily stand to do without.
The Lorax is now available to own in a single-disc DVD, a two-disc Blu-ray + DVD + Digital Copy + UltraViolet set, and this review's subject, the 3-disc Blu-ray 3D + Blu-ray + DVD + Digital Copy + UltraViolet combo pack.
Blu-ray 3D, Blu-ray & DVD Details

1.85:1 Widescreen (DVD Anamorphic)
Blu-rays: 5.1 DTS-HD MA (English), 5.1 DTS (French, Spanish);
DVD: Dolby Digital 5.1 (English, French, Spanish); Both: Dolby Surround (English DVS)
Subtitles: English for Hearing Impaired, Spanish, French
Not Closed Captioned; Most Video Extras Subtitled
Release Date: August 7, 2012 / Suggested Retail Price: $49.98
Three single-sided, dual-layered discs (2 BD-50s & 1 DVD-9)
Blue Keepcase in Lenticular Cardboard Slipcover
Also available as Blu-ray + DVD + Digital Copy + UltraViolet ($34.98 SRP), DVD ($29.98 SRP), and on Amazon Instant Video
VIDEO and AUDIO
Whether or not you're charmed by the film, you've got to acknowledge The Lorax is a sensory feast. The Blu-ray's dazzling 1.85:1 picture boasts vibrant colors and appealing animation. This is digital perfection and I doubt you'll hear anyone with a properly calibrated system saying otherwise. The 5.1 DTS-HD master audio isn't quite as breathtaking, but it too is spirited and satisfying. The crisp dialogue synchs perfectly with mouth movements, while music and atmosphere take advantage of the full sound field to create an engaging experience.
In sampling it, the DVD looked far less fantastic, displaying evidence of greater compression than it should have needed, although its high average bit rate does not reflect that.
BONUS FEATURES, MENUS, PACKAGING and DESIGN

Though many in number, the set's bonus features are short in length.

As they like to, Universal really talks up the inclusion of "all-new mini-movies", giving them permanent cover placement and as much spine as the movie's own title. Also as usual, there isn't much to the three short shorts, although each does feature cinema-worthy animation and original voice cast members.

As a big fan of short films, I appreciate these cartoons as much for existing as for the modest creativity they display.

Wagon Ho! (3:10) takes us on a runaway wagon ride with two bears. Forces of Nature (2:14) has The Lorax and a little bear spooking the Once-ler as he sleeps. Serenade (3:19) lets animal characters sing in the woods à la the Chipmunks and Chipettes, as a boy bear tries to woo a girl one. (If we're supposed to recognize the varied songs as something other than generic pop, I do not.)

"The Making of the Mini-Movies" (3:31) has the creators shed a little light on these pieces as an extension of the film, sharing a few thoughts specific to each one. Such home video shorts don't usually welcome consideration of their creation, so this is nice.
A fully-animated deleted scene (1:31) puts the Once-ler on a wild bike ride that leads to the widespread adoption of the Thneed.
"O'Hare TV" lets you watch the movie with commercial interruptions from Thneedville's evil CEO (voiced, as in the film, by Rob Riggle). Faux product ads (e.g. The Hummingfish's album, Happy Time marshmallows) and TV show excerpts pertaining to the interrupted part of the movie play. This option adds eight minutes to the film's runtime and cannot be paired with the commentary or even easily navigated just to see the additions. It's neither the ideal way to see the film, nor particularly entertaining.
"Expedition of Truffula Valley" lets you roam the colorful forest as well as Thneedville, each setting presented in a partly animated state with appropriate sound effects. Selecting characters treats you to concept art, animation tests, character facts, story reels, and short videos of story artist Mark O'Hare teaching kids how to draw that character and voice actors discussing their role. It's worthwhile content, though you might not be crazy about the layout.
"Seuss to Screen" (4:27) gives us a brisk promotional making-of short, with voice cast and crew comments, animation and fur tests, concept art, and thoughts on character design. It's basically the highly abbreviated version of the featurette this was owed.
Three games are provided on the Blu-rays.
Aimed at younger viewers, "Once-ler's Wagon" lets you select an object to see the Lorax and the forest creatures play with it. There are only six objects and each cues the same short animation when selected. That adds up to about a minute of child entertainment.
"Get Out of Town" is a fun yet challenging video game that has you piloting Ted out of Thneedville. Actions like jumping and dodging are difficult with just a standard and not precisely responsive remote and I imagine younger viewers could get quite frustrated by this. I only had enough patience and skill to barely get into the second level, so I can't say how many there are. But this does best the limited type of set-top games DVD offered.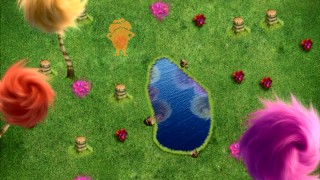 The moderately fun "Truffula Run" has you guide the Lorax down a hill, collecting berries and avoiding stumps. It is offered in three different difficulty levels, but even the hardest doesn't give you anything but a running score and positive reinforcement.
A "Let It Grow" sing-along (3:42) places lyrics to the end credits number on the screen (with one grammatical error) over random bits of animation and illustrations from the book.
Buried three pages deep is a feature audio commentary by director Chris Renaud and co-director Kyle Balda. They talk seriously about some of the many topics given thought during production: voice casting, design, story, structure, inspirations, technical cheats, and so on. It's not very exciting, but those who regard animation as more than kiddie fare will appreciate this as the easily most substantial bonus feature on this set.
"What's New!" takes you to a BD-Live section where you can stream trailers and company promos. Ooh!
The last icon on the Blu-ray's menu is an unmarked seed. Selecting it lets you grow your own Truffula tree.

Water it, watch it grow, watch something on the disc, and then come back again to water it and watch it grow some more. The watching something on the disc part is necessary, which gives the icon a glow for your notice. The feature seems to remember your progress even though the disc doesn't resume.

Identical to the one sold on its own, the DVD in this combo pack only includes some of the bonus features of the two Blu-rays: the mini-movies and making-of, the deleted scene, the games "Once-ler's Wagon" and "Truffula Run", the sing-along, and "Seuss to Screen." In addition, a "Seuss It Up" (10:27) section holds the Mark O'Hare art lessons (teaching kids how to draw The Lorax, a bear, and a fish) from the Blu-ray's "Expedition of Truffula Valley" (making them a lot easier to access). All of that looks like a lot more than it really is, which seems to be a running theme to Universal/Illumination's home video releases.

The digital copy and UltraViolet are both relegated to Internet download with your enclosed code.

The Blu-ray discs hellishly open with a mix of trailers, promos, and PSAs, touting GE's energy-efficient lighting, Barbie: The Princess & The Popstar, Energy Star, American Girl: McKenna Shoots for the Stars, forest discovery, and ParaNorman. Hilariously, on a non-3D-ready system, the Blu-ray 3D disc subjects you to all this before declaring your incompatibility.

The DVD rearranges those and adds a trailer for the Blu-ray debut of E.T.: The Extra-Terrestrial, a Fandango ad, and another short environmental PSA. It also includes a page of previews with low-quality ads for Hop, Despicable Me, the live-action Dr. Seuss' How the Grinch Stole Christmas, Coraline, Babe, The Land Before Time, Curious George, and "Curious George": Spring Special. Lorax's own Eternal Sunshine of the Spotless Mind-homaging trailer is nowhere to be found here.

On all three discs, the main menu drops you in the middle of Truffula Valley, where The Lorax and other creatures pop up, run past, and float by on the stream. The disc does not resume playback, but does let you place bookmarks throughout the film. As usual for the studio, a variety of user guides are provided. The Blu-rays are D-Box Motion Code-enabled.

The three discs fit into a standard-sized Blu-ray case (not an eco-friendly one, go fig!), with the two Blu-rays claiming opposite sides of a swinging tray. A 6-page booklet supplies your UltraViolet/digital copy redemption code and advertises a variety of other properties, from Draw Something to GE light bulbs with a $1 coupon. The case is topped by a lenticular-faced cardboard slipcover.
CLOSING THOUGHTS

A food features prominently in The Lorax and begs us to make the following analogy: this is a marshmallow of a film. It is light, sweet, nice-looking, easy to consume in mass quantities, and has virtually no nutritional value.

Animated films needn't be great art; most are not and it'd be tiresome if most of them strove to be. Taking its sturdy foundation from Dr. Seuss, The Lorax manages to be Illumination Entertainment's best film to date. It is preachy and transparently designed to win over the masses, but it entertains and more tastefully than you'd expect.

The film boasts breathtaking picture and solid sound on Blu-ray, while bonus features are predominantly of the light, fluffy, and kid-oriented variety. On any format, this is worth a look for those who appreciate animated cinema. You probably won't love it, but I'd guess you're less likely to hate it than most family films.

Buy The Lorax from Amazon.com:
Blu-ray 3D Combo Pack / Blu-ray Combo Pack / DVD / Instant Video