DVDizzy.com | DVD and Blu-ray Reviews | New and Upcoming DVD & Blu-ray Schedule | Upcoming Cover Art | Search This Site
Casa De Mi Padre Blu-ray Review
Casa De Mi Padre

Theatrical Release: March 16, 2012 / Running Time: 84 Minutes / Rating: R

Director: Matt Piedmont / Writer: Andrew Steele / Songs List

Cast: Will Ferrell (Armando Alvarez), Gael García Bernal (The Onza), Diego Luna (Raul D. Alvarez), Genesis Rodriguez (Sonia Lopez), Pedro Armendáriz Jr. (Miguel Ernesto Alvarez), Nick Offerman (DEA Agent Kevin Parker), Efren Ramirez (Esteban de los Santos Escobar Chavez), Adrian Martinez (Manuel), Manuel Urrego (Officer Blancarto), Jerry Collins (DEA Agent #2), Louis Carazo (Young Miguel Ernesto), Sandra Echeverría (Miguel Ernesto's Wife), José Luis Rodríguez "El Puma" (El Puma/Wedding Singer), Dan Haggerty (Himself), Molly Shannon (Sheila), Kris Kristofferson (Opening Voice - uncredited)
Buy Casa De Mi Padre from Amazon.com: Blu-ray • DVD • Instant Video
Don't call Will Ferrell predictable or one-dimensional. While other comedy stars of his stature, especially those who likewise graduated from "Saturday Night Live", tend to stick to their comfort zones, Ferrell has shown some range, complementing his bread and butter -- big wide release PG-13 comedies -- with things like last year's indie Everything Must Go.

This year, Ferrell has gone even further from the mainstream, producing and appearing in the limited release Tim and Eric's Billion Dollar Movie and closely following that with Casa De Mi Padre, an R-rated Spanish language comedy posing as an overdramatic telenovela western.

Playing in under 500 domestic theaters, Casa delivered a blow to Ferrell's average box office gross, which still stands at an impressive $57 million by Box Office Mojo's count. But the project's limited commercial prospects were well-known in advance and the budget accordingly set at a modest $6 million (a far cry from Ferrell's prior comedy vehicle The Other Guys' $100 M bill). Thus while the film's $5.9 M domestic earnings were certainly not profitable onto themselves, they did not present the costly disaster that the few past Ferrell flops (e.g. Land of the Lost and Semi-Pro) did.
Casa stars Ferrell as Armando Alvarez, a Mexican rancher. Though few efforts are taken to hide the funnyman's Anglo looks, that isn't a joke per se. The film seems to take its plot quite seriously. Armando's younger brother Raul (Diego Luna) returns home with a fiancée in the eye-catching Sonia Lopez (Genesis Rodriguez). While Raul is happy and prospering, he has gotten into the drug business, something Armando sees as bringing shame to his family, specifically their father Miguel Ernesto (Pedro Armendáriz Jr.).
Raul's new ventures also run afoul of the Onza (Gael García Bernal), Sonia's uncle and the area's feared white-suited kingpin. Armando tries to make things right, defying his simple nature, defending his family's name and naturally falling for Sonia in the process.
I'm not at all familiar with telenovelas (let alone ones the 1970 copyright date takes aim at), so some of Casa's comedy targets probably elude me. At the same time, I get the impression that the film's makers aren't even sure what it is they're making fun of. Ferrell does a seemingly admirable job of speaking Spanish comfortably; by contrast, "Parks & Recreation" star Nick Offerman gets to butcher the language's rhythms as an American DEA agent.
The concept is never as funny as you figure Ferrell, fellow producer Adam McKay, and former "SNL" scribes Andrew Steele (the screenwriter) and Matt Piedmont (the first-time director) would like it to be.

But it is still mildly and agreeably diverting, as Ferrell and his two buddies (played by Adrian Martinez and Napoleon Dynamite's Efren Ramirez) basically hang out, drawing out awkwardly prolonged laughter and singing the occasional musical number. The story isn't especially strong, and the occasionally very violent exchanges are at odds with the sweetness maintained in Armando's relaxed family life. But typical for a high-concept comedy, the story takes a backseat to laughs, which include self-referential bits like blatant rear screen projection and random cutaways, an animatronic white cat from Jim Henson's Creature Shop, and a sex scene fixated on butt-grabbing.

Four months after beginning its limited theatrical run, Casa hits DVD and Blu-ray on Tuesday from Lionsgate.
Blu-ray Disc Details

2.35.1 Widescreen
5.1 DTS-HD MA (Spanish)
Subtitles: English, English for Hearing Impaired, Spanish
Not Closed Captioned; Spanish Extras Subtitled in English
Release Date: July 17, 2012
Single-sided, dual-layered disc (BD-50)
Suggested Retail Price: $24.99
Blue Eco-Friendly Keepcase in Cardboard Slipcover
Also available on DVD ($19.98 SRP) and Amazon Instant Video
VIDEO and AUDIO
The Blu-ray's 2.35:1 presentation has the occasional shortcoming, but most of them are self-imposed, like deliberately grainy bits and a generally shoestring look (betrayed in the intermittent display of stunning artistry). At other times, slight grain and lacking focus seem less intentional. For the most part, though, the clean, vibrant visuals satisfy. The 5.1 DTS-HD Spanish master audio (no English dub here, folks) is even better, commanding attention with its sharp atmosphere, lively music, and striking crisp dialogue.
BONUS FEATURES, MENUS, PACKAGING and DESIGN
The all-HD slate of extras begins with the making-of featurette "La Realización de Casa De Mi Padre" (15:43). It sheds plenty of light on this oddity, with Ferrell explaining how it came about and the Mexican actors revealing their reactions to such an unlikely project. Appropriately fun but also informative, this even includes a few outtakes of Ferrell struggling with his foreign lines, which you suspect warranted its own reel.
Ten deleted scenes (19:43) add layers to the characters but without offering anything you regret being cut from the short, brisk film. To boot, their subtitles are lacking grammatically, as whoever translated them has not yet mastered the comma.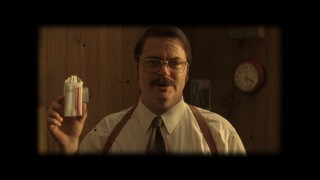 The "Fight for Love" music video (3:20) adds a few dramatic editing effects to Will Ferrell and Génesis Rodriguez's shared song from the film's end credits.
Three amusing commercials (3:00) advertise fictitious Mexican cigarettes and beer with four of the characters from the movie (those played by Nick Offerman, Ferrell, Efren Ramirez, and Diego Luna).
"Pedro Armendáriz Jr. Final Interview" (3:37) is what it sounds like, one of the actor's last interviews before his December 2011 death. He speaks highly of Ferrell's effort to act in a language he doesn't know, though the clip is marred by bad sound and strong winds.

Finally, we get an audio commentary in English from Will Ferrell, director Matt Piedmont, and writer Andrew Steele. It is an entertaining but kindly sincere discussion which answers the questions

you inevitably will have about such an unusual production. They point out their various targets of homage ("little nods") and intentional goofs (mannequins, miniatures, etc.).

"Also from Lionsgate" plays all the same ads with which the disc loads, promoting Safe, Friends with Kids, Saving Private Perez, Everything Must Go, Man on a Ledge, and the television channel Epix.

Will Ferrell fans still content with DVDs will be glad to know that it seems that all the bonus features found here are also made available on the DVD version. Nice move, Lionsgate. As long as they fit and are DVD-compatible, I'm of the belief that all studios should make a point to include all extras on DVD. I suspect BD exclusives serve less as hi-def incentive and more as purchase deterrent. Of course, some customers might be bummed that this movie isn't sold as a combo pack, but at least that keeps the list prices unusually low.

Offered in both English and Spanish, the menus display some creativity, as they artistically hold on characters to create colorful scenes while "Yo No Se" plays. The disc does not resume playback (and requires a lot of button-pressing to skip past all the auto-played trailers), but does at least allow you to place bookmarks on the film.

The standard eco-friendly blue keepcase is topped by a plain cardboard slipcover, both bearing a toned down, less artistic, more photographic variation on the theatrical poster art.
CLOSING THOUGHTS
Will Ferrell deserves credit for outside-the-box thinking on Casa De Mi Padre. Although this Spanish language comedy does not entertain anywhere near as much as the actor's signature vehicles do, it's different and creative enough to warrant seeing. Lionsgate's Blu-ray offers a satisfying release of the film.
Buy Casa de Mi Padre now from Amazon.com: Blu-ray / DVD / Instant Video


Related Reviews:
Will Ferrell:
Tim and Eric's Billion Dollar Movie • Step Brothers • Semi-Pro • The Other Guys • The Wendell Baker Story
Blades of Glory • A Night at the Roxbury • Elf • Megamind



2012 Comedies: 21 Jump Street • Friends with Kids • A Thousand Words • Jeff, Who Lives at Home
The Foot Fist Way • 30 Minutes or Less • Traffic • Scarface • No Country for Old Men • ¡Alambrista! | Gael García Bernal: Blindness
Legendary Heroes: Elfego Baca • The Swamp Fox • Zorro: The Complete First Season • The Grand Duel & Keoma • Tropic Thunder
Casa De Mi Padre Songs List: Christina Aguilera - "Casa De Mi Padre", Will Ferrell, Adrian Martinez, and Efren Ramirez - "Yo No Se", Will Ferrell and Genesis Rodriguez - "Fight for Love", Cecilia Noel - "La La", Cecilia Noel - "Di Cielo", "Starting Point Link 3", "Blazing Fiddles", "Tumble Weed", "Pepita", "Marie's Blues", "Oh, Magdalena", "Western Theme #1", "The Gunfight", "Las Mañanitas A", "Wide Open Spaces", "Catacombs", "Night Raid", "Echo Ten", "Fish Eye", "Psiloritis A", "Psiloritis B", "Con Su Blanca Palidez (A Whiter Shade of Pale)", "Lederhosen Laughs", "Chant de L'Universe", "Man with No Name", "Riding to Laramie", "Final Redemption"

Buy Casa De Mi Padre: Original Motion Picture Soundtrack from Amazon.com: MP3 Download • CD
DVDizzy.com | DVD and Blu-ray Reviews | New and Upcoming DVD & Blu-ray Schedule | Upcoming Cover Art | Search This Site
Search This Site:
DVDizzy.com Top Stories:
Reviewed July 14, 2012.


Text copyright 2012 DVDizzy.com. Images copyright 2012 Nala, Pantelion Films, Televisa Films, Gary Sanchez Productions, and Lionsgate.
Unauthorized reproduction prohibited.