In my first two years as a member of the Online Film Critics Society, the five-deep Best Picture category in our annual awards has held a surprise for me. In 2011, it was Drive, a film I came to discover was quite worthy of its nomination.

2012's surprise was Holy Motors, a French film that had gotten favorable reviews but wasn't expected to compete for any major honors.

Holy Motors is written and directed by Leos Carax, a 30-year veteran with a handful of French shorts and features to his name, none any less obscure than The Lovers on the Bridge (1991).

Holy Motors is a strange film, too strange for the Academy, too strange for me, and probably too strange for you. It centers on Mr. Oscar (Denis Lavant), a man whose job is to carry out an assortment of unusual missions around Paris. He rides in a white stretch limousine driven by the kind, elderly Céline (Édith Scob). Each mission requires Oscar to employ costumes and disguises to fit the part. He is an expert with latex, wigs, and make-up. On this work day on which we follow him, Oscar has nine appointments. The first finds him becoming a hunched-over old woman begging for change on the sidewalk. The second sends him to a darkened studio in a motion-sensored body suit, where he performs commands he is anonymously given, culminating with sexual contortion (with a fellow body suited performer) that we eventually learn is for some kind of monstrous motion capture animated pornography.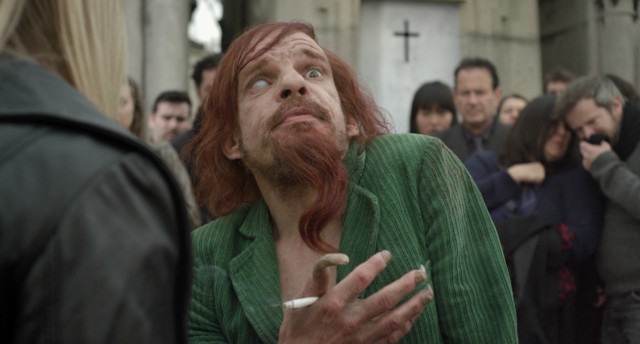 If you think that is as weird as this can get, perhaps Oscar's third assignment will prove you wrong. It finds him prancing around the sewers and a cemetery as some sort of deranged, grotesque human leprechaun who eats flowers and human hair, but spits out the fingers he bites off of the photographer's assistant who tries to get him to participate in her boss' strange photo shoot. His mouth bloodied from the digits, he proceeds to lick the armpit of the famous model Kay M (Eva Mendes) and carry her away for his idea of some fun (which includes a burqa and an erect -- prosthetic -- penis). Mendes, whose appearance here is one of many questions this will inspire, remains silent save for a soft English lullaby, no doubt making this her least-criticized performance to date.
After that, Oscar seems to take a break to pick up his teenaged daughter (Jeanne Disson) from a party, where she reluctantly confesses she behaved shyly to some tough parenting. But it's not really a break, is it? He puts on a wig and hat for it, cutting a Chaplin-esque hobo image and the episode is as short and nearly as bizarre as the rest.
There's no need for me to detail the remaining assignments, but they include a rousing spontaneous accordion flash mob (declared an Intermission), a warehouse murder framing, a dying old man visited by his niece, and a reunion with an old colleague (Kylie Minogue) who sings a song about their history. Evidently, Oscar is involved in some sort of interactive, experiental theatre that is captured on tiny cameras. Throughout the night, it seems as if he should be dead multiple times (often by the hands of others who look just like him), but perhaps it's all controlled and he's in no real harm.
The whole movie feels like a sleight of hand, as Carax trots out one bizarre scenario after another, disarming us and letting us gradually figure out what's going on. The film is plenty creative and impressively cinematic. It's just not very good. Playing like a series of short films whose beginnings and ends are not clearly announced, Holy Motors is weird for weirdness' sake and doesn't add up to anything bigger than the sum of its curious parts.

Any allure to its imaginative vignettes wears off long before it reaches the finish line with limousines talking to one another in a parking garage.

The film's critical acclaim isn't hard to understand; it's different and, in this line of work, a very high value is placed on that. You can certainly appreciate the mind-bending design, inventiveness, and originality to these sequences as well as Levant's ability to transform himself in these varied roles. But it's all just smoke and lights; with Carax holding all the cards, we are kept at a distance, unable to invest emotionally in any of the artificial short segments. As fanciful as an idea like an automated nose hair identification security system may be, it doesn't enhance our experience.

In different ways, Holy Motors reminded me of three American films: Martin Scorsese's After Hours, David Fincher's The Game, and the Bill Murray comedy The Man Who Knew Too Little. Those range in quality, from lesser Murray to lesser but interesting Scorsese to top-notch, slightly undervalued Fincher. Every one of them gives you more to latch on to than Holy Motors, which is all style and, ultimately, no real substance. Needless to say, I'm glad I didn't cast my vote for this film, which only won Best Foreign Film out of its five OFCS nominations.
Blu-ray Details

1.85:1 Widescreen
Dolby Digital 5.1 (French), Dolby Stereo 2.0 (French)
Subtitles: English
Not Closed Captioned; French Extras Subtitled in English
Release Date: February 26, 2013
Single-sided, single-layered disc (BD-25)
Suggested Retail Price: $39.95
Blue Eco-Friendly Keepcase
Also available on DVD ($19.97 SRP)
VIDEO and AUDIO
The picture quality on Indomina's Blu-ray is quite excellent. The 1.85:1 transfer shows off the nimble, stylish cinematography with nary a concern, save for a scene where the video breaks up deliberately and convincingly. Less impressive is the Dolby Digital 5.1 soundtrack, which is not as potent as it could have been in one of Blu-ray's uncompressed audio formats. The only other option is a Dolby 2.0 mix. Most of the film's dialogue is in French, some is in English, long stretches go without dialogue, and one sequence (that leprechaun/goblin bit) is largely in untranslated gibberish. English subtitles are optional, but like the soundtracks, they require the pop-up menu to toggle.
BONUS FEATURES, MENUS, PACKAGING and DESIGN

First and most substantial among the Blu-ray's four high definition bonus features is "Drive In" (47:28), a long making-of documentary predominantly in French with English subtitles.

It collects comments from cinematographer Caroline Champetier and the cast (while Carax is seemingly represented in some transcribed whispers), in addition to sharing B-roll and behind-the-scenes footage. It's thorough and only somewhat technical, but you'll need to have a higher opinion of the film than me to truly appreciate it.

Next, we get an English language interview of Kylie Minogue (13:22), who explains her unlikely involvement in this film and having to act in French.

Rounding out the disc are two Holy Motors trailers: a domestic one (2:32) that doesn't hide its foreign film status and an international one (1:51) that expects its audience to recognize Carax's name.

The disc opens with thirteen minutes of trailers, promoting The Imposter, Wasted on the Young, Flying Swords of Dragon Gate 3D, Life Without Principle, Sacrifice, Luv, and Filly Brown. None of these are accessible by menu.

When selected, the menu's listings assume a neon appearance like the title logo. They appear under a looped standard montage of fade-ins and fade-outs. The Blu-ray does not support bookmarks or resume playback. The standard eco-friendly blue keepcase is not joined by any slipcover or insert.
CLOSING THOUGHTS
Holy Motors can be praised for breaking the monotony in the life of a film critic, but it is a shallow exercise in surrealism that will disappoint the average viewer for not adding up to anything special. Indomina's Blu-ray provides great picture, underwhelming but adequate sound, and a decent hour of bonus features. While I can't recommend the film, there's nothing about the disc besides the movie to dissuade interested parties.
Buy Holy Motors from Amazon.com: Blu-ray / DVD