It was only a matter of time before Will Ferrell and Zach Galifianakis headlined a movie together. Responsible for some of the biggest comedy films of the past ten and three years, respectively, the two funnymen have already run in the same circles (Funny or Die, Tim and Eric) and worked with some of the same directors.

Now, The Campaign gives them the opportunity both to team up creatively and square off onscreen.

Directed by Jay Roach (Austin Powers, Meet the Parents, Dinner for Schmucks, and the HBO movies Recount and Game Change) and written by Ferrell colleague Chris Henchy (The Other Guys, Land of the Lost) and "Eastbound & Down" scribe Shawn Harwell, The Campaign casts the stars as rival candidates in North Carolina's (fictional) 14th District congressional race. Having already held the position for four terms, the confident, shallow, and well-groomed Cam Brady (Ferrell) is expected to run uncontested. But, eight weeks before Election Day, the polite, effeminate, mustachioed Marty Huggins (Galifianakis, channeling his "twin brother" alter ego Seth) announces his candidacy.

The eccentric Marty has been hand-picked by the Motch brothers (John Lithgow and Dan Aykroyd), billionaire industrialists with ties to China. Reminiscent of the Duke brothers from Aykroyd's Trading Places, these two old men reach into their deep pockets to ensure their interests are served. To that end, Marty gets an instant, dramatic image makeover from his newly-assigned campaign manager Tim Wattley (Dylan McDermott, returning to relevance), a ubiquitous, efficient man who wears all-black suits.
Cam is a Democrat. Marty is a Republican. Those affiliations are easy to miss and of little bearing on the film. The Campaign wisely, obviously stays nonpartisan. The movie also avoids any hot button issues like the economy and gay marriage. The film's one main target is campaign finance reform, which is enough to align it with Hollywood's left leanings but not a divisive enough topic to turn off viewers.
Beyond that, the movie aims to expose and criticize the election process, satirizing politics' standard mud-slinging tactics. This being an R-rated comedy, everything is exaggerated to ridiculous heights for effect. Rushing to seize a PR moment, Cam accidentally punches a baby in the face and plunges in the polling. The tide changes when a debate audience responds more to the tone with which one delivers their hollow sound bites. Even the candidates' contrasting families (Marty's obese brood, Cam's photogenic wife and teenage son) are fair game for one another to exploit.
Neither candidate seems poised to serve his constituency well. The two have different styles, but both are lacking in substance until near the very end, when one must win the election and with our sympathies in tow. The puppet masters, with their "insourcing" employment plan, emerge as the real opponent that all can agree are crooked.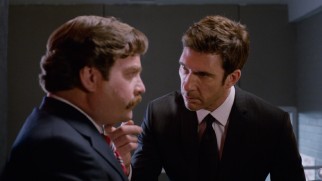 Political comedy is a tough act to pull off, partly because everyone has some views they hold dearly and no one wants to be insulted or preached against. The Campaign is smart enough to largely leave politics out of the equation and just ridicule the process.

But coming as it does, consciously timed to yet another heated presidential election, the movie has got to be very funny to make us laugh at our democracy. Most of the time, it isn't as amusing as you'd like it to be, the political one-upmanship never striking one as particularly creative, outrageous, or pertinent.

Ferrell and Galifianakis are entertaining enough to make a phone book reading moderately diverting, but this film definitely falls short of their pairing's high potential. While there are laughs here and there (most from Galifianakis' winsome characterization), The Campaign never gathers enough steam or consistency to keep us captivated or invested in its outlandish congressional race. It diverts sporadically and lacks the gut-busting moments you expect to burn into your memory. Among Ferrell's output, this is on the order of a Talladega Nights or Semi-Pro; unable to live up to promise and far from the ranks of his most quotable Adam McKay-directed summer comedies.

At least, The Campaign's timing couldn't be better. The film opened in theaters on August 10th, shortly before the conventions and with election coverage already heating up. Now, despite grossing a respectable $86 M domestically, it comes to home video just 2½ months later, arriving in time for Election Day, even as foreign theatrical releases are only starting to roll out. Warner treats the film to their standard options of DVD, movie-only Blu-ray, and Blu-ray + DVD, all equipped with UltraViolet streams. The lattermost of those, reviewed here, offers an exclusive Extended Cut on Blu-ray.

Running 10 minutes and 10 seconds longer, this edit receives the same R rating and description from the MPAA. I spotted ten differences, some as minor as to add just a few seconds to a scene's end (e.g. Cam commenting on Marty's struggle with opening doors, Marty's alternate cereal recommendation). Others are more substantial, including Cam's satellite interview on CNN's "Piers Morgan Tonight", in which he tries to sneak in corporate sponsorship, only to have his wife join in from the kitchen discussing movie plans. Other differences include a new scene of Cam flirting with a teacher and talking about Marty's campaign funding, extended versions of Tim Wattley's makeover of Marty's house, Cam's snake bite reaction (which finds him wildly running into the woods, then crashing and trashing the home of the Christian family, headed by Jack McBrayer, whom he critically misdialed), and Cam's late night visit to Marty's house. There is also an alternate and extended cut of the drunk driving arrest, which is followed by reporter questions, and, the best gain, an amusing aftermath of Tim Wattley extending an olive branch to the incumbent.

On account of the fact that it doesn't noticeably worsen the film, this is one of the better extended cuts I have seen. At the same time, it doesn't noticeably improve it either. It is fascinating to think that moments as minor as a scene-closing joke can be deemed worthy of excluding from the theatrical cut but then restoring for the extended version. With the theatrical cut running only 80 minutes plus credits, it's not even as if timing was a huge concern. The only ones who may be disappointed by this longer edit are those expecting more raunch.

Watch clips from The Campaign:

Blu-ray & DVD Details

1.78:1 Widescreen (DVD Anamorphic)
Blu-ray: 5.1 DTS-HD MA (English), Theatrical-only: Dolby Digital 5.1 (French, Spanish, Portuguese, English DVS); DVD: Dolby Digital 5.1 (English, French, Spanish)
Subtitles: English for Hearing Impaired, French, Spanish; BD-only: Portuguese
Not Closed Captioned; Extras Subtitled
Release Date: October 30, 2012
Suggested Retail Price: $35.99
Two single-sided, dual-layered discs (BD-50 & DVD-9)
Blue Eco-Friendly Keepcase with Cardboard Slipcover
Also available as standalone DVD ($28.98 SRP), movie-only Blu-ray ($29.98 SRP),
and Amazon Instant Video
VIDEO and AUDIO
The Campaign looks terrific on Blu-ray. As one of the few new films these days employing the narrower aspect ratio (approximated here at 1.78:1), the movie stands out by using all of Blu-ray's 1080p resolution. Even though it uses complete encodes of the two cuts rather than seamless branching and leaves some disc space unused, the disc's picture is just as sharp, clean, and vibrant as it should be. The 5.1 DTS-HD master audio mix is also without issue, even if there are few moments where you'll notice sound design.
BONUS FEATURES, MENUS, PACKAGING and DESIGN

Beyond the extended cut, the Blu-ray holds three extras.

First up, "Line-o-Rama" (4:23) borrows its name and design from Judd Apatow movies. It shares alternate references, unused improvisations, and just plain deleted lines.

Next, we get nine deleted scenes (15:44). These include an alternate hunting "accident", Marty campaigning door to door, a candidate chat in Cam's house,

and two alternate ending scenes, one of them set in a new North Carolina Chinatown. Frustratingly but ordinarily, none of the extended cut's reinsertions are presented either here or in Line-o-Rama, requiring viewings of both cuts of the film to see all the disc's content (although the extended cut loses very little from the theatrical one).

Finally, there is a gag reel (3:31), which naturally entertains with goofs and tomfoolery, including many from unused bits.

The same one sold on its own, the adequate-looking DVD here includes the same nine deleted scenes as the Blu-ray, but loses the extended cut, Line-o-Rama, and the gag reel.

Par for Warner, the two discs' simple, static main menus recycle poster art. Accompanied by navigational sounds, the BD doesn't support bookmarks, but that's okay because it gladly resumes playback. The DVD's secondary menus are almost too plain to be believed with their amateurish graphics and generic red backgrounds.

The Blu-ray opens with a Blu-ray promo and a trailer for Sylvester Stallone's Bullet to the Head. The DVD opens with a different Blu-ray promo, an anti-smoking spot, a long preview for Cloud Atlas, and trailers for Argo, The Dark Knight Rises, and "Friends": The Complete Series Blu-ray.

The slipcovered eco-friendly Blu-ray case places the plainly-labeled silver and black discs on opposite sides, with two inserts atop the DVD: directions and a code for accessing an UltraViolet stream through Flixster and a 14-day Xbox Live Gold Trial, both complimentary with this combo pack's purchase.
CLOSING THOUGHTS
Though timed closely to this year's presidential election both in theaters and on home video, The Campaign should hold up just fine for the indefinite future. But, the teaming of Will Ferrell and Zach Galifianakis made me hope for something more than "just fine." Intermittently entertaining, this political comedy is far from the best work either has done and only a little better than the typical big studio comedy. Though not overflowing with extras, Warner's combo pack offers a strong enough presentation of the film and the choice to watch it in one of two significantly divergent edits. No matter how crazy about the stars and hopeful for this collaboration you may be, though, this movie still lends more to a rental than a purchase.
Buy The Campaign from Amazon.com: Blu-ray + DVD / DVD / Movie-Only Blu-ray / Instant Video