Earlier this year, The Secret World of Arrietty became one of North America's all-time highest-grossing Japanese films and the biggest to come from Disney's 15-year partnership with Studio Ghibli. To put that achievement into perspective, Arrietty's $19 million at our box office still trailed the totals of Winnie the Pooh and Mars Needs Moms, Disney's two big homegrown animated underperformers of 2011.

But, Arrietty barely fell short of those while playing in far fewer theaters and spending a lot less on marketing.

The Ghibli films' American performance has been almost a perfect reflection of their theater count. Arrietty's $19 M in 1,500 theaters handily bested Ponyo's $15 M 2009 run in 900 theaters, which itself easily outpaced Howl's Moving Castle $4.7 M haul from 200 theaters in 2005 and Tales from Earthsea's blink and miss $48 K 2010 showing on just five screens. It stands to reason that the wider and harder Disney pushes these movies, the larger an audience they will reach. It helps that the studio's English language dubs have always enlisted actors famous and relevant to Americans of a wide variety of ages. Arrietty features Disney Channel star Bridget Mendler in the title role and comedically accomplished married couple Amy Poehler (staying, as always, one step behind Tina Fey) and Will Arnett as her parents. Like most previous Ghibli releases, Arrietty could also boast of near-perfect critical reviews.

Arrietty, called Kari-gurashi no Arietti (The Borrower Arrietty) in Japan, adapts the 1952 children's fantasy novel The Borrowers by English author Mary Norton. The legendary Hayao Miyazaki himself, who previously and successfully drew from English literature in Howl's, is credited with planning and, with Earthsea's Keiko Niwa, the screenplay. Hiromasa Yonebayashi, a Ghibli animator since the late '90s, makes his directorial debut.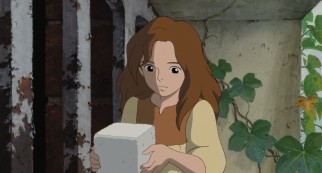 As presented here, Norton's story is a perfect fit for Miyazaki and Ghibli to tackle with its meeting of worlds, reality-grounded fantasy, teenage girl protagonist, old woman villain, and peripheral fat cat.
The film opens with Shawn (Sho in the original Japanese) arriving at a house. He is there with his aunt and a housekeeper to get some peace and quiet before an operation for his ailing heart. For us, his perspective is secondary; the primary one belongs to Arrietty (Mendler) and her parents. Standing just a few inches tall, these three Borrowers live in secret and sneak out at night to borrow only what they need from "beans" (human beings, wordplay lost in the Japanese version). On the verge of turning 14, Arrietty gets to accompany her solemn father of few words (against-type Arnett) on her very first borrowing. On it, she is spotted by Shawn, who has already caught a glimpse of her scampering about.
Shawn is a kind boy, who has no intention of spilling the Borrowers' secret. But rules are rules and Arrietty's parents think they've got to find a new home. Meanwhile, that trollish housekeeper Hara (Carol Burnett) hungers to find the fabled little people to prove to everyone she isn't crazy. She sets out to spot them, as the comparably-aged Shawn and Arrietty are breaking their rules, having their expectations shattered, and becoming friends.
Arrietty is a bit slight, but I'd prefer that to bloat. For all the praise that is poured onto Miyazaki's one Oscar winner, Spirited Away, I find it suffers somewhat from excess. There are certain parts in that over two-hour film where there is just no way to satisfactorily explain what is going on and where Miyazaki is going with his weird imagery. The 119-minute Howl's had just a touch of that too.

I would liken Arrietty more to Ponyo and My Neighbor Totoro, leaner fantasies that are driven by emotion and humanity. You can say that there isn't as much to those films and in a way you'd be correct. There is the impression that the G-rated Totoro and, to a greater degree, Ponyo are intended for young audiences. But given the choice between something consistently captivating and taut versus something more ambitious that is only sporadically compelling, I'll always take the former.

As with Pixar, though, when talking about Studio Ghibli, the quality is almost always at a high level. Miyazaki's weaker efforts exceed the very best of many an animation filmmaker from any part of the world. Even those films which he does not direct but merely produces tend to be transcendent. That view is aided by one's exposure to anime being limited, as mine certainly is. I think if you and I were encountering traditionally-animated, family-friendly Japanese fantasies with the same frequency we're hit with computer-animated American comedies, the novelty and impact would lessen. But only being treated to Ghibli's distinctive sensibilities on an annual basis or less (another parallel to Pixar), each taste is elevated to an event worth savoring and dissecting.

Arrietty boasts beautiful imagery, rich characters, warm humor, and whimsical fun, all key ingredients of prior Ghibli works. The film manages to engage throughout, dazzling with multiple long stretches void of dialogue. (Take note, all you chatty talking animal comedies!) It is the kind of family film that levels the playing field, effortlessly winning over children and adults alike as it treats all viewers with respect and intelligence.

Though Arrietty slipped under many an American moviegoer's radar, the film upheld Studio Ghibli's tradition of commercial success locally, grossing $110 M US in Japan where it opened in July 2010. That was down a bit from prior, record-setting Miyazaki-directed productions but nearly on par with billion-dollar blockbusters Alice in Wonderland and Toy Story 3's Japanese box office performances the same year.

Disney brings Arrietty to home video next week alongside the US Blu-ray debuts of catalog titles Castle in the Sky and Whisper of the Heart. We review the two-disc Blu-ray + DVD combo pack here.

Watch a scene from The Secret World of Arrietty:

Blu-ray & DVD Details

1.85:1 Widescreen (DVD Anamorphic)
Blu-ray: DTS-HD 5.1 (English, Japanese), Dolby 5.1 (French)
DVD: Dolby Digital 5.1 (English, Japanese, French)
Subtitles: English for Hearing Impaired, English translation, French
DVD Closed Captioned; Some Extras Subtitled in English and French
Release Date: May 22, 2012
Two single-sided, dual-layered discs (1 BD-50 & 1 DVD-9)
Suggested Retail Price: $39.99
Blue Keepcase in Embossed Cardboard Slipcover
Also available in standalone DVD ($29.99 SRP)
VIDEO and AUDIO
The Secret World of Arrietty boasts outstanding picture and sound on Blu-ray. The sharp, pristine 1.85:1 visuals burst with life and color. The 5.1 DTS-HD master audio mix commands even more notice with its potent rain, thunder, and wind sounds. In a nice touch that Disney extends to all their Studio Ghibli films, toggling between the default English dub and the original Japanese soundtrack brings about changes in visuals, not only the credits but in the words written on screen (like Shawn's note to Arrietty). Furthermore in the subtitles department, we get both a literal translation of the Japanese audio and an SDH transcription of the English dub, which is full of minor revisions for clarity and cultural effect.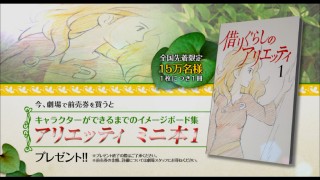 BONUS FEATURES, MENUS, PACKAGING, and DESIGN
Arrietty gets an ordinary supplemental course for one of Disney's Ghibli imports, beginning with "original Japanese storyboards" (what makes a storyboard Japanese, anyway?). You can watch the entire film in this format, but you get the gist in a few minutes, which is that every shot in the movie was hastily sketched out in gold and black pencils. This feature can be enjoyed with either the English dub or the original Japanese with your choice of three subtitle streams.
Next comes a reel of 27 trailers and TV spots (13:52). These are always fun to see and the subtitles are invaluable. These vary in length from about 15 seconds to a minute and include a testimonial, a promotional partnership with an insurance group, and "special news" production announcements. Why can't Disney include their US promotional materials for comparison? Maybe they didn't want to look for not offering a mini-book like Japan did?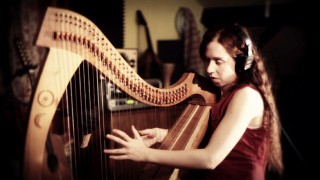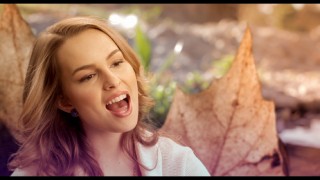 A music video is provided for "Arrietty's Song" (3:40), performed by French singer, Celtic harpist, and Arrietty composer Cιcile Corbel. This soft-lit recording session, occasionally juxtaposed with nature images, isn't much to see.
More in line with Disney's usual bonus features is a music video for the English dub's end credits theme "Summertime" (3:01), written and performed by Bridgit Mendler. This peppy pop tune is starkly at odds with the film it follows (sample lyrics: "cherry popsicles, sand in my toes, rolled down windows"), but the video cleverly shrinks Mendler down in nature and dollhouses.
Anyone who holds Ghibli's English dubs in contempt will cringe at "The Making of 'Summertime'" (2:03), as Mendler delights in having her song be "part of a Disney movie." She discusses its creation, its Studio Ghibli approval, and the green screen filming of its music video.

Incidentally, those last two features with Ms. Mendler are all that the way under capacity DVD gets.

In standard definition, Arrietty doesn't get a 2-disc set like past Ghibli movies, so the disc you get here is all you get elsewhere too.

The one glaring omission here is an English voice cast featurette. There is way too much talent assembled behind the microphones here not to warrant some face time, even if actor remarks and sound studio footage are hardly the thrill they were a decade ago.

The Blu-ray and DVD open with promos for Disney Studio All Access, Brave, and Cinderella: Diamond Edition. These are repeated from the menus' "Sneak Peek" listing where they're joined by ads for Disney Movie Rewards, "Austin & Ally", Secret of the Wings, Planes, The Aristocats: Special Edition Blu-ray, The Rescuers & The Rescuers Down Under 2-Movie Collection Blu-ray,

Both discs' menus resemble those given to other recent Ghibli releases, displaying small slideshows of stills and clips over a faint backdrop. The Blu-ray doesn't support bookmarks or resume playback, but it does thoughtfully remember where you left off watching the film if you didn't finish it. Bonus creativity points for the sugar cube loading icon!

The combo pack is housed in a Blu-ray case which holds a Disney Movie Rewards booklet inside and a cardboard slipcover (with a sticker touting the movie's Certified Fresh Rotten Tomatoes status) outside.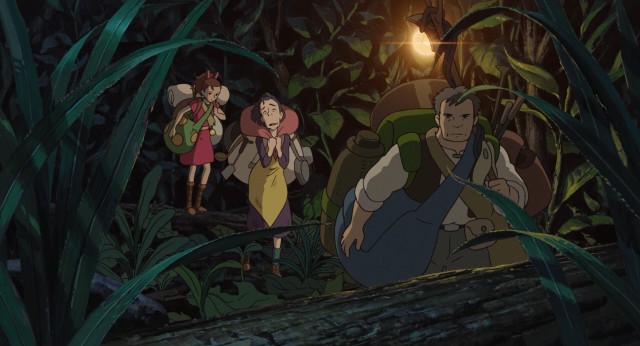 CLOSING THOUGHTS
Sweet and substantial, The Secret World of Arrietty is yet another Studio Ghibli fantasy well worth seeing. It's also quite possibly worth remembering come next year's Animated Featured Oscar nominations. Disney's Blu-ray combo pack is light on extras but delivers a dazzling feature presentation and that's enough to warrant a recommendation.
Buy The Secret World of Arrietty from Amazon.com: Blu-ray + DVD / DVD