DVDizzy.com | DVD and Blu-ray Reviews | New and Upcoming DVD & Blu-ray Schedule | Upcoming Cover Art | Search This Site
The Cabin in the Woods Blu-ray Review
The Cabin in the Woods

Theatrical Release: April 13, 2012 / Running Time: 95 Minutes / Rating: R / Songs List

Director: Drew Goodard / Writers: Joss Whedon, Drew Goddard

Cast: Kristen Connolly (Dana Polk), Chris Hemsworth (Curt Vaughan), Anna Hutchison (Jules Louden), Fran Kranz (Marty Mikalski), Jesse Williams (Holden McCrea), Richard Jenkins (Gary Sitterson), Bradley Whitford (Steve Hadley), Brian White (Daniel Truman), Amy Acker (Wendy Lin), Tim DeZarn (Mordecai), Tom Lenk (Ronald the Intern), Dan Payne (Matthew Buckner), Jodelle Ferland (Patience Buckner), Dan Shea (Father Buckner), Maya Massar (Mother Buckner), Matt Drake (Judah Buckner), Sigourney Weaver (The Director)
Buy The Cabin in the Woods from Amazon.com: Blu-ray • DVD • Instant Video
If there were any doubts about television veteran Joss Whedon's feature filmmaker credentials, 2012 has removed them. The creator of such cult shows as "Buffy the Vampire Slayer", "Angel", and "Firefly"

has had his hand in film scripts for twenty years, beginning with the Kristy Swanson Buffy movie and continuing with such works as Toy Story and Alien: Resurrection. But, as the director and primary writer of The Avengers, no one will consider Whedon a niche small screen guy any longer.

Two years before shooting Avengers, The Cabin in the Woods was made with Whedon as producer and co-writer to first-time director Drew Goddard, a fellow "Buffy" scribe whose other credits include "Lost", "Alias", and Cloverfield. Opening two years after its initial scheduling and just three weeks before Marvel's superhero dream team extravaganza, Cabin didn't have anywhere near as much box office impact, but it did easily become the year's best-reviewed horror film.
Cabin takes one of the oldest premises in the horror movie playbook and breathes new life into it with a rich meta design. The familiar story sees five college kids eager to unwind with a weekend of fun at the country cabin of one of their cousins. The five are standard issue archetypes:

football jock Curt (Chris "Thor" Hemsworth) and his playful newly blonde girlfriend Jules (Anna Hutchison); studious virgin Dana (Kristen Connolly) and Holden (Jesse Williams), the transfer student with whom she is being set up; and wiseass conspiracy nut stoner Marty (Fran Kranz). They get in an RV and head for the old Buckner Place in the middle of nowhere, stopping at a typically lifeless gas station and being warned by its creepy tobacco-spitting attendant (Tim DeZarn).

While this looks and sounds remarkably derivative, all is not as it seems. In fact, these five students are the subjects of a corporation's project. The isolated cabin really exists in a controlled environment with cameras hidden everywhere to capture the activity for the two working stiffs (Richard Jenkins and Bradley Whitford) assigned to program and oversee this exercise. The two engineers and their dozens of colleagues playfully place bets on what kind of horror these youths will summon. The possibilities are numerous and all the kids need is a nudge to explore a cellar filled with oddities and artifacts. The one they choose will determine the form of their destructor. Whatever it is, it is sure to shorten their lives considerably, according to the organization's secret plan.

The film essentially fuses a classic Friday the 13th-type scenario with The Truman Show, yielding deadly, interactive reality television with a deep list of monstrous potential guest stars including zombies, werewolves, and miscellaneous ghouls. The merger of those ideas seems natural and yet such a concept had eluded everyone before Whedon and Goddard. That isn't at all the extent of their creativity, either. As an entry to perhaps cinema's least original genre, Cabin is surprisingly and refreshingly full of imagination, which it uses to build a complex, layered universe with stakes greater than perhaps any previous horror film.

Many credit Scream with ushering in a new age of postmodern horror, one marked by irony, humor, and references. The waves it sent through the genre have largely vanished in favor of so-called torture porn and low-budget found footage thrills (along with the seemingly endless spate of generational remakes). Cabin kind of takes the Scream model and refashions it into an original beast. Call it post-postmodern horror, if you'd like. There are many winks and nods to be found as our routine tale of attractive young college students attacked in the wilderness is processed by men at a control panel who behave a lot like a vocal horror movie audience might.
The approach easily could have been mishandled by filmmakers reveling in their own cleverness or using that conceit to get away with conventional scares. Whedon and Goddard are better than that, though. Their nimble film manages to be plenty funny on that second level but also engaging on the ground floor. Where generic horror movies make their characters obnoxious and easy targets for us to partly relish their demise (an outlook held by Jenkins and Whitford's characters), this one gives the young'uns (who, per custom, are played by actors pushing 30) some depth, intelligence, and appeal, inspiring us to root for their survival.
I'm not crazy about the film's ultimate destination (which, of course I won't spoil for you), but before it gets there, it introduces still more sharp ideas and fresh scenarios. This is a film of rare and exciting originality, one that gets your own creative juices flowing. At times, it's even tempting to imagine a sequel that doesn't merely retread. After all, there are enough angles here to warrant further exploration, which is almost the exact opposite thought you have on the typical horror movie viewing.
Arriving well in time for some Halloween season viewing, Cabin in the Woods is now on DVD and Blu-ray, each equipped with both an iTunes digital copy and an UltraViolet stream.
Blu-ray Disc Details

2.40:1 Widescreen
7.1 DTS-HD MA (English)
Subtitles: English, English for Hearing Impaired, Spanish
Not Closed Captioned; Extras Not Subtitled
Release Date: September 18, 2012
Suggested Retail Price: $39.99
Single-sided, dual-layered disc (BD-50)
Blue Eco-Friendly Keepcase in Lenticular Cardboard Slipcover
Also available on DVD ($29.99 SRP) and Amazon Instant Video
VIDEO and AUDIO
Lionsgate's Blu-ray boasts excellent picture and sound. The 2.40:1 transfer remains clean and sharp throughout even in frequent scenes of darkness, while the 7.1 DTS-HD master audio is suitably engulfing and potent.
BONUS FEATURES, MENUS, PACKAGING and DESIGN

The Blu-ray's all-HD extras slate begins with "It's Not What You Think", a bonus view mode that enhances playback of the film with occasional picture-in-picture video. Covering things from production design to casting to lighting to make-up effects, the content is good, but the video is very small, the enhancements don't show up with much frequency and the feature can't even be teamed with the commentary.

In short, this probably isn't an outstanding use of 95 minutes, but there will be plenty of fans who get something out of the experience.

Next up comes a traditional audio commentary by writer/director Drew Goodard and writer/producer Joss Whedon. They ensure the track is entertaining with few lulls and a good sense of humor about their knowledgeable nerdiness. They talk about act structure, filming near a Twilight movie, shooting nudity, the demographics of Los Alamos, The Breakfast Club, editing changes sought by the bankruptcy-addled MGM, influences, deciding on the monsters to include, transitions, and drugs. It's a very enjoyable listen.

"We Are Not Who We Are: Making The Cabin in the Woods" (28:33) is a good general featurette. Goodard and Whedon discuss the project's inception and their collaborative process. We see the shooting of certain ambitious scenes. Fran Kranz does some handheld documenting. Richard Jenkins and Bradley Whitford give us a sarcastic tour of their control room.

"The Secret Secret Stash" (13:13) lets Kranz show off the drug paraphernalia the prop department created for his character and Whedon tour the cabin constructed for the film.
"An Army of Nightmares: Make-Up & Animatronic Effects" (12:10) delves into the practical work used to bring fantastical creatures to life, with crew comments and generous behind-the-scenes footage.
"Primal Terror: Visual Effects" (12:07) considers the other side of the equation, discussing the movie's computer-generated monsters and some miniature work as well as their integration into other elements.
A "WonderCon Q & A" (27:30) panel has Goddard and Whedon answering the questions of a moderator and audience members. The information is a little redundant, but you get a different vibe from this than the other extras and the public's detail-oriented questions are especially fun.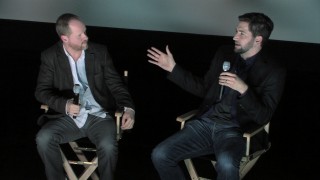 Cabin's effective original theatrical trailer (2:27) is kindly preserved.

"Also from Lionsgate" repeats the ten minutes of trailers with which the disc opens.

They promote The Possession, The Last Exorcism, Cabin Fever, My Bloody Valentine 3D, EPIX, and Fear Net TV. I do like that Lionsgate doesn't limit their advertising to simply their newest films, placing more value on thematically kindred fare.

The menu plays clips from the film on the screens of a surveillance station, conveying the concept nicely. The disc supports bookmarks and resumes playback as well.

The eco-friendly keepcase is topped by a very cool lenticular slipcover that changes the poster's Rubik's cube cabin artwork into cubed monsters. The insert supplies a unique code for both an iTunes download and UltraViolet stream of the film.
CLOSING THOUGHTS
Cabin in the Woods has more than enough cleverness to stand out and be celebrated. What on the surface looks like an ordinary horror movie winds up being much more than that while entertaining on multiple levels.
Lionsgate's fine disc holds lots of strong bonus features. This is one to check out and to consider for your Halloween horror needs.
Buy The Cabin in the Woods from Amazon.com: Blu-ray / DVD / Instant Video


Related Reviews:
Written by Drew Goddard: Cloverfield • Lost: The Complete First Season | Written by Joss Whedon: Toy Story
Chris Hemsworth: Thor | Fran Kranz: The TV Set | Richard Jenkins: Step Brothers • Let Me In | Bradley Whitford: Adventures in Babysitting
New: The Hole • Pet Sematary • Dark Shadows • The Halloween Tree • Arachnophobia • The Game • Red Lights
Fright Night (2011) • The Ruins • Zombieland • The Faculty • Frozen • The Last Exorcism
The Cabin in the Woods Songs List: Jamie Dunlap - "Hold Please", OK Go - "White Knuckles", Ladyhawke - "Crazy World", Asher Roth - "Be By Myself", Switchfoot - "The Sound (John M. Perkins' Blues)", Jesse Hughes and Joshua Homme - "So Easy", Motocade - "Tightrope Highway", The High Decibels - "Miss Cindy", Iggy Pop - "She's a Business", Vassy - "Desire", Soul River - "River of Souls", Men in Tights - "Pas De Deux", "A Rolling Acorn", REO Speedwagon - "Roll with the Changes", Nine Inch Nails - "Last"
DVDizzy.com | DVD and Blu-ray Reviews | New and Upcoming DVD & Blu-ray Schedule | Upcoming Cover Art | Search This Site
Search This Site:
DVDizzy.com Top Stories:
Reviewed October 6, 2012.


Text copyright 2012 DVDizzy.com. Images copyright 2012 Lionsgate and Mutant Enemy Productions.
Unauthorized reproduction prohibited.