DVDizzy.com | DVD and Blu-ray Reviews | New and Upcoming DVD & Blu-ray Schedule | Upcoming Cover Art | Search This Site


Chronicle: Director's Cut - The Lost Footage Edition Blu-ray + DVD + Digital Copy Review
Chronicle

Theatrical Release: February 3, 2012 / Running Time: 84 Minutes (Theatrical Cut), 90 Minutes (Director's Cut) / Rating: PG-13 (Theatrical Cut), Unrated (Director's Cut)

Director: Josh Trank / Writers: Max Landis (story & screenplay), Josh Trank (story) / Songs List

Cast: Dane DeHaan (Andrew Detmer), Alex Russell (Matt Garetty), Michael B. Jordan (Steve Montgomery), Michael Kelly (Richard Detmer), Ashley Hinslaw (Casey Letter), Bo Petersen (Karen Detmer), Anna Wood (Monica), Rudi Malcolm (Wayne), Luke Tyler (Sean), Crystal Donna Roberts (Samantha), Adrian Collins (Costly), Grant Powell (Howard), Armand Aucamp (Austin), Nicole Bailey (Cala)
Buy Chronicle from Amazon.com: Blu-ray + DVD + Digital Copy • DVD • Instant Video
Chronicle finds a new use for the usually clever, always cost-effective found footage design: a teen movie with supernatural elements.

Bullied Seattle teenager Andrew Detmer (Dane DeHaan) begins to document his life as a high school student,

initially to capture his alcoholic father's (Michael Kelly) abuse and beyond that just because. Between a dying mother (Bo Petersen) and a hostile student body that primarily shuns him, Andrew has kind of a depressing existence. He does, however, have a cousin Matt (Alex Russell), who gives him rides to school and mostly tolerates him.

One night, Andrew tags along with Matt to a rave in an abandoned warehouse in the woods. The two of them along with cool aspiring student council member Steve Montgomery (Michael B. Jordan) wander off from the party and explore a deep hole in the ground. They emerge from their encounter with some kind of a glowing plant down there with the power of telekinesis.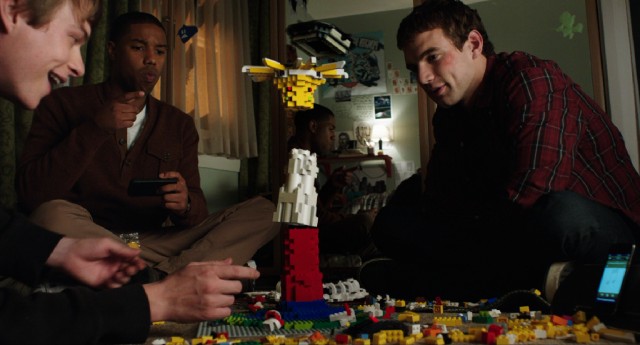 You may have to suspend your disbelief at this point, not because of the supernatural acquisition (though that is kind of a leap for found footage), but because these boys take it in stride and keep their remarkable new gifts to themselves, despite the fact that high school offers a tremendously tempting forum for showing off. Apart from that improbable secret, the movie does a good job of depicting a typical teenager maturity level and sense of humor. Before long, Andrew, Matt, and Steve are amusing themselves in a shopping mall parking lot and a toy store, using their minds to mess with their fellow Seattleites.
Growing closer in friendship, the three classmates initially believe telekinesis is the extent of their new arsenal, but other powers develop, including flight. Some of their activity results in nosebleeds and headaches, but through it all, Andrew continues filming, even mastering the art of keeping the camera afloat hands-free. Matt's blogger ex-girlfriend (Ashley Hinslaw), a mostly unnecessary character, shares Andrew's propensity for videography, allowing the film to maintain its all character-shot design even when it doesn't make sense.
For a long time, Chronicle thoroughly entertains, showing us the fun of superpowers without the conflict, danger, and responsibility of superheroism. Three boys, a camera, and some extraordinary gifts is a recipe for spirited exhilaration. Unfortunately, consequences and casualties arise and manage to suck out most of the fun. The film loses its way in almost no time at all, staging a grand-scale, show-stopping action climax that it is not at all suited for. This is a movie that coasts smoothly for nearly an hour and then suddenly starts thinking big to create and resolve conflict by the time the credits start rolling before the 80-minute mark.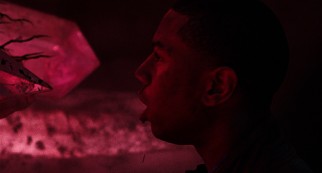 Chronicle does not take the typical found footage route of a foreseeable and fatalistic conclusion. But that probably would have been preferable to the out-of-place and presumably costly (both in time and money) chaos it crafts of hurled buses, circling helicopters, and urban destruction. I can't think of another movie that had my support in the bag and kept me happy for so long only to blow it with such a disappointing finale. If Chronicle had not been so enjoyable for an hour, that bitter ending would be a lot easier to swallow.

From a financial perspective, we can easily add this movie to found footage's win column (a column that includes virtually every one of the genre's entries except for the quickly forgotten comedy flop The Virginity Hit). Chronicle has grossed $65 million domestically and $124 M worldwide on a production budget of just $12 M.

(As expected, the low budget's limitations are evident in the film's lacking visual effects.) The success prompted sequel talk and co-writer Max Landis (son of director John Landis) has been pegged to write a follow-up, one I find unwarranted given the shambles in which the film leaves us.

Fox released Chronicle to home video this week. Dubbed The Lost Footage Edition, its two-disc Blu-ray combo pack presents the film in both its theatrical edit and an extended director's cut on Blu-ray. The director's cut runs 5 minutes and 38 seconds longer than the theatrical cut, which with its child abuse, sexual and drug references, and drunken partying is already a hard PG-13. The variations I noticed seem pretty minor, with extensions to the eye-opening baseball throw scene and a brief light moment between Matt and his not-quite-ex. I doubt you'll have a strong reaction to the new edit, but including both and letting you choose is a nice touch and the way to go.
Blu-ray & DVD Details

1.85:1 Widescreen (DVD Anamorphic)
BD: 5.1 DTS-HD MA (English), Dolby Digital 5.1 (Descriptive Video Service, Spanish, French) DVD: Dolby Digital 5.1 (English, DVS), Dolby Surround 2.0 (French, Spanish)
Subtitles: English for Hearing Impaired, Spanish
DVD Closed Captioned; Extras Not Subtitled
Release Date: May 15, 2012
Two single-sided, dual-layered discs (BD-50 & DVD-9)
Suggested Retail Price: $39.99
Blue Eco-Friendly Keepcase in Holographic Cardboard Slipcover
Also available on DVD ($29.98 SRP) and Amazon Instant Video
VIDEO and AUDIO
Chronicle boasts slightly grainy, consumer-grade digital video quality in its 1.85:1 presentation. It looks pretty good, although per the design it is shakily shot and choppily edited. The 5.1 DTS-HD master audio offers more excitement than a teenager's camera would. Although volume levels fluctuate, the sound is crisp and clear throughout, most coming to life with licensed music and potent bass.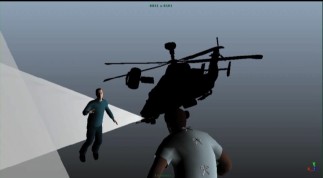 BONUS FEATURES, MENUS, PACKAGING and DESIGN
Beyond the director's cut, Chronicle's Blu-ray is light on bonus features, providing just a handful of short videos.
A single deleted scene (1:10, HD), resembling one of the director's cut additions, finds Matt's girlfriend asking him about his college interviews as the two appear to be preparing breakfast in a state of undress. Am I the only one who thinks all director's cut reinsertions should be available to view on their own also?
"Pre-Viz" (7:48, SD) treats us to a couple of the film's effects-driven scenes, the flying scene and the climax, in crude CG animatic form. They're a lot less impressive than the final product.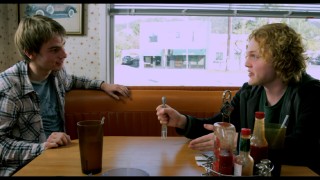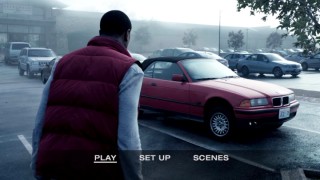 A "Camera Test" (3:58, HD) captures some trials of scenes from the movie with actors other than those in the film itself (including Prom's Joe Adler).

Chronicle's theatrical trailer (2:08, HD) is fittingly included.

With an Internet connection, "Live Extras" takes you to Fox's standard BD-Live offerings, enabling you to stream or download trailers and bonus feature excerpts from the studio's recent and upcoming movies and Blu-ray releases.

None of it is too exciting, but it is free and fairly easy, requiring merely some patience and/or space in the player's hard drive.

The Blu-ray opens with trailers for Prometheus and Act of Valor, with a hip new promo for "The Blu-ray Experience" between them. All three are accessible from a Sneak Peek menu, which also holds ads for "American Horror Story" Season 1, Get the Gringo, Martha Marcy May Marlene, and Bad Ass. A "Chronicle Soundtrack Info" listing takes to a static screen which basically says that a soundtrack is available (though it doesn't always display properly).

This combo pack's DVD is not the same as the one sold separately. That one includes the pre-viz and camera test. This one holds the theatrical cut and a digital copy of the same in three different formats.

On both Blu-ray and DVD, the main menu applies some glitchy effects to clips from the movie. The Blu-ray disc takes a long time to load, but it resumes playback and also supports bookmarks on the film, so it is worth the wait.

The eco-friendly Blu-ray case is snuggly topped by a faintly holographic cardboard slipcover. A single-sided insert supplies digital copy directions and a unique redemption code.
CLOSING THOUGHTS
Chronicle gets most things right in its first hour and nearly everything wrong in its final twenty minutes. That adds up to a film highly diverting at times but ultimately unsatisfying, which is unfortunate given the promise of the premise and design. It's still worth a look, but brace yourself for disappointment. Fox's Blu-ray combo pack is pretty lightweight, but the fine feature presentation and two different cuts should appease most fans.
Buy Chronicle from Amazon.com: Blu-ray + DVD + Digital Copy / DVD / Instant Video


Related Reviews:
New: The Devil Inside • The Vow • Whisper of the Heart • Men in Black • Men in Black II
Push • Jumper • X-Men: First Class • Kick-Ass • Percy Jackson & the Olympians: The Lightning Thief
Found Footage: Cloverfield • The Last Exorcism • Paranormal Activity 2 • Paranormal Activity 3
The Twilight Saga: Eclipse • Superbad • Sky High • Now You See Him, Now You Don't • Hancock • District 9 • In Time
Chronicle Songs List: Philadelphia Grand Jury - "Ready to Roll", Jessie J - "Price Tag", Blonde Acid Cult - "Calypso", Bad Veins - "Gold and Warm", Chip tha Ripper - "Too Cold", Crystal Castles - "Baptism", Simian Mobile Disco - "Sweetbread", No/Fi Riots - "Just It", Tom Disher - "The Big One", The Lost Patrol - "Homecoming", The Daylights - "Get Ready", Dante Vs Zombies - "Yes, I'm Stalking You", Deastro - "The Shaded Forests", Firefly - "Intoxicate", Dem Naughty Boyz - "Deez Hips", "Ave Maria", capsule - "Flash Back", Dirty South & Those Usual Suspects feat. Erik Hecht - "Walking Alone", Dialectrix - "Pieces of a Puzzle", Congorock and Alle Bernassi - "Sirius", AB & The Sea - "Bone Dry", MNDR - "Jump In (Discmann's Off the Wagon Remix)", Jet Horns - "Party Hats", STRFXR - "Bury Us Alive", MNDR - "Cut Me Out", Wallpaper - "#STUPIDFACEDD", The Lytics - "I'm Here", Bikini - "American Mourning", Class Actress - "Keep You", Maura Murphy - "Amazing Grace", Lior Ron & Luke Janeta - "Amazing Grace", "Prelude Op. 28 No. 7", David Bowie - "Ziggy Stardust", Royce - "Doin' It Again", The Trickles - "With Each Step", The Longcut - "Tell You So", M83 - "This Bright Flash"

Buy Chronicle: Music from the Motion Picture: Amazon.com MP3 Download • Amazon.com CD • iTunes Download
DVDizzy.com | DVD and Blu-ray Reviews | New and Upcoming DVD & Blu-ray Schedule | Upcoming Cover Art | Search This Site
Search This Site:
DVDizzy.com Top Stories:
Reviewed May 17, 2012.


Text copyright 2012 DVDizzy.com. Images copyright 2012 20th Century Fox, Davis Entertrainment Company, and Fox Home Entertainment.
Unauthorized reproduction prohibited.