Most of last year's biggest movies were hits that everyone could see coming from a mile away: The Avengers, the final Twilight movie, The Dark Knight Rises, The Hobbit. Among these easily predicted major attractions stood The Hunger Games, an adaptation of the first in a series of best-selling young adult novels by Suzanne Collins.

It would be disingenuous to act like The Hunger Games took the world by surprise. Since being announced for film treatment back in 2010, this was a project on the radars of both the public and the press. No serious article looking ahead to the big films of 2012 would have left this off. Success was clearly with precedent, in light of the epic returns of the Harry Potter and Twilight franchises to which this was most readily compared.

Still, it seemed just as likely that Hunger Games could perform more along the lines of Percy Jackson & the Olympians (an $89 million domestic gross in 2010) and Lemony Snicket's A Serious of Unfortunate Events ($119 M in 2004).

Instead, The Hunger Games would become not only as big as Twilight and Harry Potter, but quite a bit bigger, as its $408 M North American gross bested every one of those two benchmark series' installments (and all but Harry Potter and the Sorcerer's Stone after adjusting for inflation). By the end of its first weekend, it was the biggest hit in the history of distributor Lionsgate, long considered just outside the lines of the major movie studios, decimating the company's handful of modest performers, nearly all of them having the words "Tyler Perry" or "Saw" in their titles. Domestically, when The Hunger Games' long theatrical run finally concluded six months after opening, it was handily the third highest-earning film of 2012 and the 13th highest-grossing film of all time. Even if it didn't get quite as much support from international markets as most tentpole films do these days, it still pulled in close to $700 million worldwide, an extraordinary sum for a $78 M production with uncertain prospects.
As you likely know by now, The Hunger Games is set in a dystopian post-apocalyptic future where there is a great divide between the opulent ruling Capitol and twelve poor districts surrounding it. The Hunger Games are an annual event in which two citizens between the ages of 12 and 18 are randomly selected from each district to compete in a televised battle to the death, from which a single youth will emerge victorious. This barbaric ritual is tradition -- this year is the 74th -- and also must-see TV for both the impoverished masses and wealthy officials of the nation Panem.
Chosen as one of District 12's two representatives is young Primrose Everdeen (Willow Shields), but before she is taken away, her teenaged sister Katniss (Jennifer Lawrence) takes the most unusual step of volunteering in her place. Blonde son of a baker Peeta Mellark (Josh Hutcherson) joins her as District 12's other competitor. With a mix of emotions racing through their minds, Katniss and Peeta travel to the Capitol alongside flamboyant chaperone Effie Trinket (Elizabeth Banks) and their designated mentor Haymitch Abernathy (Woody Harrelson), a Hunger Games winner long ago who today only seems to muster enthusiasm for alcohol.
The film is big on pageantry. Over an hour of screentime passes before the games themselves begin, allowing us plenty of time to familiarize ourselves with the competition's few rules and designs, with boldly-fashioned commentators (played by a blue-haired Stanley Tucci and Toby Jones) filling us in. Katniss and her fellow "tributes" are made over, paraded in colorful attire for an Olympic-like opening ceremony, and trained in activities that could save their lives in the arena. Katniss has already been established as an expert archer, a skill she uses to hunt animals for food back home. That gives her a bit of an edge, but many things factor into a tribute's survival, from forming alliances to winning sponsors and public sympathy.
The Hunger Games is an interesting creature. You'll see it classified as science fiction, action, and adventure, but not fantasy, because almost nothing which occurs in it defies the laws of our world. Where Harry Potter and Twilight soared on fantastical elements (wizards, werewolves, vampires and the like), The Hunger Games excels on good old-fashioned storytelling.

It holds similar interests in a large cast of young people and establishing colorful settings and rules. Without anything easily labeled magic or supernatural (Katniss does earn the nickname "The Girl on Fire" for a dress that looks like it's aflame and beasts are instantly conjured by gamekeepers), the film has something of a timeless universal appeal, as it contrasts this fascinating futuristic post-apocalyptic universe of disparity with something resembling ancient gladiatorial combat.

The kill-or-be-killed design does many interesting things. It minimizes predictability and eliminates the drawn-out wars between good and evil that define franchises. It also challenges conventional morality, as survival instincts are placed on a balance with sheer predatoriness. While your reasonable expectations are never outrageously defied and the film does rely on some old tricks to maintain sympathy (for instance, the Disney animation tradition of villain falling to his or her own demise is upheld), the entertainment remains creative and stimulating.

Violence is gratefully kept to a necessary minimum, but that doesn't change the bizarre fact that a franchise largely embraced by young people centers on a savage competition in which young people kill each other. There are certain moments, like when one girl pushes another to the brink of death, that make you wonder what has happened to family entertainment. But to dismiss on that basis would require you to overlook a bevy of admirable values demonstrated by the characters of selflessness, sacrifice, and teamwork.

Those values are not overplayed, with the film remaining artfully subtle and requiring you to process its themes on your own. The story is rich with ideas. It's not purely allegorical, but it's incredibly easy to draw comparisons to reality television and the human nature William Golding wrote about in Lord of the Flies. This is the kind of movie you could discuss all day from various angles and not grow tired of it. While fans of Harry Potter would argue that they could do the same with each and every one of their beloved series' books/movies, Hunger Games seems to be a little more grounded in reality and conducive to thinking, whereas complex and magnificent though they often may be, the Potter tales break down a little more neatly into standard good vs. evil morality, the young wizards' adventures being less relevant to our own.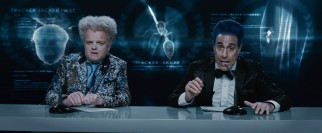 The Hunger Games is very well made, deftly managing to entertain young and adult moviegoers alike. It doesn't talk down to viewers or shun harshness. Gary Ross, who receives screenplay credit along with Collins herself and action scribe Billy Ray (Flightplan, Breach),

is not an obvious choice for the helm, having only previously directed Pleasantville and Seabiscuit in addition to writing works as varied as Big, Dave, and The Tale of Despereaux. But he proves to be a good fit for this material.

While some will criticize his use of vιritι-style shaky camerawork on scenes in set the districts and in the games themselves as pedantic, that touch adds flavor and distinction to these proceedings. The contrast is not unlike The Wizard of Oz separating its worlds with sepia tones and Technicolor. Though Ross isn't the flashiest of writer-directors, he knows how much to engage our senses and also not to overstep bounds of sentimentality, romance, or comedy. The film's balance of genres and tones is exceptional. What could easily have been dizzying or haphazard instead is a smooth and consistently enjoyable experience.

Finally, the film's casting is terrific. It's now impossible to imagine anyone but Jennifer Lawrence in the lead role. Her work in Winter's Bone making her an obvious fit, Lawrence infuses the part with the right amount of gravitas and charm. Katniss is no Bella Swan, able to disappear as a pawn between two otherworldly suitors. She is an appealing and active heroine, an effortlessly strong female character who isn't transparently designed to invite gender studies attention or respond to the generally male-driven worlds of adolescent-oriented superhero cinema.

Surrounding Lawrence are not stars but actors who have proven to be capable in a variety of settings. Josh Hutcherson remains one of his generation's strongest talents. Though lacking anything similar in his filmography, Woody Harrelson feels at ease in an outlandish wig. Stanley Tucci and Elizabeth Banks embrace some of their boldest characterizations to date. Even actors granted limited screentime, like Wes Bentley, Donald Sutherland, and Lenny Kravitz, have enough presence to make an impact. In every one of these turns, even something as questionable as a generic hunk love interest like Liam Hemsworth, it's easy to think of The Twilight Saga's equivalent and be grateful for the far more agreeable results here.

With three additional Hunger Games film sequels (including the now-obligatory final book split into two parts) scheduled for theatrical release over the next three Novembers, the original film is available to own in two-disc DVD and Blu-ray editions, each equipped with digital copies and UltraViolet.
Blu-ray Disc Details

2.40:1 Widescreen
7.1 DTS-HD MA (English), Dolby Stereo 2.0 (English), Dolby Digital 5.1 (Spanish)
Subtitles: English, English for Hearing Impaired, Spanish
Not Closed Captioned; Extras Not Subtitled
Release Date: August 18, 2012
Suggested Retail Price: $39.99
Two single-sided, dual-layered discs (BD-50s)
Blue Eco-Friendly Keepcase in Cardboard Slipcover
Also available as 2-Disc DVD ($30.98 SRP) and on Amazon Instant Video
VIDEO and AUDIO
Aside from a tiny bit of grain, The Hunger Games' 2.40:1 Blu-ray transfer looks terrific. The bold visuals might not be everyone's cup of tea, but they are well-presented here. Sound is among the film's fortes, particularly its inspired use of ambient noise in the game sequences. The 7.1 DTS-HD master audio is full of life and activity, but also manages to stay consistent in dynamics for a satisfying experience. The Blu-ray also includes a Dolby 2.0 track optimized for late night viewing and a DTS Sound Check feature for calibrating your home theater. Sadly but characteristically, Lionsgate does not extend the courtesy of English subtitles to supplements.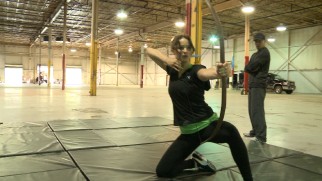 BONUS FEATURES

In the absence of audio commentaries, bonus features are altogether relegated to the second disc.

Disc 1 touts MetaBeam Smart Remote and BD Touch, apparently both referring to Lionsgate's version of a second screen app. "Also from Lionsgate" repeats the disc-opening promos,

advertising The Twilight Saga: Breaking Dawn - Part 2, The Perks of Being a Wallflower, UltraViolet, and EPIX.

Though some of its content could have fit on Disc 1, the bonus platter is no sales gimmick. It is full of substantial supplements, all of them presented in full HD. The centerpiece is the 122-minute documentary "The Whole World is Watching: Making Hunger Games." Unusually comprehensive and thoughtful, this ranks among the best film-specific documentaries I've encountered. Broken into eight pieces but flowing like one long consistent companion, it covers adaptation; casting; characters; costumes, hair and make-up; set design; training and stunts; filming on location in North Carolina; adding visual effects; editing; scoring; sound mixing; and the film's premiere and reception. The content is a fairly typical mix of talking heads, candid B-roll, hosted behind-the-scenes, and film clips.

Next, we get six items under the header Featurettes.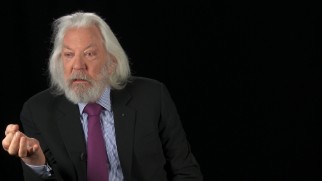 "Game Maker: Suzanne Collins & The Hunger Games Phenomenon" (14:05) focuses on the book behind the film and contemplates why it has resonated with the public. While the author is a no-show, her publisher, critics, educators, fans, and cast members sing her praises.
The unusual "Letters from the Rose Garden" (9:08) shares and elaborates on a rambling three-page note from Donald Sutherland to director Gary Ross on the nature of Sutherland's character President Snow.
"Controlling the Games" (5:50) considers the usefulness of the green screen-heavy game control room invented for the film to give context.
"A Conversation with Gary Ross and Elvis Mitchell" (14:31) has the director talk to the film critic/radio host about The Hunger Games in between clips.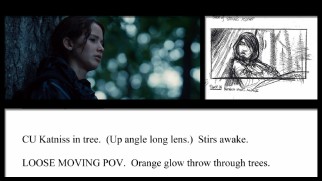 "Preparing for the Games: A Director's Process" (3:00) lets Gary Ross share his process of creating a shot list for the film to guide him through production.

A split-screen demonstration compares moments from the final film to the corresponding storyboards and parts of the shot list.

"Propaganda Film" (1:34) gives us Panem's brief, expository history of the Hunger Games (excerpted in the feature film) narrated by Donald Sutherland as President Snow.

Finally, we come to the Marketing Gallery. It holds three Hunger Games trailers: a sneak peek (1:08), a standard trailer (2:39), and a shorter second one (1:12). The section also includes a Poster Gallery containing 11 movie and character one-sheet designs and a 73-image Photo Gallery offering a mix of film stills and behind-the-scenes shots. Each is presented with transitional "whoosh" sound effects and with the pictures smaller than they should be.
MENUS, PACKAGING and DESIGN
Lionsgate takes advantage of the film's ample theming opportunities, calling Disc 1's opening promos "Previews for Your Mandatory Viewing" and having a film-specific region code mismatch screen, for instance. The movie disc's menu plays narrow clips on banners in City Circle, site of the games' opening ceremonies. Disc 2 takes a somewhat more ordinary approach, by playing clips in the open areas of clips set largely in the outdoors of District 12. Both discs kindly resume playback and the movie also allows you to place bookmarks.
The two discs, labeled with profile shots of Katniss and Peeta, share a standard eco-friendly Blu-ray case, topped by an unremarkable artwork-recycling cardboard slipcover. It holds an insert with directions and your unique code for accessing the complimentary iTunes digital copy and UltraViolet stream, as well as a code for nabbing an exclusive virtual item in the movie's official Facebook game.
CLOSING THOUGHTS
The Hunger Games is one of those rare modern movies that virtually all moviegoers can enjoy. Though commercially triumphant, it's artistically sound. It stays faithful enough to the book, without requiring you to read it to catch everything that's going on. Despite its savage premise, it's something you wouldn't object to kids embracing, but adults are every bit as likely to be entertained. In all these ways, this series-launching installment is one of last year's best films and while no serious awards will recognize it as such, the box office returns on this (and inevitably its first sequel, at least) reflect that the high quality isn't lost on the public.
Lionsgate's Blu-ray is everything it should be, delivering a terrific feature presentation and one of the strongest collections of bonus features assembled for a single film at a standard list price.
Buy The Hunger Games from Amazon.com: Blu-ray / DVD / Instant Video