Lincoln boasts promise above and beyond most films. It is a film by Steven Spielberg, whom I've long considered the greatest director working today. It has Daniel Day-Lewis, renowned for immersing himself in his roles. And it has Abraham Lincoln, one of the most highly regarded and significant of all U.S. presidents. That looks like a winning combination, the blueprint for not only a surefire Oscar favorite but a definitive biopic and an excellent piece of cinema.

Though Spielberg's career began with exciting crowd-pleasers, he has long since displayed the ability to make history accessible and riveting in films like Schindler's List and Saving Private Ryan. Day-Lewis has won raves and accolades for his transformative performances for a variety of esteemed filmmakers. And who couldn't foresee the cinematic power of Lincoln, as influential and visually distinctive as any American leader?

In light of all that, expectations for Lincoln are set almost impossibly high. Since some films with as much to live up to have managed to do so in recent years, I wasn't setting myself up for certain disappointment. And yet, disappointment is the primary sentiment in my reaction to this film. By the time the Oscar nominations were announced in January, I was dreading the Lincoln dominance that its industry-leading haul seemed to make destiny. When it proceeded to lose in all but two of the twelve categories in which it had competed, I felt relief. How did this film manage to go from one of the few must-see releases of the holiday season to the single film I most expected yet least wanted to be recognized at award ceremonies?
Despite the title, poster, and crux of anticipatory buzz, Lincoln is not a biopic. It is less about the 16th president of the United States than it is about the 13th amendment to the U.S. Constitution. A film about a great leader in a troubled time portrayed by a gifted and accomplished actor garners interest. A film about the passage of a change to a legal document generates less intrigue, even if the revision in question outlawed slavery and came alongside the end of the longest and deadliest war fought on American soil.
Drawing partially from Doris Kearns Goodwin's 2005 biography Team of Rivals, Pulitzer Prize-winning playwright Tony Kushner (Angels in America, Munich) tries his hardest to make the spirited debate and reluctant compromise out of which the amendment was passed come to life. You'd think that Spielberg, whose specialty has always been entertainment, and the large, distinguished, suitable cast he effortlessly assembles here would help breathe life into the wordy material, but there's only so much that can be done.
Taking place entirely over the first four months of 1865 (and predominantly just January), the film details President Lincoln's uphill quest to get slavery outlawed quickly and definitively. Four years and hundreds of thousands of casualties into the Civil War, Lincoln wishes for swift action at the start of his second term. The proposed bill faces resistance. His wife (Sally Field in age-blind casting) sees the measure doomed to not gather the two-thirds majority vote it needs to pass in the House of Representatives. Others share her doubt, regardless of their dislike of slavery and wish for peace. With the help of three lobbyists (played by James Spader, Tim Blake Nelson, and John Hawkes), Lincoln tries to get the bipartisan support needed to pass the amendment.
In Lincoln, we get a great performance, but not a great film. As will come as a surprise only to those unfamiliar with his work, Day-Lewis disappears in the title role. He is aided by impressively invisible hair and make-up as well as Lincoln's considerable stature,

but it is tremendous acting that gives the turn most of its power and magnetism. Day-Lewis' portrayal implicitly and convincingly updates our prevailing notion of Lincoln. He does not speak with the booming, authoritative voice you expect, but instead the soft tone of the old man he was at the end of his life. This Lincoln is tall and bearded, but also frail and graying. The locutionary skills for which he's known take a back seat to a propensity for storytelling and a sense of humor. We know Lincoln as a great uniter, yet this film shows the division his call to action breeds.

Kushner and Spielberg are not oblivious to the dryness of the material, the content and casting of which seem more tantamount to an ambitious miniseries. In an effort to maintain viewer interest, the film is full of flamboyant monologues and attempts at comic relief. There are lots of human touches, but they are either peripheral or poorly judged. A number of scenes find these contentious politicians prone to laughter and loud dispute. Those crowd scenes resemble a sitcom laugh track, the kind that films never use. Genuinely funny or captivating movies don't show characters laughing or clashing unintelligibly. That Lincoln has to keep doing both seems less the product of thorough research and more a way to nudge the viewer into staying alert.

That such scenes do not have the desired effect contributes to Lincoln's biggest problem, which is that it fails to connect emotionally. Spielberg is a master of putting human faces on the fantastic and getting laughs in the midst of serious situations. Here, he succeeds at neither task. He makes melodramatic subplots out of documented issues like son Robert's (Joseph Gordon-Levitt) desire to enlist and Mary's mental illness. The presentation is often maudlin and stuffy.

It's also very long, much longer than the 150-minute runtime indicates. It doesn't help matters that the final twenty minutes before the end credits add nothing of value. Instead, they supply corny touches like a stakes-raising domestic revelation for one of the few compelling lawmakers on display, the principled, insulting, and bewigged Radical Republican leader Thaddeus Stevens (a deservedly Oscar-nominated Tommy Lee Jones). Another twist in the final moments seems pointless and in poor taste. Such missteps, minor though they may be, undermine a film that is so determined to be uplifting, as yet another familiar John Williams score regularly belabors.
I am grateful that the Academy Awards uncharacteristically chose not to take this film's bait, opting to reward better films like Argo (Best Picture, Best Adapted Screenplay) and Life of Pi (Best Director). Though not surprising, Lincoln's wins in Best Actor (making Day-Lewis the first to win that honor three times) and Production Design seemed agreeable, while contributing to a ceremony that appropriately shared the wealth among the year's most substantial films. There is unfortunate precedent for the safe, self-important historical drama to defeat worthier contemporaries that I am glad was not followed this year.
The past few years have led me to question my long-held belief in Spielberg's directing prowess. I quite enjoyed his blockbuster adventures War of the Worlds and the fourth Indiana Jones movie (both of which have given rise to more than their share of online detractors). But his back-to-back prestige films have left me unsatisfied, striking me as sentimental and laborious despite their technical splendor. While Lincoln is an improvement on War Horse, it is still something that could and should be better than it is. The Spielberg fan in me thinks the director needs to either embrace and extend his legacy of pure entertainment or be willing to doubt his instincts, no matter how well they have served him in the past. It is troubling that Lincoln plays out exactly as you expect it might based on the trailer that felt like a parody of awards bait cinema.
Perhaps I am in the minority in that regard. Lincoln was exalted by critics and eaten up by moviegoers. If 2011's Christmastime underperformers War Horse and The Adventures of Tintin cast some doubt over Spielberg's unparalleled commercial success, Lincoln removed it. Here was a film with no action, no sex, no noticeable visual effects. Two and a half hours of hirsute men talking in limited light. And it's grossed $182 million domestically, quite a bit more than every other Best Picture nominee despite them being more in line with modern moviegoer tastes. That robust box office performance indicates that many paid to see Lincoln on the big screen. The small drops and long legs suggest that many recommended the film or chose to see it more than once. That may say a lot more than the film's unextraordinary 7.6 and dropping IMDb average user rating. I wish that I found it easy not just to appreciate Lincoln but actually like it.
Presumably healing any of the wounds from Spielberg's reported dissatisfaction over Disney's marketing and distribution of War Horse, Lincoln hit home video last Tuesday in a single-disc DVD, a two-disc Blu-ray + DVD, and, the subject of this review, a 4-disc Blu-ray + DVD + Digital Copy combo pack.
Blu-ray & DVD Details

2.40:1 Widescreen (DVD Anamorphic)
Blu-ray: 7.1 DTS-HD MA (English); DVD: Dolby Digital 5.1 (English);
Both: Dolby Digital 5.1 (French, Spanish), Dolby Surround 2.0 (Descriptive Video Service)
Subtitles: English for Hearing Impaired, French, Spanish
Not Closed Captioned; Extras Subtitled
Release Date: March 26, 2013
Suggested Retail Price: $45.99
Four single-sided discs (1 BD-50, 1 BD-25, and 2 DVD-9s)
Blue Keepcase in Embossed Cardboard Slipcover
Also available in 2-Disc Blu-ray + DVD Combo ($39.99 SRP), standalone DVD ($29.99 SRP), and on Instant Video
VIDEO and AUDIO
Even when dramatically questionable, Spielberg remains a superior filmmaker on a technical level. You may not marvel at the low-lit, stylized 2.40:1 visuals, but the Blu-ray presents them flawlessly. The sharp, pristine element gives as clear a look at that Oscar-winning production design as 1080p allows. Sound is offered in 7.1 DTS-HD master audio and it too is great, though the gavel bangs and shouts do not command much notice while John Williams' score sometimes assumes a greater presence than warranted.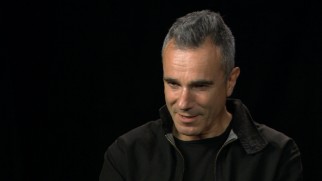 BONUS FEATURES, MENUS, PACKAGING and DESIGN

Lincoln upholds the Spielberg home video ideal of a supplemental slate consisting not of deleted scenes, audio commentaries, outtakes, trailers, or music videos, but just number of Laurent Bouzereau-produced making-of featurettes. All are presented in HD.

The first two accompany the film on the first Blu-ray, the same Blu-ray included in the two-disc combo pack. "The Journey to Lincoln" (9:24) provides some general remarks from the likes of Spielberg, Day-Lewis, producer Kathleen Kennedy, author Doris Kearns Goodwin,

screenwriter Tony Kushner, and production designer Rick Carter on Lincoln, the desire to do justice to his complicated and significant life, and the project's origins. "A Historic Tapestry: Richmond, Virginia" (4:00) discusses the parts of the historic, well-preserved city in which Lincoln was shot.

The bonus Blu-ray disc, exclusive to this 4-disc combo pack, adds sixty-five minutes to the supplement count in four additional featurettes.

"In the Company of Character" (10:23) celebrates the cast, starting with Day-Lewis' complete immersion and moving to the supporting actors, including Field (who acknowledges her age and explains how she got this job seemingly out of nowhere) and others, who describe their research and involvement.
"Crafting the Past" (10:43) considers the detailed production design and costume work

required of such a period undertaking.

"Living with Lincoln" (27:04) gives us insight into the filmmaking process, with B-roll and reflections from cast and crew touching on everything from Lincoln himself to Day-Lewis' interpretation of him to the film's look. Though kind of rambling, this is the meatiest supplement.

"In Lincoln's Footsteps" (16:35) covers the post-production processes of editing, music, and sound design. Spielberg's regular collaborators address how this differed from past films. Fascinatingly, sound designer Ben Burtt made use of Lincoln's actual watch and clock. The piece wraps up with final thoughts and anecdotes of production ending.

On each of the first three discs, "Credits" (1:03) for all of the set's supplements are displayed alongside Spielberg shaking hands with his muddied, grateful soldier extras

As on the identical disc sold on its own, the DVD only includes "The Journey to Lincoln" and "Credits" alongside the film.

As Disney alone seems to do these days, the digital copy comes in the form of the final disc, a dual-layered DVD-ROM holding the film in one iTunes and two Windows Media files.

Having Spielberg's interests in mind, the main Blu-ray and DVD open with trailers for War Horse and Who Framed Roger Rabbit: 25th Anniversary Edition, followed by a promo for ABC's "Once Upon a Time" and an anti-smoking spot. Those repeat from those discs' "Sneak Peeks" listings, after which there is an ad for "Revenge."

The movie disc menus employ the kind of mundane drama you expect, with floating profile shots, some hand-written words, and monochromatic clips of a stoic Lincoln riding a horse. The bonus features disc floats around more of those historical-looking black and white portraits of cast members. Neither disc supports bookmarks or resumes playback. Whether or not my two-year-old player is to blame, these Blu-rays were unusually prone to technical troubles (having to stop and restart the disc), though not during movie playback.

Stacked in pairs, the four discs claim opposite sides of a standard keepcase, which holds an insert with directions and a unique code for unlocking the digital copy and is topped by a gold-bordered embossed slipcover.
CLOSING THOUGHTS
As a great admirer of Steven Spielberg, it pains me that I cannot recommend Lincoln without reservation. Important subject matter, a winning lead performance, and technical excellence somehow add up to something dull and unemotional. Obviously, this is a substantial, significant, and notable production worth seeing, but the fact that it's not easy to enjoy or love is a true, unfortunate weakness.
Naturally, the Blu-ray boasts exquisite picture and sound, though the film isn't too appealing or remarkable on either front. To that fine feature presentation, this four-disc combo pack adds a digital copy and an hour of routine making-of featurettes. While you may be over those common touches (or perhaps never cared), know that Amazon is currently selling this version for the same price as the two-disc combo that lacks them. In truth, this feels like one of those releases you are more compelled to own than to revisit. Still, there is plenty reason to see the film and form your own opinion.
Buy Lincoln from Amazon.com:
4-Disc Blu-ray + DVD + Digital Copy / 2-Disc Blu-ray + DVD / DVD / Instant Video