DVDizzy.com | DVD and Blu-ray Reviews | New and Upcoming DVD & Blu-ray Schedule | Upcoming Cover Art | Search This Site

The Men in Black Trilogy on Blu-ray: Men in Black • Men in Black II • Men in Black 3
Men in Black 3: Blu-ray 3D + Blu-ray + DVD Review
Men in Black 3

Theatrical Release: May 25, 2012 / Running Time: 106 Minutes / Rating: PG-13 / Songs List

Director: Barry Sonnenfeld / Writers: Etan Cohen (screenplay); Lowell Cunningham (Malibu comic)

Cast: Will Smith (Agent J/Jay), Tommy Lee Jones (Agent K/Kay), Josh Brolin (Young Agent K), Jemaine Clement (Boris The Animal), Emma Thompson (Agent O), Michael Stuhlbarg (Griffin), Mike Colter (Colonel), Nichole Scherzinger (Boris' Girlfriend), Michael Chernus (Jeffrey Price), Alice Eve (Young Agent O), David Rasche (Agent X), Keone Young (Mr. Wu), Bill Hader (Andy Warhol), Cayen Martin (Colonel's Son), Lenny Venito (Bowling Ball Head), Will Arnett (Agent AA - uncredited)
Buy Men in Black 3 from Amazon.com:
Blu-ray 3D + Blu-ray + DVD • Blu-ray + DVD • DVD • Limited Edition Blu-ray Trilogy Giftset • Instant Video
Fifteen years is an eternity in the world of film. Consider the differences in tastes and styles embodied by top-grossing movies: from Birth of a Nation in 1915 to All Quiet on the Western Front in 1930, from 1958's South Pacific to 1973's The Exorcist, from Toy Story in 1995 to Toy Story 3 in 2010. Okay, so maybe Pixar's flagship franchise provided a clear model of success to which Men in Black 3 could aspire.

Take one of the biggest commercial hits of the late 1990s, follow it up with typical sequel timing, and then allow demand to build for an entire decade, at which point you prove not to have missed a beat with a billion dollar worldwide hit that feeds on nostalgia but prospers on quality.

There was a huge difference between the two comedy franchises, however. Where audiences loved Toy Story 2 and children everywhere grew up on both it and its predecessor, Men in Black II kind of sucked. This wasn't a beloved series so much as one highly entertaining film. The years did nothing to change that perception. MIIB gave audiences reason to be weary of MIB3. The numbers reflected that at the domestic box office at least, where ten years of inflation and the premium prices of 3D engagements weren't enough to put this year's Memorial Day weekend release past one of 2002's less potent sequels. The third movie's $179 million gross at home fell short of studio expectations and the substantial $225 M budget. But the film proved to be a much bigger draw overseas, doing 2½ times as much business in foreign markets and thus managing to save face much like this year's more severe underperformers Battleship, John Carter, and Dark Shadows.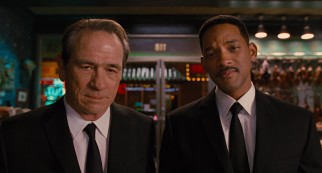 The opening of Men in Black 3 (which opts for an Arabic numeral over its predecessor's Roman one) illustrates why no one was really clamoring for this movie. It gets off to a rough start, with unfunny jokes unable to recapture the original film's winning tone. Will Smith looks a bit old. Tommy Lee Jones looks ancient and haggard. Rip Torn's authority figure Zed is killed off unsentimentally (drunkenly breaking into a bank with a gun will do that). A solemn picture on Agent J's wall implies that Frank the talking alien pug is dead too. Emma Thompson is introduced as new chief Agent O with a broad joke that merits its own funeral. In these early moments, like a half-hearted action scene set in a Chinatown restaurant secretly run and frequented by extraterrestrials, MIB3 smacks of desperation as it sadly goes through the motions it so cleverly unveiled fifteen years ago.
Gladly, things pick up in a huge way. Though it might sound like a shark-jumping, half-baked premise, time travel proves to be just the path this sequel needs to take. With his partner K (Jones) curiously and suddenly erased from history, Agent J (Smith) must "time jump" off one of the Chrysler Building's eagles. He lands in July 15, 1969, the day before K is said to have been killed by a menacing Boglodite nicknamed Boris The Animal (Jemaine Clement). Turning back the clocks allows for a stroke of genius in the casting of Josh Brolin as the younger, not yet jaded Agent K. While the math doesn't quite work out, the film at least tries to explain it by identifying Brolin, who's 44, as a weathered 29-year-old (which would believably put the wrinkled present-day Jones in his early seventies). But Brolin's pitch perfect impression of his No Country for Old Men co-star (with whom he, naturally, again shares no scenes) makes it as easy as possible to overlook some questions as the movie comes alive.
MIB3 does have some glaring plot holes crying out for attention, such as how Agent J retains his full memory of his partner and his life in spite of the alterations made to the space-time continuum (a fact explained by an appetite for chocolate milk). The sequel also reiterates that continuity is not this franchise's forte, especially when it comes to K's love life. He is given a third romantic backstory in as many films, as Thompson's Agent O is gently retconned into love interest status, with Alice Eve playing the character in 1969 (which means that Thompson, 53, is supposed to at the very least be pushing 70 in the present day).

The film becomes enjoyable enough not to worry about its inconsistencies or its easily foreseen Cape Canaveral conclusion, messiness likely worked out in reportedly lengthy and expensive reshoots. Smith and Brolin have the winning chemistry of Smith and Jones, making their mismatched partners easy to root for in their dealings with Boris. That villain is a lot more comparable to Edgar, Vincent D'Onofrio's bug alien in farmer's skin from the first movie, than Serleena, Lara Flynn Boyle's humorless MIIB antagonist inside a lingerie model's body.

Boris is certainly more frightening than funny. In fact, he's downright disgusting with his pointy chompers, loupe eyes, and hands that harbor deadly quills and spiders. It's a complete waste of the hilarious Jemaine Clement, who it's easy to not even recognize in the part. At least Edgar had moments of amusement to him. This Boris guy, who the weak opening scene depicts escaping from his high-security lunar prison, is unsettling just to look at.

Other supporting characters are more savory. Bill Hader makes a brief but amusing turn as Andy Warhol, who is secretly the MIB's Agent W. Michael Chernus makes for a suitable substitute for Tony Shalhoub in the role of plot-advancing salesman. And Michael Stuhlbarg, who you don't expect to find here, channels a reined-in Robin Williams in his delightful performance as Griffin, a friendly alien prone to worrying about the disastrous possible futures.

In the foreground, Smith is his usual affable self and the excellent Brolin is so on point that you hardly notice or mind Jones' limited screentime.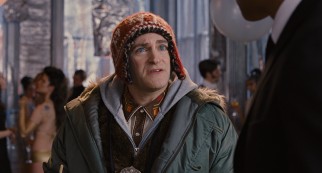 The screenplay by Etan Cohen (Tropic Thunder, Idiocracy, Madagascar: Escape 2 Africa), who is not to be confused with Coen brother Ethan, is a slight mess that still wins you over in the end. It isn't surprising that this job would lead to Sony assigning him to rewrite Ghostbusters III, that long-gestating hypothetical addition to MIB's most thematically direct ancestor franchise.
MIB3 keeps Barry Sonnenfeld in the helm, a wise decision for the former Coen Brothers cinematographer who has had limited directing success and opportunity outside this franchise. Sonnenfeld remembers what worked in the first film and what didn't in the sequel. He puts that knowledge to good use and renders this untimely sequel, in spite of its numerous faults, a clear improvement over the second movie and a satisfying piece of entertainment in its own right that stands out from the more actiony, less heartfelt summer multiplex competition.
The only way the movie really emulates its contemporaries is by being offered in 3D, a format it exploits with the occasional in-your-face gimmick as well as the dimensional setting of the Florida climax. That format yields a three-disc set, a Blu-ray 3D + Blu-ray + DVD combo pack that Sony will release on Friday alongside a single-disc DVD, a two-disc Blu-ray + DVD, and a 4-disc trilogy Limited Edition Blu-ray Giftset with a break room worm alien figurine. All four editions come equipped with the studio's preferred digital copy successor, UltraViolet.
Blu-ray 3D, Blu-ray & DVD Details

1.85:1 Widescreen (DVD Anamorphic)
Blu-rays: 5.1 DTS-HD MA (English, French), Dolby Digital 5.1 (Spanish, English DVS)
DVD: Dolby Digital 5.1 (English, French, Spanish, English Descriptive Video Service)
Subtitles: English, English for Hearing Impaired, French, Spanish
Not Closed Captioned; Extras Subtitled in English and Spanish
Release Date: November 30, 2012 / Suggested Retail Price: $55.99
Three single-sided, dual-layered discs (2 BD-50s & 1 DVD-9)
Thick Clear Keepcase in Lenticular Cardboard Slipcover
Also available as Blu-ray + DVD ($40.99 SRP), standalone DVD ($30.99 SRP), Limited Edition Blu-ray Trilogy Gift Set ($95.99 SRP), and on Amazon Instant Video
VIDEO and AUDIO
MIB3 avoids the trend to go wide, appearing in the same 1.85:1 aspect ratio of its two forebears. The Blu-ray's transfer is unsurprisingly terrific, showcasing these 1990s heroes with the pristine clarity of 2010 tentpoles. In 1080p, the film is full of interesting visual details, from Griffin's mesmerizing blue eyes to present-day K's deep-set lines to Boris' cringeworthy monstrosity.
The 5.1 DTS-HD master audio is also a treat. Danny Elfman returns to put some new variations on his familiar themes. So potent was the presentation that the opening guitar riffs alone over the opening Columbia Pictures logo had my feline viewing companion looking around with great interest. Dialogue is crisp, effects have impact, and Elfman's score is nicely presented. For a title of such global appeal, Sony offers fewer language options than expected, providing merely the standard French and Spanish dubs and subs.
BONUS FEATURES, MENUS, PACKAGING and DESIGN

The film is also lighter than expected in the bonus features department. In truth, it's a lot easier not to mind a modest collection of extras today than it was 10-12 years ago when the previous movies first came to DVD in loaded 2-disc sets.

All of the Blu-ray and Blu-ray 3D's bonuses are presented in HD.

The Blu-ray's extras begin with "Spot the Alien", a fun little game that has you shooting at bad aliens, but not the worm guys or the MIB agents. It's reminiscent of Agent J's training exercise from the original movie. The scenes keep changing, your score rises, and targets move quicker. After you get hit enough times or hit too many wrong targets, the game ends and you get your final score. It's slow to load, tough to navigate, and way too prone to locking up, but also nicely-designed, suitably challenging, and, when it works right, diverting.

"Partners in Time: The Making of MIB 3" (26:24) is a good companion to the film that gives appropriate thought to the sequel's story, cast, characters, locations, alien make-up, props, production design, direction, and visual effects. Marring the featurette: its lip-synch is strangely and slightly but surely off.
"The Evolution of Cool: MIB 1960's vs. Today" (11:14) discusses the period setting and what it meant for production design, costuming, props, weapons, and vehicles. Though it's what you would expect, it's a topic that warrants this kind of thought.
"Keeping It Surreal: The Visual FX of MIB3" (10:26) takes us through the film's many varied applications of digital and practical effects.
Six progression reels (17:37) further dissect clips with visual effects supervisors' audio commentary, raw footage, previs animatics, test and wireframe animation, and so on. Interestingly, the first of these clips is the movie's trailer in an incomplete state. The other five are simply scenes heavy on effects and/or action. Though slickly presented and informative, these may be too technical for the typical viewer.
Four Scene Investigations (17:25) give us more making-ofs for some of the same set pieces, these shorts employing more traditional talking heads and behind-the-scenes clips. Again, it's solid content, but too focused on the nuts and bolts to be of general interest.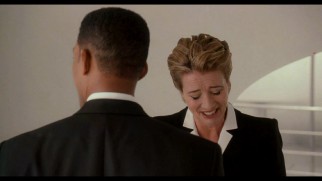 A gag reel (3:54) provides the usual entertainment value, with actor goofs, set malfunctions, and looks at basic blue screen set-ups.
Tradition is broken by Will Smith not performing the film's end credits theme. That job is filled by bald rapper Pitbull, whose nice music video (3:34) for the adequate throwback "Back in Time" (which samples the 1950s Mickey & Sylvia hit "Love Is Strange") places him in the movie's settings, while also featuring some MIB3 clippage.
Exclusive to the Blu-ray 3D disc, which lacks the other extras, is "Converting to 3D" (1:31), a short featurette that applies commentary from 3D visual effects supervisor Corey Turner to a brief but enlightening demonstration of the conversion process.

Also found on that disc is an interactive MIB Case Files feature profiling Boris The Animal as well as his and the MIB's weapons, gadgets, and vehicles. The 3D comes into play with 360-degree turnarounds, but it's still a pretty random exclusive.

Previews holds or plays only the same two trailers with which the discs open, for The Amazing Spider-Man and Total Recall. The DVD precedes them with an anti-smoking PSA, while the Blu-ray 3D presents Spider-Man's preview in 3D. Why can't Columbia and TriStar discs include original trailers the way that Sony Pictures Classics' ones do? MIB3's ads were especially notable for prominently including footage from cut scenes.

It's surprising to find a movie as major as this with neither audio commentary nor deleted scenes, especially given Sonnenfeld's tracks on the first two movies and the undoubtedly well-supplied cutting room floor that must have resulted from the film's reshoots.

Identical to the one sold on its own and bundled with just the Blu-ray, the DVD includes only "Partners in Time", gag reel, and the Pitbull music video. It's unfortunate but unsurprising that studios still think that such a practice makes Blu-ray more attractive, rather than the DVD less attractive. Chances are those content with DVD aren't about to upgrade for to get more Men in Black 3 bonus features, since most will be satisfied by the three inclusions here.

The aptly-scored menu bounces between the present and past appearances of MIB Headquarters, a location scarcely employed in both chronologies. Clips play on the screens of the day, with a screen-filling time jump transitioning us back to 1969. Sony's first-rate authoring skills are re-enforced once more by Blu-rays that support bookmarks, resume playback of almost everything on the disc, and make full use of pop-up menus.

Like other Sony Blu-ray 3D combos, this one is packaged in a thick clear keepcase (that's fitted with double-sided artwork) and topped by a lenticular-faced slipcover. Three inserts promote an interactive Movie Touch iPad app, UltraViolet (with your code), Sony Rewards (with code), the Sony Entertainment Network, the MIB3 mobile/iPad game (with a redemption code), Sony Blu-rays, Pitbull's new album, the Kennedy Space Center (with coupon), and an appropriately themed MIB3 Delta Vacations sweepstakes for a week in Florida.
CLOSING THOUGHTS
Men in Black 3 gets off to a shaky start, but its time travel storyline puts it back on track and it ends up being an entertaining outing with unexpectedly strong performances. It falls short of the original film, but clearly improves upon its immediate predecessor and ends on a strong note to restore luster to a franchise that previously felt like it should be just a single film.
The Blu-ray 3D combo pack offers dynamite presentations of the film plus 90 minutes of bonus features. It lacks some of the expected items (deleted scenes, audio commentary), but otherwise should satisfy supplement fans with its substantial content.
Support this site when you buy Men in Black 3 now from Amazon.com:
Blu-ray 3D + Blu-ray + DVD / Blu-ray + DVD / DVD / Trilogy Blu-ray Giftset / Instant Video


Related Reviews:
Men in Black • Men in Black II • Bill & Ted's Excellent Adventure • Galaxy Quest • The Hitchhiker's Guide to the Galaxy
Summer 2012: The Amazing Spider-Man • Madagascar 3: Europe's Most Wanted • The Dark Knight Rises • Brave • Dark Shadows
Threequels: Toy Story 3 • Ocean's Thirteen • Harry Potter and the Prisoner of Azkaban • The Twilight Saga: Eclipse
Will Smith: Hancock • Enemy of the State • The Fresh Prince of Bel-Air: The Complete Sixth Season


Tommy Lee Jones & Josh Brolin: No Country for Old Men • In the Valley of Elah
Tommy Lee Jones: Captain America: The First Avenger • The Company Men | Josh Brolin: True Grit • The Goonies
Michael Stuhlbarg: Hugo • A Serious Man | Jemaine Clement: Gentlemen Broncos • Dinner for Schmucks | Alice Eve: The Raven
Written by Etan Cohen: Tropic Thunder • Madagascar: Escape 2 Africa • Beavis and Butt-Head: Mike Judge's Most Wanted
Safety Not Guaranteed • Life on Mars: The Complete Series • Hondo
Men in Black 3 Songs List: Eric Rigler - "Amazing Grace", Roy Rogers - "I'm an Old Cowhand", Trans-Siberian Orchestra - "Toccata-Carpimus Noctem", Karen Hua Qi Han Ottosson - "Theo's Dream", The K Group - "Love Is Strange", The Rolling Stones - "2000 Light Years from Home", The Velvet Underground - "I'm Waiting for the Man", Status Quo - "Pictures of Matchstick Men", Chad & Jeremy - "A Summer Song", Cream - "Strange Brew", Adam Blau - "Baseball Stomp", Adam Blau - "Three Cheers", Adam Blau - "Happy Birthday to You", Jay-Z featuring Alicia Keys - "Empire State of Mind", Pitbull - "Back in Time"
DVDizzy.com | DVD and Blu-ray Reviews | New and Upcoming DVD & Blu-ray Schedule | Upcoming Cover Art | Search This Site
Search This Site:
DVDizzy.com Top Stories:
Reviewed November 28, 2012.


Text copyright 2012 DVDizzy.com. Images copyright 2012 Columbia Pictures, Hemisphere Media Capital, Amblin Entertainment, Parkes + MacDonald Image Nation,
and Sony Pictures Home Entertainment. Unauthorized reproduction prohibited.