Typically, a film is shot for about three months and released to theaters around the world within a year of wrapping. A release year is usually easy enough to decide upon and parenthetically place next to the film's title for centuries to come. Not every movie has it so simple, however.

The Australian independent horror movie The Loved Ones first played at the Toronto International Film Festival in September 2009.

The following month, it was shown at the AFI Film Festival. Attempts to find a distributor continued at festivals in Hong Kong, the US, Canada, Berlin, Greece, Portugal, and Spain. The film premiered on DVD in the UK in October 2010, then received its one standard theatrical release in its native country a month later. Foreign markets continued to be courted in 2011 and in June 2012, the movie received very limited engagements in both the States and Japan.

Next Tuesday, three years to the week of its first public showing, The Loved Ones comes to DVD, on demand, and digital download in North America bearing the banner of Insurge Pictures, Paramount's micro-budgeted division inspired by their success with the Paranormal Activity franchise.

Seeing the movie makes it extremely clear why it must have been perceived as a difficult sell.
It's the last day of the school year in Australia and teens are looking to celebrate that with the traditional End of School Dance. Among them is shaggy-haired Brent (Xavier Samuel), who six months earlier got into a car crash that killed his father. Brent's girlfriend Holly (Victoria Thaine) has just gotten her driver's license

and the amorous two are excited to attend the dance together, despite some concerns voiced by his still-grieving mother (Suzi Dougherty).

Brent gets invited to the dance by Lola Stone (Robin McLeavy), a shy, socially awkward girl he politely declines. It's not clear what would have happened if he had opted to go with Lola, but the decline brings no good. Lola and her father (John Brumpton) abduct Brent and hold him as a bound prisoner. Brent is injected with something that robs him of his voice and then subjected to the Stone family's twisted version of the End of School Dance, with spinning disco ball, music, and violent torture. As the cover art promises, before the night is done, Lola, donning a pink dress and matching paper crown, will wield a power drill and she isn't exactly doing woodwork if you know what I mean.

The Loved Ones practically marks my introduction to "torture porn", the horror subgenre that has been used to classify such films as the Saw, Hostel, and Human Centipede series. No horror connoisseur, I've had very little interest to discover films marketed on mutilation and sadism. I imagine that 2010's I Spit on Your Grave remake qualifies as my only previous experience with the class and I loathed it deeply. Loved Ones, the feature debut of writer/director Sean Byrne, isn't as easily outright dismissed. Characters are introduced who aren't reprehensible and the setting of a vaguely 1970s-ish Australia supplies enough flavor to distinguish what is essentially the same high school horniness on which much of American horror (especially the weaker stuff) is built.

By halfway in, though, you realize that Byrne expects nothing less than frequent cringes from viewers unfortunate enough to be treated to his horrific and disturbing ideas. A lobotomized mother. Forced urination into a glass at threat of hammer and nail. Other atrocities I'll refrain from describing in the interest of staying spoiler-free. Maybe you have seen enough bad things not to shudder at the sound of a skull being drilled into. I, on the other hand, have not, even though several years of around-the-calendar movie watching have left me largely desensitized.

Perhaps it's unfair for me to criticize The Loved Ones for disgusting me. After all, that must be the reaction it is going for. Thirty-two out of thirty-three Rotten Tomatoes critics (most of them in Australia) have assigned the film a "fresh" score for an impressive Pixar-esque 97% Tomatometer rating. And yet I cannot align with that overwhelming majority, for I don't consider this film enjoyable or admirable by any measure.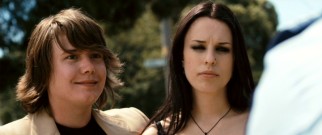 I can point out specific shortcomings, such as the movie's questionable choice to involve a secondary couple (a nerd played by Richard Wilson and an unstable Goth introvert played by Jessica McNamee) purely to weather the torture with a lighter-hearted look at the real school dance with in-car and dance floor shenanigans. That completely disposable arc brings this up to a passable 84-minute runtime and supplies two connections to the troubling main event. But it just seems like poor writing to craft such a flimsy, insignificant B-storyline. The random periphery wouldn't be an issue if the film's focus of carved-up chests and salted wounds wasn't so unbearable.
While The Loved Ones does leave much to the imagination, not directly showing much of the torture, it still is graphic enough to upset most viewers who aren't seasoned in this sort of thing. The DVD contains only the unrated cut of the film, but it doesn't sound as if the MPAA-passed one ("Rated R for strong bloody violence and torture, sexuality, some language, teen drug and alcohol use.") would be all that much tamer.
The Loved Ones grossed about a quarter of a million US dollars in Australia, or 1/16th of its reported $4 million budget. The Japanese and by-demand US summer engagements didn't even generate box office records. And now the North American home video release isn't even deemed significant enough to warrant a Blu-ray edition.
DVD Details

2.35:1 Anamorphic Widescreen
Dolby Digital 5.1 (English)
Subtitles: English for Hearing Impaired, French, Spanish
Closed Captioned; Extras Subtitled
Release Date: September 11, 2012
Single-sided, dual-layered disc (DVD-9)
Suggested Retail Price: $29.98
Black Eco-Friendly Keepcase
Also available on Amazon Instant Video
VIDEO and AUDIO
While The Loved Ones has to settle for standard definition in North America, Paramount's DVD at least treats it to a presentation that is flawless by the medium's standards. The clean, sharp 2.35:1 anamorphic widescreen transfer boasts strong colors and good detail. The Dolby Digital 5.1 soundtrack also satisfies fully, its music and atmosphere producing nice results.
BONUS FEATURES, MENUS, PACKAGING and DESIGN

The DVD's bonus features largely fall under the heading Cast & Crew Interviews.

Speaking here from 2010 are stars Robin McLeavy (7:01) and Xavier Samuel (7:49) as well as special FX makeup supervisor Justin Dix (8:28). As you would guess, the actors discuss their characters and the material's challenges, while Dix discusses his gory work. The comments are complemented by film clips and behind-the-scenes footage.

The DVD opens with a trailer for The Devil Inside and that's all that plays from the Special Features menu's "Previews" listing.

One last extra is accessible by the one insert inside the eco-friendly case: an UltraViolet stream of the film.

The static, silent menus place character images in front of flashy backdrops, with the main menu recreating the cover art.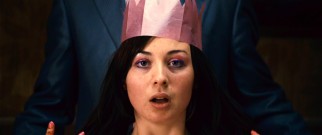 CLOSING THOUGHTS
Clearly, The Loved Ones will win over some viewers, but I am not among them. Horror needs more than shocking sadism to win me over and this Australian film fails to go beyond that main course. Paramount's DVD is a fairly minimalist release, but its presentation is adequate.
Buy The Loved Ones from Amazon.com: DVD / Instant Video