A week from now, Argo will have made history. What remains to be seen is whether it is as the first film in nearly a quarter-century to win the Academy Award for Best Picture without also receiving a Best Director nomination or as the first film in recent memory to win as many major awards as it has but fall short of the industry's highest honor.
History is also in the foreground of Argo, the kind of history you might think you know about, only to discover the improbable true story behind it that you don't. This is a film about a fake film, which makes it one of those self love letters that Hollywood enjoys. The rest of the world seems to enjoy this one too, which is appropriate since it is among 2012's most entertaining and best-made films.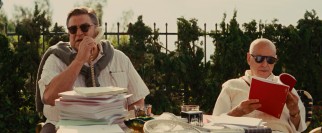 The film opens with a storyboarded history of Persia, known today as Iran, culminating in 1979, when the country's opulent Shah, dying of cancer, was given asylum in the United States, leaving behind a kingdom of unrest. The Iranian people demand to try their leader and they express that by forming an angry mob outside the United States Embassy.

Inside, workers scramble to destroy and incinerate confidential documents. A number are taken hostage. Our attentions remain with six American diplomats who escape to safety with help from Canadian ambassador Ken Taylor (Victor Garber), who offers the two married couples and two singles a Tehran house in which to hole up.

Back in America several months later, various agencies are mulling over the best way to get those six hiding civilians home safely. Iran's military are aware of the half-dozen unaccounted for and they even have child sweatshop workers reassembling shredded photos of the diplomats strip by strip. Accomplished CIA operative Tony Mendez (Ben Affleck) hatches what is deemed to be the "best bad idea" of all, better than ruses about crops and teachers. Mendez's elaborate and unorthodox plan is to present the six as members of a Canadian film crew scouting exotic Middle Eastern locations to shoot a science fiction epic. To lend the fake project legitimacy, Tony connects with his sometime colleague, Oscar-winning make-up artist John Chambers (John Goodman), who refers him to salty aging producer Lester Siegel (a composite, played by Alan Arkin). A suitable script, titled Argo, is found and secured and the group takes just enough steps to look legitimate, generating some industry press with a costumed read-through.

Tony flies over to the sextet's hideout and the "exfil" mission begins against great odds and considerable danger.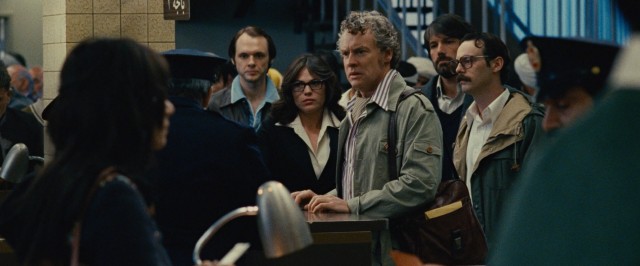 On paper, Argo sounds like a film Oscar could get behind. There's history, there's drama, there's potential for great suspense. And it delivers all three of those things in abundance. But under the capable direction of Ben Affleck, the film also has senses of humor and fun to it. The absurdity of the premise isn't lost here; in fact, it's milked for all its comedic worth, with Goodman and Oscar-nominated Arkin supplying a number of laughs and repeating the film's most memorable (and profane) line. Affleck also puts some period music to good use, adding to the levity that keeps the film accessible and human. What reads like the Bourne moves feels closer to Ocean's Eleven and sequels, to use the best-known series of Affleck's Good Will Hunting co-star/writer as a point of reference.
If Argo didn't take its story seriously, however, we would not be talking about its chances to win the Best Picture Oscar on Sunday. The Iran hostage crisis is no incidental backdrop or farce to Affleck, whose first two directing credits (the Boston crime dramas Gone Baby Gone and The Town) skewed dark and heavy. Played largely by unknowns (the most familiar face in the lot belongs to Tate Donovan, the one-time up-and-comer who has mostly settled for extended stints on television dramas), the ensemble of escapees is defined enough to secure our sympathy and to voice their reasonable fears, which limited but sterling production design makes plenty palpable.
The film's final half-hour (checking in at two hours including end credits, this film boasts commendable tautness) does seem to introduce fictionalization and embellishment for the purpose of heightening suspense. That is forgivable, because Argo is incredibly effective in this department. You figure if this story is being told, it must end in success, but even considering that probability, you can't help but be riveted, as the group endures the multiple levels of airport security, their nerve-wracking encounters interwoven with last-minute Washington audibles and the occasional check-in with the Hollywood pros. Even if liberties are taken to deliver a classic storybook ending, they are offset by the apparent research and detail on display throughout this arresting adventure.
Affleck's omission from the Best Director race is one of the Academy's biggest oversights in years.

By now, there is no question that his punchline status as an actor in crappy turn-of-the-century films is forgiven and forgotten. With three directorial outings under his belt, each better than the last, Affleck has cemented himself as one of the industry's pre-eminent filmmakers. Perhaps it's a good thing that he has yet to even be Oscar-nominated for his directing. After all, that award eluded the likes of Martin Scorsese and the Coen brothers for decades and continues to evade David Fincher, as it once did Kubrick and Hitchcock. They've all stayed sharp. Those who win the award early in their careers (e.g. Michael Cimino, William Friedkin, Tom Hooper?) run the risk of peaking early and setting themselves up for backlash.

If Argo manages to follow in the footsteps of Driving Miss Daisy and win Best Picture without a directing nod, it will have come full circle, having been embraced as the favorite early on (Roger Ebert declared it the winner back in the second week of September), only to be dropped amidst high expectations surrounding subsequent releases (Lincoln! Silver Linings Playbook! Les Mis! Zero Dark Thirty!). When it earned just seven Oscar nominations (only the fifth most this year), it seemed out of the running.

Now, its recent string of victories -- Golden Globes, SAG, BAFTA -- present a compelling case for it to win, despite its perceived underdog status. And, though you can write off the Oscars as a popularity contest, a political process, a shallow ceremony built on celebrity artifice, or an elaborate marketing ploy, the fact is that winning Best Picture matters a great deal. And though winning invites a kneejerk reaction of resentment, especially among online cynics, it also secures it a place in film history. Fifty years from now, people, including many not yet alive today, will choose to revisit Best Picture winners, much like I did a few years ago. We will soon know whether Argo is on that list or simply among the many promising contenders that could not go all the way.

Win or lose, Warner couldn't have timed Argo's home video debut any better. Four months and a week after beginning its $127 million and counting domestic run, the film hits stores in a DVD and the two-disc Blu-ray + DVD combo pack reviewed here, each equipped with a unique code for the studio's standard UltraViolet feature.

Watch "ARGO: Declassified", an in-depth look at the real events that inspired the film:

Blu-ray & DVD Details

2.40:1 Widescreen (DVD Anamorphic)
Blu-ray: 5.1 DTS-HD MA (English), Dolby Digital 5.1 (French, Chinese, Spanish, Portuguese, Thai); DVD: Dolby Digital 5.1 (English, French, Spanish)
Subtitles: English for Hearing Impaired, French, Spanish; BD-only: Chinese, Korean, Portuguese, Thai
Not Closed Captioned; Video Extras Subtitled
Release Date: February 19, 2013
Suggested Retail Price: $35.99
Two single-sided, dual-layered discs (BD-50 & DVD-9)
Blue Eco-Friendly Keepcase with Cardboard Slipcover
Also available as standalone DVD ($28.98 SRP) and on Amazon Instant Video
VIDEO and AUDIO
Argo embodies its period setting from its start, using a 1970s Warner Bros. Pictures logo. There is some deliberate wear and tear to the opening scenes and the film even switches from its 2.40:1 presentation to pillarboxed 16 mm resembling news footage. Even at its best, Argo has a cool and slightly grainy look, undoubtedly by design, to evoke the era dramatized. The 5.1 DTS-HD master audio is an absolute delight, as the mix comes to life with enveloping mob chants, potent needle drops, and Alexandre Desplat's understated score. Player-generated subtitles translate Iranian dialogue and identify dates and locations. This Blu-ray leaves virtually no room for improvement down the line.
BONUS FEATURES, MENUS, PACKAGING and DESIGN

The Blu-ray's extras begin with two alternate ways to experience the film. First up is the "Eyewitness Account" picture-in-picture mode. It features reflections from the real Tony Mendez, the real houseguests, Ken Taylor, another Iran hostage, and President Jimmy Carter. Their comments (mostly about their experiences, though Mendez touches on Affleck's Argo) play in a small window over much of the film's playback,

to which they are timed. It's fascinating to hear from the people whose harrowing plight makes for such engaging cinema.

Next, we get a traditional audio commentary by director/producer/star Ben Affleck and screenwriter Chris Terrio. Affleck leads the chat, discussing his dramatic and technical intentions and influences for many bits, departures from the real record, and his longstanding professional connections to his co-stars. Terrio comments upon his own inspirations and points out places where improvisation was allowed. It's a fun listen.

"Rescued from Tehran: We Were There" (16:51) gathers more remarks from the real people who experienced the events of the film. A few of them are repeated from the picture-in-picture mode, but they make for a strong self-contained featurette here, as their memories correspond closely to clips from the movie.

"Argo: Absolute Authenticity" (11:19) delves into the film's attention to detail, getting the locations, sets, and extras just right. It calls notice to the many facets of production design taken for granted.

"Argo: The CIA and Hollywood Connection" (6:05) considers the improbable plan at the center of the movie, reflecting on the steps taken to sell the fake movie behind the exfiltration.
Finally, the 2004 Telefilm Canada documentary "Escape from Iran: The Hollywood Option" (46:34, the disc's only SD extra) gives us a purely historical account of the crisis. It includes much historical footage and interviews with Mendez, houseguests, the controversial Shah's wife, Robert Sidell (the real model for Alan Arkin's character), Canadian Secretary of State for External Affairs Flora MacDonald, and other officials that were involved.

It's a little dry and downplays the fake movie aspect. Still, licensed bonus features always add a welcome outside perspective and, a rarity on new films and non-Criterion sets, this one is appreciated.

Too bad that the 1981 telemovie The Canadian Caper, dramatizing this event before the CIA's involvement was declassified, isn't included for contrast.

Identical to the one sold on its own, the DVD's only bonus feature is "Rescued from Tehran" (16:50).

The Blu-ray opens with an UltraViolet promo and the trailer for Beautiful Creatures. The DVD loads with both of those, as well as an anti-smoking ad and home video previews for Cloud Atlas, Gangster Squad, and The Hobbit: An Unexpected Journey.

On both discs, the menu plays a score excerpt over a static screen recycling poster art. The DVD's secondary menus are of the embarrassingly barren variety Warner favors these days. (Wouldn't recycling the main menu's background look less tacky?) Though the Blu-ray does not support bookmarks, it does kindly resume unfinished playback of the film.

Like Warner's other combo packs for new theatrical releases, this one places a disc on either side of an eco-friendly Blu-ray case, topped by a plain cardboard slipcover reproducing the artwork below. This one at least sports some creative disc art, while a single-sided insert provides your unique UltraViolet code and directions for accessing that stream of the film.
CLOSING THOUGHTS
An exquisitely made, tense, feel-good, cathartic docudrama, Argo is one of 2012's very best films and would make a worthy winner of the Best Picture Oscar. Ben Affleck is now three for three in the director's chair, bettering himself each time and repairing his reputation in the process. Such gripping and delightful cinematic expression anticipates an exciting career on both sides of the camera for the 40-year-old Affleck.
While Argo is a strong enough film to recommend on its own, Warner has given this future classic a most presentable and supplementally satisfying combo pack that's easy to treasure. No collection is too big or small to add this edition of Argo.
Support great cinema and this site when you buy Argo now from Amazon.com:
Blu-ray + DVD / DVD / Instant Video