With new nominations announced almost every day this time of year, a consensus is clearly emerging as to what five to ten films will make the cut for the Best Picture Academy Award, cinema's highest honor. Of the dozen or so leading contenders, none is as small as Beasts of the Southern Wild.

This independent film was shot in seven weeks with a non-union, non-professional cast and a budget of just $1.8 million. It marks the feature filmmaking debut of twentysomething director Benh Zeitlin and his longtime friend and co-writer Lucy Alibar, from whose one-act play Juicy and Delicious this was adapted.

Beasts tells the story of Hushpuppy (Quvenzhané Wallis), a 6-year-old girl living in abject poverty in "The Bathtub", a small New Orleans community located south of the levees. Hushpuppy is largely unsupervised by her father Wink (Dwight Henry), who allows her to run free, cooking up cat food and holding small stray animals up to her ear. Though her mother is dead, Hushpuppy continues to talk to her, a worn-out, knock-off Michael Jordan jersey as her stand-in. With no apparent money, job, or education, the loving but wildly unfit Wink lives off the land and sea, often throwing whole chickens on the grill for Hushpuppy and him.
Despite their limited means, the people of The Bathtub are happy and proud. When a big Hurricane Katrina-type storm approaches, some of the locals look for safety elsewhere, but most, including Wink and Hushpuppy, stay put. As the water levels rise and lift the father and daughter up to their shanty's roof, they adapt, boating around in a pickup truck bed and joining up with neighbors for seafood, stories, and other such merriment.
The hot-headed Wink, whose positions are repeated as gospel by the adorable and precocious Hushpuppy, resists mandatory evacuation and relocation to a shelter as an assertion of his bravery and freedom. But it is clear from the increasing number of animal carcasses that this flooded region needs some serious help. Complicating matters is the fact that Wink is apparently dying from an unspecified illness he keeps secret from his daughter and treats with some kind of herb.
Beasts is full of flavor and natural realism. Nothing is done to glamorize this ramshackle existence, only to depict how (and why) it perseveres in the face of vast adversity. It is a fascinating portrayal of foreign but believable slum living right here in one of the world's most developed nations. This environment is given a dash of the otherworldly in the form of the auroch, an extinct giant boar-like prehistoric creature that Hushpuppy hears about and comes to see roaming around her desolate home.
The film rests heavily on the tiny shoulders of Quvenzhané Wallis. A mere five when cast, Wallis is poised to become the youngest Best Actress nominee in Oscar history and one of the youngest of all Oscar nominees. Admittedly, the recognition will sting those who have spent their lives honing their craft and hoping for acknowledgement. Wallis is gift-wrapped an immensely juicy role that really only asks her to act like there is no camera filming her. Her face is powerful and her exchanges with Henry are remarkably credible.

Her wise narration also serves the film well. Hushpuppy has a sense of history and knows her place in time, the universe, and the animal kingdom. The innocent voiceover provides some much needed structure to a film that wanders without steadfast chronology or a firm grip on reality.

Much of Beasts' power over us comes from the fact that it is different. Its loose form, documentary-type feel, unbridled authenticity, non-actor cast, and creators' lack of baggage result in something unlike anything else you've seen and certainly from this year. The closest comparison I can make would be to Terrence Malick's films, especially his earliest ones from the 1970s, when he was not a known property able to cast major movie stars. Beasts has the kind of resolve and unpredictability of Badlands and Heaven's Gate, made by someone whose lack of experience is not a limitation but liberation.

Thinking of the practical side of filmmaking raises questions of safety and health. Okay, so the giant boars are obviously visual effects albeit convincing old-fashioned ones that added only a week to the production schedule. Beyond them, it sure looks like this little girl is on her own, in perilous environments, but fearless, as she was raised to be. The outside-the-box process, attributed to a collective Zeitlin named Court 13 after a Wesleyan University squash court, empowers the film and makes it more haunting than just about any contemporary.

This little film is sure to feel like an outsider at the Oscars, but such acknowledgment would be well-earned and stand as a valuable endorsement of public horizon-broadening and encouragement to alternative production methods. After all, this would appear to be as far from Hollywood as you can be while still getting noticed in the business.
Blu-ray & DVD Details

1.85:1 Widescreen (DVD Anamorphic)
Blu-ray: 5.1 DTS-HD MA (English), Dolby Digital 5.1 (Descriptive Service, Spanish)
DVD: Dolby Digital 5.1 (English, Descriptive Video Service), Dolby Surround 2.0 (Spanish)
Subtitles: English for Hearing Impaired, French, Spanish
Not Closed Captioned; Extras Not Subtitled
Release Date: December 4, 2012
Suggested Retail Price: $39.99
Two single-sided, dual-layered discs (BD-50 & DVD-9)
Blue Eco-Friendly Keepcase in Cardboard Slipcover
Also available as DVD ($29.98 SRP) and Amazon Instant Video
VIDEO and AUDIO
The stretched budget is noticeable in the Blu-ray's grainy 1.85:1 picture. This being a 2012 Blu-ray, you suspect that is simply how the film looks and not that Fox somehow dropped the ball in the transfer process. The shaky handheld visuals differ from other modern films, but are wondrous in 1080p all the same. The 5.1 DTS-HD master audio delights, with its fine presentation of a good score by Dan Romer and the director and everything from potent storm sounds to quiet heartbeats.
BONUS FEATURES, MENUS, PACKAGING and DESIGN
You'd think that such a rich film and confident debut would lend to a director's audio commentary, but that is not offered here. Instead, the all-HD video extras begin with a collection of ten deleted scenes (14:00), presented with commentary by director/co-writer Benh Zeitlin. It's not optional commentary, so Zeitlin's explanations for the cuts makes it tough to see the scenes, which show more of The Bathtub's community, as they were intended. At least the deletions' soundtrack is partially heard in the gaps he leaves.
Next, we get three audition tapes, showing us Quvenzhané Wallis (6:58) and Dwight Henry (5:13) separately and together (3:03). They offer a fascinating look at the casting process and this film's invaluable finds.
"The Making of Beasts of the Southern Wild" (22:27) is a great documentary that shows us how, working out of an abandoned gas station and firehouse, this inexperienced young collective Court 13 came to make this little movie exactly as they wanted to with local non-actors, costumed potbelly pigs, miniatures, and potent camaraderie. It's an inspiring display of filmmaking zeal that follows the movie through to its warmly-received premiere at Sundance.
Benh Zeitlin's 2008 short film Glory at Sea (25:44) anticipates Beasts in a number of ways. It is set in the impoverished New Orleans bayou and both narrated by and centered on a young black girl being raised by her single father. A survivor washed ashore and those in mourning build a ship to rescue their loved ones lost at the bottom of the sea. It's a very relevant inclusion that clearly prepared Zeitlin for the disc's feature presentation, with which it even has some actors and specific beats in common.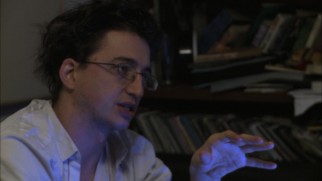 "Music" (3:06) turns our attention to Dan Romer and Behn Zeitlin's score, which we see them collaborating on in a cramped office.

"The Aurochs" (3:18) discusses the animal's significance in the film

and reiterates the documentary's revelation that small pigs fitted with horns and costumes were able to portray them in the film.

The extras conclude, appropriately enough, with Beasts' original theatrical trailer (1:53).

This combo pack's secondary disc, a DVD, contains only the movie, its original theatrical trailer, and a digital copy of the film in iTunes format. The DVD sold on its own, meanwhile, includes the making-of documentary.

The menu plays film clips in a blinking light-bordered marquee among fireflies. The Blu-ray thankfully supports bookmarks and resumes playback.

Both discs open with a trailer for Stoker, followed by promos for The Blu-ray Experience and Fox World Cinema. The DVD adds a trailer for The Sessions and each disc's Sneak Peek's section holds all four.

The two discs take opposite sides of an eco-friendly Blu-ray case, joined by an insert with digital copy directions and redemption code and topped by a glossy slipcover repeating the artwork below.
CLOSING THOUGHTS
The dreamlike drama Beasts of the Southern Wild will not be everyone's cup of tea, but this little movie stands out as one of the boldest and most original of the year. Fox's Blu-ray combo pack isn't anything out of the ordinary, the feature presentation not quite as polished as those of bigger contemporaries and the extras lending some fitting insight to this unorthodox and highly interesting production. The set is definitely worth a look and provides one of the few tastes of the upcoming Oscar crop you can enjoy in the comforts of your home.
Buy Beasts of the Southern Wild Amazon.com: Blu-ray + DVD + DC / DVD / Instant Video