Director Lee Daniels had a good deal of success, including two Oscar nominations, on Precious: Based on the Novel "Push" by Sapphire. For his follow-up film, Daniels has made another flavorful R-rated drama based on a 1990s novel full of unsettling material.

This one is The Paperboy and, despite a slightly higher budget and some very big name actors, it was much more coolly received. Drawing predominantly negative reviews, it bombed in limited release, its under $700 thousand gross (nearly matched overseas) doing little to recover reported production costs of $12.5 M.

The Paperboy springs from a 1995 novel by Pete Dexter, who shares screenplay credit with Daniels. The film is told in reflection from some unspecified time, but it takes place in Florida's swampy, fictional Moat County at the end of the 1960s. Like their father W.W. (Scott Glenn), brothers Ward (Matthew McConaughey) and Jack Jansen (Zac Efron) are both in the newspaper business, facially-scarred Ward as an investigative journalist for the Miami Times and Jack as a delivery boy. Ward and his writing partner, the black Brit Yardley (David Oyelowo), ask Jack to assist them as their driver as they work on their latest story. It concerns Hillary Van Wetter (John Cusack), a prison inmate on death row for the murder of the largely disliked Sheriff Call. Hillary's claims of innocence have fallen on deaf ears, but his fiancιe, the sultry Charlotte Bless (an orange Nicole Kidman), a sucker for prisoner correspondence, believes them and hopes that a well-researched report will exonerate her man.

Meanwhile, 20-year-old college dropout Jack develops a serious crush on Charlotte, who seems to put out for anyone but him.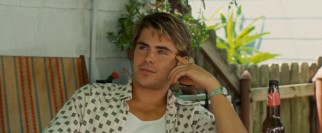 While not without substance, The Paperboy makes style a higher priority. It maintains the look of a film from the late 1960s. It's grainy and a bit grimy. Shots are often out of focus. You assume it's deliberate, but certain flourishes are tough to justify: random fadeouts and fade-ins, arbitrary jump cuts, sporadic narration by Macy Gray as the Jansens' sassy maid. The apparent homage to grindhouse cinema would feel more appropriate if this felt like such a film, but it doesn't. The disconnect only emphasizes the film's negative qualities, from extreme accents to generally ridiculous content.

A lot of the press coverage this film received involved the scene in which Charlotte urinates on Jack after he is stung by jellyfish, with much made of the fact that Kidman performed the scene with nothing but her own excretory system. This is but one of a number of scenes warranting head-scratching and infamy.

Everyone here has a viable reason for making this film. Daniels, who seems to add incendiary racial and fetish material not in the book, is out to prove that Precious was no fluke and that he can direct movies that won't be marginalized with an "urban" label. Efron is clearly hoping that an edgy project like this will reveal him as a serious actor, something that the romances and comedies he's made since Hairspray and the High School Musical trilogy have yet to prove. Now closer to 50 than 40, Kidman suddenly finds herself needing to justify her relevance in an industry that generally doesn't have much to offer even 40-year-old women. Similarly getting up there in years, Cusack seizes a rare opportunity to play something other than the affable everyman; unfortunately, he infuses his vile character with a hairstyle and subtlety resembling those of Nicolas Cage (without the maniacal fun). For McConaughey, this is one of his many recent attempts to shed his image as leaning leading man of vapid romantic comedies, a more mature middle age that has won him some favorable notice.
As understandable as all of these intentions may be, they do not prevent The Paperboy from being a bizarre and seedy embarrassment that all these individuals would have to live down if anyone cared enough to even notice the film. After premiering at the Cannes Film Festival, The Paperboy opened in just eleven theaters on October's first weekend, its timing and tiny theater count indicating hopes for awards buzz and a rollout driven by word of mouth. The latter never really occurred and the former, manifesting in Nicole Kidman's Best Supporting Actress nominations from the Screen Actors Guild and the Golden Globes, is one of the season's few unforeseeable developments (with pundits chalking up the Globes nod at least to Kidman's enduring, and rarely backed up commercially, star power).
In between those two award shows, The Paperboy hits home video on Tuesday in a DVD + Digital Copy, a Blu-ray reviewed here, and a Blu-ray + DVD + Digital Copy combo pack from Millennium Entertainment.
Blu-ray Disc Details

2.35:1 Widescreen
Dolby TrueHD 5.1 (English), Dolby Stereo 2.0 (English)
Subtitles: English for Hearing Impaired, Spanish
Not Closed Captioned; Extras Not Subtitled
Release Date: January 22, 2013
Suggested Retail Price: $29.99
Single-sided, single-layered disc (BD-25)
Blue Keepcase
Also available in Blu-ray + DVD + Digital Copy ($34.99 SRP), DVD + Digital
Copy ($28.99 SRP), and on Amazon Instant Video
VIDEO and AUDIO
As addressed above, The Paperboy has an unusual aesthetic which limits the Blu-ray's 2.35:1 presentation. I expect most of the movie's look of grainy, gritty, imperfect picture with unnatural colors and a general lack of focus is deliberate. But none of that does the Blu-ray any favors. This has got to be one of the worst-looking Blu-rays of last year's films. Sound too is lacking, with a significant amount of the shoddy, accented dialogue requiring you to rewind and consult the subtitles for clarity.
BONUS FEATURES, MENUS, PACKAGING and DESIGN

The Blu-ray's mostly-SD bonus features begin with "The Making of The Paperboy" (6:14), a short and standard featurette

that dispenses interview sound bites, film clips, and a tiny bit of behind-the-scenes.

We get more from Lee Daniels in a Director Interview (4:08) that finds him talking about the book and the leading cast members.

"Cast & Crew Interviews" (17:49) give us comments from producer Hilary Shor, John Cusack, Nicole Kidman, Matthew McConaughey, Zac Efron, Macy Gray, David Oyelowo, and Scott Glenn. They cover most of the same and usual topics, including their attraction to the project, the film's subject matter, their collaborators, and their characters.

"Behind the Scenes" (7:03) serves up B-roll of takes from multiple scenes and views of Daniels directing the cast. As usual, such fly-on-the-set material sustains interest.

A "Previews" section adds The Paperboy's theatrical trailer (2:31, HD), whose true story claims the film has backed off of, to the four with which the disc opens, promoting Stolen, Bernie, So Undercover, and Little Birds.

The menu plays clips in rectangles with colored boxes serving as moving transitions. Sadly, the disc doesn't support bookmarks or resume playback. Something to work on, Millennium! With the digital copy remaining an on-disc DVD-exclusive, there are no inserts in the standard blue case, which isn't topped by a slipcover either.
CLOSING THOUGHTS
The Paperboy is worse than it looks and probably as bad as any movie released last fall with Oscar ambitions. Very little of this style-heavy tale works as intended, with the film striking more as a campy farce than a simmering Southern drama. It's surprising that Kidman's sexpot act managed to draw two major award nominations in spite of the disdain and disinterest that the film inspired.
The picture and sound on Millennium's Blu-ray are lacking, seemingly by design, while the 35 minutes of bonus features are ordinary but fine. This is a movie you expect to see in a bargain bin quite soon and Amazon has already gotten the ball rolling on that with currently steep preorder discounts on the single-disc versions.
Buy The Paperboy from Amazon.com:
Blu-ray • Blu-ray + DVD + Digital Copy • DVD + Digital Copy • Instant Video