Hello again, Aardman Animations! It's been a while.

The British studio's first film, 2000's stop-motion Chicken Run, would have won the Best Animated Feature Oscar had that award been launched a year earlier than it was. Their second, 2005's Wallace & Gromit: The Curse of the Were-Rabbit, did win that honor in Pixar's last off year. Then, 2006 brought Flushed Away, made in the prevailing mode of computer animation. It was a charming adventure to be sure, but it stumbled at the box office and led Aardman to end their partnership with DreamWorks Animation.

It didn't take long for Aardman to find a new studio to finance, co-produce, and distribute their films:

Sony Pictures Entertainment signed a three-year deal with them in April 2007. It did, however, take long for Aardman to have anything to show under that deal. Whereas other animation studios release anywhere from one to three films a year, Aardman's next works were said to be coming, they just couldn't say when for certain. Television series, like "Shaun the Sheep", and shorts, including Wallace and Gromit's Oscar-nominated A Matter of Loaf and Death, continued to emerge, but the ambitious, painstakingly-produced features needed more time. Sony and Aardman renewed their deal in 2010.

Finally, beginning in late 2011, the world got not one but two new Aardman films over the course of just six months. November saw the release of the CG-animated Arthur Christmas, which was acclaimed but another U.S. underperformer. The Pirates! Band of Misfits followed in March and, despite favorable reviews, it also struggled to find an American audience.
Pirates (subtitled In an Adventure with Scientists in the UK, like the series-launching 2004 Gideon Defoe book on which it is based) returned Aardman to their signature medium of stop-motion clay animation and in doing so, lowered commercial expectations. The film's $55 million price tag was just slightly more than half of Arthur Christmas' and a bit more than a third of Flushed Away's.
It's 1837 and our titular characters are a group of fun-loving pirates led by The Pirate Captain (voiced by Hugh Grant). These pirates don't do much in the way of pillaging and plundering the West Indies, but they do get very excited for Ham Night. Feeling a little inadequate in his leadership, the bearded Captain decides to pursue the Pirate of the Year award once more. Filling out an application at a tavern, he discovers he hasn't got a shot, not as long as there are pirates like Black Bellamy (Jeremy Piven), Cutlass Liz (Salma Hayek), and Peg-Leg Hastings (Lenny Henry) inspiring fear and wielding impressive amounts of booty.
Determined to compete for that honor and be more than laughingstock, The Pirate Captain and his crew try to rob some of their fellow ships, with no luck. They do happen to capture young, broke scientist Charles Darwin (David Tennant), but before he can finish walking the proverbial plank, he reveals to them that their parrot Polly is not a parrot but a dodo, and presumably the only living one. Darwin convinces the pirates that they are a shoo-in for the Royal Society's Best Scientific Discovery award, which is sure to be a stepping stone to their pirate award. Entering that competition requires some masterful disguise, especially since the winner gets an audience with England's pirate-loathing Queen Victoria (Imelda Staunton).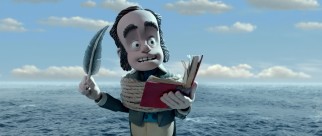 Pirates reveals that Aardman has not missed a beat in their long stretch of seeming unproductivity. Returning company co-founder Peter Lord to the director's chair for the first time since Chicken Run, this spirited film is quick-witted and very funny. It possesses a distinctly British sensibility to it, but the highly accessible kind, with its humor less comparable to the sacred institutions with the potential to disappoint and more like the nation's precisely-crafted modern comedies.

The animation looks terrific. If there are any limitations to stop-motion, they are not apparent here. This medium has a lot of life and appeal to it, even with its recent increase in popularity (with animators and studios, more than audiences).

The film does tastefully and seamlessly incorporate some embellishments, from CGI (the water) to traditional animation (map graphics).

Aardman remains refreshingly different from all the competition. The studio's limited output helps in that regard. Pirates does not feel like a mass-produced film that is part of a multi-platform blitz designed to appeal to the widest audience imaginable and to satisfy shareholders. It instead feels like a piece of entertainment and art from a creative company that has certainly not let supply exceed demand. That perhaps is not the recipe for commercial success and prosperity, but there is enough of a global market for animated family films that Pirates still managed to gross an almost acceptable $120 million worldwide, with nearly three-quarters of that sum coming outside of North America.

Chicken Run's box office success (over $100 M in the US, or $159 M adjusted for inflation, plus $225 M worldwide) from a dozen years ago continues to look like a fluke, both for Aardman and for stop-motion, a medium that has struggled to reach heights anywhere near CG animation's standards even with the warmest of receptions (Coraline, Fantastic Mr. Fox, ParaNorman, etc.). As wonderful as computer animation is when done right, it's frustrating for it to have such a death grip on the marketplace, where brilliant and polished films made in any other kind of animation do not stand a chance to flourish. While you can argue that people do not choose to see something or not based on its medium, there is a lot of mounting evidence to the contrary.

Those unwilling to give Pirates a chance (and the marketing's inability to convey the film's fun is not without blame) will miss out on some very clever bits. There is the winning cast of characters warmly brought to life by a voice cast accomplished in live-action but fitting the parts. There is the amusingly irreverent portrayal of historical figures, not only Victoria and Darwin, but even Jane Austen and John Merrick. Instead of original pop tunes written with promotional music videos and soundtrack sales in mind, there is great use of perfectly suitable pre-existing music, from The Clash to Flight of the Conchords. There is the scene-stealing "manpanzee" Mr. Bobo, a Gromit-esque silent sidekick who nonetheless works. This all infuses the film with the kind of exciting free spirit that has been tough to find since animation became so reliably commercially significant that little could remain unpredictable.

The Pirates! was released in 3D and while you can question the use of that format on any movie, at least this one was filmed that way and with stop-motion lending to it a little bit more sensibly than pure CGI. And yet, the 2D viewing isn't cheapened for gimmicky 3D shots are virtually non-existent.
Blu-ray 3D, Blu-ray & DVD Details

2.35:1 Widescreen (DVD Anamorphic)
Blu-rays: 5.1 DTS-HD MA (English, French), Dolby Digital 5.1 (Spanish, Descriptive Service);
DVD: Dolby Digital 5.1 (English, French, Spanish, English DVS)
Subtitles: English, English for Hearing Impaired, Spanish, French
Not Closed Captioned; Extras Subtitled in English and Spanish
Release Date: August 28, 2012 / Suggested Retail Price: $45.99
Three single-sided, dual-layered discs (2 BD-50s & 1 DVD-9)
Thick Clear Keepcase in Lenticular Cardboard Slipcover
Also available as Blu-ray + DVD ($40.99 SRP), DVD ($30.99 SRP), and on Amazon Instant Video
VIDEO and AUDIO
The Pirates! is treated to dazzling picture and sound on Blu-ray. The vibrant, striking stop-motion visuals are flawless. The 5.1 DTS-HD master audio makes excellent use of the surround channels for atmospheric effects. Whether in 3D or in 2D, this is absolutely a demo-quality high-definition experience.
BONUS FEATURES, MENUS, PACKAGING and DESIGN

Though modest in number, The Pirates!' special features are unusually high in entertainment value (and all in high definition).

The Blu-ray's extras begin with an audio commentary by director Peter Lord, co-director Jeff Newitt, and editor Justin Krish. It's an okay listen, but a little dull considering how much fun the film is, as they point out details and focus more on technical specifics than the overall experience. While some interesting notes emerge regarding the film's development, you're not missing much by skipping this.

Next comes the all-new short film So You Want to Be a Pirate!, which at 18 minutes and 7 seconds is a lot more substantial than you'd expect. The Pirate Captain hosts a chat show that aims to answer your pirate questions.

Number Two tries to find treasure, Charles Darwin discusses wind, The Pirate with Gout does a cooking segment, a PSA informs about Lubbermatosis, The Pirate King tries the Captain's beard gel, and the Generically Burly Pirate performs a song. Fit for at least a television airing, it's a funny cartoon, boasting all the original voice cast and production values on par with the film.

The "Pirate Disguise Dress-Up Game" challenges you to put together three parts to reproduce the assigned mismatched pirate ensemble from many available choices. You start with just thirty seconds to get it right and your reference image disappears halfway in. Two subsequent rounds give you even less time. If you get three in a row, you are rewarded with a short congratulatory clip. It isn't much, but it is fun.

The making-of featurette "From Stop to Motion" (20:52) effectively conveys the slow, painstaking nature of the medium in its opening minute. From there, it moves to an overview of production that considers the many elements (from sets to voice cast to different animation to Foley effects) that contribute to the film, which it is revealed was conceived as an all-CGI project. While similar ground has been tread elsewhere, this piece is specific to an Aardman production and engages accordingly.

"Creating the Bath Chase Sequence" (8:22) dissects the making of a single ambitious central scene from storyboards to animator reference to the filming itself.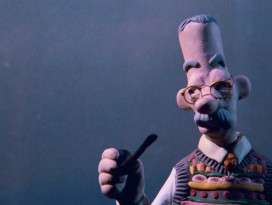 Two of director Peter Lord's previous stop-motion short films make for very cool inclusions. 1989's War Story (5:27) chops up and animates an old man's interview reflections, resulting in a scattered documentary-like journey from his wartime sleeping habits to his wedding. Scripted, widescreen, more ordinary, and better, the mostly dialogue-free 1996 short Wat's Pig (11:28) tells the story of royal twins separated in infancy. Split-screen contrasts their lifestyles, then the two are reunited when the bearded king asks his simple farmer brother to fight in his army.
Lord offers enlightening commentary on the two shorts, although he only speaks over the first 2½ minutes of each.
The DVD included here, identical to the one sold on its own, naturally loses a few extras from the Blu-ray: the dress-up game, the two making-of featurettes, and, most painfully, the Peter Lord shorts. But, to the new Pirates! short and the audio commentary, it adds a couple of exclusives of its own.
"Mr. Bobo's Flash Card Challenge" is a simple set-top game which gives you rebus type puzzles, which you are to decode from three possible answers. The all reasonable answers make it a bit too easy, but the very young might still get a small kick out of it.

While there are enough puzzles to sustain multiple plays without repeats, your only prize for being awesome at this is a short Bobo drumroll.

Via DVD-ROM, the DVD is also supposed to add printable activity pages. Alas, all I could get was an application whose promise of clicking a button to "get more" only took me to the Sony Pictures Store to buy an UltraViolet of the film (even though a free copy is included here).

The discs open with an ad for Sony Entertainment Network and trailers for Hotel Transylvania, Arthur Christmas, and The Swan Princess: Christmas. To those three trailers, the Previews menu/listing adds ones for The Smurfs and 12 Days of Christmas: Great Puppy Rescue. Sadly, Pirates!' own trailers (which included a joke that was changed after lepers took offense) are not included. (The Hotel Transylvania, Arthur Christmas, and Smurfs trailers are in 3D on the 3D Blu-ray, along with a Men in Black 3 trailer and Cloudy With a Chance of Meatballs clip.)

After a brief intro, the menu pans back and forth across Blood Island as the pirates stand about and shore sounds are heard. Like other Sony Blu-rays, these ones support bookmarks on the film and resume playback of everything without issue.

The three discs share a thick clear keepcase, which upholds the one-sheet's curious design of prominently featuring minor characters. The case is fitted with reverse side artwork and topped by a lenticular-faced cardboard slipcover. Inserts supply unique codes for unlocking UltraViolet, Sony Rewards points, and Pirates! costumes for PlayStation 3's LittleBigPlanet 2. There's also a Jamaican giveaway and a free trial of Aardman's Animate It! stop-motion software.
CLOSING THOUGHTS
While you couldn't tell from the ads, The Pirates! provides some of the most fun you'll find in this year's movies. Smart, silly, pleasing to the eyes, and never dull, this may be Aardman's strongest film to date and possibly the finest pirate movie ever made.
Sony's Blu-ray boasts amazing picture and sound, plus a strong collection of bonus features (overlooking the not so riveting commentary). This is my easiest release of a 2012 movie to recommend thus far and I don't expect too many sets to surpass it.
Support this site and great cinema when you buy The Pirates! Band of Misfits now from Amazon.com: Blu-ray 3D + Blu-ray + DVD / Blu-ray + DVD / DVD / Instant Video