In horror, a genre where the overwhelming majority of entries are considered to be poor, few names command as much respect as Sam Raimi. Raimi secured a place in horror lovers' hearts with his first feature film, the revered, low-budget The Evil Dead. He followed that up with the superior Evil Dead II, more of a comedy than a horror film, as was its time-traveling sequel, fellow cult classic, Army of Darkness. Since then, Raimi hasn't had much to do with horror and therefore hasn't had a chance to sully his reputation the way that even genre masters like John Carpenter and Wes Craven have.

Raimi moved on to producing fantasy action syndicated television series and, of course, helming the three Tobey Maguire Spider-Man blockbuster movies. Raimi returned to horror for 2009's well-regarded Drag Me to Hell, which he directed and, with his brother Ivan, wrote.

If Raimi has earned trust with his writing and directing talents, producing is another story. Last decade, he produced a number of horror movies directed by other people. They range from profitable and tolerable (The Grudge) to adequate (30 Days of Night) to underwhelming (The Messengers) to downright reviled (2005's Boogeyman), with not a single one of them able to claim definite goodwill from the public. Raimi's latest horror film as producer is The Possession, which did pretty solid business for an end-of-summer Lionsgate release, ranking #1 two consecutive weekends on its way to a respectable $49 million gross on a budget of just $14 M.
With Raimi's name the one most emphasized in the marketing campaign, credit for the performance must extend to the generic title and that timing. The film was shot with the title Dibbuk Box and originally scheduled to open in the horror-heavy month of October, back in 2011. Though presumably less marketable, Dibbuk Box would have been the more appropriate and more literal title, because it is that item on which the film centers.
Recently-divorced rural New York couple Clyde (Jeffrey Dean Morgan) and Stephanie Brenek (Kyra Sedgwick) have joint custody of their school-aged daughters, Hannah (Madison Davenport) and Emily (Natasha Calis). The differences in their parenting styles are pronounced. Weary of food allergies, Mom has them on a strict natural vegetarian diet. Dad, a college basketball coach, is more apt to order them pizza.
On their first weekend at Dad's new house, the girls encourage him to make a spontaneous stop at a yard sale. He does and buys Emily said dibbuk box there. If you're not versed in Jewish folklore, a dibbuk box is a wine cabinet said to be haunted by a restless spirit. None of the Breneks, whose religion is never stated, recognize it as such. It's an impulse buy because it looks old and interesting. Against the warnings of the Hebrew inscriptions, Emily opens the box. The younger daughter is soon changed in stark and unsettling ways, revealing out of character new sides to her personality. Naturally, the encounter with the supernatural produces some inexplicable phenomena, which baffle Clyde and Stephanie and deepen the already wide chasm between the parents.
Few horror movies tinker with the genre's standard template of introducing characters and then spooking them and, by extension, us. The Possession absolutely adheres to that design. Its success or failure then comes down to whether it is able to get us to invest in this family and be moved by its thrills. For me, that is a test that this film clearly passes.

A creative ceiling hangs above all horror films that embrace familiar formula. Really, no scary movie can make a genuinely meaningful impact without some degree of reinvention. Even with that, serious recognition largely eludes watershed horror films, with few exceptions (e.g. The Exorcist, The Sixth Sense). By not doing anything we haven't seen before, The Possession immediately excuses itself from any chance of strong critical notice.

And yet, the film meets its goals quite admirably. Though one of the easiest genres for newbies to break into, director Ole Bornedal is no novice, having twenty years of experience mostly in his native Denmark. He and his regular cinematographer Dan Laustsen ensure that The Possession consistently looks good. The polish complements serviceable thrills, which benefit from always being grounded in realistic family drama. The film doesn't rely on jump scares or excessive visual effects (either digital or practical). The claim that this is based on a true story seems rather flimsy and researching it doesn't make it any less so.

Taken at face value, though, the film is both entertaining and engrossing. It may ultimately feel like a Jewish variation on the numerous Catholic exorcism films. But that is a sufficient twist and the execution similarly manages to take us through routine beats without feeling stale or overly familiar. Even the casting of a rapper tends to feel fresh when that rapper is Matisyahu playing a sympathetic, helpful young Orthodox rabbi's son in the film's final act.

The Possession is now available to own on DVD and Blu-ray, each of which Lionsgate fits with a free digital copy and UltraViolet.
Blu-ray Disc Details

2.40:1 Widescreen
5.1 DTS-HD MA (English), Dolby Digital 5.1 (Spanish)
Subtitles: English, Spanish, English for Hearing Impaired
Not Closed Captioned; Extras Not Subtitled
Release Date: January 15, 2013
Suggested Retail Price: $39.99
Single-sided, dual-layered disc (BD-50)
Blue Eco-Friendly Keepcase
Also available on DVD ($29.95 SRP)
VIDEO and AUDIO
Blu-ray presents The Possession's nice 2.40:1 compositions with clarity, detail, sharpness, and no troubles greater than a reasonable amount of grain. Full of life, the 5.1 DTS-HD master audio mix repeatedly grabs notice, although its wide range of volume levels may have you grabbing for the remote.
BONUS FEATURES, MENUS, PACKAGING and DESIGN

Extras begin with two audio commentaries, which really ought to have been combined into one. The first is a solo track by director Ole Bornedal, who discusses each scene as it comes. He's soft-spoken and repeatedly resorts

to long pauses and narrating the action. As you can guess, that makes this an arduous listen, even if Bornedal's English is perfectly clear.

The far livelier second commentary features married screenwriters Juliet Snowden and Stiles White. They trace their script back to a 2004 Los Angeles Times article. Other topics include how casting influenced rewrites, deliberate character traits, the evolution of ideas, the trailer, filming conditions and locations, and audience reactions.

"The Real History of the Dibbuk Box" (13:19, HD) is a dubious short documentary featuring interviews with current and former dibbuk box owners (including the one from the original LA Times article). They discuss the design of the haunted wine cabinets and their strange experiences with them. Their remarks are complemented by clips from the film. At least it's more interesting than a standard legitimate making-of featurette.

The Possession's original theatrical trailer (2:31) is fittingly preserved in 1080p and Dolby Digital 5.1 sound.

"Also from Lionsgate" repeats the disc-loading trailers for Texas Chainsaw 3D, The Last Exorcism, The Haunting in Connecticut, Fear Net TV, and EPIX.

The final extra comes in the form of the one insert within the slipcovered eco-friendly Blu-ray case, which supplies your unique code for accessing a complimentary iTunes digital copy and UltraViolet stream.

The menu stays on the spooky morgue image of Emily bathed in red light repeating utterances to her father again and again, while its listings cleverly turn from Hebrew to English when selected. The disc is unable to resume playback, but does support placing bookmarks on the film.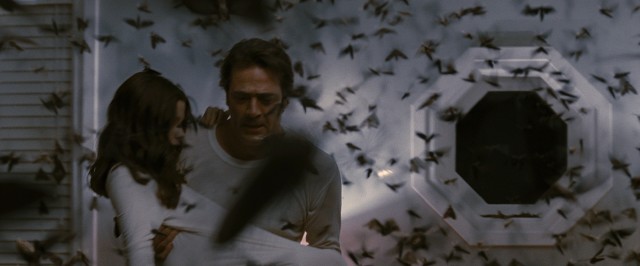 CLOSING THOUGHTS
While The Possession is nothing you haven't seen before, it's a perfectly serviceable piece of haunting/exorcism horror that exceeds the recent entries to that subgenre that I've seen. Those drawn to thrills and chills ought to give this a look.
Lionsgate's Blu-ray offers a strong feature presentation and a decent supply of extras. Though hardly a disc you'll need to own, it will serve fans well and only set them back as much as two movie tickets.
Support this site when you buy The Possession now from Amazon.com: Blu-ray / DVD