It usually isn't hard to tell when filmmakers will indefinitely be considered Hollywood's elite talent and when the stars simply align for a single brush with excellence that receives recognition of the highest order. The former class consists of directors whose success is long in the making

and whose every release warrants serious attention and awards consideration: Spielberg, Scorsese, Tarantino, the Coen Brothers, David Fincher, Paul Thomas Anderson. Most of them had to pay their dues before breaking into those ranks, but all of them enjoy secure status unlikely to disappear anytime soon.

Then there are those directors who have made a big splash once but do not appear likely to do so again on a regular basis or anytime soon. This class would seem to include Dances with Wolves' Kevin Costner, Crash's Paul Haggis, Precious' Lee Daniels, and The Artist's Michel Hazanavicius. I expected the two winners of the Best Director Oscar prior to Hazanavicius to also go this route, but both The King's Speech helmer Tom Hooper and The Hurt Locker's Kathryn Bigelow chose their follow-up projects wisely, directing two of the holiday season's most buzzed about films, each nominated for Best Picture and a number of other Academy Awards.

In one of the Oscar race's biggest surprises, Bigelow failed to receive a Best Director nomination for Zero Dark Thirty. Argo's Ben Affleck did too, but his film defied history to win the biggest Oscar of all. Zero came close to being completely shut out, only landing a Best Sound Editing award, the least significant of its five nominations, and as part of a tie with Skyfall.

Though some were predicting Bigelow, the only female to ever win the Best Director Oscar, to again feature in 2012's year-end conversations the moment her next project was announced, I felt that talk was premature. After all, she has been directing films for thirty years and Hurt Locker was her only one to win any major accolades. People like Point Break, but most of her other efforts (e.g. Blue Steel, K-19: The Widowmaker) are kind of obscure and have middling reputations, with few advocates encouraging you to discover them.

True, Bigelow had lined up attention-grabbing subject matter -- the CIA's search for Osama bin Laden -- that was made a great deal more relevant and fascinating by the May 2011 finding and killing of the terrorist leader. She also had Oscar-winning Hurt Locker screenwriter/producer Mark Boal staying by her side. Still, it just seemed a little too easy for Bigelow and Boal, no matter how well-suited they were, to repeat their success with another unflinching tale of modern warfare when such success eludes the vast majority of filmmakers.
And yet, regardless of the paltry Oscar haul, they pulled it off. Zero Dark Thirty was one of 2012's best-reviewed films, its near-unanimous raves showing even more enthusiasm than the high marks given Hurt Locker. Bigelow and Boal have even handily bested that fine previous effort with a masterful bit of docudrama worthy of the historical significance it will forever hold. There is no doubt that this film -- more than any television documentary, firsthand memoir, or unclassified case folder -- will stand as the definitive account of essentially the gripping final chapter in the tale of September 11th.
Zero opens with the audio of actual 911 calls from one of the deadliest days in American history, the Tuesday morning when terrorists hijacked commercial airplanes and crashed them into the World Trade Center, the Pentagon, and a Pennsylvania field. As we know, Al-Qaeda, the terrorist organization founded by bin Laden in the late 1980s, claimed responsibility for those unconscionable attacks primarily against civilians, an explanation accepted by all but the persistently vocal conspiracy theorist demographic. But while the hijackers themselves perished on 9/11 and some of their conspirators were caught, bin Laden, the mastermind and bankroll of the entire irrational operation, remained at large in hiding at an undetermined location beyond the reach of justice.
The film jumps ahead two years to find CIA officer Maya (Jessica Chastain) uncomfortably witnessing and aiding a colleague (Jason Clarke) performing so-called "enhanced interrogation techniques" on a detainee (Reda Kateb) in an effort to identify and locate some of his collaborators in the wide-reaching network of terror. Maya is determined to find bin Laden, a job to which she devotes herself and all of her time. It is a very slow and costly mission with long odds and many limitations. Years are spent just trying to establish someone believed to have had post-9/11 contact with bin Laden.
Clearly, Zero Dark Thirty is thoroughly researched, providing authenticity and attention to detail that simply can't be faked. Though the end credits contain a standard disclaimer about dramatization and the film even inspired an official statement from the CIA regarding its fictions (or rather distillations), this is the same production that elicited investigation into whether advisors went too far in sharing classified information.

It seems like it shouldn't be hard to just present the facts in the most honest and accurate way possible, but so few movies take this route, believing instead that invention and simplification are essential to dramatic stimulation. Zero proves otherwise, committing to seemingly documented or definite information with a passion that perhaps hasn't been seen since Paul Greengrass' United 93.

Though it avoids casting big movie stars who no doubt would have been interested, Bigelow's film doesn't rely on unfamiliar actors. Zero is full of fine craftsmen like Kyle Chandler, Mark Strong, Joel Edgerton, James Gandolfini, Mark Duplass, Harold Perrineau, Stephen Dillane, and Clarke making the most of limited screentime and convincing you that their characters are invested in this cause but smart enough to be skeptical. Chastain, meanwhile, is the glue holding it all together. Her breakout 2011, which saw her leaving obscurity behind to suddenly appear in five of the year's most acclaimed dramas, was no fluke. She is unmistakably qualified for the heavy lifting the film has her do, but also still hungry and inexperienced enough not to phone in the performance or give us something we've already seen.

Like The Hurt Locker, this film deftly and admirably arrives sans agenda or glaring political bias. It's not out to sanctify President Obama (who is largely unseen and barely mentioned), to wag its finger at his predecessor, or to simply celebrate the CIA and Navy SEALs for their great bravery. At all times, the film seems to say, "These are things that have happened in our world over the past eleven years." And though its initial audience will have lived through all of it, it is fascinating to see it presented so candidly and compellingly. By the time the big final raid arrives, we know what will happen, but hearts pound and fists clench as we see it brought to life in the darkness and night vision that those on this brazen unprecedented mission truly experienced.

In dramatizing events that occurred just twenty months earlier, you expect opportunism and sensationalism. Instead, there is nobility and exhilaration to this unfailingly engaging film. That Boal and Bigelow have been able to produce something so moving and meaningful without much perspective and with just one prior collaboration of note is nothing short of astonishing. It turns out some current events require no time to process and shape them into outstanding cinema of remarkable immediacy.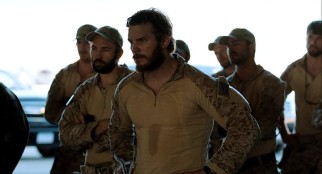 After all of its critical raves, Zero Dark Thirty got a slightly underwhelming reception from the public and the industry. Aside from that minor technical Oscar, its biggest award win may have been Chastain's Golden Globe for Best Actress in a Drama, an expected honor with Oscar winner Jennifer Lawrence given comedy classification. I'm happy with Argo's success and it is a plenty deserving winner. But Affleck's film shares not just an editor, genre, and geographic regions with Zero; the two clearly have a lot of the same DNA. Judged side by side, Zero is a tad stronger, as it remains engaging while resisting the urge to fictionalize with a conventionally suspenseful finale.
Argo's triumph is not troubling on the basis of quality, but on the fact that Zero seems to have suffered backlash from some unwarranted complaints over its depictions of torture. Certain veteran actors publically condemned the film, some without even seeing it (including a subsequently apologetic Martin Sheen), on the basis that it endorsed torture, while government officials took issue with its accuracy. Tellingly, the Senate Intelligence Committee closed its investigation into the film's research on the morning after the Oscars, with the film's highest profile now behind it. A little controversy seems good for business (see The Passion of the Christ) and the free publicity doubtlessly contributed to Zero's $94 million (and counting) domestic take, more than enough to generate healthy profits. Still, this ranked just seventh out of the nine Best Picture nominees by gross, besting only the limited release indies Beasts of the Southern Wild and Amour. The gripping nature and historical relevance ought to have given it greater impact.
For no apparent reason (Easter gift-giving?!), Sony seems to have fast-tracked the home video release. Zero Dark Thirty hits stores on March 19th, barely two months after its nationwide opening, in a DVD and a Blu-ray + DVD Combo Pack. Sadly, we received the former, not the requested latter, for review.
DVD Details

1.85:1 Anamorphic Widescreen
Dolby Digital 5.1 (English, Descriptive Video Service), Dolby Surround (English)
Subtitles: English, English for Hearing Impaired, Spanish
Not Closed Captioned; Extras Subtitled in English
Release Date: March 19, 2013
Suggested Retail Price: $30.99
Single-sided, dual-layered disc (DVD-9)
Black Keepcase
Also available in Blu-ray + DVD Combo ($40.99 SRP) and on Instant Video
VIDEO and AUDIO
Though it employs the 1.85:1 aspect ratio and its subject matter is a little more typical for television, Zero Dark Thirty is plenty cinematic. A little of its ample big screen power seems to be lost in the jump to home video. It could just be that Sony's anamorphic DVD presentation doesn't look so great to someone who is accustomed to the studio's top-notch Blu-ray transfers. The DVD's picture isn't troubled in any way (the theatrical palette, including the dark climax, is upheld), it just doesn't exactly delight when subjected to the higher compression and lower resolution of standard definition.
The DVD's Dolby Digital 5.1 soundtrack is quite a bit better (though still clearly short of Blu-ray's lossless formats). The Oscar-winning sound editing is engulfing from the get-go and includes a number of house-rocking moments while maintaining crispness, clarity, and consistent volume levels.
BONUS FEATURES, MENUS, PACKAGING and DESIGN

Zero Dark Thirty's DVD is not only speedy, it's also oddly low-key,

lacking deleted scenes and audio commentary while providing just four short making-of featurettes. Such a thoroughly-researched docudrama lends itself to an extensive collection of bonus features. As the Blu-ray combo pack doesn't have any exclusives and studio double-dipping has essentially vanished, your guess is as good as mine as to if and when Zero Dark Thirty will get the due it deserves. Paging Criterion...

The extras begin with "No Small Feat: Making Zero Dark Thirty" (3:52), a much too brief general featurette that touches on the concept, research, and Kathryn Bigelow's directing.

"The Compound" (9:26) offers some details about the careful construction of bin Laden's Abbottabad hideout, a location which writer Mark Boal give us a tour of in the middle of production.

"Geared Up" (7:04) considers the cast's Navy SEAL training and weaponry, but comes to focus on designing the stealth helicopters based largely on conjecture.
Finally, "Targeting Jessica Chastain" (5:20) has the actress talk about the role and her co-stars and director talk about what she brings to the film.
The disc opens only with a new UltraViolet promo and lacks trailers for ZDT and other Sony movies.
The scored main menu plays clips with surveillance camera filter effects. Submenus are static and silent.
Inside the black keepcase, we find inserts holding a code for the complimentary UltraViolet download/stream of the film and one for Sony Rewards points.
CLOSING THOUGHTS
Director Kathryn Bigelow and writer Mark Boal prove that The Hurt Locker was no fluke in the superior Zero Dark Thirty, as gripping and masterful as any of last year's films. Recalling All the President's Men in its timeliness and thoroughness, this docudrama deserves to be celebrated in similar ways for decades to come. For now, I'd settle for its controversy being put to bed and its achievements getting public recognition on the order of the crowd pleasers more decorated at the Oscars.
Unfortunately, Sony doesn't make that easy, giving the film a low-key DVD release with just 25 minutes of extras that barely hint at the significance, research, and excellence. The film is an absolute must-see and therefore worthy of a purchase in any form, but that just makes the supplemental shortcomings more pronounced and disappointing.
Support this site and great cinema when you buy Zero Dark Thirty now from Amazon.com:
DVD / Blu-ray + DVD / Instant Video