Most genres and elements of filmmaking are well represented in Titanic. There is romance, action, history, disaster, state-of-the-art visual effects, sumptuous period costumes and lavish production design. That confluence of content was obviously no accident. Written, produced, and directed by popular and accomplished sci-fi action helmer James Cameron,

this 1997 epic was the costliest film ever made to date and it was clearly intended to be the biggest blockbuster of all.

That lofty goal would be achieved, thanks in no small part to the "something for everyone" design. As a result, Titanic can never be judged as just a movie. It is more than that: an event, a landmark, a launchpad and advancer of careers, and an apex for the commercially potent, all-audience adventure that drove much of the filmmaking world for the latter 20th century.

More than just a crowd-pleaser and a roller coaster ride of emotions, Titanic was also pure Oscar bait. Missing its intended Fourth of July week opening, the film ended up debuting right before Christmas, the ideal timing for mounting an awards campaign. The Academy and just about every other significant panel took that bait and rewarded the movie extensively. Its fourteen Oscar nominations tied a record set by All About Eve, while its eleven wins matched Ben-Hur's record total (since also tied by the third Lord of the Rings film). Sweeping all the technical categories was practically a given, but Titanic and Cameron also bested some fierce competition in the Picture and Director categories.

Based on the numbers, Titanic should be just about the greatest movie ever made, right? Of course, you and I both know it is not. But if we're being honest, it's also not nearly as bad as its detractors suggest. Those who chalk up the astronomical financial success purely to teenage girls with crushes on Leonardo DiCaprio are selling the movie short. It may not be as sophisticated or in tune with the human condition as the fellow 1997 releases it bested for its highest honors (including L.A. Confidential, As Good As It Gets, and Good Will Hunting). It may not be as much fun as other big dominant event movies (like Jurassic Park, Men in Black, and Home Alone, to name just three of its decade's biggest hits). It may be easy to pick apart and ridicule for its formulaic stylings, one-dimensional characters, and shamelessly inclusive composition. Still, it deserves a good amount of credit for what it is able to achieve with its sights set higher than any production before it.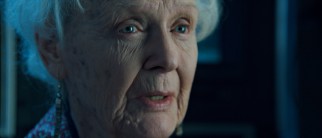 The film opens in the present day, as treasure hunter Brock Lovett (Bill Paxton) and his crew are out searching the bottom of the North Atlantic Ocean for a priceless diamond believed to be buried among the Titanic's 85-year-old wreckage. Their mission is unsuccessful, but they do find an improbably well-preserved charcoal drawing of a woman nude but for the jewel necklace. Brock and his colleagues are skeptical when they are contacted by Rose Calvert (Gloria Stuart), a centenarian Titanic survivor claiming to be the model in the found drawing.
Rose is flown in and in front of a captive audience gathered around her, she recalls her experiences on the ship's unforgettable maiden voyage in the spring of 1912...
Seventeen-year-old Rose DeWitt Bukater (Kate Winslet) is a first class passenger traveling with her fiancι Cal (Billy Zane) and her widowed mother Ruth (Frances Fisher) back to their native United States. Engaged, privileged life isn't all that much fun for Rose, not when it requires tolerating the arrogant Cal so that her debt-stricken family can maintain the status to which they are accustomed.
While embarking on a spontaneous suicide attempt, Rose meets Jack Dawson (Leonardo DiCaprio), a young third-class passenger from Wisconsin who won his ticket in a lucky hand of poker. Jack talks Rose down from the ship's stern and is treated with suspicion by authorities. When the two settle on a reasonable explanation, Jack is acknowledged for his heroism and invited to dine with Rose and Cal.
Jack and Rose come to spend more time together, with each sharing some of their contrasting experiences. The poor streetwise artist and unhappy rich girl fall for each other quickly. Secret meetings follow, to the growing concern of Cal and the stern disapproval of his valet and bodyguard Spicer Lovejoy (David Warner). Amidst this whirlwind of excitement -- drinking and dancing with the fine folk in steerage, that nude modeling session, a window-steaming passionate encounter inside a cargo hold car, false accusations of theft -- the Titanic has a run-in with a large iceberg, which may just pose a deadly and premature end to the supposedly unsinkable ocean liner.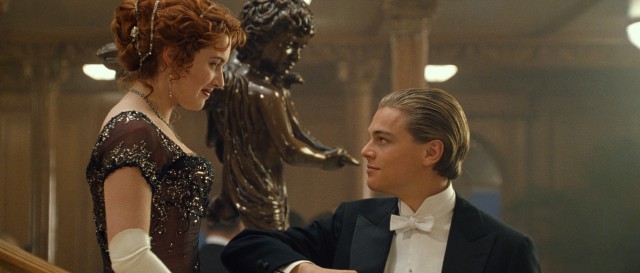 Titanic is not often credited with originality. The film takes one of the modern world's most compelling tragedies and uses it to tell a fairy tale romance that bridges a class divide. It isn't screenwriting that has made James Cameron one of the best-known filmmakers of his time. Outside of the genre-celebrating Saturn Awards, Cameron's eleven feature writing credits have earned him just four award nominations and one Razzie win. Three of those four losing bids came for Titanic and none were Oscars; this is the first and only Best Picture winner since The Sound of Music (1965) not to have also competed for a screenplay Academy Award.

That disconnect is surprising but not necessarily undeserved; Cameron's script is highly contrived and reliant on dubious scenarios. Despite a 195-minute runtime, hardly a single supporting character is given layers. Even Jack and Rose are your typical young, independent types defined primarily by class.

On the plus side, Titanic is not boring. Cameron has done his research and incorporated the real people aboard the ship into the story. Many of them get little more than a name drop and passing glimpse. Others, like the ship's Irish builder Thomas Andrews (Victor Garber) and unrefined nouveau riche socialite Molly Brown (Kathy Bates), get a little more consideration. One crew member, First Officer Murdoch (Ewan Stewart), is curiously and somewhat controversially vilified and defamed. Research and facts are usually a surefire way to dull a movie, but Cameron isn't making a docudrama. No, he's only going for epic period romance action effects extravaganza tearjerker. With that in mind, can you really blame him for centering the film on a familiar and oh so fictional couple?

The couple works as well as it needs to in order to put human faces on this mass tragedy. Even just barely into their twenties, DiCaprio and Winslet had already displayed more substance and talent than most young actors given potentially star-making roles. This film could easily have been a one-and-done deal for both of them. Look at the careers of actors like Mark Hamill, Carrie Fisher, and Ali MacGraw, who found themselves front and center in hugely successful films at a young age but did not get to wield star power much beyond their signature hit or franchise. Yet, here we are fifteen years later, and DiCaprio and Winslet remain among the most respected actors in their or any age bracket. Each has built a remarkably strong filmography, DiCaprio's earning more box office clout and Winslet's yielding more personal accolades.

Strong chemistry and charisma can only take a spectacle film so far. Cameron deserves the lion's share of the credit for Titanic's technical magnificence. There are movies whose budgets prompt questions over expenditures, but this isn't one of them. The $200 million spent here results in phenomenal production values. Seemingly no expense has been spared to bring the Titanic to life on screen as it was in its five magnificent days in service. The ship was nearly 900 feet long and 200 feet high. That scale is evident and breathtaking. The primary set is full of details that give us a savory taste of luxurious turn-of-the-century travel. Spending as much time in as many parts of the ship as we do, the inevitable second act troubles pain us not only for the threat to human life but for the damage to be incurred by this enchanting shared space, an engineering achievement of incalculable hubris.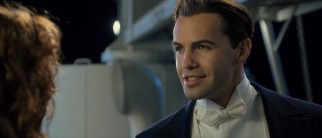 While fifteen years is a lifetime in the advancement of visual effects, Titanic holds up extremely well in this regard. Ironically, considering the digital universe created from scratch for Avatar, Cameron seems to opt for practical effects over CGI ones where possible. Unsurprisingly, that is to the film's benefit, as even the best virtual water isn't going to have the same impact as tanks filling halls and stairways with the unmistakable genuine article. As common sense suggests and bonus features detail, plenty of computer enhancements were made; they were just made with the smoothness and subtlety you'd expect of a Cameron production, five of the last six of which have won the Visual Effects Oscar. Aside from one misjudged hallway run soaking, in which Winslet and DiCaprio's heads insufficiently replace those of stunt doubles, and some computer-generated extras in distant shots of the ship, the movie's countless illusions stand up to scrutiny, even the frame-by-frame high definition variety.
Titanic could be improved slightly by its second half being shortened. The over-three-hour runtime is just about evenly divided between pre- and post-iceberg. If you came here for James Cameron action, you might find the first half's romance a bit tedious. Personally, the character-driven half does more for me than the prolonged sequences of our heroes running through wet hallways and trying to smash their way to safety. The action parts are well-executed and sufficiently harrowing; there's just a bit more of them than there needs to be.
Titanic's record-smashing original run was legendary, down to its finishing right at the previously unheard of $600 million mark domestically. Cameron's long-awaited follow-up effort Avatar somehow lived up to even higher expectations and greater hype in an age where Internet cynicism runs far more rampant. Adjusted for inflation, Titanic's total bests Avatar and every other movie from the past twenty-five years by a healthy margin, while trailing just Gone with the Wind, Star Wars, Sound of Music, and E.T.. Not adjusting for inflation, only The Avengers has landed in the same league as Cameron's two triumphs with a domestic pull of over $600 million and a worldwide haul of over $1.5 billion.
While the ever-lessening dollar and Hollywood's ever-escalating tentpole ambitions will continue to rob Titanic's performance of meaning, it really was a thing of beauty: opening pre-Christmas with an unextraordinary $28.6 M (8th for the year, behind such films as Liar Liar and Scream 2) and then just staying strong, maintaining $20+ M weekends through the end of February and hanging onto first place through the first weekend of April (when Lost in Space earned its only claim to fame). Titanic spent fifteen consecutive weekends and 105 days as the #1 movie in America.

The closest any film has since come to that kind of dominance is just four weeks on top, a feat pulled off by only the biggest of 21st century hits (most recently, The Hunger Games).

For the 100th anniversary of the ship's sinking, Cameron revisited Titanic, updating it to 3D, the only way to justify an older film's theatrical reissue these days. The April engagement grossed $58 M, better than the comparable runs put up by Beauty and the Beast and The Phantom Menace months earlier, but not as good as The Lion King's formidable 3D showing last fall and not nearly enough to catch Avatar.

Naturally, Titanic's 3D return to theaters meant it would soon be coming to Blu-ray and Blu-ray 3D, as well as coming back to DVD. Handling as always the film's domestic distribution, Paramount grants Titanic a rare Monday release in a new DVD that divides the film across two lightweight discs and four-disc combo packs comprised of movie and bonus feature Blu-rays plus a two-disc film presentation in either Blu-ray 3D or DVD, each also including a downloadable digital copy. Here, we cover the Limited 3D Edition.
Blu-ray 3D & Blu-ray Disc Details

1.78:1 (Blu-ray 3D) & 2.35:1 (Blu-ray 2D) Widescreen
5.1 DTS-HD MA (English), Dolby Digital 5.1 (French, Spanish, Descriptive Video Service),
Dolby Surround 2.0 (English)
Subtitles: English, French, Spanish; Film only: English for Hearing Impaired
Not Closed Captioned; Video Extras Subtitled
Release Date: September 10, 2012 / Suggested Retail Price: $54.99
Four single-sided, dual-layered discs (BD-50s)
Thick Blue Keepcase in Embossed Cardboard Slipcover
Also available as new 2-Disc DVD ($29.98 SRP), 4-Disc Blu-ray + DVD + Digital Copy combo ($39.99 SRP), and Amazon Instant Video
Previously released as DVD (August 31, 1999), 3-Disc Special Collector's Edition DVD (October 25, 2005), and 2-Disc 10th Anniversary Edition DVD (November 20, 2007)
Continue to Page 2 >>
Video & Audio, Bonus Features, What's Missing?, Menus & Packaging, and Closing Thoughts
Support this site when you buy Titanic now from Amazon.com:
Blu-ray 3D + Blu-ray + Digital Copy / Blu-ray + DVD + Digital Copy / New DVD / Instant Video /
3-Disc Special Collector's Edition DVD / 2-Disc 10th Anniversary Edition DVD / Original 1-Disc DVD