The second release of The Weinstein Company's RADiUS-TWC label, Butter had a blink-and-miss theatrical run,

playing in just ninety theaters for only one October week. In this instance, such a dumping wasn't merely strategic, it was necessary. Though Butter boasts an accomplished and famous cast, this independent comedy is dead on arrival.

The writing debut of Jason Micallef and sophomore effort of She's Out of My League director Jim Field Smith, Butter tells the story of butter carvers in Iowa City, Iowa. Bob Pickler ("Modern Family" Emmy winner Ty Burrell) has been a master carver for fifteen years, but he is asked to hang up his trowel and give someone else a chance by the powers that be. In response, Bob's wife Laura (Jennifer Garner) decides to try her hand at the game and keep the blue ribbons coming to her family.
Laura gets more competition than expected. Sure, the wacky Carol Ann Stevenson (Kristen Schaal) is no threat. But, Brooke Swinkowski (Olivia Wilde), better known as Tokyo Rose, the tattooed stripper whom Bob has been frequenting and financially supporting, also enters the competition, to spite Laura. The real concern, however, is Destiny (Yara Shahidi), a 10-year-old black girl who has been passed from one white foster family to another. Though not entirely comfortable in the role, Destiny's newest guardians (Rob Corddry and Alicia Silverstone) are supportive and encourage her to follow her butter-carving dreams, which are aided by her remarkable artistic gifts.
After Destiny dazzles at the Johnson County competition, the nasty, neurotic Laura enlists her old high school sweetheart, used car salesman Boyd Bolton (Hugh Jackman), to make some accusations that will require a rematch at the highest level: the Iowa State Fair in Des Moines.
Butter is embarrassingly tone-deaf and considerably less funny than you would think this cast capable of. It is a random and seemingly unprovoked assault on small town Middle America and its values. Look at these simple Iowans with their conservative politics, religion, lack of diversity, and silly use of fatty spreads. That is all the movie asks you to do again and again. No affection whatsoever is shown to this substantial stretch of the nation and its residents, only ridicule and pointed satire. One wonders what atrocity the people of Iowa or some comparable part of the Heartland have committed against Micallef to warrant such venom.
Whatever it was, it doesn't creatively fuel the writer or the cast. With top billing and a producer's credit, Garner seems to deserve more blame than the rest. Of the unlikable lot, her character is the most loathsome: a narrow-minded, bigoted housewife who sees nothing wrong with cheating to best a sweet little prodigy.

Garner's starkly unentertaining lead turn is far from the only weak spot in the cast. Shahidi's youth makes her glaring shortcomings easy to overlook, but the often hilarious Burrell doesn't get a single laugh, Wilde reiterates that comedy isn't her forte, and the sparsely-used Jackman is every bit as out of place as he seems.

There's a telling little detail to the final sequence, as a banner establishes this as the 2010 Iowa State Fair. Indeed, Butter was shot back in the spring of 2010 and had in Weinstein a distributor lined up before the cameras began rolling. But, it remained on the shelf for two years, and a full year after Harvey Weinstein unsuccessfully invited Republican congresswoman Michele Bachmann (who Garner is supposedly channeling) to co-host the film's Iowa premiere with him. With limited commercial prospects despite the cast and no obvious place in the awards-driven studio's master plan, Butter would ultimately be dropped in those ninety theaters a month before Election Day, where it was slaughtered by critics and shunned by the public.

With that out of the way, Weinstein and home video partner Anchor Bay Entertainment wasted little time before putting this dud in stores, releasing it this week on DVD and in the Blu-ray + DVD Combo Pack reviewed here.
Blu-ray & DVD Details

2.35:1 Widescreen (DVD Anamorphic)
5.1 DTS-HD MA (English); DVD: Dolby Digital 5.1 (English)
Subtitles: English for Hearing Impaired, Spanish
Not Closed Captioned; Extras Subtitled in English
Release Date: December 4, 2012
Two single-sided discs (BD-25 & DVD-9)
Suggested Retail Price: $29.99
Blue Keepcase
Also available as standalone DVD ($24.98 SRP) and on Amazon Instant Video
VIDEO and AUDIO
Picture and sound are the only two ways in which Butter is not lacking. The Blu-ray's 2.35:1 presentation and 5.1 DTS-HD master audio are both up to snuff and without issue. In sampling, the DVD also featured fine anamorphic video and Dolby Digital 5.1 sound.
BONUS FEATURES, MENUS, PACKAGING and DESIGN

As usual for a Weinstein/Anchor Bay release, this combo pack includes the same extras on both discs,

each of which presents them in standard definition.

If the pre-end credits' bloopers whet your appetite for more, you're in luck with the inclusion of a gag reel (5:15). Funny people usually make for funny outtakes, but even the likes of Schaal and Burrell don't make us laugh over the film's stench in a montage that includes alternate lines and improvisations.

Next up come six deleted and extended scenes (9:04), which give us more of Destiny and her new foster parents. Any inkling that Butter spoiled in the editing phase seems crushed by this material that's just as weak as what is in the film.

The discs open with menu-inaccessible full trailers for Silver Linings Playbook and Bachelorette. Typical for Weinstein, Butter's own trailer is needlessly absent.

The main menu plays clips under a bar resembling a butter wrapper. The BD's lack of bookmarks, resuming, and an instantly accessed menu are an unfortunate trade-off for getting the film in high definition. Anchor Bay needs to tune up their authoring skills.

The plain silver DVD and colorfully-labeled Blu-ray share a standard BD keepcase, joined by no insert or slipcover.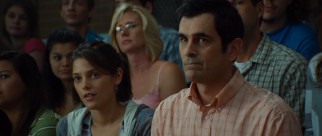 CLOSING THOUGHTS
Smug, obnoxious, ugly, and egregiously miscalculated, Butter is the unfunniest and least appealing theatrical film I've seen this year. It is surprising how much talent is wasted on this wretched satire, which feels like a middle finger extended by Hollywood to the middle of the country and held for 90 minutes. The Blu-ray combo pack provides high quality picture and sound plus a couple of standard extras. You're unlikely to want anything to do with it.
Buy Butter from Amazon.com: Blu-ray + DVD Combo Pack / DVD / Instant Video