After 64 years of having five nominated films compete for Best Picture, the Academy Awards returned their highest honor to the field of ten it had used in the 1930s and '40s. Then, following just two years of that, the Academy switched things up again by making the category support anywhere between 5 and 10 nominees based on complex preferential vote qualifications. If you miss the old less inclusive days of five Best Picture nominees, it isn't difficult to read into the nominees and separate the top nominees from those that benefit from the post-Dark Knight/WALL•E expansion.

Generally, it's as easy as looking at the five nominees for Best Director, a category that largely aligned with Best Picture in all those years of five. (This year's unusual directing snubs makes Best Editing offer a more believable view of a five-deep Best Picture field.)

Likewise, if you miss those two recent years (or those eight distant years) of a big fixed field of ten, it seems reasonable to determine what film just missed out on a Best Picture nod based on the other major nominations it received. For instance, last year, with 5 nominations, The Girl with the Dragon Tattoo seemed the most likely to have filled a tenth Best Picture nomination opening. In this year's field, The Master seems like a strong possibility, based on the fact that it secured three acting nominations and high critical acclaim. But it did not receive a screenplay nomination. Best Picture nominees claimed eight of the ten screenplay slots (Les Misιrables being the only one to miss): the other two were filled by Moonrise Kingdom and Flight. Both of those were among 2012's better-reviewed films and Flight also picked up a Best Actor nomination for Denzel Washington.

We won't ever know whether the move to a variable field narrowly deprived Flight of a Best Picture nomination, unless the Academy one day makes their old voting numbers public. What we do know for certain is that Flight is among 2012's most substantial and best-received films.

We also know that this film and director Robert Zemeckis were a perfect fit. Zemeckis had climbed up Hollywood's ladder, advancing himself on a number of Steven Spielberg-produced blockbusters: the Back to the Future trilogy and Who Framed Roger Rabbit. Away from Spielberg, Zemeckis helmed Forrest Gump, a huge ambitious hit beloved by people around the globe and awarded Oscars for Picture, Director, Actor, and more. Zemeckis might not have repeated success on that order, but he continued to deliver high-caliber and commercially potent entertainment with films like Contact and Cast Away.

Then, Zemeckis fell in love with motion capture animation. He used that on The Polar Express and again on Beowulf and A Christmas Carol. ImageMovers, a production company Zemeckis had founded in the 1990s, was devoted to the medium, also making the Zemeckis-produced Monster House and Mars Needs Moms. With such films, all of them offered in 3D and most also in IMAX 3D, Zemeckis would appear to have been ahead of the curve. James Cameron would embrace performance capture and the aforementioned premium formats with 2009's Avatar to tremendous financial success. But while the reviews of Zemeckis' films were for the most part slightly favorable, the box office returns were regularly beneath expectations, which were heightened on the bases of the filmmaker's steep budgets and strong track record. People may have liked, to varying degrees, Zemeckis' mocap films, but they weren't as crazy about the technology as he was and many longed for him to return to good old-fashioned live-action cinema, where the director had dazzled with some of the century's most iconic works.
Without screaming "a Robert Zemeckis film", which might not even be possible given his varied filmography, Flight returns the director to working with actors in publically wearable costumes on sets and locations that aren't gridded or overwhelmingly a bright shade of a primary color. Gladly, though it had every right to be baffled by his prolonged attachment to motion capture animation, the industry hadn't forgotten Zemeckis' preceding decades of achievement. Thus, the director is given a strong foundation (an original screenplay by Coach Carter, Real Steel scribe John Gatins) and a cast heavy on talent anchored by two-time Academy Award winner and current nominee Denzel Washington.
Washington plays Captain William "Whip" Whitaker, a veteran commercial airline pilot for whom, unbeknownst to most he encounters, alcohol and cocaine are a part of everyday life. Whitaker uses both of those substances within a couple of hours of take-off on a routine morning Orlando to Atlanta flight that he is ill-equipped to perform. The beer wakes him up and a line of coke settles him down and helps him to function. Nothing seems out of the usual to his regular flight crew, nor too concerning to his straight-laced co-pilot (Brian Geraghty), with whom he is flying for the first time. After a rocky ascent through some stormy weather, the plane gets on course and Whitaker lets the co-pilot man the controls while he takes a brief snooze.
Shortly before the flight's scheduled touchdown, the plane experiences some severe difficulties, from engine fires to inexplicable descent and general instability. The suddenly doomed plane requires fast thinking and remarkable heroics, both of which Whitaker provides in spades. Using some deft and cunning maneuvering, he lands the aircraft as safely and smoothly as possible in an empty Georgian field. It's not safe and smooth enough to prevent casualties, but of the 102 souls on board, all but two crew members and four passengers survive the unorthodox crash landing.
The few fatalities are enough to prompt careful investigation from the National Transportation Safety Board. An obvious hero attracting immediate and fervent media attention, Whitaker nonetheless stands to be found culpable for having a blood alcohol level three times the legal limit for driving a car. Representing him with cautious optimism are the pilots' union headed by his friend and former colleague (Bruce Greenwood) and the accomplished Chicago lawyer (Don Cheadle) they hire to cover themselves and minimize fallout. Whitaker also finds sympathy and support from Nicole (Kelly Reilly), a young photographer/masseuse more eager to combat her own drug dependency issues.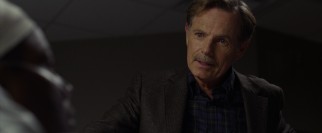 As you would expect, Zemeckis is perfectly qualified to handle the harrowing crash on which the movie hedges. As seasoned in visual effects cinema as perhaps all but Cameron, Spielberg, and George Lucas, the director maximizes the impact of this fundamental scene, letting us look behind the curtain of a relatable modern experience turned vivid nightmare.

It's as gripping as any action sequence of 2012 and if it wasn't wrapped up in a half-hour and followed by nearly two hours of human drama, Life of Pi, The Avengers, The Hobbit and Prometheus might have had a different contender than Snow White and the Huntsman for the Visual Effects Oscar.

No one doubts Zemeckis' ability to stage an exciting and compelling effects sequence; heck, he even tackled a plane crash with more distance and less clarity in Cast Away. Less certain is whether he will be able to tastefully guide us through story and characters in what appears to be his darkest and most mature drama to date. Zemeckis succeeds on this critical front as well. Flight isn't flawless, but it isn't too far from it.

Gatins deserves much of the credit for his intriguing screenplay, which feels like a true story, but one spared the sensitivity and precision that docudrama demands. While the number of commercial airline accidents seems to decrease every year (Wikipedia lists a mere 13 incidents for 2012), nothing about the scenario driving Flight seems far-fetched. Certainly, it's easy to think of a real fast-thinking heroic pilot in Captain Sully Sullenberger, the man who safely landed a US Airways flight on the Hudson River in 2009 to great fanfare, a near-tragedy caused by a flock of Canada Geese.

In contrast to the squeaky-clean Sully, though, Whip Whitaker is a fascinating blend of hero and monster, whose reckless lifestyle stands to undermine the brave piloting that saved 96 lives. It's thought-provoking subject matter, presenting us with believable real world messiness and not giving us any real push to sympathize with or revile him. The protagonist is clearly flawed, but the blame he deserves is far from cut and dry. Whitaker's sense of duty and responsibility remain in doubt throughout the film, as he alternates between sobriety and depressive denial.

Alcoholism remains one of the most difficult conditions to portray dramatically. It's something that obviously warrants consideration, but how do you depict it with enough seriousness and subtlety to not feel like a very special episode or an after-school special? Though one of the film's most problematic areas, Flight acquits itself nicely, illustrating that we've come a long way from The Lost Weekend.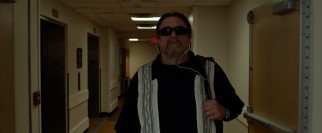 Washington's central turn as a high-functioning alcoholic allows him to stretch himself and test his natural coolness and inherent likability. It's an impressive performance from a movie star who could easily live comfortably playing interchangeable heroes and villains in watchable, unchallenging, profitable fare like Unstoppable and Safe House. The actor's undeserving Oscar win for the overrated Training Day has not taken his career in the most interesting direction, so this film, though certain to not win him a third Oscar, could do some good. With the recent passing of Washington's regular director Tony Scott, perhaps Zemeckis could become a repeat collaborator and challenge him to move beyond his obvious comfort zone of crime action thrillers.

Though Washington alone is getting most of the recognition, his is one of Flight's many fine performances. James Badge Dale shows up for four arresting minutes in the role of Gaunt Young Man, a dying cancer patient who shares a hospital stairwell cigarette and conversation with Whitaker and Nicole. Not quite name actors like Brian Geraghty and Tamara Tunie are absolutely convincing as airline employees. John Goodman steals two memorable, amusing scenes as Whip's drug-dealing best friend.

As the troubled, recovering Southern junkie Nicole, the UK's Reilly emerges as a great discovery you probably forgot you saw in the Sherlock Holmes movies. Cheadle and Greenwood are pitch-perfect as decent men determined to serve their questionable professional interests. Recent Oscar winner Melissa Leo pops up, providing a potent presence in the film's climax.

Zemeckis lightens what could be dreary material with some humor (like the aforementioned Goodman parts) and his easily resummoned commercial instincts. Songs by The Rolling Stones and Joe Cocker energize. And somehow these wildly disparate worlds, from greasy landlords and porn moguls to wealthy businessmen and federal officials, all fit together perfectly. It's a film that sets out to evoke sadness with a portrayal of alcohol dependency, yet draws hearty laughs from what should be an inappropriate drug deal and snort scene, all the while giving repeated thought to God, faith, and redemption. That it can pull all this off, while retaining approval from critics and the general public and grossing nearly $100 million domestically, is no small feat.

Despite its strong reception and ongoing business, Paramount puts Flight in stores on Tuesday, just three months since it opened in theaters and nineteen days before Oscar Sunday. Like most of the studio's new films, it is made available in a DVD and the two-disc Blu-ray + DVD + Digital Copy combo pack reviewed here.
Blu-ray & DVD Details

2.40:1 Widescreen (DVD Anamorphic)
Blu-ray: 5.1 DTS-HD MA (English), Dolby Digital 5.1 (French, Spanish, Portuguese, DVS)
DVD: Dolby Digital 5.1 (English, French, Spanish, English Descriptive Video Service)
Subtitles: English, French, Spanish, Portuguese; BD Film only: English SDH
DVD Closed Captioned; Blu-ray Extras Subtitled
Release Date: February 5, 2013 / Suggested Retail Price: $39.99
Two single-sided, dual-layered discs (BD-50 & DVD-9)
Blue Eco-Friendly Keepcase in Embossed Cardboard Slipcover
Also available as standalone Blu-ray ($19.98 SRP; January 6, 2015), standalone DVD ($29.99 SRP $11.98 SRP) and on Amazon Instant Video
VIDEO and AUDIO
Flight boasts an expectedly great Blu-ray feature presentation. Zemeckis and his regular DP Don Burgess offer strong compositions and the BD's transfer is as sharp and clean as you'd like it to be. The 5.1 DTS-HD master audio is also highly effective, commanding notice with everything from its crash sound design to the tastefully-implemented 1960s songs.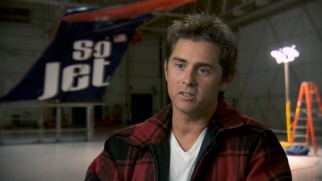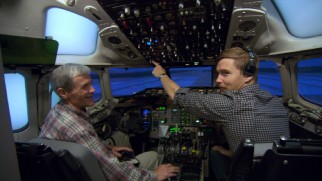 BONUS FEATURES, MENUS, PACKAGING and DESIGN
Lacking deleted scenes and audio commentary, the Blu-ray includes just four featurettes, all of them presented in high definition.
"Origins of Flight" (10:29) focuses on the story, with writer John Gatins recalling the script's conception and cast and crew discussing what struck them about and drew them to the project.
"The Making of Flight" (11:31) offers a general overview of production, covering characters, collaborators, and filming challenges like creating a fictional airline and not being able to shoot on a real tarmac.
"Anatomy of a Plane Crash" (7:46) takes us behind the scenes of the film's big action set piece, touching on the influential research, the maneuvers depicted, and the effects used on a gimbal stage with green screen.

"Q & A Highlights" (14:18) has L.A. Times reporter/critic John Horn host a discussion panel

featuring Gatins, Zemeckis, and actors Brian Geraghty, Tamara Tunie, Don Cheadle, Melissa Leo, John Goodman, Bruce Greenwood, and James Badge Dale. A nice piece and one most films do not get, it even explains why no deleted scenes are included here (there were none, although extended scenes still could have been provided).

No trailers for Flight or anything else are included on the Blu-ray. The DVD opens with trailers for G.I. Joe: Retaliation, Jack Reacher, and Not Fade Away. Also available from the menu as a "Previews" reel, that is the extent of the DVD's extras. The press release suggests the DVD sold on its own is the same way, which would make sense since the digital copy is relegated to an internet download, not on-disc files.

The scored menu plays clips from the film with muted colors, rain, and other filters. The first Paramount Blu-ray of 2013, this one still suffers from the same limitations as most of last year's; it doesn't resume playback, but does let you place bookmarks on the film.

Flight's standard eco-friendly Blu-ray case is topped by an embossed cardboard slipcover. A single-sided insert supplies your code for accessing both the DVD's digital copy and a complimentary UltraViolet stream through February 2015.
CLOSING THOUGHTS
I had my doubts that Robert Zemeckis could return to form so easily after a decade of dabbling in motion capture animation, but Flight proves the director hasn't missed a beat, easily ranking among his better films and one of 2012's best. With strong acting, riveting subject matter, and proficient execution, Flight is substantial must-see entertainment.
While the 45 minutes of extras might leave some wanting more, the fine video/audio and high quality film are enough to earn Paramount's Blu-ray combo pack a recommendation.
Support this site when you buy Flight now from Amazon.com:
Blu-ray + DVD + Digital Copy + UltraViolet / Blu-ray / DVD / Instant Video