2008's Journey to the Center of the Earth offered a new-fangled serving of old-fashioned fun. Revisiting Jules Verne's classic science fiction novel in the not yet ubiquitous format of digital 3D,

the movie was a clear second-tier hit in a summer dominated by Batman, Iron Man, and Indiana Jones.

A sequel sounded okay to me, until it was announced that, just like in The Scorpion King, star Brendan Fraser was out and Dwayne "The Rock" Johnson was in. I know former wrestler Johnson has been a big commercial draw in family fare, but movies like The Game Plan, Race to Witch Mountain, and Tooth Fairy have done nothing to endear me to him as leading man. At least Johnson, who is also credited as a co-producer, isn't going it alone here, getting joined by Josh Hutcherson, returning from the original film, on the verge of increased exposure. Also entering the fray are High School Musical alumna Vanessa Hudgens, Puerto Rican funnyman Luis Guzmán, and the legendary Michael Caine.
Journey 2: The Mysterious Island adapts Verne's subtitular novel in the same way that the first movie adapted Journey, which is very loosely and in the present day. Now 17, Sean Anderson (Hutcherson) has grown up like fellow family fantasy remarriage product Charlie Calvin. This sequel opens with the somewhat troubled youth riding a motorcycle while being pursued by police. Fortunately, Sean's stepfather Hank Parsons (Dwayne "The Rock" Johnson) has pull at the precinct and gets the kid off with a warning and some stern talk.
Relations are tense between Sean and Hank. But when it becomes known that Sean was only breaking into a satellite facility to boost the signal from a distant transmission, Stepdad's background as a Rochefort-winning Navy codebreaker comes up. Sean believes the message comes from his grandfather Alexander (Michael Caine), who has been missing for two years. Decrypted, Alexander's missive places him at The Mysterious Island, no huge leap from reality for Vernians like he and his grandson. Sean and Hank combine maps from Verne's book, Robert Louis Stevenson's Treasure Island, and Jonathan Swift's Gulliver's Travels to clearly identify the Polynesian location in question.
Though Hank doesn't buy into this, seeing some potential stepfather-stepson bonding, he does buy Sean and him plane tickets to the Pacific island of Palau. From there, their trust and three thousand dollars are placed in the hands of excitable bush pilot Gabato (Guzman), his teenaged daughter Kailani (Hudgens), and their rickety helicopter.
After bravely entering the eye of a hurricane, the party of four becomes stranded on their intended destination. There, adventure presents itself in a remarkably orderly fashion, as the first film's one thing at a time design is upheld. On this remote tropical isle, species exist at a scale contrary to the norm. Elephants are tiny enough to pick up in human hands and pale greatly compared to threats like birds and bees.
Just like its predecessor, this is as much a feature-length amusement park ride as it is a family film, but embracing that spirit renders it plenty palatable. At times, some of the still-reasonably priced CGI looks a tad clunky and fake, but most of it is good enough. We never doubt this enhanced version of Hawaii as an enchanted place of gold volcanoes and buried submarines. Even if you're not watching in 3D, you are sure to notice some directional visual gimmickry

as when CG berries bounce off Dwayne "The Rock" Johnson's popping pecs and right at you. Speaking of which, along with the many natural and animated wonders on display, the film seems to enjoy parading Johnson's pokey nipples and Hudgens' cleavage and legs.

Journey 2 does a more admirable job of staying true to the first film than you would suspect, with Brad Peyton, the young director of the much-maligned Cats & Dogs sequel, taking the helm from visual effects veteran Eric Brevig. Reworking an original story by Richard Outten, the screenplay by Brian and Mark Gunn, the cousins behind MTV's turn-of-the-millennium boy band spoof 2gether, strikes the right tone, unfolding with matter-of-fact contrivances, but minimal stupidity. Fraser's character, Sean's uncle, doesn't even get a mention, unless a reference to people disappearing from his life is a sly dig at his failure to return. That wouldn't be the only place where the fourth wall is slyly and subtly broken.

As the PG rating should indicate, Journey 2 is not the kind of family film that only plays to children. Its taut escapades should tickle anyone with an imagination. The sharp banter between Johnson and Caine is surprisingly funny. Others will enjoy Johnson's ukulele-backed crooning of Louis Armstrong's "What a Wonderful World" with lyrics updated to suit their situations. The movie takes itself seriously enough to matter, but not too seriously to enjoy as frothy, escapist fun with a bit of geology thrown in for good measure.

Though the public wasn't wildly in love with Fraser's Journey and clamoring for a sequel, Journey 2 managed to clear its slightly larger budget and narrowly eclipse the original's returns with grosses of $103 million domestically and $325 M worldwide. Those fine numbers are about the best you can expect from a mid-winter opening and are the strongest yet on a family film starring Dwayne "The Rock" Johnson, a class we can expect to further grow based on this success. In March, New Line Cinema announced plans to fast-track a third Journey film for 2014 release with at least Peyton and the Gunns returning.

Warner Home Video brings Journey 2 to stores next week in a single-disc DVD, a movie-only Blu-ray, this review's two-disc Blu-ray + DVD, and a 3-disc Blu-ray 3D combo, all of which are equipped with UltraViolet, the studio's streaming successor to digital copies.
Blu-ray & DVD Details

1.78:1 Widescreen (DVD Anamorphic)
Blu-ray: 5.1 DTS-HD MA (English), Dolby Digital 5.1 (Portuguese)
Both: Dolby Digital 5.1 (French, Spanish); DVD: Dolby Digital 5.1 (English)
Subtitles: English SDH, French, Spanish; BD-Only: Chinese, Korean, Portuguese, Thai
Not Closed Captioned; Extras Subtitled
Release Date: June 5, 2012
Suggested Retail Price: $35.99
Two single-sided discs (BD-25 & DVD-9)
Blue Eco-Friendly Keepcase with Cardboard Slipcover
Also available as standalone DVD ($28.98 SRP), movie-only Blu-ray ($29.98 SRP), and Blu-ray 3D Combo ($44.99 SRP)
VIDEO and AUDIO
Journey 2's status as a visual feast is easy to appreciate in the Blu-ray's stunning 1.78:1 transfer. Rich, vibrant, and immaculate, the film's ample natural beauty and adequate effects are precisely the sort of thing that 1080p lends itself to. The format's lack of disappointment extends to the potent 5.1 DTS-HD master audio soundtrack. It expectedly brims with life. One feline viewer grew quite alert by the scampering of bug feet and forceful chirps of swooping birds.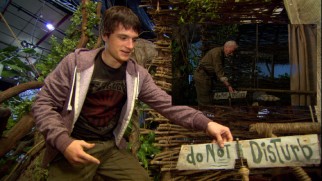 BONUS FEATURES, MENUS, PACKAGING and DESIGN
Warner rarely goes all out for new films' bonus features and here they stick to the preferred course of a few widely appealing items, all of which are in HD on Blu-ray.
First up is the Blu-ray exclusive "Are You Strong Enough to Survive Mysterious Island?", which provides two-minute behind-the-scenes shorts on the film's settings and species. Cast, crew, and experts from Jules Verne experts to biology teachers touch upon lizards, Atlantis, Alexander's treehouse (with Josh Hutcherson tour), huge flowers, the golden volcano, giant bees, glowing mushrooms, Captain Nemo, filming underwater, and the Nautilus.
There are two modes with which you can view this fine content: "Interactive" lets you choose between topics, ensuring you won't be able to see it all in one go, while "Junior Explorer" plays them all in succession (21:06) with animated map graphics as transitions. Either way, the feature is bookended by Josh Hutcherson videos, getting across the map takes you to a "hidden treasure", a short gag reel.
A short second gag reel (1:15) serves up more standard actor goofs.

A reel of five disarranged deleted scenes (5:53) supplies more island excitement, references to the first film and Uncle Trevor, an expositional visit to a worksite of Hank's construction company, and a feel-good moment aboard the Nautilus. They're fun to see, but understandably disposable.

One thing you won't find here is Daffy's Rhapsody,

the 3D Looney Tunes short that preceded Journey 2 in theaters.

Having graduated from digital copies to UltraViolet, Warner finally sees the value of including the same DVD sold separately in a movie's combo pack instead of a barebones, uniquely-authored one. And thus, the DVD holds the gag reel and deleted scenes.

The Blu-ray loads with a bizarre spot on the Justice League's fight against hunger and a promo for Blu-ray 3D. The DVD opens with ads for WB Insider Rewards, Blu-ray, Justice League hunger, Sherlock Holmes: A Game of Shadows, Wrath of the Titans, LEGO Batman 2: DC Super Heroes, and Warner Bros. Studio Tour London: The Making of Harry Potter.

As usual, Warner's menus are a simplistic affair. The Blu-ray's screen and main DVD page are nothing more than a scored, wide version of poster art, which was modified for the cover to increase Hutcherson's presence and remove Caine. The DVD's secondary selection screens are largely even void of artwork, revealing just how quickly Warner (and others) have come to disregard that still best-selling format.

The two plainly-labeled discs claim opposite sides of a standard eco-friendly Blu-ray case, which is topped by a cardboard slipcover that no longer calls UltraViolet a "digital copy", language real digital copy enthusiasts took to task. An insert supplies your unique code and general directions for redeeming the set's complimentary UltraViolet stream and WB Insider Rewards points.
CLOSING THOUGHTS
Like its predecessor, Journey 2 is no transcendent art or definitive Jules Verne adaptation. It's just a fun and exciting family-friendly movie, something there isn't a lot of these days. I was pleasantly surprised to find that, in spite of the widespread personnel changes, this is the rare sequel to reach the same heights of its forebear (it helps that those heights aren't the loftiest).
Warner's Blu-ray delivers a first-rate feature presentation, a nice handful of extras, and the same DVD available on its own. It will soon be the best way to see and own this lively, timeless-ish adventure.
Support this site when you buy Journey 2 now from Amazon.com:
Blu-ray + DVD + UV / Blu-ray 3D Combo / DVD + UV / Movie-Only Blu-ray + UV