The last time that Adam Sandler got involved in animation was Eight Crazy Nights (2002), a traditionally-animated Hanukkah comedy that was very much an Adam Sandler film. It flopped, serving as one of the first of many notices from the public to the popular comedian to stick to what he is known for: live-action PG-13 vehicles.

Sandler's most critically acclaimed yet financially unsuccessful work has defied that wisdom, letting the actor embrace drama and pathos foreign to the reliably profitable, charmingly crude signature projects he also produces and sometimes writes. Sony Pictures Animation's Hotel Transylvania tries to find a compromise between standard Sandler entertainment and the lucrative world of CG family comedies.

Sandler takes an executive producer credit, as does his friend/collaborator Robert Smigel, who also shares a screenplay credit with Peter Baynham, a veteran scribe of British television who in recent years has penned both Sacha Baron Cohen movies and major animated films. To some animation buffs, none of those names means as much as Genndy Tartakovsky, a man revered for creating such cult cartoon series as "Dexter's Laboratory", "Samurai Jack", and the 2003 2D "Star Wars: Clone Wars." Tartakovsky makes his feature directorial debut on Hotel Transylvania, a position he assumed in 2011 after five others had come and gone during a long, challenging development process.

To the target audience of moviegoing families, none of these creative and literal voices is likely to attract or repel as much as the high concept: a Transylvanian hotel for monsters owned and operated by Count Dracula himself (bearing plenty of resemblance to Sandler, who voices this lead). Other famous horror personalities from literature and cinema feature prominently as guests at the large, well-fortified inn that brags it has been human-free since 1898.
The film opens three years before that, as Dracula welcomes daughter Mavis into the world. Shortly after the birth, Mavis' mother is killed by humans, leaving Mavis to be raised by Dracula alone. Jumping ahead to the girl's 118th birthday (which I guess makes the movie set in 2013), Mavis is now the vampire equivalent of a teenager (voiced by Selena Gomez, who interestingly replaced Miley Cyrus, much like Cyrus replaced Chloλ Grace Moretz on Bolt). But hotelier Dracula is still incredibly overprotective. When he allows Mavis to leave home (in bat form) to explore the human world around her, he does so emptily, enlisting his magic and some creativity to convey mankind's threat to her, promptly returning her to the safety of the hotel.
Its safety, however, becomes less certain when backpacker Jonathan (Andy Samberg) becomes the first human to ever set foot on the premises, evidently unstirred by the surrounding haunted graveyards. A new hairdo and blue skin makeover allow Jonathan to blend in as "Johnnystein", a distant cousin to one of the monster Frankenstein's arms. Complicating matters, Jonathan seems like a nice guy and Mavis, not knowing his human nature, instantly takes a liking to him. These facts challenge the resentment Dracula has held toward mankind for over a century.
Sandler's influence on the film is most evident in the voice cast. His friends and frequent co-stars provide vocals for the hotel's varied guests: Kevin James is Frankenstein, who frugally travels by mailing his detachable parts; David Spade is the Invisible Man, who to us is a floating pair of glasses; Steve Buscemi is werewolf patriarch Wayne; and Jon Lovitz is Quasimodo, the Hunchback of Notre Dame who works as the hotel's chef. With the exception of Lovitz, all of those actors bring a lot of themselves to their parts and one imagines the recording studio was a site of much merriment, just as one of Sandler's Hawaii or New England film shoots so clearly are.
Beyond that (and a Dave Matthews Band t-shirt), the Sandler gang, seemingly treating this like a giant gift from the funnyman to his two young daughters, allows Baynham and Tartakovsky to guide this big ship as they see fit. The director's hand is felt in the use of posed gags, cartoony character design, and inspired "camera" movement and framing.

Baynham's writing seems to land a little closer to DreamWorks movies of yore than to that studio's more ambitious Pixar-esque recent works. At least the script doesn't completely stop at monster world equivalents of human activity, even if a repeated phrase like "Holy rabies!" may have you groaning.

Hotel Transylvania is fast-paced, sometimes downright frantic, and often quite routine. In its defense, it's also witty and not overly familiar, which is more important now than ever given the high-profile ubiquity of computer-animated family flicks. Much of the film's wit relies on these horror characters who have so extensively pervaded culture. Who among us knows Dracula only from Bram Stoker or Frankenstein('s monster) from Mary Shelley? Children are exposed to these personalities at a young age everywhere from "Sesame Street" to cereal boxes. That familiarity makes them easy targets for humor; when garlic bread is added to the pitchforks and torches of an angry anti-vampire mob, it amuses.

While the film doesn't exactly soar on that kind of comedy, its efforts to feel like more than a Scooby-Doo Halloween special do bring it down some. The now-requisite emotional core is given a gentle touch. There is no risk of you tearing up as you might have during Up, Toy Story 3, and perhaps How to Train Your Dragon. The decision to ground these broad gags in something more relatable (a father-daughter relationship, an innocent romance) is wise and decently played. Less fitting with the content and more out of deference to contemporary 3D feature animation are unnecessary set pieces involving flying tables, invisible knights, and winged waiters. Such superfluous sequences, the obligatory musical finale, and a long end credits scroll help the film pass the 90-minute mark, but this would have been a stronger film at 75-80 minutes without such random diversions (even if that meant less bang for the 3D viewer's buck).

Hotel Transylvania performed solidly at the box office, outgrossing Sandler and Samberg's R-rated summer flop That's My Boy by Sunday afternoon of its opening weekend. The film's $147 million domestic haul set a record for Sony Pictures Animation and was matched and then some in foreign territories. It was a hit the studio needed after the severe underperformance of their Aardman Animations imports The Pirates! and Arthur Christmas. The strong showing helps Sony's case as one of six dominant major American animation studios alongside Pixar, DreamWorks, Disney, Blue Sky, and Universal's Illumination Entertainment. In commerce, Sony may be at the shallow end of the pool and there's also room for improvement creatively at least as far as in-house works go. The studio's 2013 slate of sequels to The Smurfs and Cloudy with a Chance of Meatballs does not inspire the most hope in that department.

Fresh off its Golden Globe loss, its biggest nomination in a crowded and competitive year for animated features, Hotel Transylvania checks in at stores on Tuesday in a single-disc DVD, a two-disc Blu-ray + DVD, and, this review's subject, a three-disc Blu-ray 3D + Blu-ray + DVD combo pack, all of which come equipped with UltraViolet, Sony's preferred digital copy format.

Watch the first ten minutes of Hotel Transylvania

Watch clips from Hotel Transylvania:
You Can Go • I'm Jonathan • Water Aerobics • Fire Bad • Hold This Bacon • Very Loud
Blu-ray 3D, Blu-ray & DVD Details

1.85:1 Widescreen (DVD Anamorphic)
Blu-rays: 5.1 DTS-HD MA (English, French, Portuguese), Dolby Digital 5.1 (Spanish, English DVS, Portuguese DVS) / DVD: Dolby Digital 5.1 (English, French, Spanish, Portuguese), Dolby Surround (English DVS, Portuguese DVS)
Subtitles: English, English for Hearing Impaired, Spanish, French
Not Closed Captioned; Most Extras Subtitled in English, Portuguese, and Spanish
Release Date: January 29, 2013 / Suggested Retail Price: $55.99
Three single-sided, dual-layered discs (2 BD-50s & 1 DVD-9)
Thick Clear Keepcase in Lenticular Cardboard Slipcover
Also available as Blu-ray + DVD ($40.99 SRP), DVD ($30.99 SRP),
and on Amazon Instant Video
VIDEO and AUDIO
Unsurprisingly, Hotel Transylvania boasts flawless picture and sound on Blu-ray. The 1.85:1 direct digital presentation showcases the respectable animation with the utmost quality. Sharpness, colors, and detail are nothing short of perfection. The 5.1 DTS-HD master audio soundtrack is expectedly lively as well, presenting appropriate sound design with excellent results.
BONUS FEATURES, MENUS, PACKAGING and DESIGN
The Blu-ray's average supply of bonus features begins with an audio commentary by director Genndy Tartakovsky, producer Michelle Murdocca, and visual effects supervisor Daniel Kramer. They speak with animation enthusiasts in mind, offering a discussion of the film's visuals, techniques, and many phases of development. It's okay, but far from an essential listen.
Kicking off the all-HD video side is Goodnight Mr. Foot (4:07), an all-new traditionally-animated Genndy Tartakovsky short which finds a forest-dwelling creature checking into the Hotel Transylvania and a witch maid trying to ensure that a spider doesn't keep the guest from getting the quiet night he wanted.
There are three deleted scenes (6:21). A long alternate opening and rap song are presented in mostly colorless story reels, while a shadow-driven international scene is fully animated.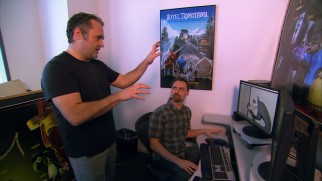 "Meet the Staff and Guests: Voicing Hotel Transylvania" (6:29) is an always welcome standard voice cast featurette which gathers praise for the big name actors and shows them recording their lines on the days they were prepared for an EPK camera crew.
More of a featherweight promo than the comprehensive featurette you'd expect, "Making the Hotel" (3:44) gives us a brief, sarcastic look at production with some cast and crew comments.
Three brief progression reels (8:04) dissect the film's animation, considering how poses and motion blurs co-existed, separate elements were seamlessly fused, and how the real Transylvania and patterns inspired the movie's design.
A music video for the end credits song "Problem (The Monster Remix)" (3:27) has young rapper Becky G and will.i.am performing in an old upscale hotel amidst clips from the film. The song has some appeal, but the video is kind of obnoxious.

On the video's partially bright green set, a behind-the-scenes short (2:21) gathers thoughts from the two artists on the song and the (clearly unseen) movie for which it is intended.

The discs open with a Sony Entertainment Network promo, a teaser for The Smurfs 2, and an Arthur Christmas trailer. To the latter two, the Previews menus add trailers for The Pirates! Band of Misfits and Adventures in Zambezia. Hotel Transylvania's own trailers are not included.

The DVD loses the progression reels and two making-of featurettes, but it comes equipped with a DVD-ROM application that touts UltraViolet and takes you to online Hotel Transylvania games and activities you don't need the disc to play. The Blu-ray 3D includes no exclusive extras, unless you count its trailers being in 3D and including ones for Cloudy with a Chance of Meatballs and Arthur Christmas (a different one), plus a clip from Monster House.

On all three discs, the main menu plays clips in a bat-shaped border in front of hotel locales.

The thick clear keepcase is topped by a very snug slipcover, which at least distinguishes itself with a lenticular face that alternates Mavis between human and vampire appearances and Jonathan between his natural and Johnnystein personas. Above the stacked Blu-ray and DVD discs, we find three inserts, supplying codes for Sony Rewards and unlocking the complimentary UltraViolet, and advertising the film's official Facebook and mobile games.
CLOSING THOUGHTS
Hotel Transylvania ranks near the bottom of 2012's big animated films, but still qualifies as slightly above-average entertainment among modern cinema at large. A few things keep this gently diverting comedy from being a completely generic production, but too few to make it truly stand out, especially in a year so heavy on horror comedy 'toons.
Sony's Blu-ray 3D combo pack delivers a flawless presentation of the film and a routine collection of extras. While it's a movie worth seeing, it's not a film with great appeal and probably won't warrant a purchase unless you have young fans of it in your family.
Support this site when you buy Hotel Transylvania now from Amazon.com:
Blu-ray 3D + Blu-ray + DVD / Blu-ray + DVD / DVD / Instant Video