With the track record established by their first six forays into the world of feature films, Pixar Animation Studios has some remarkably high expectations to live up to. Like everything else in life, Toy Story, A Bug's Life, Toy Story 2, Monsters, Inc., Finding Nemo, and The Incredibles must have some shortcomings. But individually, they come as close to perfection as any film hopes to. Collectively, they make Pixar a cinematic Dream Team, one which is near-unanimously respected by critics, competitors, and moviegoers alike.

When the time came for Cars, the studio's seventh feature-length production, to be released to the world, it was impossible for it to be just a good film. It had to be funny, smart, innovative, quotable, substantial, fulfilling, a critical darling, and a global box office success. If -- and only if -- it achieved all those things, then Cars could be considered a worthy entry to the relatively tiny yet tremendously influential canon belonging to the pioneering computer animation wizards of Emeryville, California. Fortunately, Cars is indeed a valuable addition to Pixar's growing catalogue.

Move over Herbie, KITT, and the Gadgetmobile. Here, we have an entire world of living cars like you who don't need humans in the driver's seat. The movie centers on Lightning McQueen (voiced by funnyman Owen Wilson), a hotshot rookie race car who early on finds himself in an unprecedented three-way tie for the prestigious Piston Cup. McQueen is as bold as the bright red paint which marks his exterior; his ego insists that not only can he outdo his formidable foes -- consummate reigning champ The King (renowned NASCAR driver Richard Petty) and brash perennial runner-up Chick Hicks (Michael Keaton) -- but that he can do entirely on his own, without relying on a pit crew or any kind of help.

Bound for a tie-breaker in Los Angeles with visions of victory in his dreams, Lightning wakes up alone in the middle of nowhere. Actually, he is in the sleepy Route 66-centered town of Radiator Springs. In a panic, the race car wreaks havoc on the small neighborhood. Tearing up asphalt and leading the local Sheriff (real life Route 66 expert-film consultant Michael Wallis) on a wild nighttime chase earns McQueen a tire lock in an impound lot and a scheduled court appearance. Just when it appears that judge Doc Hudson (screen legend Paul Newman) may be willing to let the young, fast-talking hot rod off the hook and back on the road, the town-appointed attorney, baby blue 2002 Porsche Sally Carrera (Bonnie Hunt), steps in and convinces the Doc that a community service sentence is essential for the town's well-being.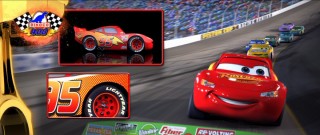 This is the major setup for Cars, as the protagonist's life of speed comes to a screeching halt in a world that's quite foreign to him. Fixing the wrecked patch of Route 66 delays Lightning's scheduled arrival in L.A. and creates personal turmoil for him, but it also brings him into contact with Radiator Springs' diverse group of locals. There's the good-natured hick of a tow truck Mater (comedian Larry the Cable Guy), the pushy Italian tire salesman Luigi (Tony Shalhoub), an organic fuel-vending hippie van named Fillmore (George Carlin), sensitive fire truck Red (late co-director/writer Joe Ranft), sassy food joint (i.e. gas station) owner Flo (Jenifer Lewis), tricked-out lowrider Ramone (Cheech Marin), no-nonsense army jeep Sarge (Paul Dooley), and somewhat senile, old Model T Lizzie (sitcom veteran Katherine Helmond).
The movie proceeds to explore the fish-out-of-water hand dealt to the cocky hot shot, specifically focusing on how he interacts with three foils: a friend (rusty Mater), a love interest (Sally, who has a traffic cone-themed hotel and a relatable backstory), and a mentor (Doc Hudson, the internal combustion doctor with a secret past). While the lesson to be learned seems pretty apparent and it's not the first time a movie has tread this territory (several viewers and reviewers have drawn comparisons to the early '90s Michael J. Fox comedy Doc Hollywood), the time spent in Radiator Springs is enlightening for Lightning and highly entertaining for us.
While lively on the surface, Cars moves a bit slowly in terms of the big picture, with the time Lightning spends in Radiator Springs seeming far more than a week and the nearly two-hour runtime (Pixar's longest, beating The Incredibles by a minute) almost feeling excessive. Still, character development is remarkable for a cast of this size, as all of the named characters really make an impression. Perhaps some credit for this must go to the marketing campaign, which took efforts to establish the range of personalities through Internet ads. The sharp ensemble cast keeps things very interesting even if not everything advances the plot.
Visually, the film is a major triumph. With every new release, Pixar subtly raises the already high bar they've set as the standard for computer animation.

With Cars, the studio has even outdone the ambitious action sequences of The Incredibles; the amazing breathtaking imagery feels extremely life-like without merely recreating things that could be captured photographically. Whether it's the immense, impossible-to-grasp race car track sequences or merely the utterly appealing and palpable setting of Radiator Springs, Cars operates in a universe that is as compelling to the eye as it is to the mind.

Not all marks are hit, however. The slight preachiness against progress seems a little forced and this theme's obligatory Randy Newman music moment (the James Taylor-performed "Our Town") feels too much like Toy Story 2's "When She Loved Me", a sequence which was emotionally manipulative enough. The middle America, Route 66-type humor is less universal than the comic sensibilities of previous outings; jokes about tractor-tipping (think mechanical cows), a brief dash of contemporary California humor, and the immersion into the NASCAR scene are not as embracing to audiences as past focuses have been. Honestly, if any other studio was making this movie, I'd probably struggle to care. There's also a tiny bit of content which seems uncharacteristically base or short-sighted, as if Pixar might have borrowed a few pages from its largely inferior CGI competitors DreamWorks and Blue Sky. These instances gladly are few and far between; for the most part, the premise is mined for a healthy amount of visual and verbal puns which usually deliver joy for both adults and young'uns simultaneously.

What most impresses me about Cars is that it seems apparent that the movie's design reflects Pixar's willingness to challenge themselves. Not only does the studio continue to stretch the bounds of the medium, but it also tests its ability not to repeat itself in doing so. This begins with a creative concept unlike other animated movies that have come before (which have, to generalize, tended to rely on fairy tales and anthropomorphic animal stories): a world without humans, where independent, fully anthropomorphized automobiles are the only inhabitants. The challenges deriving from that fairly original scenario (only really tested before in the 1952 Disney short Susie the Little Blue Coupe) raises some questions. Could Cars' story have been told with humans? Definitely. Could it have been told in live action? Another yes. Acknowledging these truths seems to underscore that clever muscles are being stretched here and commendably so. Pixar has succeeded in not only making the best movie about living cars to date but probably the best movie about living cars that could be made. Not bad for a movie whose initial teaser did little for myself and many others who think highly of Pixar.
No amount of negative Internet buzz could keep Cars from being a big hit in theaters. Despite having its first two weekends pale in comparison to previous Pixar openings, Cars exhibited some holding power quite rare for a summer release and ended up the 2nd highest-grossing film of 2006 (through ten months thus far). While some unsubstantiated corners of the web would have you believe its performance was a major disappointment, its status as the Walt Disney Company's 10th highest-grossing film of all-time should reveal the silliness of such a claim.

The movie's earnings left its unusually plentiful computer-animated brethren in the dust, including a built-in audience-wielding hit like Ice Age: The Meltdown. True, Cars' numbers didn't quite add up to those of Pixar's four previous releases, but its robust totals still made it a standout among the American and worldwide movie scene. To put it in perspective, Cars grossed over $200 million more than The Wild, the other computer-animated film Disney released to theaters this year.

Critics were rougher on Cars than other Pixar films, which is to say that about 1 in 4 reviews didn't give the film an unflinching recommendation. I think that can largely be explained by just how much they (and many others) have loved previous Pixar productions. To some degree, I can appreciate the sentiment. Compared to the remarkable quality established by previous Pixar films, Cars may feel lacking in some ways. But not by much. Viewed on its own merits or as part of Hollywood's greatest winning streak, it is clearly a great movie and one which remains light years ahead of the competition.
DVD Details

2.39:1 Anamorphic Widescreen
(1.33:1 Reformatted Fullscreen sold separately)
Dolby Digital 5.1 Surround EX (English),
Dolby Digital 2.0 (English)
Subtitles: English; Closed Captioned
Release Date: November 7, 2006
Single-sided, dual-layered disc (DVD-9)
Suggested Retail Price: $29.99
THX-Certified with Optimizer tests
Black Keepcase with Embossed, Holographic Cardboard Slipcover
VIDEO and AUDIO
It should come as a surprise to no one that Cars boasts amazing picture and sound on DVD. You'll definitely want to go with the widescreen edition, which presents the film in its 2.39:1 theatrical aspect ratio. Nevertheless, a surely compromised fullscreen version is sold separately. Emanating directly from Pixar's computers, the widescreen transfer is stunning and, as far as I can tell, absolutely flawless. Colors are vibrant and consistent, the "print" is obviously pristine, and with the paucity of contents and options, compression is a non-issue. Even on a standard television set, you're likely to be blown away by the detail in the animation here.
Though Pixar finally showed Region 1 faith in the DTS format last year as incentives for re-purchasing their two Toy Story movies, it's back to Dolby Digital 5.1 Surround EX for Cars. Even so, this soundtrack does not leave one wanting more. From the whirring race cars to the small town atmosphere in Radiator Springs, Cars showcases a fine mix and the DVD presents it all capably. There isn't quite the dynamo or diversity found in Pixar's previous outing, but then superhero action calls for a wider palette than a movie about cars. Randy Newman's score (which doesn't rank as highly as his previous Pixar work) and the selection of well-placed pop tunes make a fine use of the soundstage. Volume is consistent and dialogue is consistently crisp while always part of a fully-realized environment.
Surprisingly, no foreign language tracks or subtitles are provided (a Spanish edition is supposed to be made available separately). The only alternate track is Dolby Surround 2.0, which those averse to automatic downmixing and lacking a 5.1 setup might appreciate.
BONUS FEATURES

Not long ago, a home video release meant a movie. Well, a movie and generally about three previews for other movies. But now we expect much more from our DVDs. Yes, there's the movie with the best video and audio quality that technology will allow. But there's got to be making-of material, games...at least one commentary is essential.

Pixar usually meets all those expectations and then goes beyond with newly-created material that's both informative and entertaining. With Cars' DVD debut, the studio is not up to its usual standards. The menu here is surprisingly scarce, both for a Pixar film and one which grossed well over $200 million in the States alone. So scarce that the obligatory "And More!" on the back cover literally refers to one bonus that can also be found in the movie itself no less.

Just so you don't miss 'em, the first two bonuses are listed directly on the Main Menu. Mater and The Ghostlight (7:06) is a brand new short made specifically for this DVD by the people who made Cars; John Lasseter directed it and all voice cast members return. In this cartoon (which is presented in 1.78:1 anamorphic widescreen and Dolby 5.1), the prank-pulling Mater gets his comeuppance when Sheriff tells him about the Ghostlight, a spooky blue spirit known to haunt Route 66 from time to time. It's very cool to spend more time in Radiator Springs in this swell cartoon, which entertains in every way and is every bit as polished as the film itself.

If you saw Cars in theaters and arrived on time, then you already know that One Man Band (4:30; presented in 2.39:1 16:9 and Dolby 5.1) is the latest in a long line of Pixar cartoon shorts. This one tells the story of dueling street musicians both hoping to earn a gold coin from a young girl about to make a fountain wish. True to the studio's traditions, the storytelling is visual-based (not a word of dialogue uttered) and the short is funny, touching, and visually striking.
Other bonus features can be found, appropriately enough, on the Bonus Features menu. "Epilogue" (4:17) offers the end credits footage enlarged to nearly fill the 16x9 frame and in Dolby Digital 5.1. Basically, it's an ideal presentation of what is undoubtedly one of the most inspired sequences to have ever accompanied a movie's end credits. The first half, set to a largely instrumental version of John Mayer's "Route 66", shows what happens next for Radiator Springs as well as its good and bad cars. This segues into a highly amusing montage of Cars characters watching car versions of Pixar's movies at the town's drive-in theater, paying special tribute to John Ratzenberger's voice work for the studio. The slideshow of stills which follows in the end credits does not show up here. No need for owners of tiny TVs to squint through the end credits now, at least not for this part of the sidebar show.
"Inspiration for Cars" (16:00), the disc's only featurette, examines the movie's roots in writer-director John Lasseter's personal life and in the discoveries of Pixar research. There are interview clips with Lasseter and other people who shaped the movie, from NASCAR personalities to Route 66 experts. There is also fly-on-the-wall (or rather, fly-on-the-road) footage from Lasseter and crew's journeys on Route 66, showcasing the colorful middle-American personalities they encountered, such as "The Real Mater." Informative, well-made and 16x9-enhanced, this piece is an easy viewing, but it definitely feels like there is a more thorough and comfortably-paced documentary to be made from what is surely several hundred hours of production footage barely glimpsed at here.
Four deleted scenes (10:30 altogether) are brought to life, like on The Incredibles DVD, as sufficiently animated two-dimensional story reel drawings. Each sequence (dated 2002-2003) is briefly introduced in a narration from John Lasseter. Two ("Top Down Truck Stop", "Lost") depict alternate versions of Lightning's separation from Mack, another ("Community Service") depicts an out-of-body first morning for the hot rod in Radiator Springs,

and the last ("Motorama Girls") recalls how Ramone and Flo fell in love. While the presentation makes these scenes easy to imagine in a fully-completed form, the content isn't the most exciting; no casualty is inferior to the film's equivalent sequence and none appear to be a great loss.

Finally, one Easter egg can be accessed sporadically from the Main Menu. It is a 45-second clip of Mater and Lightning at the Drive-In watching themselves in a version of Pixar's Oscar-nominated short Boundin'. As another one of Pixar's unique treats, this and all other bonus features come with optional English subtitles.

Based on Pixar's splendid track record on DVD and Disney's current penchant for animated re-releases, this appears to be one of the most transparent double-dip set-ups in the history of home video. It seems almost certain that sometime next year (probably after the Oscars and before Ratatouille is released), Cars will get its proper treatment on both DVD and Blu-ray. It's just too bad that most interested parties will have already bought this vanilla disc by then.

What kind of bonus material has been left off this DVD release? A lot. Based on past Pixar DVDs and published comments from those in the know, things that are likely to surface on a reissue are the film's assorted trailers and TV spots; one or two audio commentaries; animators' computer bloopers; music videos (a Disney Channel Circle of Stars performance of "Route 66" has been mentioned in print); the behind-the-scenes reports from the road that were made available over the summer as video podcasts; the John Ratzenberger-hosted Pixar 20th Anniversary Special that aired on ABC's The Wonderful World of Disney; galleries of artwork, posters, and merchandise; and featurettes on the voice cast, "CARS Road Trip '06", and the movie's world premiere at the Lowe's Motor Speedway in Charlotte. Then there is the stuff that is showing up in international 2-disc sets or retailer-exclusive bonus discs, including Rascal Flatts' "Life is a Highway" music video, the making of it, a separate "making of the music" featurette, ABC Family's "Under the Hood" TV episode. Obviously some of this content could remain exclusive and not resurface, but have no doubt that there is a tremendous wealth of relevant supplements that could be employed for a re-release.
MENUS and PACKAGING

As is expected of Pixar, the menu screens are animated and clever. Most of them opt for the high-velocity speedway life that Lightning calls home at the beginning of the film. Some feature different instrumental versions of Sheryl Crow's movie-opening tune "Real Gone", while the Bonus Features menu runs with a leisurely Randy Newman score excerpt and Route 66 postcards look.

The menus are marked by nice touches such as the fact that when highlighted, every video feature's listing is accompanied by an accurate runtime, even the movie. The concise Set Up Menu also includes the THX Optimizer, a series of video and audio tests designed to calibrate your home theater's settings capped off with a demo scene. (The Pixar-animated THX trailer "Tex" automatically shows up before the movie starts.)

The sneak peeks at the beginning of the disc (which offer a font change for the observant) are for Ratatouille, Peter Pan: Platinum Edition, and Meet the Robinsons. The dedicated menu (which uniquely takes us to Radiator Springs' Drive-In Theatre) also provides sub-minute previews for Cars: The Video Game and "Disney Blu-ray." (The latter promises A-list Disney films in high-definition with no shortage of "blue" dialogue excerpts.)

One finds a number of items inside the DVD's keepcase, which is housed in a snazzy, embossed, partially holographic cardboard slipcover. There's a code for the recently-launched Disney Movie Rewards program, a 4-page DVD guide of extras overview and scene selections (with a cool cover featuring the central cast, to boot), and a tiny booklet. Sadly, the booklet offers no coupons, instead merely advertising Cars merchandise, nearly-relevant Disney properties, and plain old sponsors.
CLOSING THOUGHTS
Even if it's not quite as perfect as its Pixar predecessors, Cars is easy to qualify as a great movie. It furthers the studio's reputation for fantastic filmmaking, with unprecedented visuals serving colorful characters and an endearing tale making the most of a limiting premise.
While the movie and its flawless video/audio merit strong recommendations, anyone wanting the ultimate Cars DVD release would be wise to wait until next year, when the movie seems very likely to be revisited with all sorts of bells and whistles. But if you're okay with a good slate of bonus features instead of an excellent one so long as you get to revisit Cars anytime you want and as soon as possible, then by all means, pick up this DVD and enjoy the latest dose of unparalleled cinema from the good folks at Pixar.
More on the DVD / Buy from Amazon.com / Buy Blu-ray / Buy Blu-ray/DVD/Cars Gift Pack