Review by Jack Seiley

I'm sure most of you are asking yourselves, "What's Finding Nemo?" No wonder you haven't heard of it. It's a movie that critics ripped to shreds and bombed at the box office. I think it's a safe bet that this is one movie Disney won't exploit with tons of merchandise and sequels. (Do I have to say I'm joking?)

The first thought that comes to mind when I think about this movie is that it's overrated. I wish that wasn't the first thing to pop into my head, because there are things that I love about it, which I am going to discuss. But with all of the hype surrounding it, I can't help myself. To begin with, it's the formula that was used in both Toy Story and Monsters Inc. – two mismatched

characters go on a journey together, and end up being best buddies in the end. Of course, that's not all Nemo's about, but it's noticeably the same basic story.

Also, it's hugely episodic. Now, I think episodic movies can be fun and interesting, so long as they don't wear out their welcome. Nemo almost does, clocking in at 1 hour and 40 minutes. Shaving off some of the unrelated encounters that are strung together throughout the movie would have served the pacing tremendously well.

One of many things that saves Nemo from being a loss to slow pacing is the character of Dory, excellently voiced by Ellen DeGeneres. When you think about it, it's a really hilarious idea: a fish with short-term memory loss. Dory never lets us down when it comes to humor. Whenever I began to feel slightly bored, she delivered another laugh-inducing remark or gag. But she's more than just a 1-sided sidekick for comedy relief. She has a personality, and it's easy to care for her.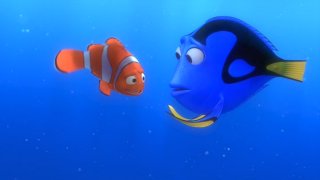 Besides this, Finding Nemo remains a sweet film, and I think that it is Pixar's most down-to-earth project yet. It may sound silly calling a movie about a fish 'down-to-earth', but it is. The theme is something every single person who watches it can understand: the relationship between parent and child. This means that no matter what age of the viewer is, they are going to relate to it. Personally, I was very touched by that aspect, because so many times, I saw my father in Marlin, and me in Nemo. It strongly reminded me of incidents that occurred when I was very little, and even recently.

This surprised and impressed me - and as cheesy as it sounds - it kind of made me want to bond with my dad. When I am made to feel that way by something a person either did in the computer, or drew by hand, it reminds me what makes animation so great.

Oh yes . . . make sure to stick around for what's after the end credits. I won't spoil it, but this last gag made me burst with laughter.

The summer blockbuster came quicker to DVD than previous Pixar titles have, arriving on the format six months after its theatrical debut, in November 2003. A 2-Disc set, it comes under the banner of "Collector's Edition", just like Monsters Inc. and A Bug's Life. Both discs are held in a standard, black amaray keepcase with a flapper inside. Atop the case is a cardboard slipcover, which features an attractive effect that looks like shiny water. Currently, not every copy in stores will come with the slipcover, as Disney tends to exclusively manufacture them close to the release date. An 11-page insert displays colorful concept art, describes and maps out the bonus material, introduces us to the film's characters, and list the 32 chapters the movie is divided into. Beside the insert is a 20-page coupon booklet and an entry for the "Ocean Adventure Sweepstakes."
DVD Details

1.78:1 Anamorphic Widescreen
and 1.33:1 Reformatted Fullscreen
Dolby Digital 5.1 Surround EX (English, French, Spanish)
Subtitles: English
Closed Captioned
Release Date: November 4, 2003
Two single-sided, dual-layered discs (DVD-9s)
THX-Certified
Suggested Retail Price: $29.99
Disc 1: "Plunge Into the Filmmakers' World"
Widescreen Feature Presentation & Bonus Materials
The menu begins, and we are submerged beneath the ocean's surface. The main menu options appear in front of Marlin's sea anemone home. Whenever an option is selected, we are taken to another menu and another environment from the film. During the menus, the characters (original voice actors) from the film often times make remarks, the funniest being one by Dory: "Oh, I always wanted to see The Little Mermaid!" It's definitely worth just sitting and listening for a while. Also, on virtually any menu, a fish icon in the corner of the screen can be selected to produce a "Virtual Aquarium"; the text disappears, leaving the immersive sights and sounds of the environment by themselves.
The first option on the main menu is an "Introduction" (1:14). Director Andrew Stanton and co-director Lee Unkrich welcome us to the first disc, highlighting its several features. Executive producer John Lasseter also makes a goofy appearance.
The movie is displayed in its original aspect ratio of approximately 1.78:1, with the transfer enhanced for 16x9 televisions. The image comes directly from the computer, with no film print middle-man. Because of this, the picture quality is perfect. The colors pop out at you and the detail is razor sharp. Seeing the way the light plays underwater throughout is jaw-dropping. Whenever I watch it, I feel like I could just reach out to the screen and immerse my hand in liquid. If you want to see your DVD player perform at its peak, this is the title to spin.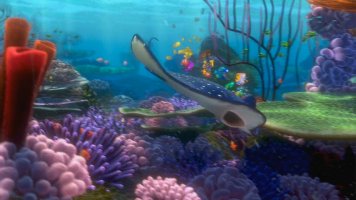 THX-certified, the Dolby Digital EX 5.1 sound track is the only option for listening on Disc 1, and I was incredibly pleased. The surrounds met my expectation of placing me in the middle of an undersea world, and it felt completely natural. Production of the dialogue, music, and sound effects is spot on. My favorite scene for sound is when a series of mines explode. My room shook with searing, deep bass. Tracks like this leave me completely energized because they are so great.
A Bonus Materials section carries extras exclusive to Disc 1. That means that there is no repeating of extras on either of the discs.
"Visual Commentary" is a rather unique feature that I'd like to see more often on DVDs. Director Andrew Stanton, co-director Lee Unkrich, and co-writer Bob Peterson comment on the film as you watch it, just as a normal audio commentary. I find the gang at Pixar to make the tracks on all their discs more entertaining than most, and this was no exception – all 3 participants are fun to listen to and provide valuable information. Yet aside from this, there are 47 instances where the presentation branches off into quick vignettes that usually run a minute or so, and are behind-the-scenes in nature, showing glimpses of storyboards, rough animation, and deleted scenes among other things.
Want to see these shorts, but don't want to select the commentary? Have no fear: all 47 of them are listed in the "Visual Commentary Index". Each piece can be selected separately, or they can be played altogether (31:00). Unfortunately, no such option exists to just watch the film with the audio commentary. You'll have to individually skip the quick vignettes from time-to-time if you just want to hear the commentary.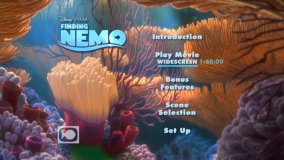 Instead of the multiple, detailed featurettes that have been found on every Pixar DVD thus far, Nemo gets a cohesive making-of documentary instead. "Making Nemo" (25:35) includes Andrew Stanton, John Lasseter, Lee Unkrich, Bob Peterson, producer Graham Walters, editor David Salter, art director for characters Ricky Nierva, physiology professor Dr. Adam Summers, production designer Ralph Eggleston (though you may think it, he doesn't look like Humpty Dumpty), director of photography Sharon Calahan, story supervisor Ronnie Del Carmen, production supervisor Marcia Jones, supervising technical director Oren Jacob, supervising animator Dylan Brown,

animator Karen Kiser, art director for shading Robin Cooper, character sculptor Jerome Ranft, and directing animator Mark Walsh. "Making Nemo" takes us from the idea that sparked the project and the research done for the production, through the many stages of the animation and fun that happened while creating the movie. While it's not as in-depth as possible, it reaches what every documentary should be: educational and entertaining at the same time.

"Design Galleries" is broken down into 4 options. "Art Review" (8:33) showcases many pieces of concept art while production designer Ralph Eggleston, art director for shading Robin Cooper, and art director for characters Rickey Nierva give an audio commentary. "Characters" (6:00) is a continuous video that presents concept art and models for over 20 of Nemo's personalities. "Environments" houses 3 still-frame galleries that allow the viewer to flip through full-screen images: "Reef" (11 stills), "Ocean" (11 stills), and "Harbor" (27). Lastly, "Color Scripts" contains hundreds of artworks made to determine the tones of various environments from the movie. They are presented in slide-show form, and you can skip to a picture by pressing the chapter search button on your remote control. The reason for such varied showings of the art baffles me – a more clear-but organization would be have all the pieces in a thumbnail gallery, with the commentary track available on the corresponding stills.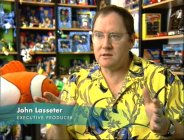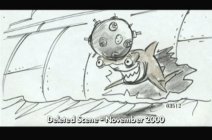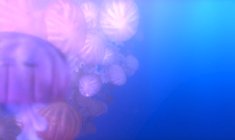 Remember those "Virtual Aquariums" I talked about earlier? Well all of those are indexed under an option in the Bonus Features. They are: "Reef," "Plate Coral," "School of Fish," "Drop Off," "Anemone," "Jellyfish," and "Sandy Reef."

Finally, within the Set Up menu, a THX Optimizer lets one calibrate the audio and video of his or her home theater system specifically for this title.

Disc 2: "A Voyage of Family Fun"
Fullscreen Feature Presentation & Bonus Materials

Instead of the menus taking place in the sea like on the first disc, Disc 2 plunges us into the dentist office aquarium from the movie. However, like Disc 1, there are fish icons on many of the menus that allow your TV screen to be turned into a "Virtual Aquarium".

At the top of the main menu, we get another "Introduction" (1:03) from Stanton and Unkrich, who highlight the materials available on Disc 2.

Finding Nemo is presented yet again on this second disc, this time in a 1.33:1 aspect ratio. This isn't the typical pan-and-scan job, though – the team at

Pixar has re-framed many of the shots to make sure there's no cropping out of characters or loss of visuals, as is usually found on fullscreen versions of widescreen movies. Unlike Disc 1, French and Spanish Dolby 5.1 tracks are available in addition to the English track: why only have them available for the fullscreen version? The bottom line is that the video and audio quality is equal to that of Disc 1's.

On the main menu, two extras are listed that can also be found under the Bonus Features menu. Jean-Michel Cousteau hosts "Exploring the Reef" (7:00), in which he provides documentary footage of actual reefs. He doesn't get far before being interrupted by Dory, Marlin, and Nemo. I found this kind of irritating. It would've been nice to just have a nature documentary/featurette, but instead, we get a fluffy piece that's mostly about comedy. We already have plenty of other bonuses with the characters' funny antics, and I feel this was a missed opportunity.
"Knick Knack" (3:35) is a 1989 computer-animated short that played in front of Finding Nemo in theaters. It tells the story of a snowman who desperately wants to get out of his snow globe, and follows his efforts to escape. If "Knick Knack" is selected from the main menu, it automatically plays. But if it is selected from the Bonus Features menu, there is an optional audio commentary available with John Lasseter.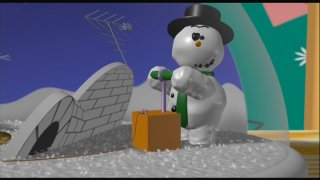 More material is discovered under Bonus Features.
"Mr. Ray's Encyclopedia" is an interactive virtual book with narration by Nemo's schoolteacher, Mr. Ray. He provides about a minute of information each for the species that these characters belong to: Marlin & Nemo, Dory, Deb & Flo, Bubbles, Jacques, Gill, Sheldon, Peach, Squirt, Bloat, Bruce, Gurgle, and himself, Mr. Ray. Each snippet can be individually played, or they can be played together (13:00)
A few more things aimed at kids show up. Inspired by one of the many deep sea encounters in the movie, "Fisharades Game" has the player guess what a school of fish is trying to portray. He or she is given multiple choice answers, and must select before time runs out. As far as set-top games go, this was reasonably enjoyable. "Storytime" tells of a day at school for Nemo, and can either be read solo or read along with a narrator.
Behind the Scenes keeps three options. "Character Interviews" (2:28) has a (riotous) fake news reporter interview Marlin, Nemo, and Dory, with Bruce the shark popping in unexpectedly. "Studio Tour" (5:24) is a surprisingly funny featurette, with Alexander Gould, the voice of Nemo, exploring the Pixar studio and the studio team poking fun at themselves. "Publicity" has the Teaser Trailer (2:05), Trailer 1 (2:09), Trailer 2 (1:27), Trailer 3 (2:12), Fishy Fact: Bruce (1:02), Fishy Fact: Crush (1:03), and Fishy Fact: Nigel (1:03). Also under "Publicity" are posters, billboards, lobby cards, and bus shelters within a thumbnail-presented "Print Gallery" (18 pictures).
In the vein of Disc 1, all the "Virtual Aquariums" are indexed: "Volcano Day," "Volcano Night," "Shipwreck Day," and "Tikis."
Before the menu loads, skip-able previews are for the theatrical releases of The Incredibles & Home on the Range, and the DVD releases of The Lion King 1 ½, & The Santa Clause 2. These are also found under the Sneak Peeks menu with trailers for "Special Edition DVDs" (Alice in Wonderland, Pocahontas, Lilo & Stitch) and the DVD release of Spy Kids 3-D: Game Over.
CLOSING THOUGHTS
Though I have my complaints about it, I consider Finding Nemo to be a precious film with an endearing heart. The DVD release utilizes the ever-growing trend of separating material for "enthusiasts" and "families" that I find irritating, but the content itself is sturdy. Top-notch presentation of the movie, coupled with a solid helping of bonus features, doesn't quite propel this 2-Disc set to the quality of its predecessor Collector's Editions, but it's very good nonetheless. Finding Nemo is definitely a title I highly recommend.