Though The Adventures of Ichabod and Mr. Toad contains two half-hour films, it is more of a return to the top form of Disney's early '40s animated features than it is another anthology feature like the five package features that directly preceeded it.
Ichabod and Mr. Toad is two excellent films in one.
The first, "The Wind in the Willows", is based on Kenneth Grahame's novel, and narrated by Basil Rathbone. With its nonlinear narrative and witty depiction of adult characters, it's a unique Disney work. At the center of the story is the charismatic J. Thaddeus Toad, Esq.,

a happy-go-lucky upper class amphibian who believes in fun and adventure, but has built a great deal of debt from disregarding the financial responsibilities of his various manias.

His manias define his character, and it is his latest fancy -- the automobile -- that puts him on trial; Toad is accused of stealing a car. Having cut to his arrest from scenes of Toad exuberantly pretending to drive a car to the point where his sensible friends, Rat and Mole, lock him in his room to dissuade this newfound passion, it seems entirely possible that Toad has indeed gone too far.

On a snowy Christmas Eve night, with Toad glumly sitting by his lonesome in a dungeon-like prison, Toad's loyal horse Cyril Proudbottom pays a visit and inspires the boisterous J. Thaddeus to escape, which he does. These Christmas sequences possess a warmth and exuberance that is more down-to-earth than the fairy tale tone of most Disney features and more refined than the slapstick cartoon shorts.

The film progresses as the characters try to determine Toad's innoncence or guilt, as he is being pursued by the law. It's a very smart and pleasing short film, with a keen visual sense to its domestic and countryside scenery. In a number of ways, "The Wind in the Willows" is unlike anything else Disney has put to film, which makes it stand out and above from the rest of the films from Walt's time.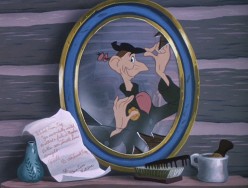 The second story is "The Legend of Sleepy Hollow", Washington Irving's intriguing tale, aptly narrated by Bing Crosby. It's fall in the village of Sleepy Hollow, and lanky Ichabod Crane is the new schoolteacher in town. His somewhat odd behaviors make him the ridicule of the rambunctious and robust Brom Bones and his cronies. Either unaware or indifferent to the town's reaction to him, Ichabod is at ease with his mischevious pupils and speedy metabolism.

Things complicate when Ichabod becomes enamored with Katrina Van Tassel, a priviledged and beautiful young lady who is less than pleased with her primary suitor: Brom Bones. It is Brom, though, whose motives are most clear of the triangle of characters - he clearly wants Katrina's affections. Ichabod is stimulated by the potential for wealth, besides the striking Katrina's company. Katrina may or may not be genuinely interested in Ichabod, but she likes the power she holds, keeping both Ichabod and Brom in check.

Things come to a T at the Van Tassel's annual Halloween party. Ichabod's invitation to this comes with a personal note from Katrina, and he looks forward to another night of nonchalantly showing up Brom and spending time with young Katrina.

The arrogant Brom, though is displeased at the turn of events, and he plots to win back Miss Van Tassel.

After a number of insuccessful efforts, Brom decides to take advantage of Ichabod's belief in superstitions, a characteristic that only now comes to surface in the film. Brom tells the tale of the menacing Headless Horseman who terrorizes people in the forest that Ichabod is planning to ride through on his way home tonight. In spite of his best efforts, Ichabod cannot hide his fear.

Ichabod and Mr. Toad fantastically concludes with perhaps the most effectively atmospheric sequence put to film. Ichabod, of course, must face his fears and ride home through the forest, which with his heightened awareness becomes an engulfing conscious nightmare. This sequence works so well because of the subdued, almost non-existent musical score being overpowered by the cacophony of eery nightime sounds of the outdoors. That a animated film can be this chilling may seem remarkable to you, but even the comforting voice of Bing Crosby is distressful here without changing tone or character. It is a delightfully spooky end to a delightfully good pair of short films.
Both "The Wind in the Willows" and "The Legend of Sleepy Hollow" work perfectly by themselves as literature or separate short films here, which is how they had been issued on video prior to this 2000 Gold Collection release. Nonetheless, they complement each other with their effective adaptation of the written word, their contrasting but equally engaging tones and characters, and their wonderful artwork and composition. It is this last trait that was awarded with a Golden Globe award for Best Cinematography (Color) in 1950. While most disregard the Golden Globes and an award like this may seem inconsequential, I think it's a noteworthy honor for a noteworthy film that unfortunately has not gotten the recognition it deserves among Disney's animated canon.

Buy these and other great Disney costumes here.
DVD Details

1.33:1 Original Aspect Ratio
Dolby Digital 2.0 Mono (English, French, Spanish)
Subtitles: English
Closed Captioned
Release Date: October 3, 2000
Single-sided, dual-layered disc (DVD-9)
Suggested Retail Price: $19.99
(Reduced from $29.99)
White Keepcase
VIDEO and AUDIO

The Adventures of Ichabod and Mr. Toad is presented in its original 1.33:1 aspect ratio. I wish I could be as positive about the DVD as I am about the film. Actually, the video quality is somewhat spotty - a lot of the video has an inconsistent flickerish quality to its texture. Though the colors are vibrant and the wonderful artwork can still be enjoyed with a mostly clear picture, a number of flaws plague the print.

Colorful specks appear from time to time and even the occassional green reel-change circles at the top right of the frame. The film would undoubtedly stand to benefit from the type of restoration that Disney has given to some of its other animated films in the past few years. What's troubling is that even compared to the other low-profile Gold Collection titles, Ichabod's video quality is noticeably lesser.

Audio quality is less than stellar, as well. The volume level is inconsistent (and not just when Mr. Toad alternately cover his ears). It gets noticeably softer at times, and if you were listening at a modest volume before, you'll have to strain to hear either the narration or character dialogue. The musical numbers are a good bit louder than the rest, too. I'm sure a 2.0 Dolby mono track could be suitable for this film, and while a 5.1 remix would be interesting, this should be maintained. Nonetheless, like the video, this could use some improvement. It's not the dated nature of the film, either, as the older package films like Melody Time and Saludos Amigos do not exhibit inconsistent volume or picture.
BONUS FEATURES
The Gold Collection was never renowned for extras, so don't expect the few bonus features here to blow you away. First up is "The Legend of Sleepy Hollow" DVD Storybook, which allows you to read or have read to you Ichabod's story.
Mr. Toad's Wild Ride Game is a fairly cool trivia game. You must return Mr. Toad's car to Toad Hall, by answering 15 questions. A wrong answer gets you a flat tire, which means 4 incorrect replies and you start all over again. If you complete the trivia game successfully, you get a bonus 8-minute cartoon short, "Susie the Little Blue Coupe." As the questions range from easy to quite easy (see capture below), you should have no trouble accessing the hidden short, if you should so desire.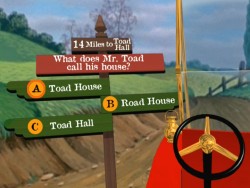 "The Merrily Song" Sing-Along takes the one musical number from "The Wind in the Willows" and plays the 2-minute scene with animated lyrics on screen.
Finally, there is another animated short, "Lonesome Ghosts" (8:45). This one stars Mickey, Donald, and Goofy as paranormal eliminators. These ghostbusters get a call...from four ghosts who take pleasure in taunting the inept trio of exterminators.
Beginning-of-the-disc previews are for Buzz Lightyear of Star Command, Toy Story 2, Fantasia 2000, and Lady and the Tramp II: Scamp's Adventure. They can be skipped altogether with one press of the "Menu" button. They're also individually accessible from the "Sneak Peeks" menu.
CLOSING THOUGHTS
Audio and video quality could both use significant improvement, but this Gold Collection release marked only the second time that The Adventures of Ichabod and Mr. Toad was available to own in its original form. It is not likely to be revisited anytime soon, so you're either getting this DVD or not getting the movie. The latter would be a shame, as I can't sing enough praises for this film. I do wish it'd get more attention and praise than it does, since it's one of the finest animated films Disney has created. Ideal viewing for Halloween, Christmas, or any other time of the year.