It's been ten years since Toy Story took to theaters, wowed audiences, and ushered in a new age for animation. Today, computer animation is king, even at Walt Disney Pictures, the birthplace of the American cartoon feature nearly seventy years ago and the studio heralded as the undisputed champion of the medium many years since. But Toy Story's release came just months after Disney sent theaters its in-house production of the summer, Pocahontas, which many chart as the first of several disappointments to stem from Disney Feature Animation. In 2005, for the fourth time in five years, it will be another studio which can claim the title of the year's top-grossing animated movie. Disney's lone victory in that span was 2003's Finding Nemo, the work of Pixar Animation Studios, the house most consider the creative and technical standard bearers for 3-D animation and one which Disney just happens to be fortunate enough to have been partnered with since Toy Story broke ground.

Anyone who keeps a finger on the pulse of the animation industry surely knows that Disney and Pixar seem to be heading towards extending their fruitful distribution relationship. They would also know that things did not seem so cheery a couple of years ago. During this time, the Disney studio began exploring other outside sources for computer animation that they could distribute. It is from this that Valiant was born. The United Kingdom's first fully computer-animated feature film, Valiant was made by Vanguard

Animation for a fraction of the cost of the CG blockbusters produced by Pixar and chief competitor DreamWorks. Disney purchased U.S. distribution rights in 2003 and in retrospect, who can blame them? The future of forging a new pact with Pixar seemed bleak, the financial risk was certainly smaller, and the potential gain seemed phenomenal based on the short list of undeniably impressive performances by past CG 'toons from Pixar, DreamWorks, and others.

Disney pegged the film for a fall 2004 release and then aimed for April 2005, the same month that the movie opened in its home country. A new release date was set just weeks before it was to open in the U.S., with the film's visibility at inconceivably low levels (outside of this site, at least); Valiant would now reach theaters August 2005. Despite the fact that more than half the computer-animated movies previously released to American theaters had grossed more than $150 million there, despite the fact that Valiant boasted a voice cast filled with famous Britons, despite the fact that there was no direct animated competition for more than three months...Disney seemed to have very little confidence or interest in their acquisition.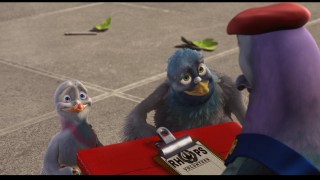 The months passed with hardly a mention of the movie on Walt Disney Pictures' official website. A first U.S. trailer emerged less than four months before release. When the theater counts for the week of August 19th were announced, Valiant claimed just 2,014 locations, making it the second smallest of widely-released movies of its medium. All of these factors, coupled with mostly unimpressed reviews, surely contributed to its lightweight 8th place box office opening. The few who did take an interest in the movie wondered if the low-key approach Disney took to marketing and exhibiting its film had something to do with the studio maintaining properties nearer and dearer to its heart, namely its long-promoted in-house fully-CGI debut Chicken Little and the increasingly optimistic negotiations with Pixar. Or was this simply the case of Disney trying to find a modest return on an acquired dud before its more profitable life on home video?
Whatever the reasoning behind Valiant's quiet theatrical run (and we might not ever know), the film wound up with a grand North American box office total of just $19.5 million, making it handily the all-time lowest-grossing widely-released computer-animated film in the continent (by comparison, 2002's Jonah: A VeggieTales Movie earned $6 million more) and putting it just slightly ahead of the $18 million gross of DisneyToon Studios' modest off-season traditionally animated release Pooh's Heffalump Movie. You'd probably have a hard time naming 99 movies that came to American theaters this year, but that's how many, to date, have tallied more than Valiant did.
Box office, schmox office, you say. Look at the rubbish films that have grossed lots of money: Ron Howard's How the Grinch Stole Christmas, Twister, Pearl Harbor, you say. Is Valiant any good, you ask? The short answer is yes, but you must remember that "good" takes some getting used to next to the excellence with which Disney/Pixar productions have stayed ahead of the field.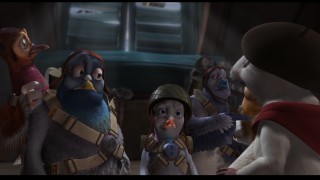 The title character of Valiant is a petite but plucky pigeon (voiced by Ewan McGregor) who decides he'd like to join the Royal Homing Pigeon Service to help his country out in the throws of World War II. He happens to encounter Bugsy, an aptly-named plump street hustler (Ricky Gervais, star of the BBC's "The Office") constantly accompanied by flying bugs who clearly dig his moral opposition to baths. The two of them enlist, using spunk, name-dropping, and fast talking to get into training camp. There, they join three additional misfits as they get worked into shape by the tough-talking Sarge (Jim Broadbent) and prepared for their important mission.

The pigeons of Squad F (indicative of their low rank) wind up in France, where they meet up with a couple of energetic mice from the French resistance. The mice have an essential message that needs to be delivered to London, a delivery which Bugsy agrees to personally oversee. With evil German falcons on their trail, the gang struggles and Bugsy

winds up with previously-captured ally Mercury (John Cleese), both in the possession of the sneering, eye-patched General Von Talon (Tim Curry). It is up to the rest of Squad F's pigeons and their weathered veteran wing commander Gutsy (Hugh Laurie) to retrieve Bugsy and the all-important message, and of course, many of the heroics need to be led by the little Valiant.

Valiant eschews easy labeling as it is somewhat of an animated anomaly, with its World War II setting and corresponding conventions making for an unusual frame with which to put in a kid-friendly comedy voiced by funny people only their parents and grandparents are likely to know. Its plot is not exactly brimming with originality but while we've seen misfits made into brave soldiers and an undersized protagonist proving brave plenty of times before, it's executed in a way which seems unique and engaging. Perhaps it's simply the heavy British accents, which, with the exception of Aardman's Chicken Run and Wallace & Gromit, have rarely dominated a mainstream cartoon feature in recent years, but Valiant feels more rewarding, different, and special than it should based on a rundown of its semi-formulaic personalities and a series of events far from groundbreaking.
Vanguard's low-budget computer animation does not give the audience as much to marvel at as Pixar has done, but it does boast a quite likable design. The look achieved (bright colors abound, less than convincing shading) is not something you'd mistake for another studio's work. That's not necessarily a bad thing as the universal move towards CGI has resulted in more than a few animal-populated films where the company behind the movie seems interchangeable. It should be pointed out that the animation is clearly refined enough to distinguish it from a computer video game or a direct-to-video Barbie movie. Aware as I was of the fractional cost and Vanguard's feature-less resumι, I was quite impressed by the visual aspect of Valiant - the frame never seemed more simplistic than it should have been and the environments were realized well enough to believe they existed and accept them in the context of the story. There was room for improvement left in character design (or perhaps it was character development) as a few characters from the large cast did not sufficiently stand out from the others on one viewing.
Overall, Valiant is for the most part charming enough, while never approaching cinematic excellence that the ambitious design (the country's first CGI film, a World War II setting, and a low budget) might have suggested and other studios (like Pixar) might have achieved with the same elements in place. There is a shortage of surprises for viewers who have seen more than a few movies (animated or not) before, but the light and laid-back atmosphere (in spite of context that's supposed to be dramatic) yields a fair amount of laughs and a generally good time, in a breezy take on the British comedy tradition. Its offenses are trivial enough to forgive and perhaps the biggest detractor from the proceedings is a reliance on bodily humor. Almost every gross-out gag (as well as the definer/warning sign "From the producer of Shrek and Shrek 2) made it into the American trailer, so in terms of volume, this content is easy to overlook. It's simply recurring to the point where you wish the flatulence and flying food could have been replaced by something sharper, funnier, or more resonant. Such a step would have probably been enough to move Valiant into the annals of animated greatness, but as it is, we'll have to settle for simply "good" and enjoy the fun 70 or so minutes of movie it provides.
DVD Details

1.85:1 Anamorphic Widescreen
Dolby Digital 5.1 (English, French, Spanish)
Subtitles: English; Closed Captioned
Release Date: December 13, 2005
Single-sided, dual-layered disc (DVD-9)
Suggested Retail Price: $19.99 (Reduced from $29.99)
Black Keepcase
VIDEO and AUDIO
Valiant is presented in its original theatrical ratio, 1.85:1 widescreen, and has been enhanced for 16x9 displays. The transfer is rather exceptional. Though the visuals seem overly bright and lacking in the levels of realism found in the more expensive and ambitious animation of a Pixar film, they are conveyed in a praiseworthy manner. The digital element is expectedly flawless and there are no signs of any other problems, which makes sense considering how little content there is on this dual-layered disc. It may not be as technologically polished as other films, but Valiant's palette and the DVD's video presentation are both certainly compelling on their own regard.
If filled to a DVD-9's capacity, there would have been plenty of room for a DTS track in light of the brief feature running time and sparse supplements. But unlike many of Disney's original direct-to-video sequels, no such option is offered here. Instead, we get a commendable Dolby Digital 5.1 track. For a film inhabited by characters that can fly, there is an appropriate amount of directionality and fine use of the soundfield. There are not really jaw-dropping pieces of sound design, but the sum of the soundtrack's parts is quite impressive all the same, with an involving primarily airborne wartime atmosphere expertly rendered.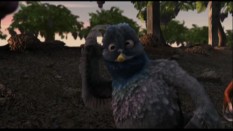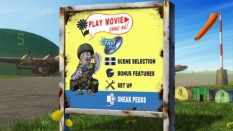 BONUS FEATURES, MENUS and PACKAGING

While you might think that Great Britain's first computer-animated feature film lends itself to some insightful bonus material on how the Brits did things differently (and less expensively), Valiant lays a big egg in the supplements department with just two measly offerings. First is what the case bills as "Hilarious Bloopers", which turns out to be a laughless minute of outtakes concocted for the DVD. Such an idea generated hearty laughs when Pixar did it for A Bug's Life's theatrical run, but there's only so much potential in this domain and Valiant's budget was probably too low to realize any original ideas the creators might have had for these fake foul-ups. As it is, there's more pooks than giggles and there's only one of the former.

The only other bonus feature is "Valiant Training Challenge", a three-level set-top game which is somewhat elaborate if not particularly imaginative. In the first round, you select which one of three flock formations will fit into the shape of a particular opening. The second finds you performing the navigation you are told as you drop pigeons out of a plane. Last, you follow the directions a scroll of arrows give you to command Valiant through a difficult terrain;

this one would be cooler if Valiant didn't move the exact same way whether or not you pressed the buttons. The good: all three rounds are impressively animated. The bad: the only challenge will be making sure you get the directions right; youngsters will find it easy and the game plays out the exact same way on return visits. The odd: the phony-sounding narrator who oversees each round punctuates each sentence with "mate" as to convince us he's British. We're not buying it, mate!

In Region 2, where Valiant came to DVD a few weeks earlier, the film was treated to some behind-the-scenes bonus features, including a 14-minute making-of featurette, a scene progression, recording sessions footage, a television special set at the film's world premiere in London, and the theatrical trailer (something that Disney never includes on the DVD of the film itself, merely as a promotional tool on other DVDs). They also got the bloopers and game. This is not the first time this year that Region 1 has gotten the short end of the stick on a Disney movie DVD, even if Disney does not get credit for the Region 2 bonus material (the film was released by other studios overseas).

The 16x9-enhanced menus are low-key but appropriate enough for a movie that is the same. The Main Menu opens with the Royal Homing Pigeon Service information film before fading into a colorful environment where planes and vehicles pass by. The Bonus Features menu takes the same active environment and all menus (the rest are non-animated) feature excerpts from the George Fenton score.

Disney has seen Valiant fit to equip with "Disney's FastPlay", a playback mode they've usually left to preschooler-oriented DVDs and direct-to-video sequels. It basically enables you to be completely passive and ensures that you are subjected to more "sneak peeks" that automatically play after the film. You are also given the option to go straight to the Main Menu. Taking this route, you'll only miss out on previews you have probably already come across if you care; promos for Lady and the Tramp, the Disney Channel Movie Surfers segments on The Wild and The Shaggy Dog remake, and Toy Story 2: Special Edition play before the feature; spots for Studio Ghibli on Disney DVD (which partially and briefly touts the Spring 2006 wave), Kronk's New Groove (the same 30-second teaser making its 937th Disney DVD appearance), Sky High, Bambi II and "Power Rangers S.P.D." on Toon Disney play afterwards; all are accessible from the designated menu.

There's nothing special about the packaging; Valiant comes in a black keepcase (there's some logic behind the color, but finding it requires more thought than interest and space probably allow) with a form for a new 100-Disney DVD sweepstakes, a booklet promoting Kronk's New Groove, Bambi II, and Lady and the Tramp, and a two-sided insert which nearly duplicates the cover art in addition to providing scene selections and an overview of the extras.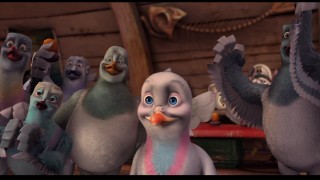 CLOSING THOUGHTS
With a fairly light movie and next to nothing in the way of bonus features, it's not easy to recommend spending $20 to buy Valiant unseen. That's around how much it would cost for two to see the movie once in theaters, but even if you can rationalize it financially, this is not a great priority among the countless worthwhile animation DVDs out there and it might not even be a DVD that you'd revisit much. That said, the movie offers enough fun to justify a rental and would make for a fine purchase when it comes down in price. The disc will still be for the birds based on its complete lack of insight into production, but Valiant's appealing sensibility to it and sufficient number of laughs qualify it as a good time for open-minded viewers to enjoy.
More on the DVD / Buy from Amazon.com


Go Region 2 and get Valiant with all its DVD extras from Amazon.co.uk