If your dad was the guy who wrote and performed "Achy Breaky Heart", you might consider that a sufficient claim to fame. But not Miley Cyrus, who was born the same year her mulleted old man Billy Ray's song climbed to #4 on the Billboard Hot 100 chart. Whether or not her country singer father's coattails helped, the soon-to-be fourteen-year-old Miley has now blazed her own trail, as the star of "Hannah Montana", a hit Disney Channel comedy series launched last March.
For the young Cyrus, Hannah Montana is more than just a leading role in a high-profile television show. It has also become her persona in concerts and albums within the Disney family. The show's premise is that the title character, an ultra-famous pop singer, is just one of two lives led by 14-year-old Miley Stewart. The other is that of an ordinary school-attending teenager.
Such a dopey, half-baked concept suggests that this sitcom is a transparent attempt to give birth to an instant new Disney Channel crossover star. With "Hannah Montana", the Mouse has skipped over the step of having a charismatic young lady earn a fan following as an actor, before testing the waters of tween/teen-oriented pop music. That has been the usual route, taken for the likes of Hilary Duff ("Lizzie McGuire"), Christy Carlson Romano ("Even Stevens", "Kim Possible"), Raven Symonι ("That's So Raven"), Alyson Michalka of Aly & AJ ("Phil of the Future"), and Ashley Tisdale ("The Suite Life of Zack & Cody"). If you have any doubt to these intentions, let them be removed next week when both a show DVD and a combination soundtrack CD/concert DVD of "Hannah Montana" are concurrently released by two branches of the Walt Disney Company. A third division, Disney Press, has already adapted a couple of episodes for the youth literature market, with more to come.
Disney can hardly be blamed for cultivating such an empire, especially after the Disney Channel original movie High School Musical shattered audience and CD sales records earlier this year with its arsenal of teens and pop music. While that unlikely hit seemed organic and beyond the highest expectations, it was not entirely unprecedented. Several of the cable network's recent half-hour properties -- most notably, "Lizzie McGuire", "Kim Possible", and "That's So Raven" -- have proved lucrative in their own right as mixed-media markets onto themselves. The horizontally-integrated approach taken for "Hannah Montana" can also be justified by the show's much-watched March 24th premiere, which set a Disney Channel high with over 5 million viewers. In the months since, the series has maintained a sizable audience as new episodes have continued to debut on increasingly spread-out Friday nights.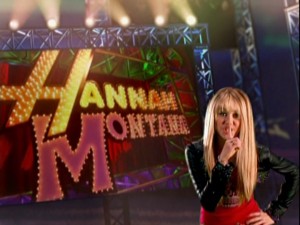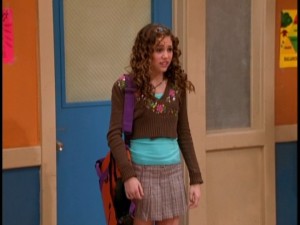 Sadly, despite all the hype and hubbub, "Hannah Montana" isn't much of a show. It comes in the same mold as "That's So Raven" and "The Suite Life of Zack & Cody", with several of its creators and producers having worked on those predecessors. Like those two, "Hannah" is shot with multiple cameras, shown in bright, blurry digital video, and accompanied by an unbelievable, overactive laugh track. Why is "Hannah" made this way, rather than in the single-camera, laugh track-free method of the superior "Even Stevens", "Lizzie McGuire", and (prematurely-cancelled) "Phil of the Future"? I suppose audiences deserve as much blame as the Disney Channel, since viewers have made the three less sophisticated comedies hits as big as or bigger than the three clearly more expensive-to-produce alternatives.
"Hannah" hardly treads new ground, but lack of originality is not one of its biggest problems. Its design is. While the dual-life premise is kind of appealing (sort of a girls' fantasy), it breaks apart under the slightest scrutiny. A blonde wig and occasional sunglasses and no one recognizes that the riot-inducing, local-performing Hannah is the not-so-popular brunette kid at the school which seems to be the biggest producer of her diehard fans? Not even her best friend (until the coincidence-riddled pilot episode)? In an age where the mug shots, upskirts, diaries, and even cell phone directories of celebrity starlets make their way online, it is preposterous to think such an elaborate stunt could be so easily pulled off.
But why look for realism in a Disney Channel comedy, where time travelers, psychics, and globe-trotting crime fighters are among the teens who are "just like you"? Because the challenges Miley faces in keeping her famous identity private are revolved around in nearly every episode. (And I use only "nearly" because three of the four episodes on this disc most play up this aspect and I haven't seen any others.) This setup of an unkeepable secret renders everything unrealistic, especially since it's meant to be believable and yet is openly referenced in certain punchlines by the knowledgeable.
If you can get past that central flaw (and despite the lengthy address, it's not so hard to), you'll notice other shortcomings, such as Miley Cyrus herself. While she's plenty comfortable and competent performing on stage to thousands of manufactured fans, her skills as a comedic and/or dramatic actress aren't the best. Naturally, that's a bit disconcerting considering she's in most scenes. It's not enough to hinder the show as a whole, though. Watching the program is not especially stimulating, but it's not painful. The comedy is more sporadic but a little less obvious than that of "The Suite Life of Zack & Cody." From these episodes, it also doesn't go as over-the-top on physical humor like "That's So Raven."
"Hannah Montana" operates in three worlds: Seaview Middle School's 8th grade,

glitzy sold-out concerts, and Miley's lush beachside California house. It is the home which establishes this as a family sitcom. The Stewarts, who originally hail from Tennessee, number three. Figuring most largely after Miley is Robbie Stewart, her stubbly, earring-wearing single father, played by none other than real-life dad Billy Ray Cyrus. More than a dad, Robbie is also his daughter's manager and friend. One gets the feeling that the character is not a stretch, but Billy Ray is funny, both in the traditional, intentional way and in the "Look, it's that guy from that 'cowboy doctor in the city' show that's always on" (i.e. the regularly-rerun "Doc" on i, the former Pax network) quirky pop figure sense.

"B" storylines are given to Miley/Hannah's goofy older brother Jackson (Jason Earles), who serves as comic relief. Earles looks a lot less than 15½ years older than Miley; news of his age/appearance difference (more extreme than "Doogie Howser" sidekick Vinnie Delpino, less extreme than Andy Milonakis) has set the Internet abuzz with disbelief, which has only been proliferated by the apparently phony birth year which marks his online rιsumι. In one of the show's deliberate nods to supporting cast diversity, Jackson's best friend is an African American boy named Cooper (Andrι Jamal Kinney), though it's clear neither how Jackson found a friend nor how that friend was Cooper.

At school, the Chelsea and Eddie/Tawny and Twitty/Miranda and Gordo roles are fulfilled by Lilly Truscott (Emily Osment) and Mitchel Musso (Oliver Oken), a likable enough pair. Lilly is the longtime best friend who doesn't have a clue of Miley's double life until the premiere episode. Once she does know, she's all for disguising herself and enjoying the perks. Oliver has a crush on Hannah, but not Miley, which leads to him getting the truth in the second episode. A bit of a geek, Oliver's presence can create obstacles for keeping Miley's secret safe, but the Screech-like nature of the role earns some laughs. Less interesting are Amber (Shanica Knowles) and Ashley (Anne Marie Perez deTagle), a couple of generic popular nemeses who scoff at Miley and Lilly at every intermittent appearance.

Finally, there is the concert angle, which surfaces in the fact that each episode introduces (or just showcases?) a different song in a performance excerpt. The tunes have a typical modern youthful pop sound, while the lyrics amusingly and repeatedly assert Hannah's "just like you" ordinary girl status.
Livin' the Rock Star Life marks the show's first DVD release and the fastest jump to home video for any Disney Channel series. The disc holds four episodes: three of the show's first four plus the obligatory "never-before-seen" one. The episodes are presented out of sequence, which leaves the series premiere mistakenly second and the second episode third, so that the most recent episode (the unaired one) can play first. While this can be pretty easily corrected (start with the episode listed second and follow through, then watch the one listed first last), it's tough to excuse this blooper since Episodes 1 and 2 showcase Miley revealing her rock star persona to her two best friends, while in the one that plays before those, they already know. Without further ado, here's a look at the four episodes provided:
"Money For Nothing, Guilt for Free" (22:34) (Not yet aired)
Miley, Lilly, and Oliver team up to raise money for the United People's Relief Fund. Upon learning his father has been letting him win at basketball, Jackson becomes overly competitive.
"Lilly, Do You Want to Know a Secret?" (23:43) (Originally aired March 24, 2006)
In this, the show's debut episode, Miley reluctantly confesses her dual identity to best friend and major fan, Lilly.
"Miley Get Your Gum" (22:32) (Originally aired March 31, 2006)
With Oliver pursuing Hannah as a love interest, Miley tries to figure out how to halt her friend's advances. Jackson is upset to learn his newly-bought used auto is a "chick car."
"I Can't Make You Love Hannah If You Don't (22:32) (Originally aired April 14, 2006)
Hannah's date with a ninth-grader gets complicated since he takes her to a Hannah Montana concert, giving the old sitcom mainstay "two places at once" another spin. Meanwhile, Jackson's friendship with Cooper becomes threatened when Cooper's "innocent" younger sister pursues Jackson.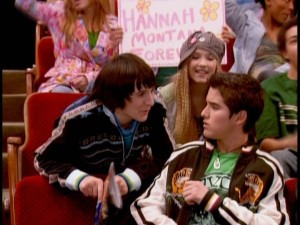 VIDEO and AUDIO

The episodes on this disc present the show in its original 1.33:1 fullscreen aspect ratio. As already pointed out, the digital video used here is light years away from what George Lucas relies on. As such, it has plenty of shortcomings,

from the garishly bright colors it renders to a general blurriness. None of this can be blamed on the DVD (even if you'd expect a digital video to shine on a digital medium), but there is no doubt that the visuals do not have the appeal of most other contemporary television shows. With the money they're earning on the series and other projects, you'd think Disney Channel could at least accept the costs and challenges of nicer-looking video. Instead, shows like this and "Raven" barely seem air-worthy and, years from now, will certainly be looked back upon with some disdain as technology continues to advance.

All that said, the transfer does not seem inhibited by any issues that weren't already present. One small note: in the episode "I Can't Make You Love Hannah If You Don't", the back cover of a magazine featuring Hannah has been digitally blurred (in the censoring sense, as opposed to the other digital blurriness). Thanks to one reader's feedback, I've been able to confirm that it was also blurred for Disney Channel airings, whatever the reason may be.

The Dolby Digital 5.1 soundtrack doesn't really sound much different from a basic Dolby Surround presentation, but there is definitely noticeably reinforcement from the rear channels on Hannah's musical performances and other transitional music. Dialogue is perfectly intelligible and that excessive laugh track seems ceaseless, which I guess is the intended effect.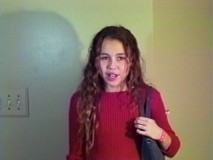 BONUS FEATURES, MENUS and DESIGN

There are three bonus features here.

First is a "music video" for theme song "The Best of Both Worlds" (3:25), which looks an awful lot like the Hannah Montana concert performance included on the DVD portion of the simultaneously-released Hannah Montana soundtrack CD/DVD combo.

Next, "Miley on Following Your Dreams" (4:55) is a brief featurette comprised chiefly of interviews with Miley Cyrus and Billy Ray Cyrus. They discuss auditioning, their characters, and the blurred lines between the show's depictions and real life.

Finally, "Miley's Audition Tapes" (5:25) is, as you'd expect, a collection of Miley Cyrus' screen tests, beginning at age 12, for both the lead and best friend roles. There's also some footage of Billy Ray singing "I Want My Mullet Back" with his daughter. This unique inclusion is a welcome departure from the norm.

The menus emulate the opening credits, with the Main Menu featuring an instrumental of the theme tune accompanying three different montages of clips and images from the show. As is the usual approach taken for Disney Channel compilations, each episode is presented as its own chapter and the disc is designed so that selecting any individual episode only takes you to that part of the entire program, as if they were created to be viewed in succession (which they are not, especially since there's that aforementioned chronology issue). All opening and closing credits are retained in their proper places no matter how you play them.

The sneak peeks that load at the start of the disc preview Peter Pan: Platinum Edition, The Santa Clause 3: The Escape Clause, Cars, Wendy Wu: Homecoming Warrior and Twitches. As usual, additional promos can be accessed from the Sneak Peeks menu; the ones here showcase The Fox and the Hound 2, Jesse McCartney's new CD and Girl Next (both from Hollywood Records), Cinderella III: A Twist in Time, and "Hannah Montana" on Disney Channel.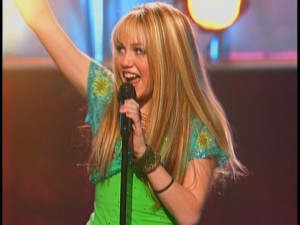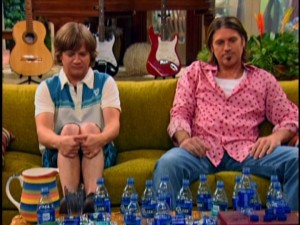 CLOSING THOUGHTS
Surely, research and sales numbers have convinced the relevant powers that when it comes to Disney Channel series, there is more of a market for 4-episode compilations than for chronological box sets. Still, Livin' the Rock Star Life!, like previous single-disc collections of other shows, is a non-ideal, consumer-unfriendly way to make "Hannah Montana" available on DVD. While the unaired episode is a short-term gimmick, the brief audition and interview featurettes are a nice bonus. Nevertheless, the light menu of four episodes (not even presented in the right order, mind you) is disappointing considering you can download four times as many episodes on iTunes (which isn't a direct alternative). The skimpy platter here isn't enough to satisfy anyone but casual fans, who probably would prefer to just watch Disney Channel if they can.
Then again, even if better treatment were to come, the show isn't good enough to merit a recommended purchase for the unacquainted, despite becoming the network's latest hit comedy. Perhaps it's the unmistakable air of something that has been deliberately manufactured into a multi-platform tween franchise, but while certainly watchable, "Hannah Montana" is neither inspired nor entertaining enough to give it any real lasting value. If you want the show in its best available form, think these four episodes are something you'll rewatch with any frequency, and are willing to pay about $4 per episode, then go for it. The overwhelming majority of people would be just as well, however, to catch an occasional episode weekends on Disney Channel.