The Life Aquatic with Steve Zissou is the title of writer/director Wes Anderson's fourth feature film. It's also the name of a series of undersea documentaries hosted by oceanographer Steve Zissou (Bill Murray), the protagonist of the film. Zissou's latest, Adventure No. 12: "The Jaguar Shark" (part 1) is met with a tepid and befuddled reaction from the crowd at the Loquasto International Film Festival. But the film has clearly taken its toll on the once-renowned scientist.

The titular shark of the piece, which may or may not exist, has apparently claimed the life of Steve's longtime assistant Esteban du Plantier (a briefly seen and bald Seymour Cassel). Financially, Zissou and his crew are at a loss. Emotionally, things are even more complicated for Zissou, as he's set on killing the creature that ate his friend and yet numbed by the current critical and monetary unease that are inhibiting operations.

Adding another complication to Zissou's plans is the arrival of Ned Plimpton (Owen Wilson), a gentlemanly pilot from Kentucky who has pieced together that Steve is probably his father. As unsure as ever about how to deal with people, the cranky Steve invites Ned to join Team Zissou on their revenge mission. Turns out, they need Ned's inheritance to fund the project anyway. Once the money situation is worked out and the team's off-kilter producer Oseary Drakoulias (Michael Gambon, new Dumbledore of Harry Potter films) okays it, Team Zissou is all set to go.

Team Zissou has a kind of family dynamic not unlike the title clan of Anderson's previous film The Royal Tenenbaums. Again, the ensemble cast of diverse personalities is headed by an aging man who has seen better days. Steve's crew is composed of a quirky mixture of characters from whom much of Anderson's trademark offbeat humor stems. There's Klaus (Willem Dafoe), the accented German man who thinks of Steve as a father and acts defensively towards the prospect of Steve having a real son. There's also Steve's ex-wife Eleanor (Anjelica Huston) who is said to be the "brains behind Team Zissou" and Jane Winslett-Richardson (Cate Blanchett), an unwed pregnant reporter who is writing a piece on Steve. Throw in a "bond company stooge" monitoring all activity (Bud Cort), some overworked but unpaid interns, an oft-topless script girl (Anne-Marie Sakowitz), a pair of camera-wielding dolphins, and a dude named Pel้ (Seu Jorge) who's always playing his guitar and singing David Bowie songs in Portuguese. Oh, and later, a 3-legged dog shows up and is named Cody.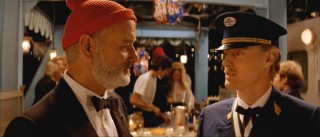 As significant as most of the characters is The Belafonte, the big ship that everyone calls home for their journeys. This is a lavish set piece, seen in impressively long and wide takes that make clear this large and elaborately-designed vessel really was built. That the fourth wall of each room on the ship is missing allows the cut-away set to be just as easily photographed as it can be explored.
With the hunt for the jaguar shark taking the backseat and the drama that occupies the thoughts of the tough-to-read characters at the foreground, The Life Aquatic with Steve Zissou progresses with a relaxed pace. Some might label it meandering, and that would coincide with reports of the longer-than-expected filming process that began off the coast of Italy in the fall of 2003 and ran well into 2004. But The Life Aquatic holds the viewers' attention with the sharp writing and straightforward photography and line delivery that marks Anderson's distinct authorial style. Like his previous efforts (two of which have also featured Bill Murray) and even more so than before, the humor here is usually dry. At the same time, the film wavers between genres. Subplots of pirates, hostages, and explosions add "adventure" into the mix with the director's usual treading of drama and comedy.
Compared to Anderson's earlier films (and his distinct writing/directing style makes it impossible not to), The Life Aquatic is both more ambitious and more unfocused. Many stories vie for the viewer's attention but none are handled to a fully satisfactory degree. That's excusable, since to do so within a 2-hour format seems hardly feasible and the incomplete treatment of subjects nonetheless proves relatively entertaining. Most of the lead characters present a different angle to the film, from the father/son story which at times gets fairly dramatic to the journalist-on-an-assignment arc. There's a twisted love triangle that overlaps the two. Or one can choose to approach the story as one about undersea moviemakers and their search to find truth or drama. Still another viewer can simply enjoy the film as a crabby has-been personality trying to cope with midlife crisis. Certainly, Steve Zissou provides enough bitterness to fuel an entire movie and there are certain lines that recall the Murray performances as sarcastic protagonists from the gentler and far-better comedies Scrooged and Groundhog Day.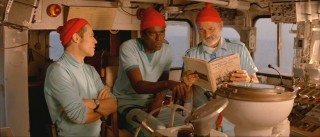 Still, The Life Aquatic largely provides a goofy good time thanks to the elements that do work. Even its apparent shortcomings cannot overshadow the talent which lies in the diverse cast and young writer/director. Merge both of those together, and you wind up with Jeff Goldblum wearing an "I'm a Pepper" t-shirt. That might not do it for a large part of the moviegoing audience (and the film's underwhelming $24 million gross is a testament to its esoteric nature), but there are plenty out there who can appreciate the film's wry sense of humor.
Few directors seem to put as much thought into the music they'll use as Wes Anderson, and Life Aquatic is no exception. Scenes and sequences in his previous three films have stood out for their perfect marriage of song and image. In the past, Anderson has employed a wide range of well-known (The Rolling Stones, The Who) and more obscure (The Proclaimers, Nico) musicians for always appropriate effect. Here, Brazilian actor Seu Jorge performs a number of acoustic covers of David Bowie songs, translated into Portuguese. This approach is odd, indulgent, and a bit excessive, but it mostly works. In addition, regular Anderson collaborator Mark Mothersbaugh has created another solid score that feels like it belongs in this quirky odyssey. This time, the instrumentations by Mothersbaugh (whose old band Devo is heard in a well-used song, as well) are also in turns riveting and invigorating, when the mood calls for them. Other uses of prerecorded songs, be it the two original Bowie performances or the Icelandic band Sigur R๓s, seem inspired, as well.
Bill Murray is one of the finest actors that can be seen on the screen. In recent years, many have come to appreciate his dramatic talents as well as his comedic craft. In his two previous performances for Anderson and his Oscar-nominated turn in Lost in Translation, Murray has dazzled with his ability to communicate so much in so little. Here, though, he seems uneven and excessively low-key.

Zissou's character is complicated and while he inspires emotion throughout, you're never quite sure if it's disdain, pity, or sympathy. The film's long, ambitious production period probably contributed to throwing Murray off a groove. Still, the few bursts of energy that Murray delivers offer the film some breaths of relief and even low-key Murray delivers more laughs than most, especially on a repeat viewing having already warmed to the character.

The supporting cast turns in an eclectic bunch of performances. Owen Wilson is playing a character out of his repertoire and he comes across like Woody from "Cheers" with a Southern accent. Cate Blanchett is really pregnant and really convincing as the hormonally-challenged, high-strung journalist. Huston seems to have just mildly toned down her Royal Tenenbaums matriarch and the performance works fine. Jeff Goldblum plays Steve's slick nemesis/colleague Alistair Hennessey with the right amount of his unique, eccentric charm. Willem Dafoe departs from expectations and gets many laughs as the faithful soldier who wishes Steve was his father.

The Life Aquatic with Steve Zissou is a bit more indulgent than Anderson's past efforts, but the director's unique and affecting style still provides some atypical humor and a fair amount of pathos. The mix of the two is not as steady as Anderson's past collaborations that also featured some of the same faces here. But it still proves poignant and entertaining, and like his other films, yields enhanced meaning and deeper appreciation with each viewing.
DVD Details

2.35:1 Anamorphic Widescreen
Dolby Digital 5.1 (English),
DTS 5.1 (English)
Subtitles: English, French, Spanish
Closed Captioned
Release Date: May 10, 2005
Two single-sided, dual-layered discs (DVD-9)
Suggested Retail Price: $19.99 (Reduced from $32.99)
Black Dual Amaray Keepcase with Cardboard Slipcover Also available in 1-Disc Criterion Collection DVD
VIDEO and AUDIO
The Life Aquatic is presented in a 2.35:1 anamorphic widescreen transfer, which the packaging takes efforts to point out is approved by director Wes Anderson, comes from a high-definition source and is digital (well, duh). Picture quality isn't perfect, but you'd have to be looking for faults to find them. Just so happens that I was, but I didn't spot many. As can be expected for a film that was not even in theaters five months ago, the film element was free of any dirt, marks, or similar imperfections. At times, the colors seemed a bit too red, but this may be an intended effect, like the way the colors are manipulated for the arrival of pirates. The only other shortcoming was the picture infrequently exhibited some softness and mild shimmering when viewed on a large screen.
Otherwise, the video quality is perfectly pleasing. Still, something gets lost in translation on the film from the big screen to the not-as-big screen. The imagery (a collaboration of Anderson and his regular cinematographer Robert Yeoman) is still by and large a winning, carefully-concocted sight to behold. But some details of the meticuolusly-composed frames that were clearly identifiable in theaters are not so much on DVD. Chalk it up to a wide aspect ratio and a frequent reliance on long distance shots.
Subtitles (mostly yellow, sometimes white) turn up from time-to-time throughout the film and are presented without incident as part of the print itself. Other text on screen (such as in the opening and end credits) also offer no drawbacks the way that optical shots on older films do.
Audio is provided in 5.1 tracks of both the Dolby Digital and DTS variety. The soundtracks lack the awe-inspiring quality of the visuals, but both convey the film's dialogue and thoroughly planned musical selections without any problem. The surrounds are surprisingly serene. Sound effects and dialogue are crisply recorded. The volume and nature of each is consistent, and dynamics only go for a few high peaks (most notably on the two David Bowie-performed tracks).
BONUS FEATURES

DISC 1

The most substantial feature on Disc 1 (and overall, on the single-disc version which is released the same day) is the feature-length audio commentary from director Wes Anderson and co-writer Noah Baumbach.

The pair is recorded at Greenwich Village restaurant Bar Pitti, where they ate and wrote the film every day, so there's greater than usual background noise but also an atypically relevant setting. Despite what you might gather from the tongue-in-cheek "Italian film show interview" on Disc 2, this duo is extremely easy to listen to. They talk about their cinematic influences, inspirations for Zissou including Jacques Cousteau (whose name is annoyingly bleeped out at every reference) and Bill Murray himself, and solicited or unexpected contributions from Wallace Shawn, Peter Bogdanovich, and Mario Batali, among others. They are sure to give credit to all those involved but they don't simply resort to dropping names. They explain their filming location finds and reveal how certain roles were written for specific actors. The rare silence is filled in with the movie's audio; Baumbach and Anderson talk through the final seconds of the end credits. Overall, it's a more lively commentary than most and like the rest of the DVD's bonus features, loaded with insight. The pair even points out some amusing little things, like Willem Dafoe's out-of-focus antics and a surprising end credits cameo. Commentary fans will definitely want to give this one a listen.

"Starz on the Set" (14:30) is an interesting making-of featurette which aired on the pay cable movie channel. It uses a lot of clips from the film (which would have been more exciting to see pre-release, as this aired) but it's also filled with insightful interview comments from Wes Anderson and the cast, plus a good amount of fly-on-the-wall on-set footage. Discussion covers the atmosphere of the production, the design of the Belafonte, and actors' adjusting to the unique style of director Anderson.

There are nine brief deleted scenes offered, many of which simply extend existing sequences from the film. A couple of amusing throwaway moments, but only an exchange between Ned and Eleanor presents a complete deletion. Altogether with the "Play All" option, the scenes (presented in non-anamorphic widescreen) run 4 minutes and 32 seconds.

The theatrical trailer (2:25) is included and enhanced for widescreen TVs, no less. It's a pleasant surprise since so few DVDs from Buena Vista these days contain them, and it also happens to be one of the best trailers of last year.
DISC 2
The first thing on the second disc you may find is that clicking on the Criterion Collection logo leads to a 10-second introduction to the DVD by Antonio Monda in Italian. The supplements of Disc 2 are scattered pretty randomly along the menu, so we'll be taking a similarly random approach through the hours of behind-the-scenes material.
"Photos" presents a manually-controlled slideshow of just under 200 production photographs, taken mostly by Philippe Antonello, with a few polaroids shot by Wes Anderson. There's just as many shots of the environments as the cast and crew, so don't get your hopes for lots of hot Jeff Goldblum pictures.
"Seu Jorge Performs David Bowie" provides just that, as Jorge covers ten Bowie songs on acoustic guitar in a mix of Portuguese and English, puffing away on cigarettes when not singing. Here, we get more or less full performances (in non-anamorphic Scope) including director's cues, in comparison to just the excerpts we see in the film. Altogether, with the "Play All" option, this section runs 40 minutes. If you're not totally taken in by it, the menu gives you a list of the songs to directly access.
"The Look Aquatic" (5:25) is a brief, somewhat dry featurette on the film's production design. Producer Barry Mendel says a few words, but the bulk of discussion comes from production designer Mark Friedberg, who covers Anderson's unique visual intentions, how the Belafonte came to be, and how they made the most out of their Italian locations.
"Aquatic Life" (7:50) is a featurette which many UD readers will find interesting: it discusses the visual effects of the film, particularly the stop-motion animation used to bring to life the undersea creatures. We hear from animation supervisor Henry Selick (the director of The Nightmare Before Christmas and James and the Giant Peach) and get to see Anderson approving design sketches, plus some demonstrations of the three-dimensional models by crew members.
The neat little gallery "Designs" houses 15 full-sized stills of artwork used for the film. This is a mix of wardrobe paintings and sketches, logos and products created for the film, a model for the crayon pony fish and blueprints of the Belafonte.
"Creating a Scene" (4:36) takes more from the cast member interviews and edits it together with on-set footage. It again describes the director and filming atmosphere, so it somewhat feels like an unnecessary extension of the Starz featurette on Disc 1. But at least some of the candid on-set material, particularly involving Jeff Goldblum, is amusing.
Scattered about Disc 2's menus are featurettes on three different characters and the actors who play them. "Ned Plimpton" (2:50) allows Owen Wilson to discuss the characteristics and challenges of his Southern gentleman role. "Jane Winslett-Richardson" (3:25) covers Cate Blanchett's character, and the actress shares the amusing anecdote about her coincidental pregnancy. "Esteban du Plantier" (7:03) is a little bit different and the most interesting of the bunch; it's more or less a fly-on-the-wall behind-the-scenes with Seymour Cassel. We spend time with the actor as he talks about director John Cassavetes in a cigar store, gets fitted for a bald cap, and responds to Anderson's commands underwater. The occasional comment from Anderson or Murray supplements the relevant actors' reflections.
Next is a solid interview featurette (19:00) with Anderson's regular composer and former Devo member, Mark Mothersbaugh. Mothersbaugh talks, amidst his instruments and often with his dog on his lap, about the unique process of scoring The Life Aquatic (a process which began while Anderson was writing the film) and his transition from Devo to movies and television. There is a fascinating demonstration of how Mothersbaugh used a bit of Royal Tenenbaums score in reverse to make music for Life Aquatic. References to and clips from the director's other films complement the Life Aquatic discussion to make this a rather satisfying featurette on the Anderson/Mothersbaugh collaboration process.
"This is an Adventure" (51:15) is an excellent and earnest first-hand look at the filmmaking process on a Wes Anderson picture. This fly-on-the-wall documentary by Albert Maysles, Antonio Ferrera, and Matthew Prinzing is another highlight of the set. We see Anderson and Murray giving their full attention to the film's details, from wardrobe and wig selection to tattoo application, from repeated takes with slightly different intonations to Anderson's viewing of dailies. Like "The Beginning" documentary on the Star Wars: Episode I DVD, this is wonderfully edited, extensive in its coverage, and wholly captivating. How can one not be amused by the writer/director and star's discussion of what hyphenated genre best classifies their film? Or Murray getting frustrated at Anderson's gap-filled directions while having to hold his breath underwater to hear him? I wonder if the appeal of an unabashed piece like this would lessen if studios favored them to the standard superficial featurettes.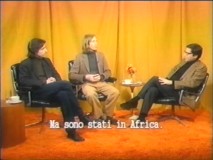 "Costumes" (4:30) mostly consists of the actors talking about things they like about the characters' wardrobes. We learn some of the costume ideas were written into the script, while others were the work of costume designer Milena Canonero. There's a few interesting observations, but this is not something you're likely to watch more than once.

"Mondo Monda" (16:20) is an Italian film show hosted by Antonio Monda (who plays the film festival director in Life Aquatic) with guests Wes Anderson and co-writer Noah Baumbach. I guess it's supposed to be a kind of joke along the lines of "The Peter Bradley Show" extra on The Royal Tenenbaums, but it's even more esoteric and less amusing.

Basically, Anderson and Baumbach come across as inarticulate and confused, in part by Monda's mixed dialogue of Italian and English with Italian subtitles. As such, they parody filmmakers who talk about the great meaning and influences of their work. I'd guess making this was more fun for them than viewing it is for us.

I didn't expect much from the next entry, the Intern Video Journal (15:15), but it wound up being one of the most entertaining bonus features on the set. Matthew Gray Gubler, who interned with Wes Anderson while in NYU Film School, got to play Intern #1 in The Life Aquatic. Gubler carried a video camera all around the set and captured some of the fun the cast had to pass the time waiting for shot setups and in between takes. It's a nice alternative to the slick standard documentary, since everyone in the cast is natural and down-to-earth, and it makes the production look like a lot of fun.

Lastly, a 30-second Easter Egg shows the documentarian Albert Maysles playing golf with Bill Murray. Click on the corral to access it.
MENUS and PACKAGING
Though they're quite on the dark and quiet side, the 4x3 menus are very cool, in the style of Eric Anderson's drawings, with some minor animation and the catchy music that Zissou dances to in the film accompanying Disc 1's menu. The extras on Disc 2's menu are scattered about like a homemade map, which makes for an interesting design, but running times might have been nice and some kind of order to the wealth of supplements. On the plus side, a number of these are accompanied by a still page explaining what the supplement you are about to watch is and giving you the option to play or return to the menu.
Criterion's 2-disc Special Edition of The Life Aquatic is housed in a slipcover which closely resembles the film's poster art. Inside that, the standard-width black keepcase is adorned with front and back covers illustrated by Eric Chase Anderson, the writer/director's brother whose artwork has been featured in previous Anderson movies and their corresponding Criterion DVDs. Inside the case, there is a fold-open ten-page booklet. Half of the booklet includes an interview with the Anderson brothers about their penchant for little quirky artwork and a cutaway illustration of the Belafonte. The other side of the booklet is devoted to film and DVD credits, plus a chapter index. Like all Criterion DVDs, a number adorns the spine (as a probably futile reminder to collectors that there are so many more DVDs that they must buy); this one is a bit of a landmark - number 300.
CLOSING THOUGHTS
The Life Aquatic with Steve Zissou is the weakest film in Wes Anderson's growing canon, but even it has plenty of things going for it. To boot, Criterion has put together a fine 2-disc edition for this offbeat comedy/adventure. The supplements offer genuine insight into the writer/ director's unique approach to filmmaking and serve to enhance one's appreciation of all that went into this elaborate production. "Quirky, unstable, and entertaining" describes the film and many of the personalities in it. While The Life Aquatic will not be to everyone's tastes (and is certainly not family-friendly fare), fans of the director and mature filmmaking would be silly to avoid this. The film gets a mild recommendation, but this DVD release merits wholehearted approval.
More on the DVD / Buy from Amazon.com / Buy 1-Disc DVD from Amazon.com